15 Best Cartoon Network Video Games (For Consoles & Mobile)
This post may contain affiliate links. If you buy something we may get a small commission at no extra cost to you. (Learn more).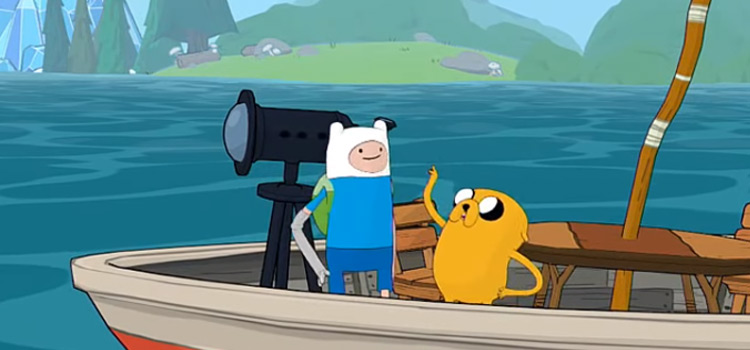 Cartoon Network has been one of the biggest influences in the world of cartoons. We all know their shows!
Everyone has seen at least a couple, and their characters have become some of the most recognizable pop culture icons to date.
These memorable characters have slowly made it to every medium including merchandise, comics, cinema, and gaming.
Well not every title can be great, but there are a ton of Cartoon Network games out there worth playing. So let's take a look at some of the best attempts at bridging the gap between cartoons and video games.
Browse through this list and you're sure to find something to please that little Cartoon Network fan inside you.
15.

KND Operation: V.I.D.E.O.G.A.M.E. (2005)
Also known as Villains In Detention Escape Outpost Growing Amalgamation Mega Enormously, this PS2 platformer starring the Kids Next Door was just complex-enough to make playing through it engaging.
Like many other games from that era, KND Operation V.I.D.E.O.G.A.M.E. focuses on collecting several items around different locales.
You overcome challenging platformer sections and puzzles to access these items, and it's pretty fun while it lasts.
It's nothing special as far as these games go. But the excellent voice acting and iconic villains make it a pleasure to play for fans.
14.

The Powerpuff Girls Chemical X-Traction (2001)
Developed by VIS Entertainment, The Powerpuff Girls Chemical X-Traction came out when the PlayStation and N64 were approaching obsolescence.
Which contributed to its relative obscurity.
In the game's Story Mode, you'll take control of the iconic trio and battle through an all-star cast of classic enemies from the show, such as Ace, Big Billy, and HIM.
The game's most egregious fault has to be the lack of multiplayer.
Whether it was a co-op mode or a competitive option, it would've done wonders for replayability.
That said, if you can handle the older graphics and if you love the PPGs, definitely try this one out.
13.

Samurai Jack: The Shadow of Aku (2004)
Samurai Jack is easily one of Cartoon Network's most fondly remembered hits. Even getting a revival back in 2017.
Released for the GameCube and PS2, this plays like a simple hack-and-slash platformer featuring an original story with enough length to keep you busy for a few hours.
The visuals were pretty cool at the time, and the effects applied whenever Jack swung his Katana were a highlight.
Again, Samurai Jack fans will be pleased.
12.

Teen Titans (2006)
Some of you may not remember this, but Teen Titans used to be a good, action-packed series.
That was, of course, before being replaced with Teen Titans Go.
This sixth-gen console title was released during that time, letting younger gamers engage with their favorite age-appropriate superheroes with a more hands-on approach.
As far as beat-em-ups go, this one's pretty solid.
The visuals are appealing, and the animations have a cartoon-like fluidity that I loved.
11.

Cartoon Network Golf Stars (2020)
There's no lack of games featuring a mash-up of Cartoon Network characters.
And this iOS/Android gem is among the very best.
Simply put, it's a golf game starring iconic CN characters.
It's surprisingly good and just deep-enough for on-the-go play.
The visuals are also colorful and charming, and a lot of polish has gone into the UI too so it really is fun to play.
There's something here for fans of most modern CN series such as Steven Universe, Adventure Time, Gumball, and the current-gen PowerPuff Girls.
The game's courses also feature well-known locales from these shows, like Beach City and Townsville.
10.

Cartoon Network Racing (2006)
Kart racing games back in the 2000s were a bit of a rite of passage for many franchises as they entered the world of video game publishing.
And Cartoon Network is no exception.
Developed by Eutechnyx for the PlayStation 2, this competent kart racer reprises many concepts found on games like Mario Kart: Double Dash, where it gets the idea for two-manned karts.
Now thi may not be innovative, but this kind of game is all about the characters and the branding.
Having the chance to race as Courage the Cowardly Dog, Cow and Chicken, Johnny Bravo, or Dexter – to name a few – is just priceless.
9.

Beach City Drifters (2019)
Beach City Drifters is a flash game you can find and play right now online via Cartoon Network's website.
It's a decent game, pretty fun, and it stars characters from their most successful shows.
As such, its gameplay is simple – drive a car with the keyboard's arrows to get points and avoid crashing.
This Steven Universe game is on a much smaller scale than the rest of the entries on this list.
But CN flash games are among the first contacts with gaming that many had throughout the years, so they account for a big chunk of their newer releases.
8.

Ben 10 (2017)
As one of Cartoon Network's most valuable franchises, Ben 10 couldn't be left out.
While there have been many games based on the shapeshifting boy throughout the years, the latest post-reboot installment has been the most well-designed title in the franchise.
Developed by Torus Games for all eight-gen platforms, this beat-em-up focuses on a simple easy-to-grasp combat system.
And despite feeling a bit bland, the combat be picked up by anyone with no prior experience. Which is great for kids!
Nothing about it stands out, really. But transforming into Ben's many alien forms to beat up baddies is pretty cool nonetheless.
7.

Regular Show: Mordecai and Rigby in 8-Bit Land (2013)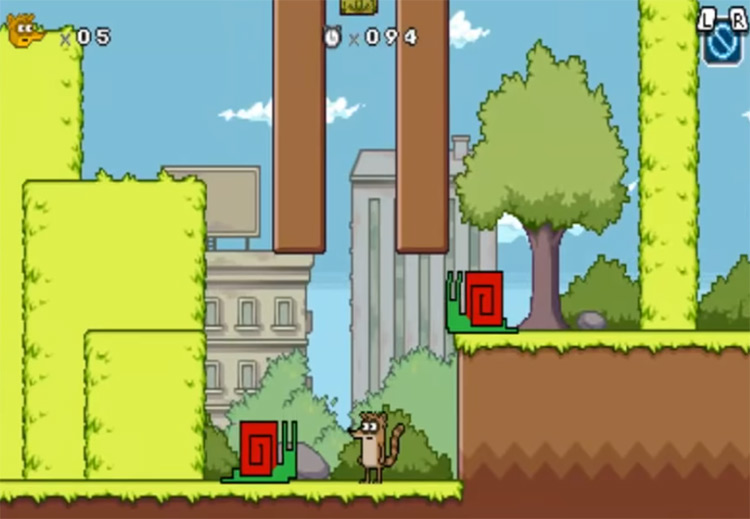 Despite receiving pretty negative reviews at launch, Regular Show: Mordecai and Rigby in 8-Bit Land remains an engaging & nostalgia-inducing experience.
It's a side-scroller platformer, a shooter, a beat-em-up, and a top-down shoot-em-up, among other things.
That's because the game's entirety occurs within a game cartridge that sucks in protagonists Mordecai and Rigby into an 8-bit reality.
And here they must put their gamer skills to the test to survive.
The gameplay is never extraordinary, but it sure is varied.
I'll also say the presentation is superb and reiteratively pays homage to these classic 8-bit and 16-bit era classics.
6.

KleptoCats Cartoon Network (2019)
Hyperbeard Games' KleptoCats was already one of the cutest, most adorable apps on mobile game marketplaces – and coupling it with Cartoon Network's many beloved IPs just made it better.
These super-cute cats tend to steal everything from people's houses because… well, reasons.
This time around, they'll take tons of Cartoon Network memorabilia for you to decorate your room as the passive accomplice you are.
Sounds fun, right?
Considering how most Cartoon Network games lack any kind of innovation, a crossover with an already-popular game seems like the perfect way to give fans something to chew on.
5.

Adventure Time: Explore the Dungeon Because I Don't Know! (2013)
The seventh-generation of consoles wasn't exactly a great time for Cartoon Network as a game publisher.
But some stand-outs deserve a look, like this charming Adventure Time dungeon crawler.
After being sent to explore the catacombs/prison beneath the Land of Ooo by Princess Bubblegum ("because she doesn't know"), Finn and Jake start descending into the depths.
And this is where the fun begins!
The game is an old-timey top-down dungeon crawler featuring tons of playable characters from the show, including fan-favorite Marceline.
The visuals are charming, the gameplay engaging, and you'll find the co-op capabilities make for a fun time with friends.
Adventure Time Fans will definitely want to give this a try, although there is another title you might look into lower on this list…
4.

Steven Universe: Unleash the Light (2019)
The most recent entry in Steven Universe's surprisingly great RPG series is also its weakest release yet, partly because of the high-quality standard set by its 2017 prequel, Save the Light.
After Save the Light made the jump to consoles like the PS4, Xbox One, and Switch, it's been a weird choice to downscale back to mobile.
Still, the game offers great fun and is just as stylish as its predecessors.
If you're a fan of the show and can't get enough of the Crystal Gems, this is a title to check out.
Regrettably, you can only do so on an iOS device (for now).
3.

Adventure Time: Pirates of the Enchiridion (2018)
Speaking of RPGs, another great offering with a Cartoon Network license attached is Adventure Time: Pirates of the Enchiridion, available on all 8th-gen platforms.
After the Land of Ooo is mysteriously flooded, Finn and Jake must sail the new seas to uncover the truth behind this calamity.
On their way they'll recruit cool peeps like Marceline and BMO, and visit some iconic locales from the series.
It doesn't have the complexity of something like The Legend of Zelda (what does, really?)
But it's still genuinely fun, and it translates the Adventure Time visual style to 3D without a hitch.
2.

Steven Universe: Attack the Light (2015)
I'd long stopped caring about cartoon tie-in games when Steven Universe: Attack the Light came out on mobile platforms.
But this fantastic game looked too cool to ignore, and I was right to follow my hunch.
Developed by Grumpyface Studios and written by Rebecca Sugar herself, Attack the Light tells an original story as the backdrop for a traditional turn-based RPG with a bit of a Paper Mario feeling to it.
It's a superb game that's full of intriguing puzzles and challenging battles, along with enough references to satisfy even a Jojo's Bizarre Adventure fan.
1.

Steven Universe: Save the Light (2017)
The sequel to the unexpected gem that was Attack the Light only continued improving.
This eighth-gen platform title brought back the same stylish art style, but gave it a little more detail and flair. Mostly thanks to the more powerful hardware.
Rebecca Sugar came back to write the plot for this game and pitted the Crystal Gems against the Homeworld gem Hessonite shortly after the end of the first game.
Whether you love Steven Universe or don't know the first thing about it, it's sure to capture your attention for a long while.
And if you liked "Attack the Light", you're pretty much guaranteed to enjoy "Save the Light" as a follow-up sequel.
Browse:
Adventure Time
Cartoon Network
Lists
Steven Universe
Cartoons
Video Games