Top 24 Best Cute Girls Doing Cute Things Anime
This post may contain affiliate links. If you buy something we may get a small commission at no extra cost to you. (Learn more).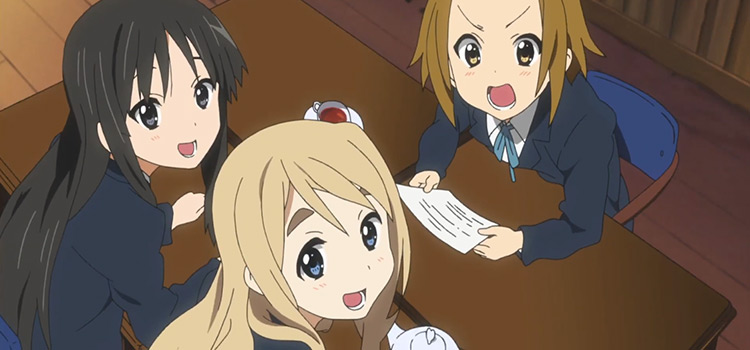 If you've ever asked a fellow anime viewer about slice-of-life shows, they've likely mentioned a CGDCT anime. Short for "Cute Girls Doing Cute Things", CGDCT is a genre unique to (and aplenty in) the medium of anime.
CGDCT is often associated with SoL, but to be honest, cute girls shows can & does go beyond just Slice of Life.
So a CGDCT series may be a drama or sci-fi instead.
Nevertheless, my personal experience with it over the years largely remains under the realm of SoL… so my personal list will have an abundance of fluffy, adorable entries. Hope you enjoy!
24.

Hinako Note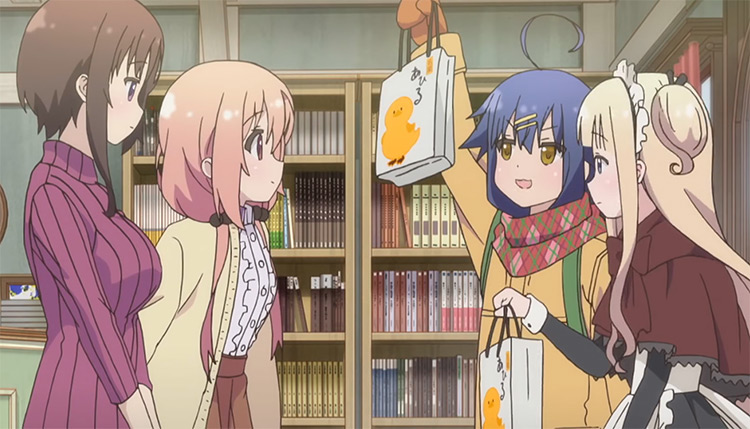 Hinako Note is one of the most recent CGDCT titles to make it on my list, and I appreciate what it does, which is having traditional CGDCT elements while also daring to be a little lewder than the rest.
Studio Passione knew this would divide viewers, since some only want comfy episodes while others are okay with a generous amount of fanservice.
But I didn't mind.
Plus, the girls are cute (i.e. the character design isn't terrible by any margin) and still have a variety of wondrous interactions — and the music is commendable.
I just wish Hinako Note further utilized the theater element.
23.

Sabage-bu! (Sabagebu! -Survival Game Club!-)
Sabage-bu! is a CGDCT series featuring girls in an after-school club.
But as you've already seen from its title, it's not just your typical art, science, or book club.
Instead, Sabagebu! has the survival game club… except that it's not really about survival games at all.
Viewers will indeed see the girl squad battle it out with other teams from other schools, but the series is more interested in Momoka and how she responds to a variety of situations.
It's hilarious, cute (of course), and you can get six additional 10-minute OVA episodes once you're done with the show.
Also, Sabage-bu! has a club member working part-time as a gravure model. And a mascot that may or may not be a platypus.
22.

Comic Girls
I don't know much about Studio Nexus. But the anime I'll associate the most with them is Comic Girls, a CGDCT series that feels heavier and more rewarding than most titles in the unofficial genre.
As the title implies, Comic Girls showcases young women doing their best to succeed in the comics (or manga in Japan) industry.
But here's the thing:
Kaoruko Moeta isn't a genius or a child prodigy. She's not the kind of anime MC that has a special power or is exceptionally gifted in her field.
Thus, Comic Girls is seriously relatable and feels grounded in reality, with its (nonetheless adorable) cast learning, failing, and getting back up because they just have to. I admire how its characters grew on me.
21.

Ichigo Mashimaro (Strawberry Marshmallow)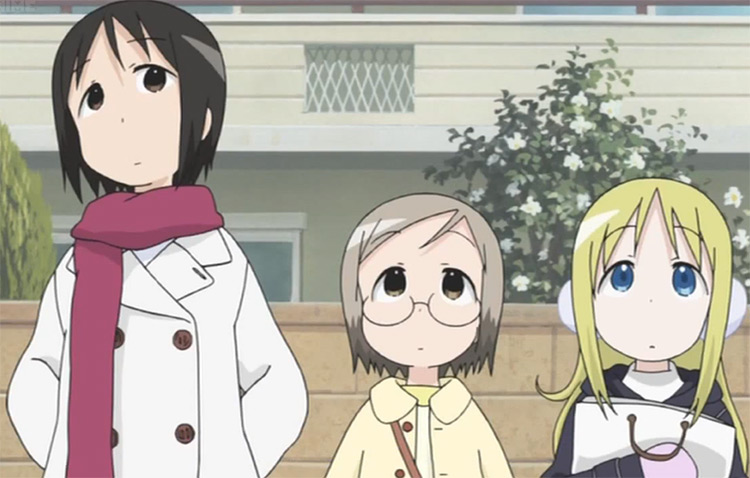 Look, it's called Strawberry Marshmallow.
That alone tells a lot about its sweet daily life moments and effortless wholesomeness.
If you've seen Azumanga Daioh, Ichigo Mashimaro is like that classic CGDCT series, except it exchanges high school students with a bunch of elementary schoolers.
This is such a warm series and I can't help but remember my childhood, of the time I had daily random neighborhood adventures with my friends.
The humor here works so well because of the comedic timing, and how its lack of exaggerated reactions somehow makes every joke even more hilarious.
20.

Hidamari Sketch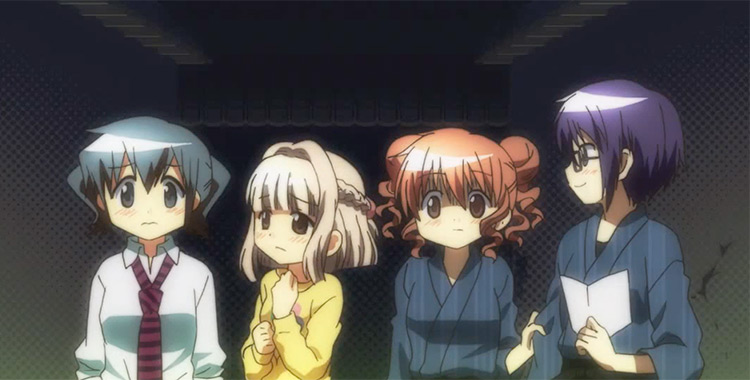 I mentioned that Kaoruko Moeta in Comic Girls was relatively struggling as a mangaka. But here, the MC is an undeniably talented artist.
Yet this doesn't mean Hidamari Sketch feels bland or lacking realism.
While Yuno has the skills to make it in the Yamabuki Arts High School, she has self-esteem issues. Similarly, the series has Hiro, who can cook delicious meals with ease… but worries about her weight (and more importantly, her future).
Simply put, this set of characters is undeniably human: they have their own aspirations, anxieties, and characteristics that add color and vibrancy to the group.
19.

Konohana Kitan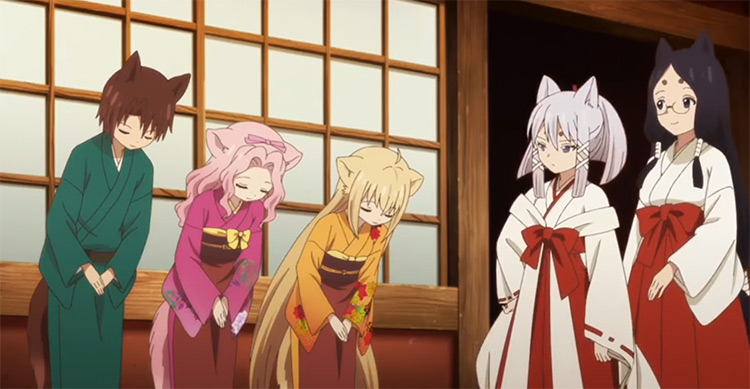 I love Konohana Kitan. And its placement at the lower half of my list just shows how much I like this genre in general.
Anyway, let me tell you the core appeal of this anime:
Fox girls.
Ultra-cute, kimono-wearing fox girls all working hard and teaching everyone a few things about Japanese folklore — all while being set in a supernatural location.
Some viewers watched this expecting a ton of yuri fanservice. But what I got was so much better. Yes, it has a bit of yuri in it.
But Konohana Kitan does everything with wholesomeness and loveliness in mind.
I admire the uniqueness of the world and how it provides opportunities for charming character dynamics (and some introspection for viewers).
18.

Yuru Yuri (YuruYuri: Happy Go Lily)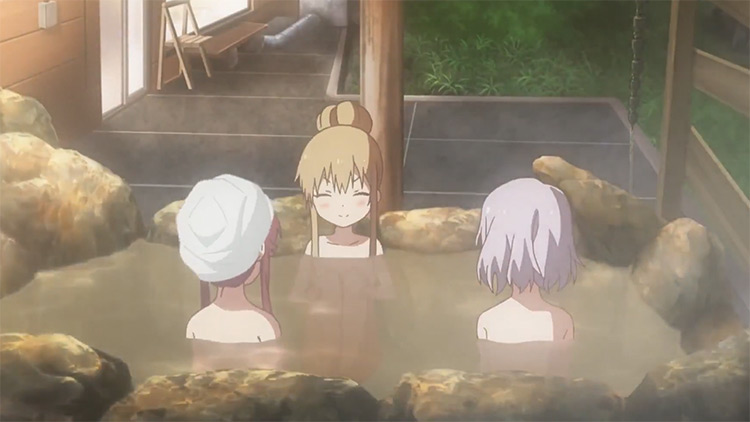 It's pure coincidence that Yuru Yuri is next on my list right after I mentioned yuri on Konohana Kitan.
As one of the most popular CGDCT shows (it has a lot of amazing reaction faces), YRYR does a lot right as another after-school club type of anime.
Yuru Yuri does feature young girls (often humorously) being infatuated with fellow girls. But it never feels tasteless or overly-sexual. It's suggestive more than anything else, and I love how they perceive romance in the way teens do.
Also, the writing here is brilliant. From the jokes to the many cute and funny conversations the characters (both main and supporting) have with one another.
17.

Rolling☆Girls (The Rolling Girls)
I never felt that The Rolling Girls got the attention they deserved. Particularly because some didn't like how the rest of the show was different from the fight-heavy ridiculousness of the first few episodes.
But you know what?
I love the world of The Rolling Girls. Love how they just travel around a future version of Japan where it's now divided into several nations, meeting a lot of interesting characters and experiencing many cultures along the way.
From the character design to the watercolor backgrounds (and the peak of the show that is EP 08), The Rolling Girls was visually alluring.
Chiaya Misono is one of my favorite anime girls ever because she's just so cute, and the opening song (a cover of an amazing rock track by The Blue Hearts) is such a wonderful way to start the show.
16.

Love Live! School Idol Project
Yes, arguably the most popular anime idol series is definitely a CGDCT series. Whether you loathe or love "Love Live", you can't deny its impact on pop culture.
The franchise alone has several best girl contenders — and I've even seen a page dedicated to posting all frames of Love Live episodes.
That's how beloved (and jokingly trashed) it is.
I like Kotori Minami and Nozomi Toujou the most. But you can't go wrong with any of them (yes, you can worship Miss "Nico Nico Nii" Niko Yazada).
With two seasons, Love Live has enough content for you to know all the girls' stories and ambitions and see why they're all worth rooting for.
15.

Urara Meirochou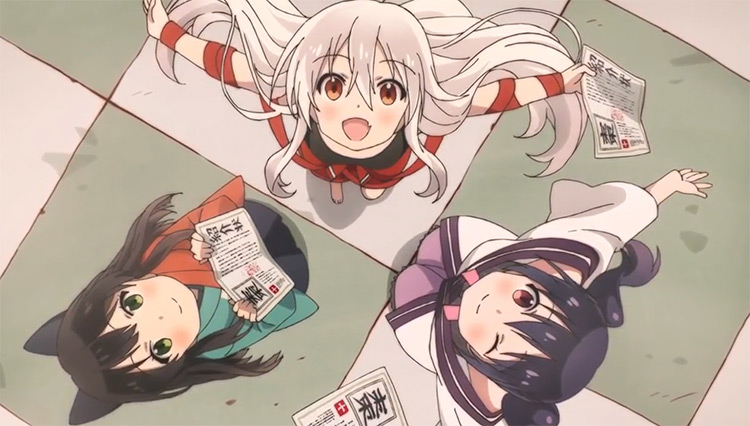 Urara Meirochou is another CGDCT series with yuri undertones and fanservice.
But they don't feel like they're there just to satisfy a certain segment of the crowd.
Instead, the slight yuri elements play a role. And the fanservice feels like a natural part of the show — and it's because the feral child Chiya has no sexual intentions whenever she exposes bellies of other people.
In truth, she really just likes bellies.
And like in Konohana Kitan, the world of Urara Meirochou is a character on its own, giving viewers a sense of mystery and identity. One in which the characters get to mold their own identities
14.

Mitsuboshi Colors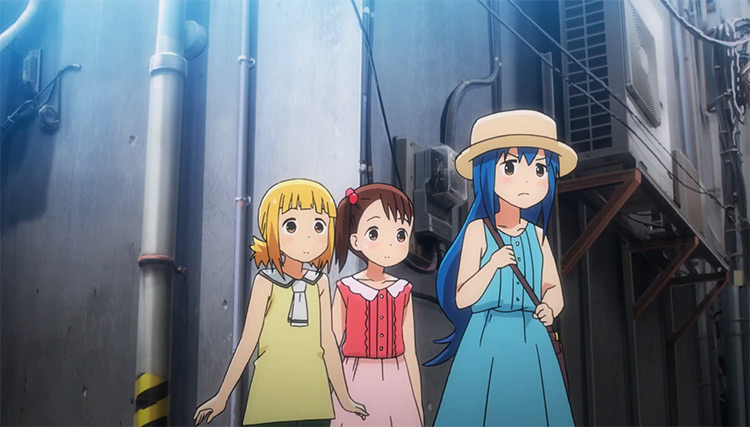 I remember spending a few nights reading the Mitsuboshi Colors manga years back, enjoying a chapter after another.
So when I heard about an anime adaptation, I was excited but also nervous.
How will the three kids of the Colors group sound? Can the adaptation have detailed backgrounds too?
Granted, Mitsuboshi Colors wasn't a five-star series in terms of art and animation. But it still works well because the source adaptation is so childlike — and Kotoha is such an interesting, funny character.
I love this trio and their wholesome shenanigans in Ueno, Tokyo, often involving adults and complete strangers, reminding them to take a breather from time to time.
13.

New Game!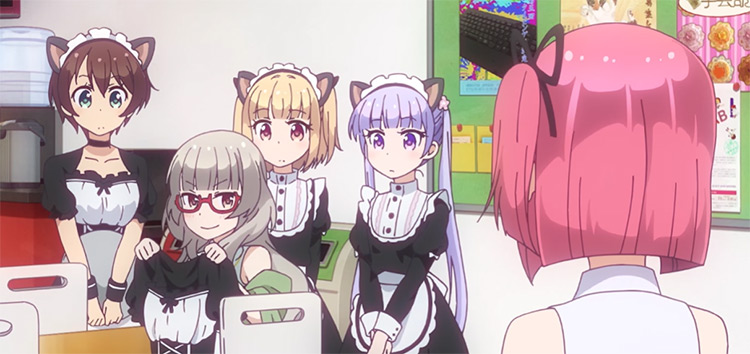 Among the fanservice-y entries on my list, New Game! is undoubtedly the most beloved among the anime community.
Released in 2016, the series was a bit of a surprise hit.
People knew that Doga Kobo was strong when it came to SoL shows. But New Game! was truly something else, showcasing consistently good animation and a keen eye for background details.
New Game! isn't a CGDCT where it's all about doing random, mundane things every day.
Instead, it has cute girls arguing and supporting each other while they chase their dreams in the game development industry.
12.

Azumanga Daioh (Azumanga Daioh: The Animation)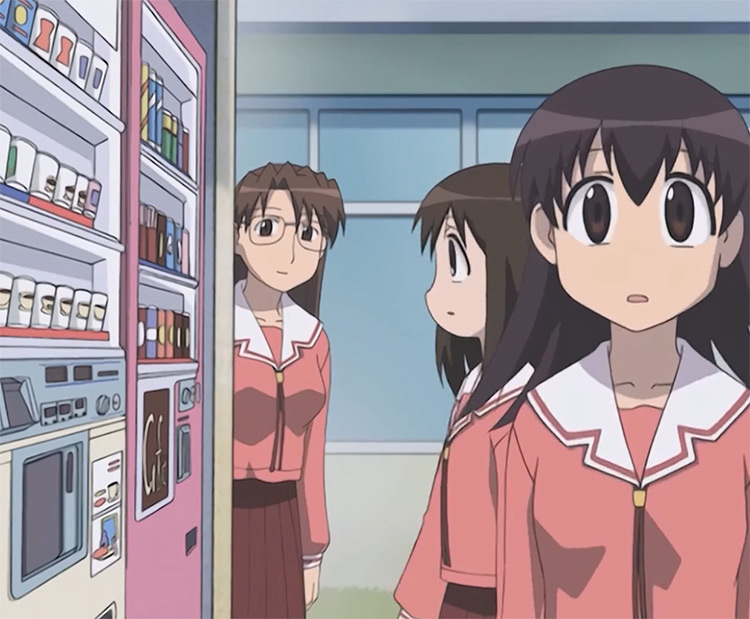 Released back in 2002 (yes, that's 18 years ago) Azumanga Daioh is the oldest CGDCT here.
But it hasn't lost much of its appeal.
Granted, some may be turned off because the visual quality hasn't aged well.
Yet the JC Staff series still packs a punch when it comes to character dynamics and humor.
I love how the scenes (or sketches) are based on a particular theme and how well the running gags work. Did you know this is where the "oh my gah" meme came from?
Moreover, many people credit the show for the popularity of the "waifu" term.
And for a show with so many primary characters, Azumanga Daioh did the impossible: developing them all and making them complex, unique individuals, albeit slowly but surely.
11.

Lucky Star
Like Doga Kobo, Kyoto Animation has years of experience in animating CGDCT series — and Lucky Star is a solid entry from the beloved studio.
For one, the opening theme is easily infectious (I still remember the parody music video from a decade ago that's still on YouTube).
Second, I love the laid-back style of Lucky Star.
The girls are literally just having random conversations, the way any friends would do during lunch break at school.
And lastly, Konata Izumi and Kagami Hiiragi are adorable, super relatable characters.
Kids today can still relate with them, since the two also just love playing video games and reading manga and light novels.
10.

Kobayashi-san Chi no Maid Dragon (Miss Kobayashi's Dragon Maid)
Yes, I'm following up Lucky Star with another Kyoto Animation hit: Miss Kobayashi's Dragon Maid.
Does it have fanservice? A bit.
Is it cute and heartwarming? Absolutely.
One day, the all-powerful dragon Tooru transforms into a human girl (sometimes, she has her tail out) and decides to become Kobayashi's maid.
From there, one dragon after another comes into the fray, with the ultra-adorable Kanna Kamui giving the biggest serving of cuteness.
She doesn't even have to do anything: Kanna's default facial expression is a godsend.
But whether it's Kanna playing in the rain or Tooru finding warmth in Kobayashi holding her hand, the show can always find quiet, heartfelt moments to complement its more comedic and loud segments.
9.

Sakura Trick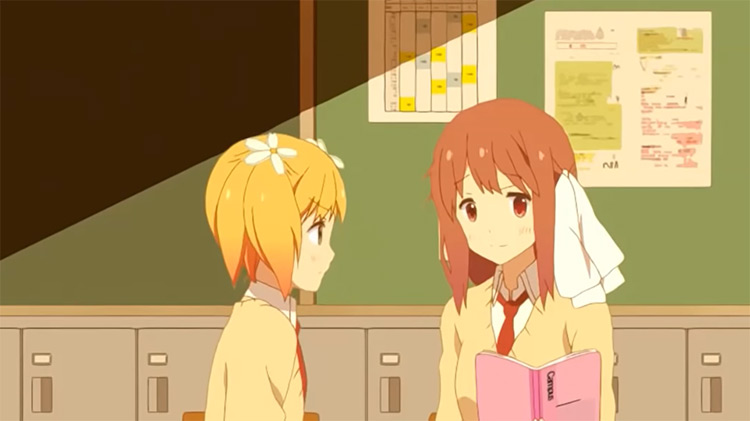 It still baffles me that Sakura Trick has average ratings on anime review websites.
But that won't stop me from putting it in the top 10 here.
Sakura Trick does something that many other yuri (and yuri-bait) shows don't: Having its characters kiss.
Yes, for some reason, it's often just been about teasing viewers instead of explicitly showing such an act of love.
So while some entries here have slight yuri elements, it's Sakura Trick that has cute girls having the opportunity to (truly) reveal their lesbian selves.
Plus Sakura Trick has this warm, soothing aesthetic (along with clean animation) in each episode.
8.

Gochuumon wa Usagi Desu ka? (Is the Order a Rabbit?)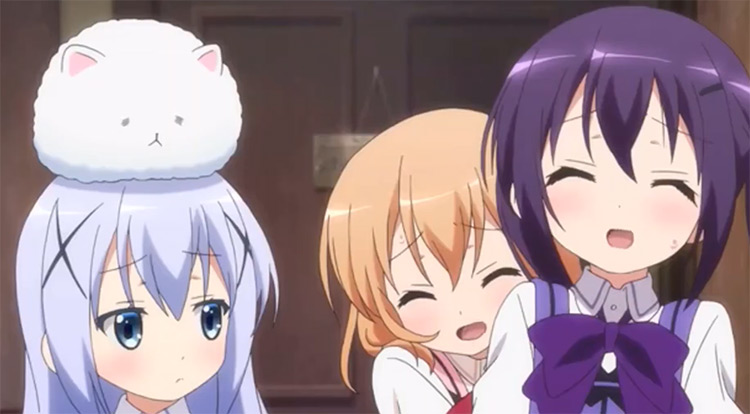 With two seasons, a movie, an OVA, and an upcoming third season, Is the Order a Rabbit? is a substantial series in terms of both quantity and quality.
I do love seeing urban and rural Japanese settings. But the European-style town here (possibly inspired by Colmar, France) is beautiful, from the architecture and ornate lamp posts to the colors and foliage.
Seeing the characters walk in the city is enough to make me feel relaxed.
The girls of GochiUsa are endearing, especially Chino Kafuu and Chiya Ujimatsu, but this anime didn't get to No. 8 just because of character design: it also has comfy music and hilarious moments, which includes the infamous coffee or green tea segment.
7.

Kiniro Mosaic (KINMOZA!)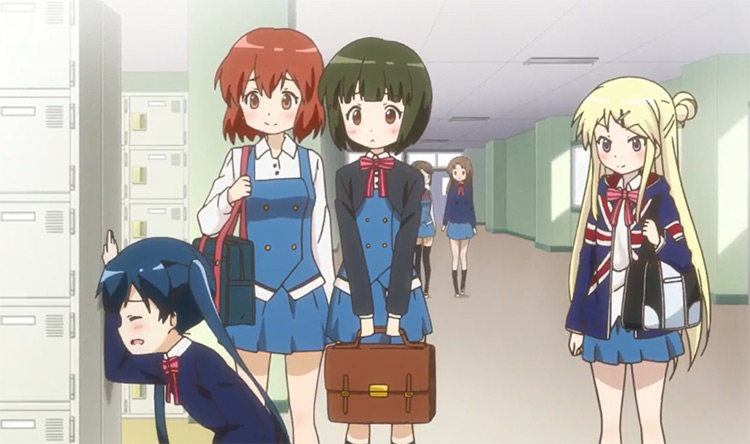 Kiniro Mosaic has more to offer than the "ayaya" reaction face, Karen Kujou's "desu" response, and the GIF of Youko Inokuma giving a surprise hug to Alice Cartelet.
First, the series is an easy way for people to witness a culture clash and how differences in upbringing don't have to lead to conflict.
With KINMOZA!, viewers can see the value in not only tolerating, but also accepting different people.
Second, the show has an amazing set of main characters. With Aya Komichi and Karen being my favorites.
The former is a tsundere (and is also the reason why Karen said "ayaya") while the latter is a very friendly and energetic girl who often leads the group into humorous situations.
Third, the art and voice acting are splendid.
The anime doesn't have animation on the level of something like Violet Evergarden. But its light and simple backgrounds very much fit the show.
Also, Studio Gokumi is working on a new KINMOZA! film, so watch out for that.
6.

Yuru Camp (Laid-Back Camp)
If you're feeling stressed, go see an episode of Yuru Camp.
And if you only have a few seconds to spare, search for a GIF or clip of Nadeshiko Kagamihara happily eating her food.
Look, I didn't even know I needed a slice-of-life camping anime until I saw Laid-Back Camp — and it put Station C-Station on the map.
This is a perfect series, in a way.
It doesn't have needless drama because it never intended to be like that kind of anime. Yuru Camp is all about finding joy in the small and simple things in life, especially with the people you cherish (or will soon cherish).
And on a technical level, Yuru Camp is phenomenal, featuring superb lighting, detailed natural horizons, consistent and quality animation, and appropriately chill music.
I cannot wait for the second season.
5.

Gabriel DropOut
I often remember Lucky Star when I see Gabriel DropOut. But that's mostly because Gabriel reminds me of Konata since they're both avid (or rather, addicted) video gamers.
Anyway, this CGDCT delight from Doga Kobo (unsurprisingly) had me bursting in laughter many times — I still remember the cooking segment to this day.
But perhaps the most interesting thing about Gabriel DropOut is its characters.
Sure, Gabriel and Raphiel are angels. Yet they're not exactly the kind of girls you'd like to see in heaven.
Then you consider Vignette and Satanichia, two demons who are seemingly more sensible and fun to be with than their divine counterparts.
If Satanichia isn't your best girl here by the end, we're going to have a problem (I'm kidding, kinda).
4.

Aria the Animation
Aria the Animation first aired in 2005.
Since then, I've yet to find something like it.
Yes, I can identify a bunch of excellent SoL, CGDCT, and iyashikei anime from the last decade. But none have the identity of the Aria franchise.
Akari, Alicia, Alice, and Aika (yes, they all start with A), never fail to cheer me up and calm my mind — and the setting helps because Neo Venezia is absolutely gorgeous.
I love how eager Akari is to be an Undine (basically a female gondolier) so much so that she moved from Japan to Aqua, literally another planet. She's persistent, industrious, and a very good friend to have.
I admire her zest for life.
The way the characters develop is praiseworthy, and this applies to their relations with another and also with themselves.
The girls here aren't as moe as their more recent counterparts on my list… but that says more about the shift in anime art style these days than anything else.
Thus, the women of Aria the Animation are 100% cute. Even if they're not after-school club members in elementary school.
3.

Nichijou (Nichijou – My Ordinary Life)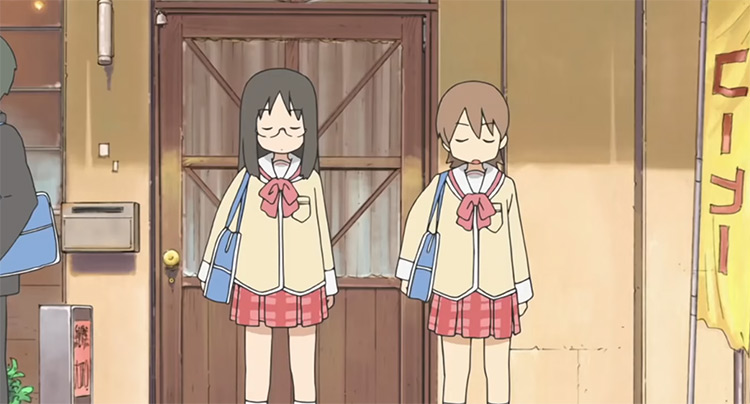 To be honest, I can jumble my top three and feel that the ranking is correct — they're all that good.
Even if Nichijou is only third, it's still a 10/10 series in my eyes.
For an SoL and CGDCT series, Nichijou has one of the best animators ever.
Thanks to its talented team, the show can go from relaxing to explosion-filled ridiculousness in seconds, elevating the source material to new heights.
Likewise, the show has so many interesting characters.
It doesn't matter if Nichijou focuses on Yuuko, Mio, and Mai or Hakase, Sakamoto, and Nano (or even on Misato and Koujirou and his goat) — it will always be a quality segment worthy of repeat viewings.
If anything, my only complaint is that Kyoto Animation hasn't announced a second season.
2.

Non Non Biyori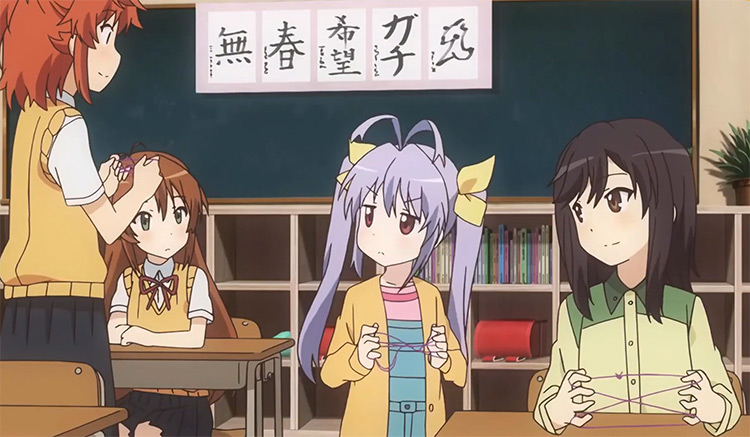 It's honestly difficult placing Non Non Biyori at the No. 2 spot.
But the CGDCT genre is simply abundant with excellent titles. This isn't an easy ranking!
But I knew I made the right decision watching this show within seconds of the first episode:
Non Non Biyori has no qualms about taking things slowly, giving the spotlight to gorgeous sceneries of rural Japan and soothing instrumental music, successfully calming my senses and preparing me for the wholesomeness.
I love the entire cast. But Renge Miyauchi (who plays the flute and is known in the anime community for her "nyanpasu" line) is the star of the show.
You can't help but admire her childlike wonder, and Renge's sibling-like relationship with Kaede Kagayama is touching.
And with a third season coming in 2021, Non Non Biyori has a chance at further cementing its status as one of the comfiest and loveliest anime ever.
1.

K-On!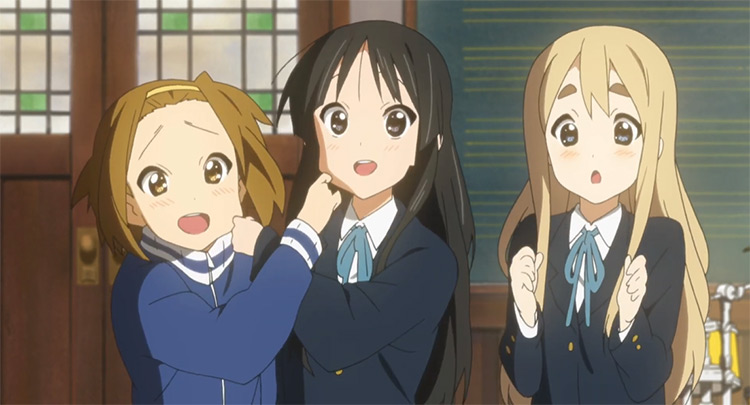 As you may have expected, Kyoto Animation takes the crown with K-On!
This is a classic SoL series from 2009 that helped launch the directorial career of Naoko Yamada (she went on to direct Tamako Love Story, A Silent Voice, and Liz and the Blue Bird).
I distinctly remember watching the first season when I was in high school. K-On! was a completely new experience for me because I was used to shounen and rom-com titles.
But I was captivated before I knew it.
Somehow, the girls of the Light Music Club got my full attention with their top-tier character dynamics.
Yes, they often just have tea and sweets (lovingly provided by Tsumugi Kotobuki). But when they finally perform their genuinely good tracks, it's enchanting.
Seeing these girls chase their dreams (they want to play at Budokan) while also enjoying life together is so heartwarming and nostalgic — and I love that K-On! makes viewers understand the fleeting element of life without ruining the comfy vibes.
Yui, Mio, Tsumugi, Ritsu (and Azusa later on) can't stay the same forever, simply enjoying each other's company in the club room… but there are value and happiness to be had in coming to terms with this reality.
Yamada was masterful in her direction of K-On!
And I will always stand by my belief that this is a modern CGDCT and SoL classic.
Browse:
Japanese Culture
Lists
Anime