Top 30 Drama Anime: Best Series & Movies Of All Time
This post may contain affiliate links. If you buy something we may get a small commission at no extra cost to you. (Learn more).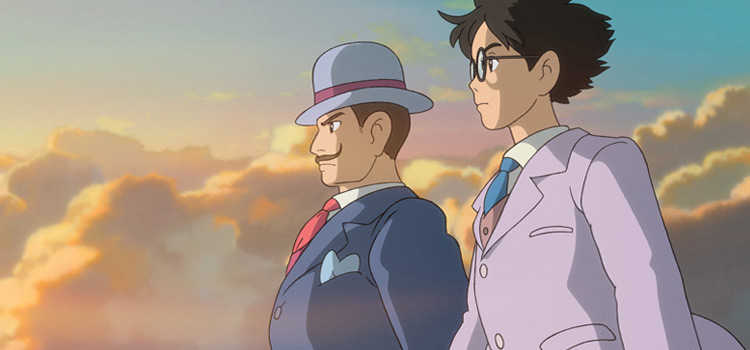 Everyone loves good characters. And while every single anime has characters (obviously) sometimes they take a back seat to plot, production, or premise.
That's not necessarily a bad thing – not at all! – as some of my favorite anime have strong characters in exaggerated or dynamic plots.
But sometimes I want to feel the characters emotions, relate to them in situations close to home.
Well…
That's where the loosely defined drama genre comes in! The anime on this list prioritize interpersonal reactions and melodramatic plot beats. Whether they be romantic, introspective, or historical, we've got you covered.
The aim here is covering awesome dramatic anime with strong character writing, subtext, metaphors, or individual growth.
30.

Hi Score Girl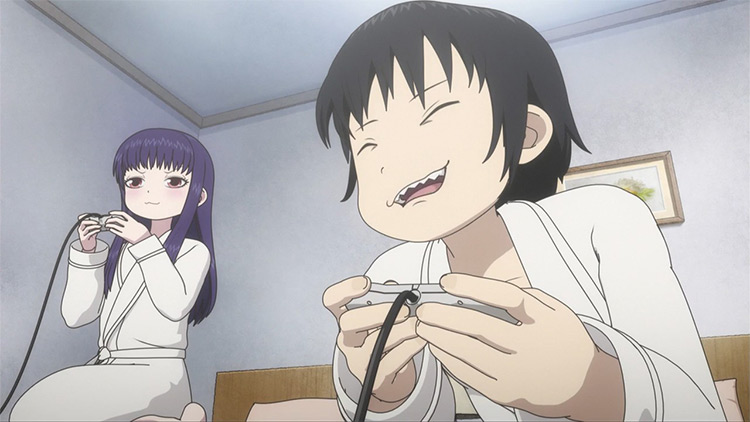 Yaguchi isn't good with people.
What he is good at is gaming.
Set throughout the 90s, High School Girl chronicles the age of arcade gaming into the rise of the console market, telling a compelling romantic drama as it does.
When he meets Oono, a quiet rich girl with killer Street Fighter abilities, he develops a quick rivalry that gradually evolves into something more.
29.

Tokyo Magnitude 8.0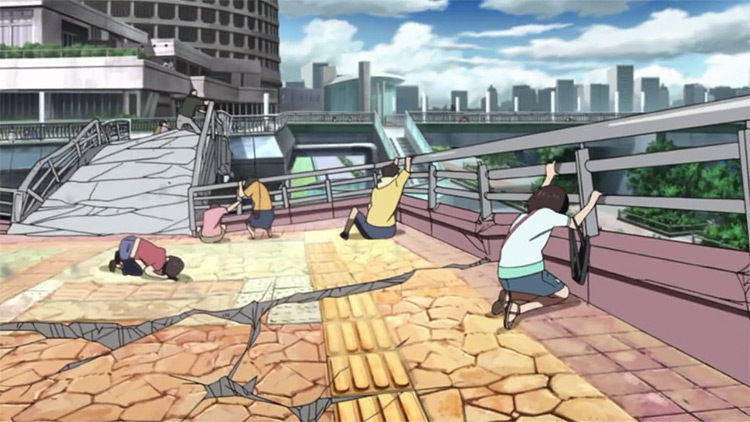 Mirai does not appreciate her family, always comparing the richer or more intimate relationships of her classmates.
One day, her and her brother end up separated from their parents far from home. When a gargantuan magnitude 8.0 earthquake shakes Japan to its knees.
Mari Kusakabe, a single mother, bumps into the siblings and promises to return them home.
This anime tells that journey, with twists and turns along the way, never getting in the way of a touching and realistic portrayal of environmental destruction all too familiar to Japan.
28.

The Flower We Saw That Day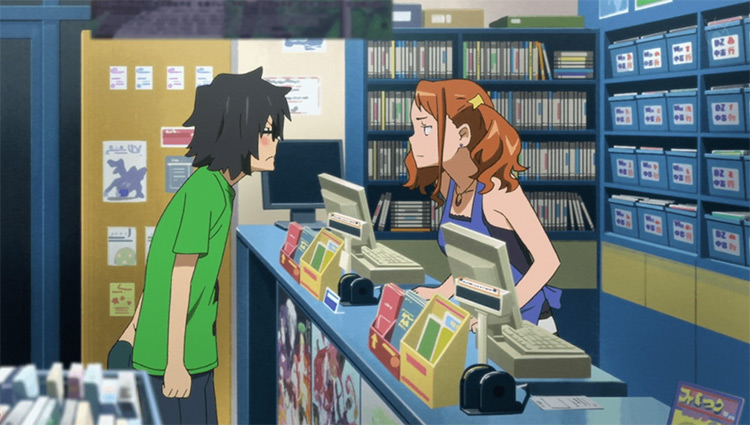 Jinta Yadomi and his friends went through a tragedy when they were children.
Their friend Honma died, and it affected each of them differently.
In his teenage years, Jinta suddenly starts seeing the ghost of Honma, and is prompted to contact those old friends to try help her move on.
The Flower We Saw That Day is short yet sweet. Able to channel an engaging story at a quick pace and get a tear out of you in the process.
27.

Haibane Renmei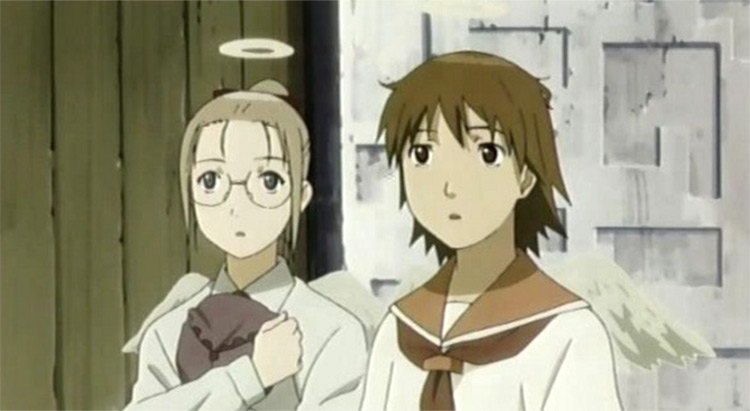 Rokka emerges from her cocoon in an ethereal village surrounded by towering walls.
She doesn't remember who she used to be, nor how she got there.
Luckily, she isn't alone. She's welcomed by many similar people – each with little grey wings and a glowing halo.
This group of struggling souls must come to realize who they are, why they aren't allowed to leave, and why they keep disappearing one by one in the enigmatic Day of Flight.
Haibane Ranmei is a short drama with engaging characters and a unique, calming atmosphere. Certainly a unique series to check out.
26.

Beck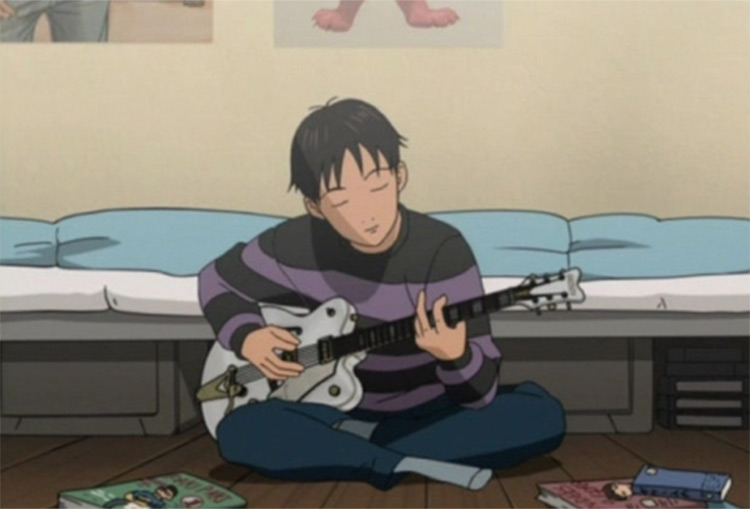 Yukio Tanaka doesn't know where he's going in life. When he meets the Ryuusuke Minami and he gets introduced to music, he suddenly realizes what he wants to do and gets a guitar.
They start a band, BECK, and set their sights on taking the world.
Though of course, it's not as simple as that.
Beck has an amazing soundtrack – different depending on Dub/Sub – that elevates the dramatic tension permeating throughout its narrative.
I'm gonna have to rewatch this one soon, because it really is a classic.
25.

Kokoro Connect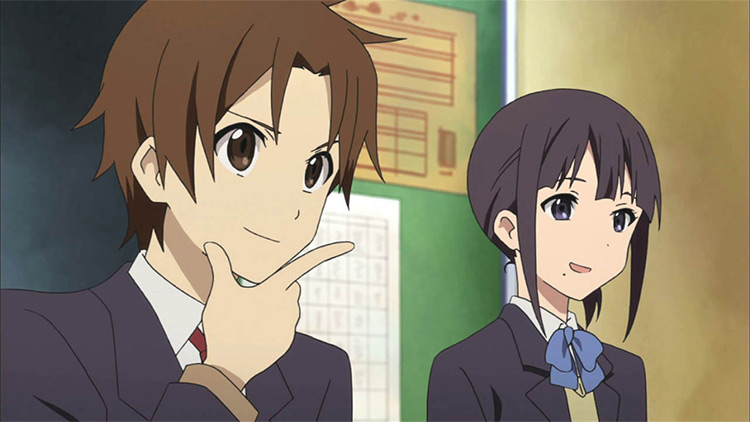 The five students of the Yamaboshi Academy Student Cultural Society are forced to understand one another when they suddenly switch bodies.
And after that, weirder things happen.
Emotional scars, repressed memories, and personal secrets bubble to the surface as each member is forced to confront themselves.
This is a unique & constantly engaging supernatural drama with strong romantic elements too.
24.

Barakamon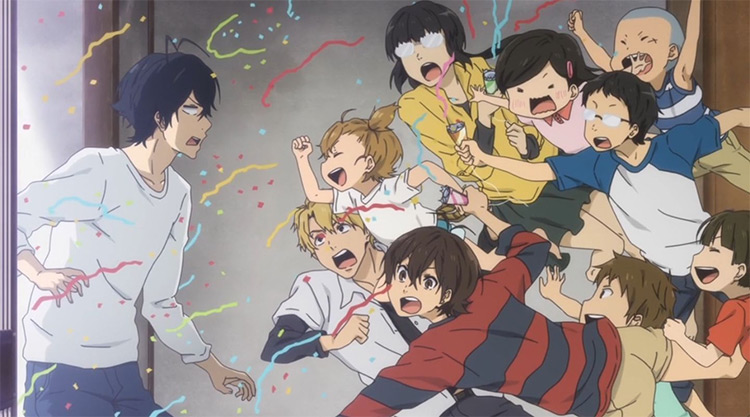 Seishuu is a calligrapher with a lot of potential ahead of him, were it not for his hubris and arrogance getting in the way.
One day he overhears a critic describe his work as derivative, so naturally Seishuu punches him.
He's sent to an island for self-reflection where he meets children, old people, and some middle schoolers who intrude on his life… but incidentally soften him up in the process.
Barakamon is a real heartwarming tearjerker.
It concentrates on the struggles of an artist, and how relationships can change a person's style for the better.
23.

Death Parade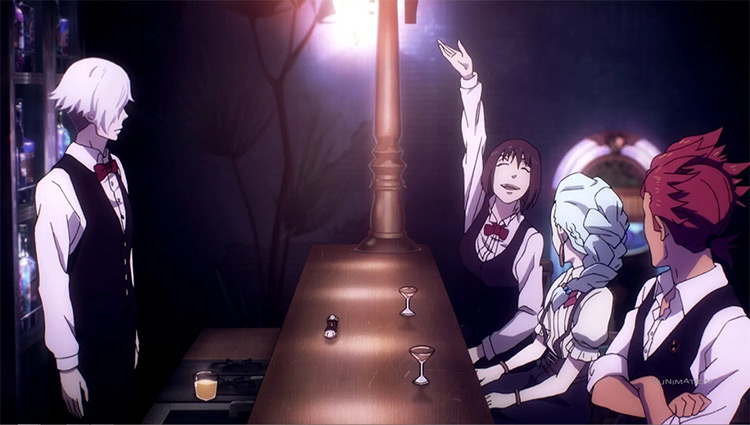 Before being sentenced to eternal oblivion or reincarnation, you and one other person are taken to a quaint bar kept by an enigmatic man, with memories fuzzy and confusion at an all-time high.
Decim is a well-mannered arbiter, there to decide where you go.
How does he do that?
Well, he judges each of you over a random game – bowling, darts, snooker – where your limits are pushed to the breaking point, to reveal your true personality.
It's dark, sad, and touching. The drama drives the episodic narrative, with each episode featuring one such game.
Absolutely brilliant, check this one out for sure.
22.

March Comes in Like a Lion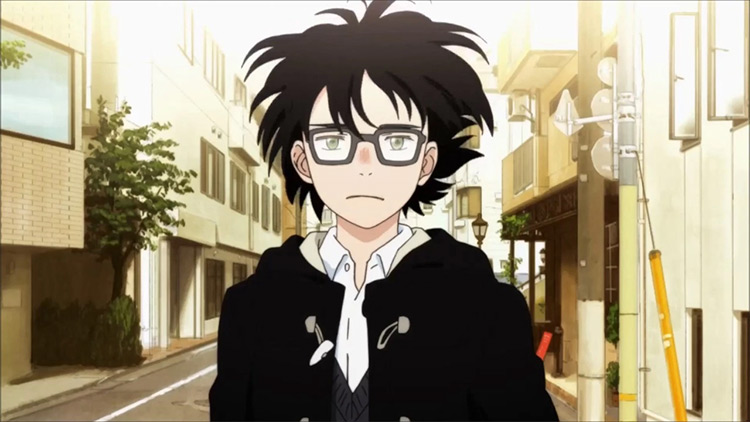 After losing his family, Rei Kiriyama was adopted by a shogi master into their family.
He is groomed to become the best.
But his disillusionment with the world, stress, and apathy hold him back. Now living in Tokyo, he doesn't take much care of himself.
He finds friendship in three sisters who want the best for him, yet it's always Rei holding himself back.
Watch this one if you want a wholesome, touching take on dramatic melancholy storyline.
21.

The Tatami Galaxy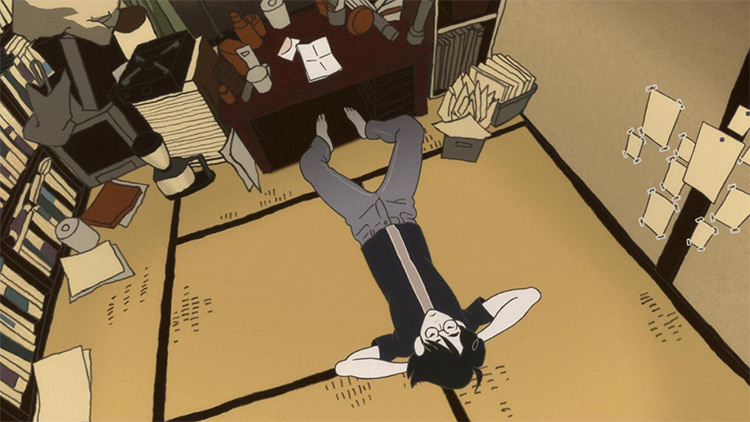 Watashi, a lonely college student in his last year, encounters the unusual looking God of matrimony, kickstarting reflection of his educational social life so far.
He's disappointed. Which makes it all the better when he's given the chance to go back in time to experience it all again, but differently.
With an eccentric art style and unconventional structure, Masaaki Yuasa's hyper-stylized romantic comedy touches on the fleeting experience of youth. As well as the multiple outcomes of a person's decisions, and the importance of seizing the day.
20.

The Wind Rises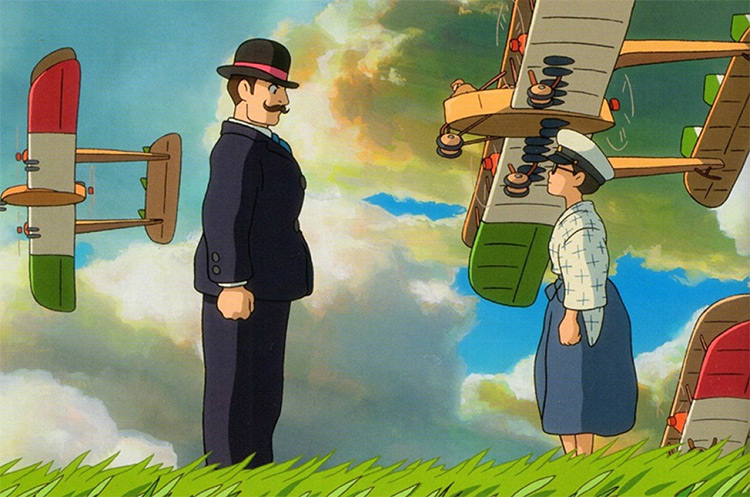 Despite his myopia preventing him from ever becoming a pilot, Jirou is determined to enter the aeronautical industry.
He gets a big break in the form of designing the Mitsubishi A6M Zero aircraft for warfare.
Torn between his aspirations of creation, and terror of the destruction that his creation will bring, Jirou must question whether his dream is worth the bloody cost.
Based on a true story, Studio Ghibli's unusual war drama combines love and fear to create a gorgeously produced package dripping with style.
Some of the set pieces are so endearing, and the ultimate antiwar message is well-meaning.
19.

A Country Doctor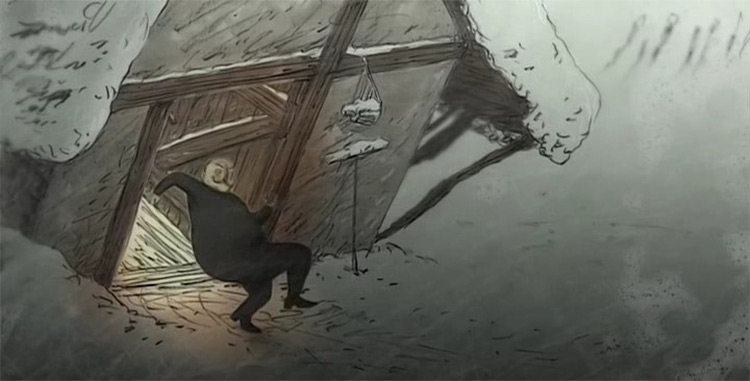 I'm willing to bet you haven't heard of this one.
Currently sitting at a criminally low score on MyAnimeList, A Country Doctor seems to have been misunderstood by a lot of its audience.
Based on a Franz Kafka story of the same name, A Country Doctor tells the bizarre and surreal tale of a panicked, pre-occupied doctor thrust into performance with a patient beyond saving.
The style and voice acting bring this classic to life in a way I have not seen before, making it perhaps the greatest adaptation of the work yet.
It manages to convey the near-nonsensical narrative visually, without sacrificing the Kafkaesque horror it's known for.
Equally horrific, disturbing, thought-provoking, and confusing – yet if you dig a little deeper, an answer may be there.
It's only a twenty-minute movie and on YouTube, so check it out sometime!
18.

Garden of Words
Takao Akizuki regularly skips lessons to sketch shoe designs in a park.
It's here one rainy morning that he meets the enigmatic Yukari Yukino, a woman plagued by something unspoken.
Every time it rains, they meet there. Over time they get closer and reliant on one another, frightened of when the sun will come out and their little bubble will burst.
This short film, courtesy of the acclaimed director Makoto Shinkai, is soaked in a production quality you may never again see in any anime.
Pencil shavings, phone lights, rain splashed trains; The Garden of Words is a masterpiece of microcosmic storytelling, each environment getting ever closer to photorealism in its execution.
17.

Mawaru Penguindrum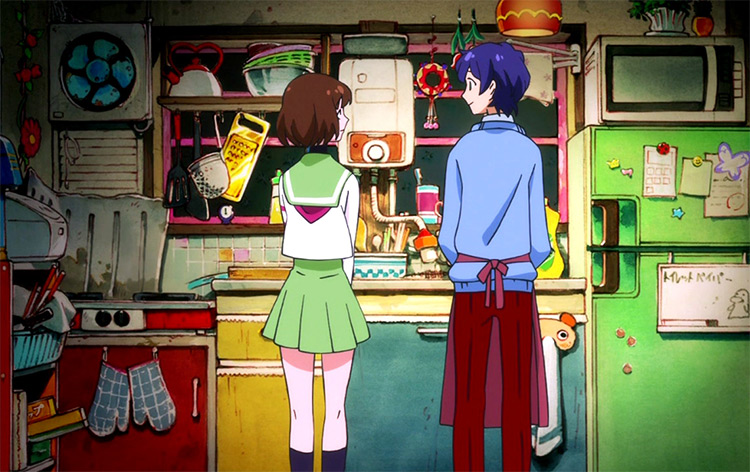 The young sister of the parentless Takakura family is released from hospital, but promptly collapses when her brothers take her to an aquarium to celebrate.
Shouma and Kanba are concerned when she suddenly sits back up, seemingly possessed by the penguin they brought from the gift shop.
They're told that her soul will be returned if the brothers manage to procure a 'Penguin Drum' – though of course, they're not told what that is.
Stuffed with metaphors, this multilayered narrative relies on you reading into the subtext to receive the greatest experience & takeaways.
Constantly twisting, sleek, and stylish, Mawaru Penguindrum never misses a beat in its execution of a family-focused drama that manages to bring out a few tears.
16.

Spice and Wolf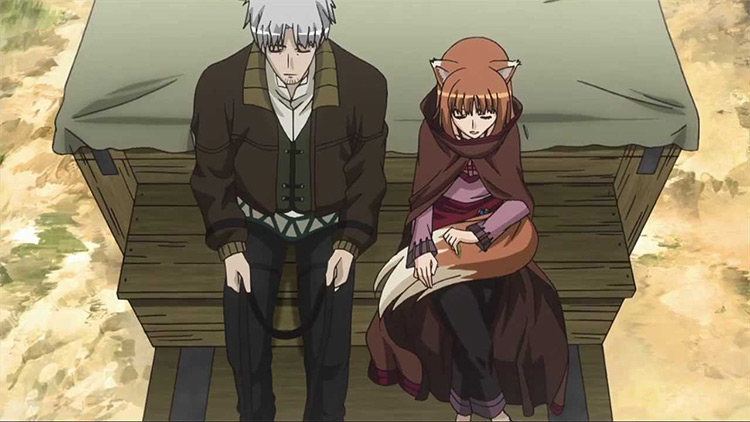 Kraft Lawrence is a traveling merchant, specializing in pelts and odd trinkets.
He builds a supply based on demand, negotiating from village to town, and making relationships along the way.
His dreams of someday opening his own shop become more achievable upon meeting Holo the Wisewolf, a deity of a bygone time with a knack for economics and a desire to tag along on his journey North.
Watch as Holo attempts to reclaim her identity in a technological world no longer reliant on such deities.
Spice and Wolf is poignant, with engaging characters in a well-realized world.
15.

Kids on the Slope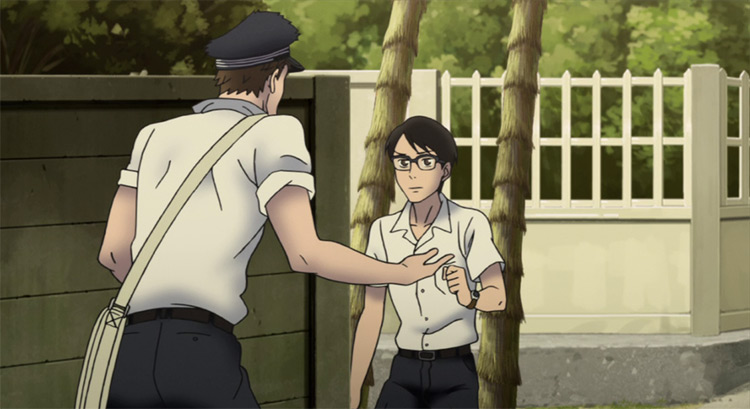 Kaoru Nishimi's introverted personality shows through his piano playing – professional, precise, and perfect.
However, when he meets Sentarou Kawabuchi, he tries to emerge out his shell. Truly inspired by his freeform jazz style on the drums.
Another Watanabe classic, this time combining the musical stylings of jazz and emotional drama to tell a compelling story.
Through his music we watch Kaoru open up and find the pleasure that comes from entertaining others.
Absolutely gorgeous in production and easy to digest with simple storytelling.
14.

Your Name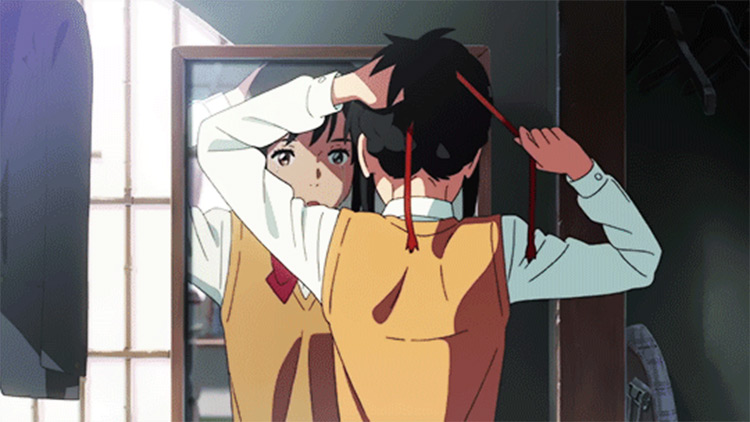 Taki Tachibana is a busy student struggling to juggle his architectural ambitions and part-time job.
Mitsuha Miyamizu is bored of the countryside, always aspiring to live in the rushing environment of Tokyo.
One day they wake up in one another's bodies. And now they have to discover the mysterious reason for the body swap…
Your Name is another Makoto Shinkai masterpiece with his classic photorealistic style at a near-perfect degree by this point.
The narrative seems complex, but is actually a very rooted story of relationships and strong connections.
13.

A Silent Voice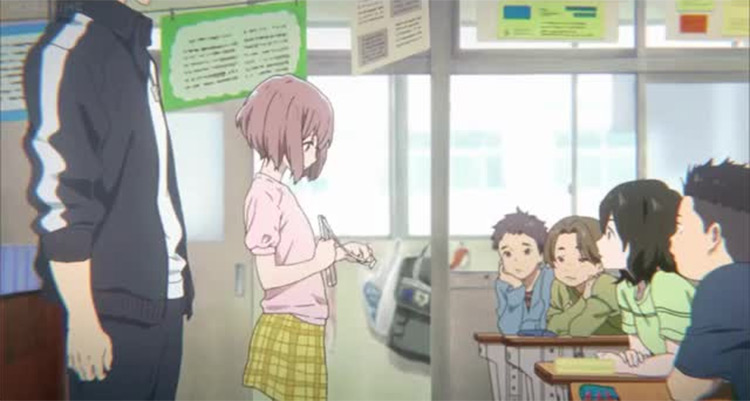 In elementary school, a sweet deaf girl called Shouko joins the class.
However the class clown Shouya selects her as a suitable target for bulling. Months of trauma for the girl pass until she's transferred away, subsequently making Shouya a target for scorn.
Years and years later, the suicidal and guilty Shouya is still haunted by his past actions when he bumps into Shouko once more. And he dedicates himself to making amends.
What ensures is a sad but heartwarming series of connections, as Shouya makes friends once more and helps Shoujo along the way.
This is one of Kyoto Animation's greatest works: a stylish movie about disability, debilitation, and personal responsibility that isn't afraid of hitting dark places.
12.

Beastars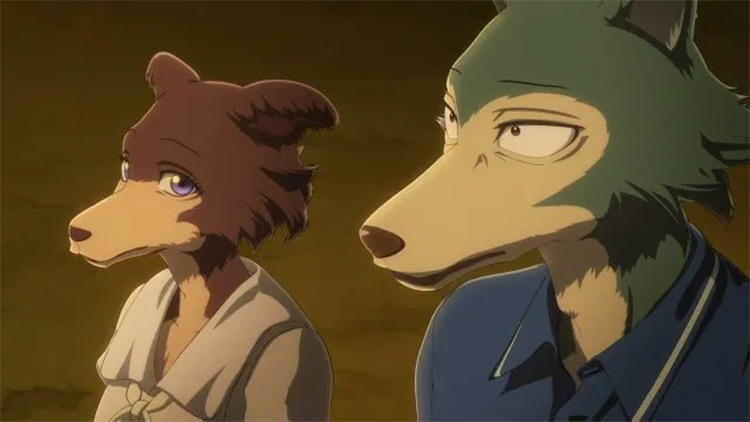 There exists an unhealthy harmony between the carnivores and herbivores of the anthropomorphic society that Legosi and Haru live in.
One day an alpaca from the school drama club is killed, causing even more tension.
Amidst this, the drama club persists with putting on a good show. And a timid wolf falls head over paw for a rabbit with a reputation.
This incredible animation proves CGI has a place in the medium, accentuating the dramatic moments with a flair and style that will leave you speechless.
I can't wait for season two to see where the drama will take us.
11.

Welcome to the NHK
Hikikimoris are introverts afraid of the outside world, who rely on getting by with minimal interactivity.
Tatsuhiro has been a hikikimori ever since dropping out of high school.
He's also a paranoid drug addict riddled with conspiracy theories. "Welcome to the NHK" depicts his struggles re-entering into society, with the help of a new friend and a mysterious girl obsessed with 'fixing him.'
This anime goes to very dark places and expresses the twirling psychology of our protagonist, with zany animation and bizarre music to boot.
It handles its morbid subject matter with great portions of humor, ensuring this to be a dramedy the likes of which you've never seen before.
10.

Ping Pong
Masaaki Yuasa's obscure magnum opus follows Makoto Tsukimoto as he works his way up the Ping Pong hierarchy.
Nicknamed 'Smile' for his subdued and boring personality, he initially shows little ambition – there primarily to support his best friend Yutaka (nicknamed Peco) with becoming the greatest player in the world – but soon discovers what he wants, and how he'll get it.
The inter-high table tennis tournament is quickly approaching. And with it, a cast of determined professionals each with their own backstory and depth.
Despite what you'd assume, Ping Pong is a hype dramatic sports story about passion and determination.
It comes with an esoteric style that escalates its potential into something truly great.
9.

Whisper of the Heart
Shizuku Tsukishima loves to read and write, often found checking books out from the library. She notices that many of those books were taken from a boy the same age as her.
This leads to meeting Seiji Amasawa, a confident violin maker with large drams of honing his craft abroad.
This inspires Shizuku, but also leaves her insecure of the aimless path she's been walking.
In response, she decides to put her foot down and finish the first draft of her novel no matter what. If only to prove she can do it.
Inspiring for both children and adults, Whisper of the Heart expresses that innate desire we all hold. It puts into words the passions we follow, and the struggles attributed to achieving your goals.
One of Studio Ghibli's greatest works, handling a realistic and relatable subject matter with moments of dreamlike creativity.
8.

Clannad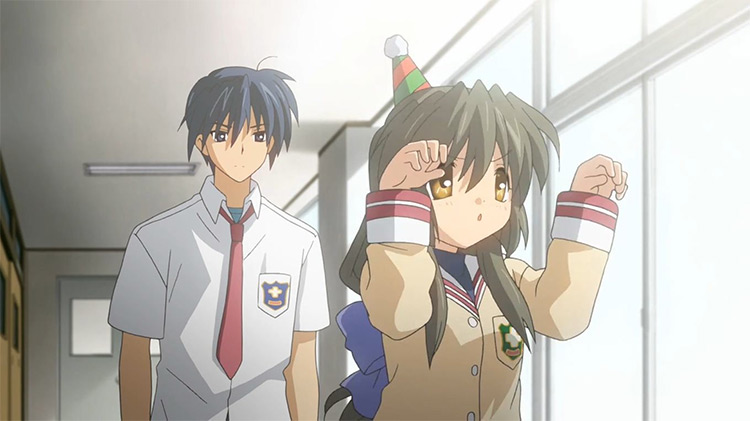 The first season of Clannad is a melancholic slice of life story about the lonely Tomoya, whose self-destructive and abusive relationship with his father has resulted in delinquency and depression.
Until he meets a girl called Nagisa. She's suffering from a severe sickness, and dreams of re-opening the school's drama club.
Tomoya feels compelled to assist her with this, and subsequently meets more people who let him into their lives, giving him purpose and companionship where before there was little.
Clannad: After Story is set after their school years. It handles strong, emotional topics of fatherhood and loss.
One of the most impactful melodrama anime to have ever been made, Clannad may leave you a sobbing hysterical mess by the end.
Complete with a stellar dream-like soundtrack and a moving narrative structure, it's probably the best Kyoto Animation adaptation, elevating the original Key visual novel to offer an animated journey through love and lovesickness.
7.

Nana
The two Nana's are entirely different.
One is a punk rock singer haunted by her past, the other is a quirky overly optimistic woman.
When they meet by chance on a train, and later end up renting the same flat together, they become closer and closer.
Their lives collide, bringing with it smiles, heartbreaks, and changes that can never be undone.
This anime dives into the lives of our main characters without reserve, dealing with all sorts of dramatic and serious subject matters.
The funny and endearing protagonists tackle various topics including job seeking, rent payments, drug abuse, and pregnancy. Check this one out, you won't regret it.
6.

Toradora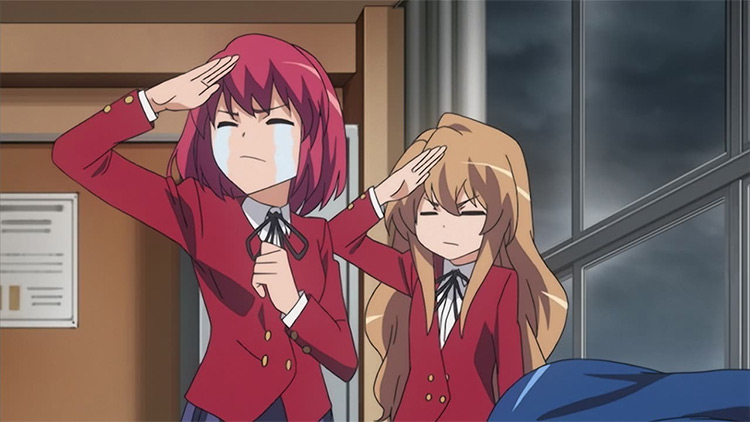 The thuggish appearance of Ryuuji doesn't match his soft and gentle soul.
Similarly, the small and delicate physique of Taiga doesn't match her aggressive and volatile soul.
At first, they don't get along. But soon they realize that they may not be able to cope without one another.
Featuring love triangle upon love triangle, wrapped up in a colorful and wholesome bow, Toradora! is one of the cutest romance dramas out there.
The character growth and dialogue are strong points here, with each person feeling likable and sympathetic.
It ends satisfyingly, making this a strong single watch without any bells or whistles.
And it really doesn't look 12 years old, to be honest.
5.

Aku no Hana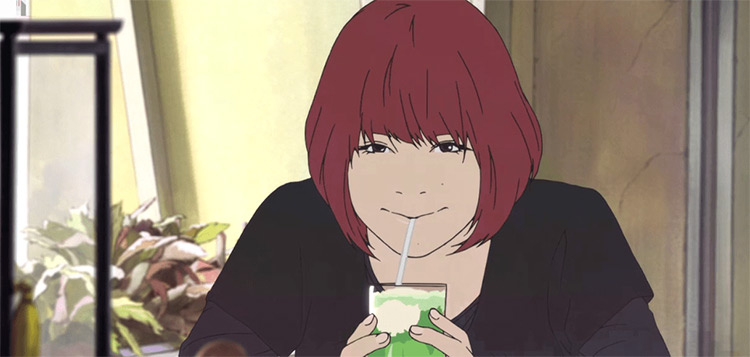 This is going to be a tough one to sell.
When Studio Zexcs were given the task of adapting Oshimi's psychological drama, they made a controversial decision.
They chose a rotoscope style with the art drawn overtop. They essentially had real actors and actresses perform the anime, then drew over it.
The results are entirely based on taste. But if you give it a shot, you'll discover a skin-crawling psychological thriller based around inner guilt, decadence, lies, and bullying.
Kasuga loves reading – Baudelaire's Les Fleurs du Mal – and is riddled by a sense of shame after stealing his crush's gym uniform.
Unfortunately, the school 'bully' saw him do it. And she will not let him forget.
I really, really want a season two of this.
The manga is one of my favorites, and I even have the flower tattooed on my arm. I recommend this one for its unusual presentation and disturbing content, all told with a stellar dramatic flair.
4.

Monster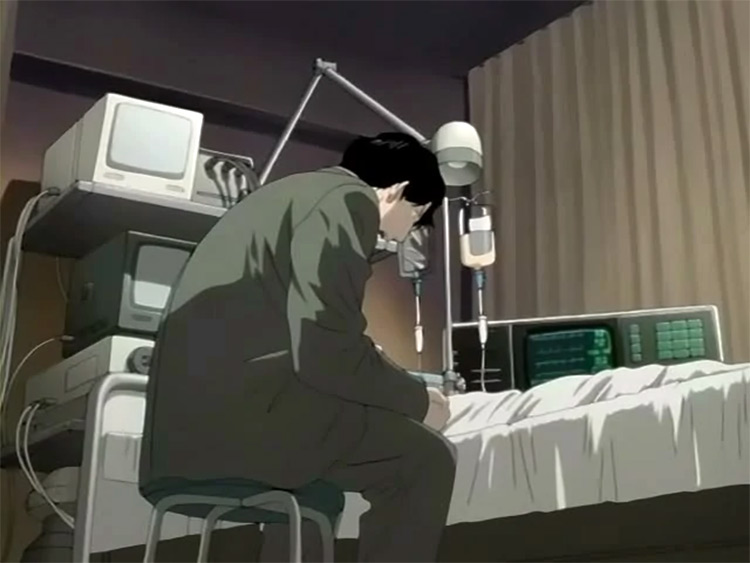 We meet a renowned neurosurgeon, engaged to the lead director and respected by his peers.
Dr. Kenzou Tenma is on his way to the top of the hospital hierarchy.
That is, until one day while performing lifesaving surgery on a young boy, he's told to switch patients to the mayor.
He refuses.
His life is immediately ruined, his career ambitions capped, his fiancé gone.
Nine depressing years pass until Dr. Tenma discovers that the boy he saved is a serial killer with a twisted goal.
Studio Madhouse's dark psychological thriller drama goes to places no other anime ever has. When I think of mature anime, I think of Monster for its dark and deep storytelling, and muted pseudo-realistic art style.
This is a must watch for any mystery thriller fans out there, for sure.
3.

Shouwa Genroku Rakugo Shinjuu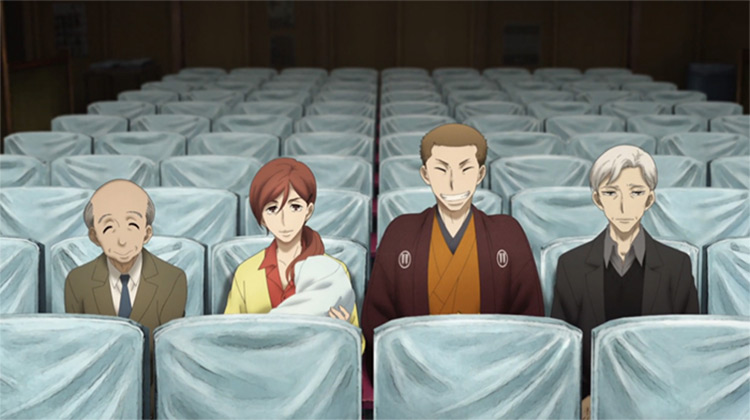 After serving a prison sentence, Yotarou decides to change his life around.
He seeks out the tutelage of Yakumo, and requests he teach him Rakugo – an ancient Japanese performance art, where the actor must play all the parts, by himself, and stay consistent and entertaining.
Yotarou seems eager. This sets Yakumo's mind back to an earlier time when he himself was learning Rakugo.
The first season follows Yakumo's story; the second season follows Yotarou's.
Gripping and rooted in realism, Rakugo tells a story about storytelling.
This series has some of the most fleshed-out character writing in anime as a whole. It explores the dark and light equally, and paints a fascinating tale of a traditional artform, and the love held by those who practice it.
2.

Grave of the Fireflies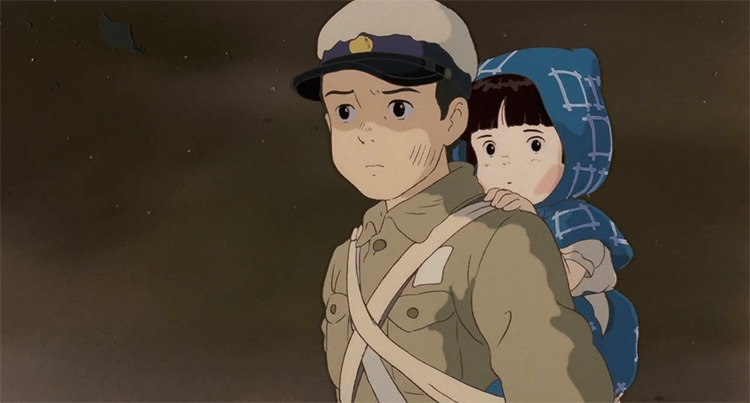 As controversial a statement this may be, I think Grave of the Fireflies is the most important film created by Studio Ghibli.
Most of their works focus on the ethics of war, and the fallout of devastation.
But this movie does not skirt around the subject.
Grave of the Fireflies is set at the conclusion of the Second World War as Japan suffers from the two nuclear bombs detonated over their country.
We follow Seita and Setsuko; a young boy and even younger sister, trying to survive in an inhospitable environment surrounded by similarly scarred people.
The realistic consequences of battle are unforgettable; genuinely horrific.
And this movie is based on the 1967 short story by Akiyuki Nosaka, along with numerous firsthand accounts of the atrocities.
Grave of the Fireflies refuses to turn from the harsh truths of life.
1.

Legend of the Galactic Heroes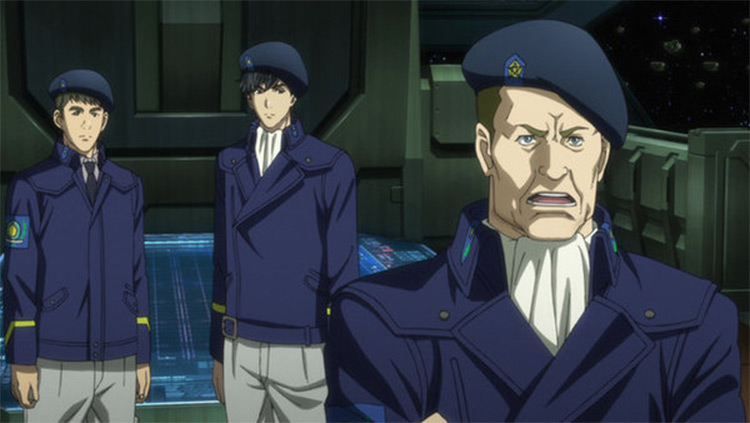 150 years of stalemating ends when Wen-Li & Reinhard von Lohengramm meet in combat for the first time.
Behind them are the diplomatic democracy of the Free Planets Alliance, and the aristocratic dictatorship of the Galactic Empire.
And within those opposing forces are over 300 voiced actors(most of any anime) each with depth and growth.
Legend of the Galactic Heroes is one of the greatest pieces of animated media produced.
Though it is slow and dialogue-heavy, it tells a grand story complete with documentary episodes and a decade-spanning narrative culminating in a glorious conclusion.
Browse:
Japanese Culture
Lists
Studio Ghibli
Anime