Best Farming Simulator 17 Maps To Download (Our Top 20 Picks)
This post may contain affiliate links. If you buy something we may get a small commission at no extra cost to you. (Learn more).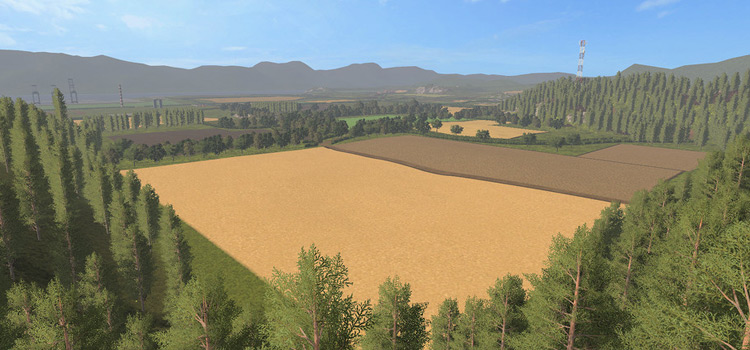 While most mods give new equipment, buildings, or animals to care for, another way to keep FS17 exciting is to play through some new custom maps.
And thanks to the loving FS modding community, there are tons to choose from.
There's pretty much something for everyone.
If you're looking to start a completely new farm somewhere fresh, or just want to breathe life back into the game, here are some of the best user-made maps to do that.
20.

OGF USA
First off we have the OGF USA map, which from the title you can tell is an American farm map.
It's based off actual farm land found in Cold Water Michigan, but is not a realistic map, as explained by the modder himself.
Regardless, the map is beautifully laid out. And feels very much lived-in thanks to over 350 objects and houses installed around the area.
The map even includes an airport, golf courses, a military compound, and even an animated train that travels across the map.
19.

Lubelskie Wyzyno Niziny
If you prefer to play through a European map instead, Lubelskie Wyzyno Niziny takes us to the large fields of the Polish countryside.
The map includes 4 multi-purpose farms, and is one of the denser maps with around 50 fields and 7 meadows spread across.
Fields are in different sizes too. So you'll be able to purchase small, medium, and large fields depending on your needs.
You'll also find 4 forests spread around the map as well, if in case you find yourself in need of some lumber.
18.

Spectacle Island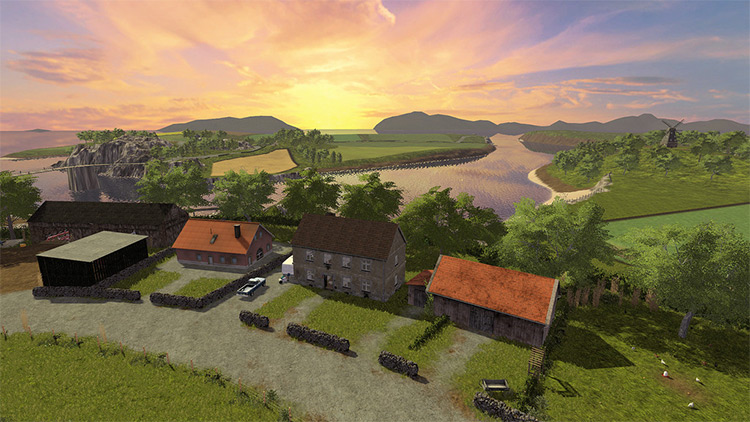 This next one might not be as large as some of the others. But that's simply due to the fact that the map is divided into 4 islands.
That alone should make for an interesting farming experience, right?
I mean, the only means for transport between the islands would be across bridges. Plus, tropical farming anyone?
The map contains 21 fields, and you'll start off already owning one of the four islands.
A second island contains all the purchasable fields, while the other two are completely covered in forestry. Which should prove useful eventually.
The map doesn't include any added products, but has 11 selling points and already includes sugarcane.
17.

Countyline Seasons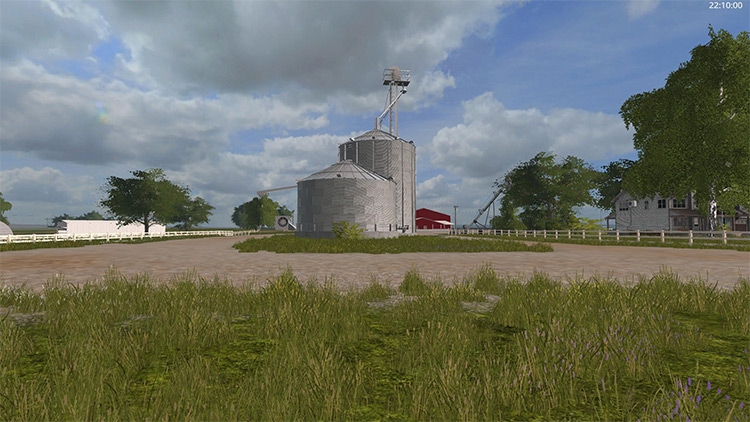 Countyline Seasons is actually already the 2nd version of the Countyline map, as it already features support for seasons along with other updates to FS17.
The map is a 4x map, but is very detailed compared other bigger maps out there.
The modder doesn't really indicate where this is located, but the map looks to be American just based on appearance.
It contains a total of 31 fields, although you start off already owning 3.
Another great thing about the map is that the field sizes do have some variety to them, so you're going to have to plan a bit more in terms of what goes where.
16.

Autumn Oaks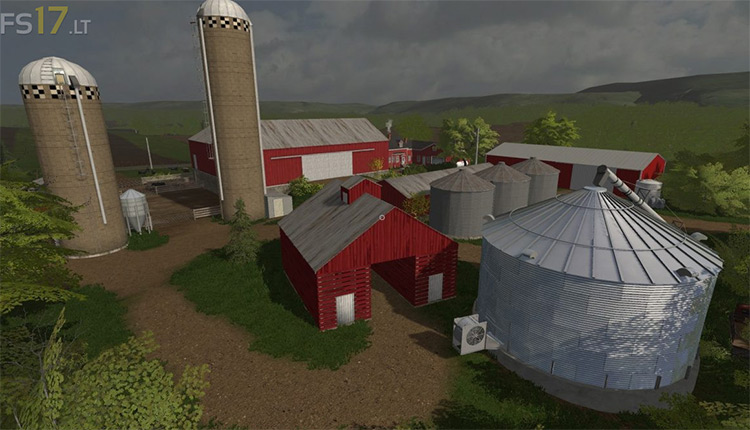 If you're looking for a completely unique FS17 experience, Autumn Oaks might be a good choice.
Autumn Oaks contains 4 individual farms and only 14 fields to play around with.
But what makes it different from most other maps is that you're going to have to purchase an entire farm to get access to the fields.
This makes building your farm a bit more challenging, as you're going to have to some up a bit more money to expand, which might end up taking longer than expected.
Another unique feature about the map? Odd field shapes.
If you're up for the challenge, I definitely recommend giving this a shot.
15.

Clover Creek
One more challenging map you might want to take a look at: Clover Creek by CWJ.
Most of the farm land is surrounded by large bodies of water, so land is mostly expensive as it's not as easy to come by.
This particular map is already the 2nd version, which now includes seasons support as well as an added BGA for you to use.
CWJ did include field missions on 6 of the available fields, just to help you make a bit more money with less land.
14.

Zillertal Alps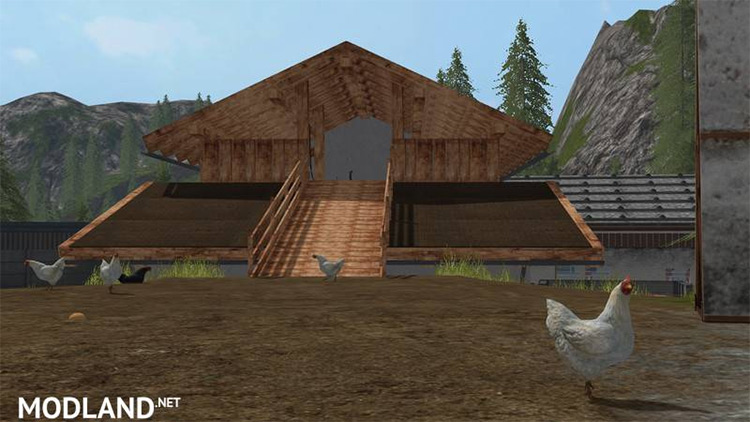 For this next one, let's take a break from the island maps and travel over to the Alps.
Zillertal Alps is based on Zillertal, which is a mountain valley found in Tyrol, Austria.
As expected, the map is surrounded by an extensive mountain range, making for some interesting terrain to farm over. It only contains 6 fields, ranging from 0.8 – 4.0 ha large, so it's less selection and more size.
The map doesn't feature any additional fruits, but does support cows, sheep, chicken, and pigs.
If you're looking to live the relaxing farm life by the mountainside, Zillertal is a great place to pack your bags for.
13.

Sussex Farm
This time we move from Austria to the UK, as this map is based on the south east England farmlands of Sussex county.
The map is much larger, featuring 3 farms, 36 fields, and 7 placeable areas.
You start owning 5 of the 36 fields, while all fields range from 0.25 – 9.16 ha large.
Sussex Farm also includes 5 grass areas and forestry. The map even supports seasons and sugarcane, and includes 16 different selling points.
12.

Maverick's Multifruit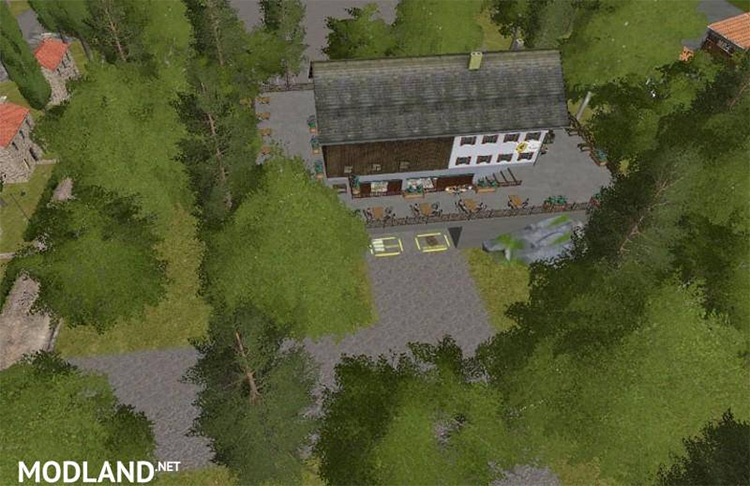 Now this map is quite large at 4x, and features 22 fields to farm on.
The 22 fields range from 5.9 – 80.42 ha, so everything here is quite large compared to other maps – which only means you'll have more land to grow crops in.
All fields are perfectly square or rectangular, so navigating through won't be much of a challenge. The challenge is turning a profit as a farmer!
The map also features over 50 added products and 13 fruit types, making Mavericks Multifruit really focused on productivity.
11.

Factory Farm
Factory Farm is actually an updated version of Mavericks Multifruit, where it's now seasons ready.
But that's not the only update, as the map has also been redesigned to further differentiate it from the original.
The map is still 4x with 22 huge fields, but it has some additions like tobacco, which includes a Marlboro Cigarette factory and a Cigar factory.
It also features a number of additional sell points for you to provide your products to, which includes some big names like McDonalds, KFC, and Shell.
10.

Joran's Farm
Joran's Farm is the second map by Maverick, which he started working on after Maverick's Multifruit.
Similar to Maverick's map, Joran's Farm is also a 4x, but this time includes 31 different fields. The map is also seasons ready, contains 13 multifruit, 71 production factories, and almost 150 products for you to choose from.
Five different animals are also supported: ponies, pigs, sheep, cows, and goats.
This one is particularly special because of the backstory. Maverick made this map for a 14-year-old cancer patient Joran who happened to be a huge fan of his first map. Unfortunately, he wasn't able to see the completed map, but the map lives on for us to enjoy. Maybe throw a shoutout for the first farm you build on this one.
9.

Gold Crest
I'm sure you're probably wondering why there hasn't been any mention of Stevie throughout the list.
Well here we are, with one of the most popular map creators for Farming Simulator, and Stevie's Gold Crest map.
Gold Crest Valley is actually one of the default North American maps that come with the base game. But modder Stevie puts his own spin on it to make some improvements.
First off, the map now includes two added fruit types – rye and oats.
Stevie's version also adds storage space around the map, a silage making machine, forage making machine, and a manure making machine.
Changes have been made to the layout and field sizes as well, overall making things a bit more convenient.
8.

Serenity Valley II The Rise of Industry
Here's a great beginner-friendly map that's especially good for those who haven't poured too many hours into FS17 yet.
Serenity Valley II is a medium sized map that contains 36 fields, ranging between 0.9 – 29.46 ha large.
The map is generous in terms of starting, as you already own 21 fields right off the bat, along with some very good starting equipment to match.
It also features 5 additional fruit types and is already seasons ready. Worth a try for sure, especially for newer farmers!
7.

Sherwood Park Farm
Here we have another map modded by creator Stevie.
Sherwood Park Farm is actually based on a popular map for Farming Simulator 15, which Stevie ported over to FS17.
Sherwood Park is a small habited plot of land found in Alberta, Canada, which is beautifully depicted in this FS17 map.
It includes 28 fields in a large variety of shapes and sizes, field missions, as well as two additional fruit types.
6.

Pine Cove Production
Pine Cove Farm is also another popular map by Stevie, but this specific one is an updated & modified version by Kristsu.
The update adds some additional content to the classic Stevie map, like seasons compatibility (of course).
While the map still retains the same 18 fields, most of the equipment has received upgrades. So we get much more modern pieces that allow for automated production lines.
The map also adds some new cultures like carrots, onions, and grapes, along with new products including wine and grape juice.
You could even make your very own vineyard for mass wine production! Better start thinking up label names.
5.

Gifts of the Caucasus
As with any decent port, this map includes a couple upgrades from the previous version. So this should still make for an interesting playthrough even if you've tried the older one.
The map is large at 4x, and includes 21 fields to purchase.
While this does include some added fruit types and products, it also features something a bit more unique compared to other map mods.
It actually includes a realtor who sells property and businesses. So you're going to have to pay him a visit to negotiate each time you'd like to buy some new land.
4.

Greatfields
Greatfields is another 4x map that really knows how to take advantage of all that space.
The map includes 32 fields, all perfectly rectangular for easy navigation.
One of the first things you'll notice is the gigantic field to the right, which is actually 600 ha!
If you've picked up the Big Bud DLC for FS15, this would be a perfect map to put your larger equipment to good use.
3.

Bjornholm 17
Another popular FS15 map ported to FS17. This time we're actually taking a look at a modded vanilla map from the previous FS title.
Bjornholm is a Scandinavian map which gives it a completely unique look and feel, and features 41 fields.
Not much was changed from the original version. But this is still a great way to experience one of the best Farming Simulator maps in FS17.
2.

Pleasant Valley Rivers Reloaded
Pleasant Valley Rivers is a 4x map and is packed with 68 fields to choose from.
The large map is built for enhanced productivity, featuring 8 new fruit types: sugarcane, oats, cotton, mustard, coffee, millet, sorghum, and even hemp.
The map also features almost 80 new products including cereals, potato chips, alcoholic beverages, and even pizza. Everyone loves pizza, right?
There are even 50+ factories available on here as well, so you'll be ready for production in no time.
1.

South Mountain Creamery Farm
Finally we have the South Mountain Creamery Farm map by Blacksheep Modding.
It features a beautiful American farm based on farmland found in Maryland, including 41 fields to choose from.
The farm is also seasons ready, and is very detailed with door triggers and light switches for all your buildings.
The map isn't by any means the largest or most expansive on the list. But the huge green stretches surrounded by tree-filled mountains and lakes just give this one an especially serene feeling to it.
By far the best map to get out into the fields and commune with nature.
Browse:
Farming Simulator 17
Lists
Video Games