12 Best Puzzle Games For Game Boy Advance (Ranked)
This post may contain affiliate links. If you buy something we may get a small commission at no extra cost to you. (Learn more).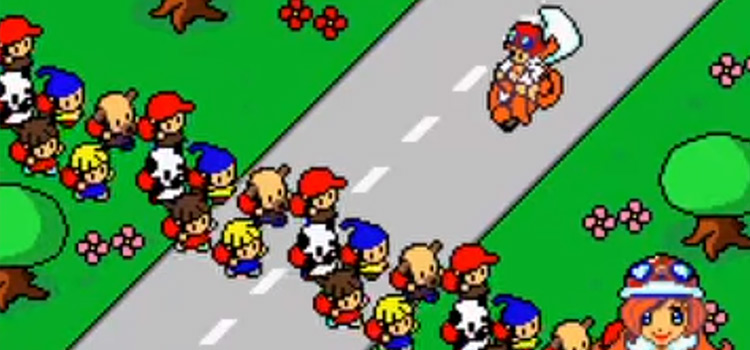 Tetris on the original Game Boy changed the world of puzzle games forever.
This resulted in an incredible legacy that was hard for other portable puzzle games to live up to.
But the Game Boy Advance bravely stood up to the challenge.
Among portable consoles, the Game Boy Advance features one of the most diverse puzzle game libraries out there, including ports of classic games as well as brand new titles that mix & match puzzle elements with mechanics lifted from other genres.
This creates a unique blend of games that are truly still remarkable to this day. So if you're ready to take a trip back to the early 2000s, these puzzlers are for you.
12.

Klonoa: Empire of Dreams
Released: July 19, 2001
Even simple platform games can become something more when blessed with puzzle game elements
Klonoa: Empire of Dreams would have been a cute, but rather basic platform game… if it wasn't for its clever puzzle game elements of transforming enemies into stepping stones to reach all over the map.
As completing Visions requires getting three stars cleverly hidden inside each stage, playing Klonoa: Empire of Dreams properly involves both a quick mind and quick fingers.
This makes for a very unique and enjoyable experience for both puzzle and platform game enthusiasts. Worth checking out for sure.
11.

Puyo Pop Fever
Released: November 26, 2003
A classic among classics, presented in a classic handheld format.
It couldn't have been any other way for Puyo Pop Fever!
Puyo Pop Fever was ported to every major gaming system of the early 2000s. But the basics have always remained the same.
To succeed in this game, you have to mix three or more gummies of the same color that drop from the top of the screen, sending over garbage gummies to your opponent to mess them up.
The main difference here vs classic Puyo Puyo are the Fever mechanics, a state of frenzy achieved by clearing enough gummies which offers chains that can be devastatingly effective.
Saturday's Night Fever, make way for the true Fever of the 2000s!
10.

Super Puzzle Fighter II Turbo
Released: 2003 (unknown date)
When Guile's theme starts playing in the background, you know things are becoming serious.
Welcome to Super Puzzle Fighter II Turbo.
Despite the iconic Street Fighter II character not making an appearance in this excellent puzzler, Super Puzzle Fighter II Turbo is still a serious experience that'll keep you engaged for a long time.
It offers fast-paced gem matching and breaking mechanics that you don't find in many titles.
While the game hasn't changed a whole lot on Game Boy Advance, the portable Super Puzzle Fighter II Turbo experience is just as engaging as ever.
Also thanks to a clever multiplayer mode that can be enjoyed on the same console.
An effective Dragon Punch to link cables and multiple copies of the same game!
9.

Boulder Dash EX
Released: September 17, 2002
When digging tunnels become much harder than expected, you just whip out the best tools for the job.
Boulder Dash EX features a very interesting spin on the original's tunnel-digging formula, introducing a wacky Japanese anime story & a lot of new mechanics, such as a variety of power-ups including bombs and grapple arms, new enemy types that use gravity to their own advantage, and clever level designs that ease you into the experience.
Well, easy at the beginning. Only to hit you hard later on.
With the inclusion of the original game in all of its retro glory, plus options for 4-player multiplayer, Boulder Dash EX is truly EX in every sense of the world.
8.

Super Bust-A-Move
Released: November 28, 2001
Any self-respecting console needs its own rendition of Bust-A-Move in its library.
Or a Super rendition.
Super Bust-A-Move doesn't play that much differently from its glorious predecessor, as you use the launcher at the bottom of the screen to shoot colored bubbles and match them with ones of the same color to pop them.
The great selection of power-ups, plus new obstacles, make playing the game's normal puzzler mode feel like you're playing the sequel to one of the best puzzle games of all times.
And if you cannot stand modernity, you can enjoy a more basic experience with classic mode.
The best of both worlds, right in the palm of your hand.
7.

It's Mr. Pants
Released: December 7, 2004
Whip out your best crayons, it's time to fight the crayon snake!
The premise of "It's Mr. Pants" is not as silly as that, despite the game actually featuring a crayon snake in one of its three play modes.
This exotic snake is used to spice up the basic formula that involves clearing rectangles of various sizes, using blocks shaped like the timeless Tetriminoes.
While the basic experience will not set your heart on fire, It's Mr. Pants offers a puzzle mode that definitely will.
In this mode you will have to clear different configurations of rectangles using only the provided set blocks.
An unexpectedly challenging brain-teasing mode, in light of the colorful atmosphere the game exudes.
6.

Dr. Mario and Puzzle League
Released: November 28, 2005
Is there a doctor in the house? We have a Tetris Attack here!
Dr. Mario and Puzzle League bring together the experiences of the two puzzle games for one explosive portable package.
While Dr. Mario, with its slow and methodic pace, may not be everyone's cup of tea, it's Puzzle League (also known as Tetris Attack on the Super Nintendo) that's the star of the show.
This offers its panel matching and chain reactions experience and the many different play modes, all with clever variations of the basic experience that still today are among the most addicting for all types of gamers.
Drugs are bad, but Puzzle League is good. Very good. Extremely good!
5.

Kuru Kuru Kururin
Released: March 21, 2001
I honestly have no idea on how to pronounce Kuru Kuru Kururin.
I do know, however, that it's a bloody good game.
Controlling Kururin's Helirin, a strange spinning blade vehicle, you have to navigate through different colorful courses to rescue his scattered siblings.
Level design is definitely among the highlights of the game, as they're full of twists and turns that force you to position yourself correctly, lest you hit the walls and receive a time penalty.
Something that'll happen rather often in later stages, which are truly unforgiving.
In stark contrast with the colorful appearance, this puzzler is a doozy. Never trust appearances!
4.

The Lost Vikings
Released: 2003 (unknown date)
It has been years since these Vikings have gone missing. And they still haven't found their way back home.
The Game Boy Advance port of the classic puzzle platform game The Lost Vikings is a perfect conversion of the Super Nintendo release.
You accompany the agile Erik, the powerful Baleog, and the sturdy Olaf back home. Making sure to complete the many puzzles found in the game's 37 stages using the unique abilities of each member of the trio.
Despite all these years, The Lost Vikings is still an incredibly engaging experience.
Truly an experience that has stood the test of time as much as these Vikings stand their ground against their otherworldly enemies. To Valhalla!
3.

Chu Chu Rocket!
Released: 2001 (unknown date)
The cute space mice seen in Sonic Adventure have grown up. So much that they could star in their own game.
Chu Chu Rocket! is a clever puzzle game that is clearly inspired by Lemmings, as you'll have to guide the Chu Chus to their rocket in the game's many stages by placing directional panels on the ground.
Things are made more complicated not only by the labyrinthine stage design, but also by the presence of the space cats KapuKapus, who are out for the space mice. Go figure.
Thanks to its charming premise and easy-to-play nature, Chu Chu Rocket! is a game that all fans of puzzlers will instantly fall in love with.
A love that will last for all eternity, or almost, as the game features well over 2,500 stages.
You can start playing now and complete maybe 2,100 of them by… well, probably in the middle of a new space age!
2.

WarioWare, Inc.: Mega Microgame$
Released: March 21, 2003
WarioWare, Inc.: Mega Microgame$ is a scary look at the collective minds at Nintendo.
Minds full of silly yet always fun ideas.
WarioWare, Inc.: Mega Microgame$ is fun in its rawest form. And a celebration of Nintendo as a whole.
The game features a lot of very short and to the point challenges inspired by the best classic Nintendo games.
These challenges involve completing simple tasks like avoiding objects, hitting enemies, you know seemingly easy stuff.
But the fast pace of the challenges, the sheer fun they offer, and the incredibly stylish design of the whole experience makes the journey into madness fun like very few other GBA titles.
Well worth digging into, especially for hardcore Mario fanatics.
1.

Mario Vs. Donkey Kong
Released: May 24, 2004
Donkey Kong may be a simple ape. But he does know how to bring a world of trouble.
Mario Vs. Donkey Kong is the natural evolution of the classic Donkey Kong experience. Only that Mario is not out to save a damsel in distress this time, but the Mini-Mario toys that have been stolen from his newly built factory.
If you were a kid back in 2004 you probably remember the commercials for this game. They were awesome.
To save his little Mario toys, the legendary plumber-turned-entrepreneur will have to travel to different locations and complete three different types of stages that all have different skill requirements:
Steep platforming
Masterful puzzle-solving
Relentless boss fights
With an impeccable level design that offers a genuinely varied experience that's easy to learn but harder to master, the eternal war between Mario and Donkey Kong has never been this fun.
Browse:
Lists
Nintendo
Video Games