Best Cars From Grand Theft Auto Vice City (Our Top Picks)
This post may contain affiliate links. If you buy something we may get a small commission at no extra cost to you. (Learn more).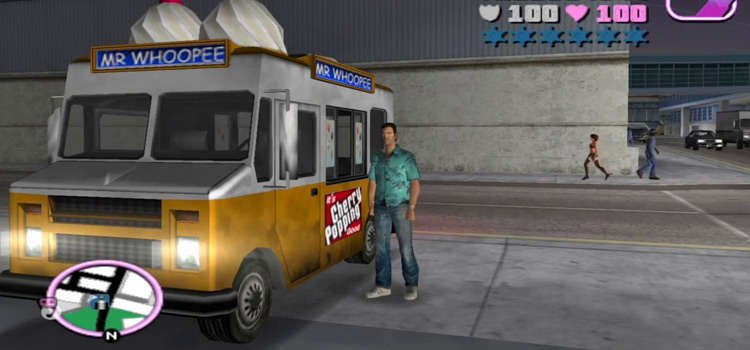 Cruising through Vice City is a real treat no matter what you're driving.
But let's be honest: you don't wanna be caught dead riding a Faggio unless you absolutely have to. There are so many better options out there for wheels that'll have you cruising to the strip joint in style.
So with this list I wanna share my top 15 picks for the absolute best cars you can snatch up and drive in GTA Vice City.
15.

The Banshee
This two-seater sports car was considered popular enough to continue to feature in every GTA game since GTA III, including Vice City.
Made to resemble a Chevrolet Corvette C4, GTA's version is stylized to be narrower in width to look sleeker and more angular. With some changes made to the headlights and taillights as well.
This car is a good choice in-game if you're looking for speed since it can reach up to 124 miles per hour.
It does have some issues when turning corners because of its rear wheel drive but eh, who needs safety when you've got this kinda car.
14.

The Mr Whoopee
This might not be the best car performance-wise, but it is a fun one to ride around in.
I mean, you're telling me you never wanted to drive an ice cream truck?
Introduced in GTA III and appearing in many games afterwards, each game has a different version and they have a different take on this beautiful ice cream truck.
In Vice City the roof of this van has two big scoops of ice-cream with cherries on top, stylized to be sexually suggestive. You know what I'm talkin' about.
You'll actually use this van for a mission where you must use the Mr Whoopee as a front to sell virtual drugs, in game of course. Say no to drugs kids.
13.

The Hotring Racer
This car is an unlockable option in both Vice City and San Andreas that's used in the Stadium Challenges.
Made to resemble old NASCAR stock cars, this vehicle is a perfect option for those who look to drive fast.
To obtain this car in Vice City you must complete the Sunshine Autos import mission where the Hotring and others will spawn inside the building.
12.

The Sanchez
The Sanchez is a motorbike introduced in Vice City that gives you a useful vehicle for doing stunts and driving off-road.
Despite not having the best speed, the Sanchez has a soft suspension, light weight design, and high ground clearance, making it a good choice if you're after technical moves instead of a speedy getaway.
This bike also allows for a side mission where three black versions of the Sanchez will arrive with machete-wielding Haitians riding on them. Naturally you'll have to take those guys out so come prepared.
11.

The Sabre Turbo
The Sabre Turbo is a two-door muscle car that first showed up in Vice City and was used again in Vice City Stories and GTA V.
Based on the standard Sabre car, the Sabre Turbo includes a stylish white racing stripe across the front and hood of the car.
This version of the Sabre takes it to a new level with better acceleration capabilities, and good cornering skills. Cause everything's better in Vice City.
10.

The Romero
The Romero is a hearse modelled after a 1980s Buick Superior Hearse and is featured outside of the Funeraria Romero funeral parlor, and is only available for use in the mission "Two Bit Hit". Well, unless you use some cheat codes.
With a style unlike any other car in Vice City, this is capable of very high speeds which is really surprising.
Despite its cool and quick abilities, it does have rough steering though.
Fun fact: Vice City is the only game in which the Romero is able to hold up to four passengers.
9.

The Patriot
If you're looking to do some off-road driving, the Patriot is a solid choice.
Because of its heavy weight it is a durable car with high ground clearance, a hefty width, and high suspension.
It's capable of climbing high gradients without rolling while still maintaining an average speed. And it can take quite a hit if you're driving recklessly, which I know you are.
This vehicle is used in many of the GTA games and in Vice City it is designed with a military design.
8.

The Sandking
The Sandking is one more solid choice for off-road driving, mimicking the style of many Jeep Cherokee XJs with some customizations for style.
This car is one of the fastest of the off-road cars while maintaining the ability to cover rough terrain without too much rollover.
This vehicle can drive on-road but it isn't the safest choice as it is more likely to drive over cars instead of simply crashing into them, increasing chances of a rollover.
7.

The Zebra Cab
Here we've got a fun vehicle that is unique to GTA Vice City, appearing in the mission "Cabmaggedon" where the driver is attempting to run you over.
Named after its appearance, this car is a taxicab covered in zebra stripes replacing the white of a zebra for the yellow of a taxi.
While the coolest part of this car is its design, it still has some power with a high-performance engine and better speed and acceleration than most cabs in-game. You can get one yourself with cheat codes so give that a try next time you're bored.
6.

The Stallion
Another car featured in almost every GTA game, the Stallion is best recognized for its incredible ability to perform drifts and doughnuts, making it a super fun car to drive.
You can tear stuff up specifically because this car has low—down torque and its rear wheel drive is pretty loose.
The design of the Stallion is unique to which version of GTA you're playing, but in Vice City it is modelled after Ford Mustangs from 1964 to 1968 with its smaller size.
5.

The FBI Rancher
This is a pretty difficult vehicle to get access to, as you can only drive it once you've reached a five-star wanted level. And even then, you have to steal it to be able to drive it. So have fun with that little project.
But once you gain access to a Rancher it is a pretty sweet ride to drive around in.
This Rancher has four-wheel drive, a strong engine, and is one of the fastest police vehicles across all of the GTA games.
Because it is a law enforcement vehicle this car also has the ability to use a siren to clear the roads ahead as you drive.
Worth noting that the PlayStation 2 version of Vice City is the only GTA game that lets you repaint the car at the spray spot, as all other versions consider the car unacceptable because of its origins.
4.

The Rhino
This vehicle is designed after German tanks and is covered in distinctive military armor.
The Rhino is another vehicle that is only accessible once you've reached a high wanted level, and this time you need to be at six stars. Which is the maximum BTW.
This stolen tank is not a good choice if you're going after speed as it's so slow that you can be captured easily when spotted.
If you are successfully able to maneuver yourself around law enforcement, the Rhino is a force to be reckoned with. Hitting another vehicle with it just a little bit causes any normal car to explode or catch fire.
And because of its strong armor the Rhino is also bullet-proof and does not take damage from almost all in-game weapons. If you're inside this thing on the road you're basically indestructible.
3.

The Infernus
The Infernus was introduced in GTA III and continued in almost all following games, including Vice City.
This supercar has three different forms across the games, but in Vice City it resembles a Lamborghini Countach LP 500 without the scissor doors. It's pretty sleek.
The Infernus is one of the fastest cars in the game with a solid distribution of power and is ranked as the most aerodynamic in Vice City.
Like many of the other cars in GTA, there are some issues when turning corners because the Infernus has such a high-power output. This car does give you the ability to smoothly drive over curbs though, making it a solid choice if you need a quick getaway.
2.

The Cuban Hermes
If you can get your hands on the Cuban Hermes you'll be in for a cheesy yet fun time. This is a modified version of the Hermes, appearing only in GTA Vice City and Vice City Stories.
Its chic appearance is due to its use as a gang car for the Los Cabrones.
A black car covered in flames around the front of the car, this is a car that is hard not to notice.
Not only is it one of the more unique-looking cars in the game, it is also a light car compared to the regular Hermes. This helps its speed and acceleration quite a bit.
In addition it also has excellent cornering and stability when driving fast so it's actually a nice getaway car.
1.

The Voodoo
This fast and smooth driving whip is a favorite by players and in-game gangs alike.
Vice City was the first time we see this vehicle make an appearance. It was clearly popular since it has been appearing in many later games afterwards with even more improvements to its speed and agility.
It has a low ground clearance giving the wheels protection from stuff on the roads. And because of its low center of gravity this car will rarely flip.
Modelled after the 1960 Chevrolet Impala you can find this bad boy in its classic red color for almost any mission. It's a strong choice whether you're looking for speed or style.
Browse:
Grand Theft Auto
Grand Theft Auto: Vice City
Lists
Video Games