30 Best Songs From The GTA: Vice City Soundtrack
This post may contain affiliate links. If you buy something we may get a small commission at no extra cost to you. (Learn more).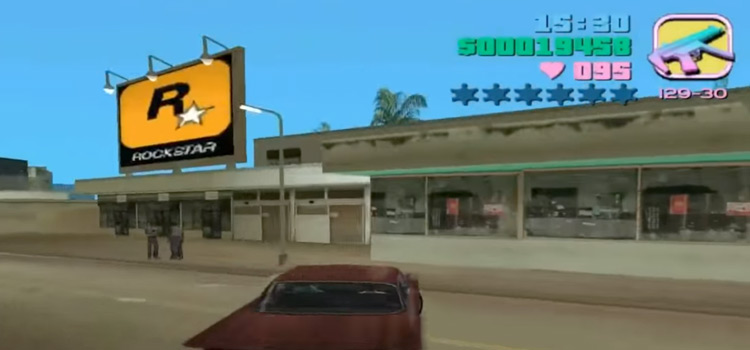 Vice City isn't just one of the most fun games from the GTA franchise.
It also has the most timeless soundtrack full of huge hits spanning the entirety of the 80s.
Complementing the crazy action and late night cruising of the game's Miami-esque location, the GTA Vice City soundtrack will immerse you further in the world of and keep you entertained for hours.
This is my list of the 30 best songs from everything that the Vice City radio stations have in rotation.
30. Gary Numan – Cars
A chill song to drive around town, this one calls for the loud Hawaiian shirt and sunglasses look and the convertible with the roof down.
Because here in my car, I'm throwing on Wave 103 and just hoping to catch this song at least once. It's got that classic 80s synth and repetitive weird dance-y themes.
Only reason it's not higher on the list is because, while this is "classic 80s", it is pretty repetitive. I can't imagine listening to this more than once or twice without changing the station.
29. In Deep – Last Night a DJ Saved My life
A great track in general, this banger by In Deep would probably feature in most people's top list of GTA songs.
It's a track is best enjoyed coasting around on a motorbike taking in the various sights of the city. This one is also from Fever so keep it tuned in and try to catch it.
28. Mongo Santa Maria – Me and You Baby
With a distinctively funky flavor, this song is definitely a highlight of the game's genuine 80s soundtrack.
Incredible instrumental solos and chill vocals to keep you bobbing your head mid-drive. No doubt this one is unique and fun to listen to every time it comes around on Radio Espantoso.
27. Hall and Oates – Out of Touch
A great example of 80s dance music – which of course went on to be remixed, as happens with many 80s tracks.
Out of touch is a fun track to rock the classically 80s hair style and the retro attire.
26. Machito and his Afro-Cubans – Mambo Mucho Mambo
Providing a different sound to the non-stop action of Vice City, Mambo mucho mambo is a stellar Cuban jazz track which will accompany any joyride wonderfully.
It really is such a pleasure to catch if you're a fan of the Espantoso station.
25. Lonnie Liston Smith – Expansions
The intro to Expansions will have you in full-stakeout mode.
Whether you're about to start an intense police chase, or sneak up on someone and carry out a hit, this song will put you in the right frame of mind.
24. Aneka – Japanese Boy
With a distinctly Japanese feel to the track, this upbeat song will have you singing along – despite the fact that you probably won't know the words if you were born any time after 1995.
An easy-going song with a catchy chorus, this one is for those long trips when you want to pretend you're really cruising down the streets of Vice City.
23. Rick James – Ghetto Life
Definitely a solid 80s track for feeling like a badass as you roam around the city tuned into Fever 105.
The song's lyrics accurately sum up most of what you'll be doing and seeing during your time in Vice City – seriously, it's like live narration.
22. Teena Marie – Behind the Groove
A groovy addition to the list, tracks like this are hard to come by these days.
And that's why you should blast it out loud from Fever 105 every time it comes on when you're driving around going about your business.
21. Wang Chung – Dance Hall Days
This is the kind of track you'd expect to be playing on one of those Hollywood movie road trip scenes when the protagonist is driving down the open road with nobody around and a fantastic holiday destination at the end of the trip.
It's also one of the best tracks on Flash FM which is probably in my top 3 favorite stations.
20. Talk Talk – Life's What You Make It
The title of the song should be the slogan for Vice City.
Since you are encouraged to go in whatever direction you desire – acting out on vices that being in a fictional world permits.
This song is basically the soundtrack to those moments of driving through a red light, mounting the pavement, and stealing that awesome new ride after you wrecked your old one.
19. Spandau Ballet – Gold
A delightfully cheesy 80s song, Gold by Spandau Ballet is the track you'll want to hear when you're trying to outrun the police and you want a slightly humorous spin on the unfolding chase sequence.
It's also definitely a memorable song from Vice City so I know anyone who played the game originally will remember this.
18. Grandmaster Flash – The Message
One of the main notable hipper songs in GTA Vice City, this one is heavy with game-related nostalgia.
Produced by Grandmaster Flash, this song is one of the reasons why Vice City was a huge success and contributed greatly to the superb soundtrack. It's one of the best hip-hop songs from the Wildstyle station.
17. Frankie Goes to Hollywood – Two Tribes
Did you play Vice City when it was first released? Then you absolutely know this song even if yo don't recognize the name.
A fast well-known track from Frankie Goes to Hollywood, this one will pump you up and get you ready for that incredibly challenging mission you've got coming up.
16. Loverboy – Working For The Weekend
We're definitely moving into the territory of the more well-known tracks coming from the game's score, and this one doesn't disappoint.
Ride off into the sunset with this rocking beat meant to pump you up and make you feel like a million bucks. Which, to be honest, one day you know you'll get there.
15. Megadeth – Peace Sells
The heaviest song on this list so far, Dave Mustaine is here with some great guitar riffs and strong vocals to ensure our time in Vice City is intense.
I have to say this one song provides the best backdrop for a day of carnage and destruction in the game. And it's one of the more classic 80s heavy metal songs from one of the big 4 metal bands of all time.
14. Quiet Riot – Cum on Feel The Noize
Continue the head-banging with this next track that'll keep the joyriding high going.
Do you love those 1980s rocker girls? The big hair? The short skirts? Well this song might jog a few memories then.
A true party classic, this one is definitely a karaoke favorite and will have you singing – voluntarily or not – and wanting to drift around the streets.
13. Motley Crue – Too Young To Fall in Love
From drifting to endless donuts in an empty car park, you won't want to get out of the car when this one comes on.
Cruise to your heart's content with this hard & heavy rock jam by Motley Crue.
12. The Buggles – Video Killed the Radio Star
I feel like it really doesn't get much more Vice City than this.
One of the quirky yet extremely enjoyable tracks on the soundtrack, this one is definitely a certifiable hit.
Even if you didn't know the song before you'll soon be singing along to the catchy lyrics as you take on those daring jumps and tight corners. And if you're looking for it in-game you can find this on Flash FM.
11. Yes – Owner of a Lonely Heart
Starting strong with some guitar riffs, this track is a feet-tapper for sure and will have you wanting to drive like you would in real life.
You know, so as not to interrupt it with screams and shouts and gunshots and those pesky police sirens.
10. Bryan Adams – Run To You
Like many songs on this list, Run To You will grab you from the beginning with its simple yet compelling intro.
A song that's worth putting on in the background for that mission where you have to go get someone, this one will energize you and keep you focused on the prize.
9. Evelyn King – Shame
Shame. Something you'd probably feel a lot of if you were to act like you did in the game in real life.
As well as being incredibly on point, the song is also a classic and makes for a fun chill-out session.
8. Michael Jackson – Wanna Be Startin' Somethin'
From the legend himself, this hit by Michael Jackson is more than worth your time if it comes one while flipping past Fever 105 as you're going about your virtual life.
The characteristic vocals of Jackson combined with a catchy beat, this is one of those songs that will really make you feel like you're back in the 80s.
7. Oliver Cheatham – Get Down Saturday Night
It's time to throw on your retro disco outfit and get down with this next track.
A cracking song to test the hydraulics of your new car, this is definitely one of those late-evening joyride songs. Maybe pick up a date and uh… you know. Have some fun.
6. The Whispers – And The Beat Goes On
It's fair to say this is one song that has become synonymous with the game and franchise.
This one will bring back plenty of memories of the countless chaos you caused in the streets of Vice City.
5. Corey Hart – Sunglasses at Night
I cannot think of Vice City without this song.
It's chill, it's cool, and I have no idea what it means. But damn do I love it!
If you're ever playing the game again tune into Wave 103 and see if you can catch this one. I know you'll remember it as soon as the intro beats start humming.
4. Animotion – Obsession
There were so many insanely good tracks from the Wave station. This is just one more that, while you may not remember by name, you'll totally remember by the beat.
It may be fair to say this song is an obsession… it is my obsession.
3. Nena – 99 Luftballons
Many fans of the GTA series who played Vice City when they were younger will immediately know this song. Same goes for anyone who was around in the 80s because for some reason the German version was way more popular than the English version.
Kinda makes you pause and just think… what? I don't know man, it was the 80s.
2. The Human League – Keep Feeling Fascination
Listen to this song and tell me you don't sing along. I mean really, this is probably the single catchiest song I've ever heard.
Even putting it on right now I immediately started humming the melody. And it's a melody I haven't heard in years!
Just one more mega hit from 80s pop culture that you can find on Wave 103, the true channel for all the hits.
1. A Flock of Seagulls – I Ran
This is actually one of the songs used when marketing Vice City since it matches the 80s theme so perfectly.
No seriously check it out that commercial aried on TV for a while.
And from all that advertising I'd say this has to be the most recognizeable of all the songs in this game. It feels very much like a Vice City exclusive.
If you're driving around and wanna try to catch this track just tune your car radio to Wave 103 and enjoy the ride.
Browse:
Grand Theft Auto
Grand Theft Auto: Vice City
Lists
Video Games