Top 20 Best GTA V Mods Of All Time (For PC & Consoles)
This post may contain affiliate links. If you buy something we may get a small commission at no extra cost to you. (Learn more).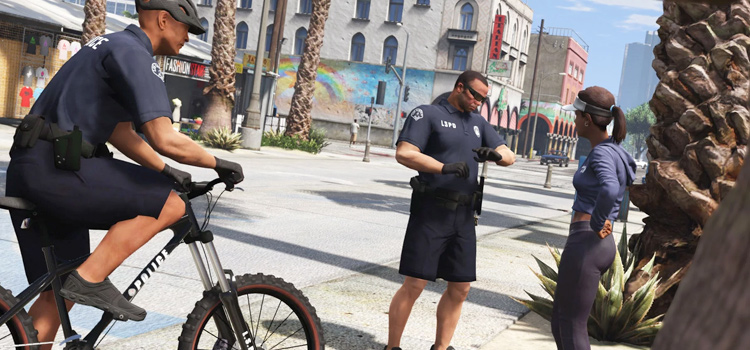 Grand Theft Auto can compete for the title of the most moddable game of the last twenty years.
There have been countless mods released to make the game better, or even to change some of the core aspects of the game itself to make it feel completely different and new.
And it doesn't matter why you like to use mods in GTA V; it's impossible to deny that they add a new taste to the game that would've otherwise remained untapped. For this piece I've collected the 20 best mods that you can download for free and install right now, so you can add that customized feel to your mayhem-filled GTA gameplay.
A fair word of warning, though: this article won't mention any GTA car mods since I've written a separate piece covering my thoughts on the best GTA car mods ever made(it's a great list, definitely check it out!). So if you'd like to download some dope custom cars check out that list after this one.
20.

Two Player Mod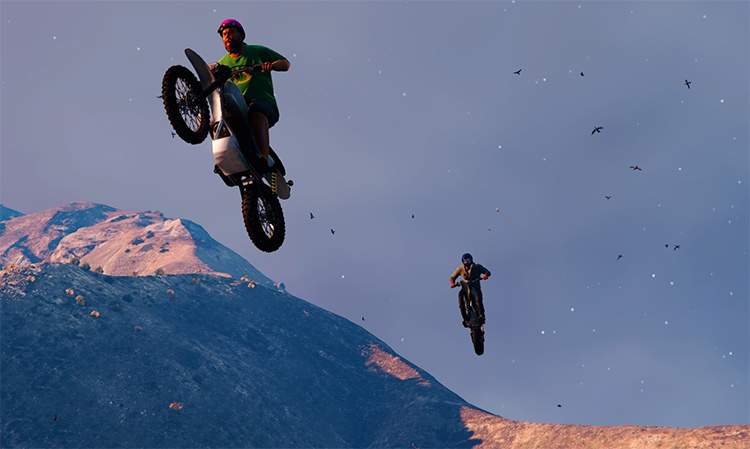 How annoying is it that you need to have an internet connection as well as another friend with a PC if you want to play with them?
Why isn't there local multiplayer in GTA5 like in the good old days?
Well this mod adds just that feature to your game. With this you can have up to four more players on your own device without having to connect to the internet and play with them.
Add more USB devices to your computer so they can control whichever new character gets added. Then enjoy all the fun times of split-screen gaming with your GTA-loving pals.
19.

Extended Camera Settings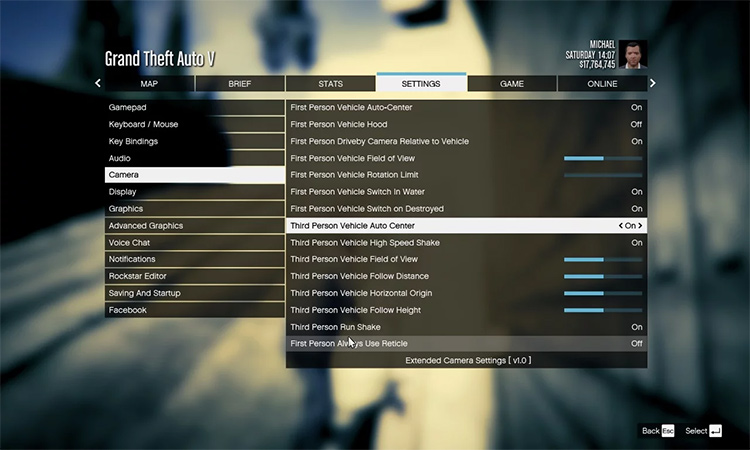 The Extended Camera Settings mod is one you'll love to have installed if you happen to think that GTA V's base camera simply lacks too many options.
In fact, you might be surprised to learn that the game actually comes with many other camera settings that you can't access. But Rockstar still added them into the game to help with video footage capture.
This mod adds plenty of additional options to the camera settings of the game, and this allows you to access all the default features that you would otherwise be locked out of.
18.

4K Satellite View Map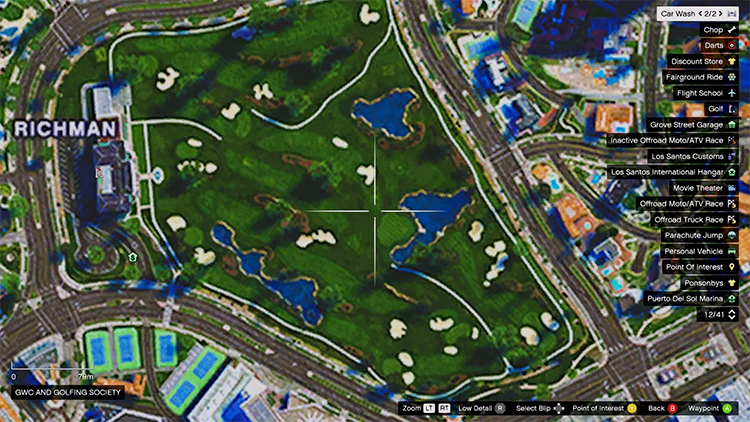 This cool mod changes the basic map view that you can access while on the Pause Screen so it displays an HD Satellite image of the map instead.
If you're tired of the dull-looking San Andreas map that you've been seeing for the past six years then give this mod a shot.
The new map is fully colored and makes the screen feel alive every time you open it.
And it also helps to give you a better idea of how the map itself should look, or how certain parts of the map are, without you having to visit these areas beforehand.
17.

Clean N' Natural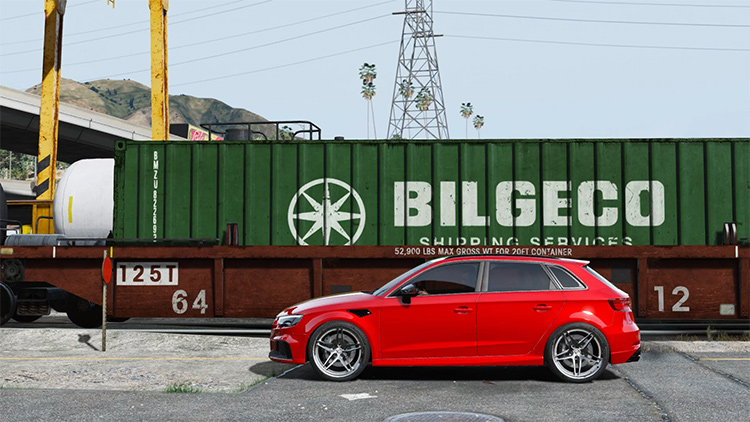 The Clean N' Natural mod was originally created with the purpose of adding better reflections to vehicles all across GTA V. Ideally this should make screenshots much easier and better quality for modders and photographers alike.
In practice the mod completely changes the way light interacts with certain objects in the game, and cars will look much more realistic than they do in the base version of GTA 5.
Combine this with a few of the GTA car mods mentioned earlier and you'll overhaul the entire road experience that the game is so famously acclaimed for.
16.

Dismemberment/Gore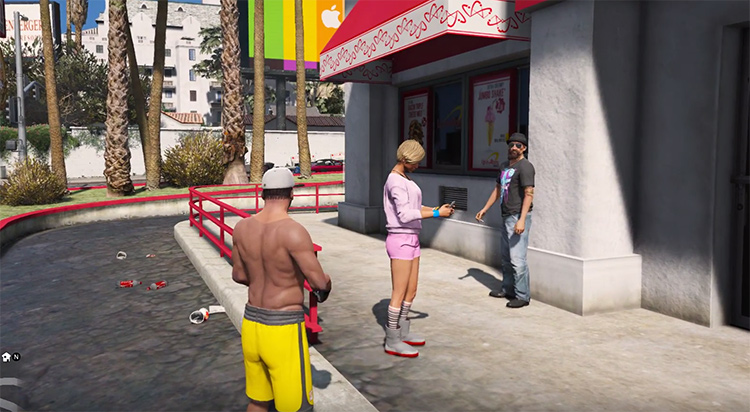 We all know that there's something missing in GTA V; and that something is the absolute gore that comes with mowing down pedestrians and destroying their limbs and heads with shotguns(among other pieces of heavy weaponry).
This mod changes the way the gore system works in the game by implementing these mechanics from RDR and older instalments of GTA. It's an absolute game changer in my eyes.
Be warned, though – this is one of the most violently graphic mods of the list. Install it only if you have the stomach for it! (I'll go out on a limb and assume you do)
15.

Euphoria Ragdoll Overhaul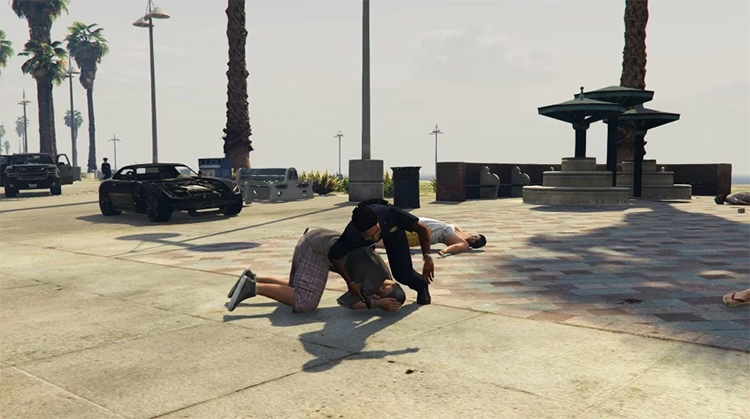 The ragdoll system in GTA V leaves a lot to be desired.
But this free mod provides a quick fix to that issue. With the Euphoria Ragdoll Overhaul the game completely changes the way pedestrians and even your character behaves when interacting with things that influence their movement.
The balancing is much more realistic, the stupid falls that characters had whenever they had a small collision with a vehicle are no longer there too. And movement feels much smoother thanks to this mod.
Give it a shot!
14.

NaturalVision Mod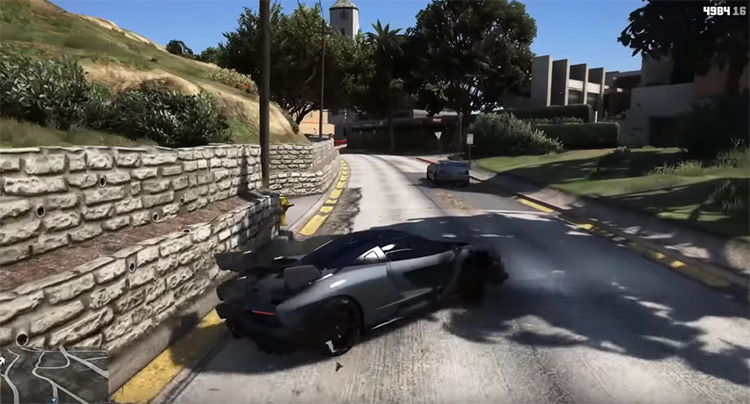 The newer version of this mod came out in early 2020 and it's got plenty of big changes. It involves some of the modding community's most talented members so there's a lot to trust.
This mod completely updates the way certain visual things work in GTA V.
Anything ranging from the basic weather conditions to the way lighting works in the GTA world are all changed with the NaturalVision Mod.
The new instalment, set to be called NaturalVision evolved, promises to improve the game even further. Don't miss out on this mod if your computer can handle it.
13.

Ripplers Realism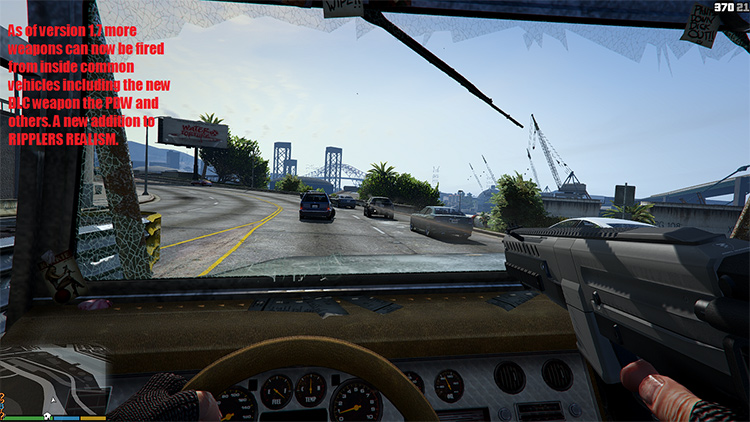 You'd think that GTA, being a fully violent game where guns play a huge part, would have much better gun dynamics than it does.
This is something that I can certainly see improving in the next GTA title (probably set to be released with the PS5).
But why wait when you can download Ripplers Realism and change the gun mechanics now?
This great mod changes the way all of the weapons in the game behave by increasing muzzle flash, recoil, the way grenades work after being launched and much more.
It makes everything feel better when you shoot it, all of it done in true GTA fashion.
12.

Psychokinetic Mod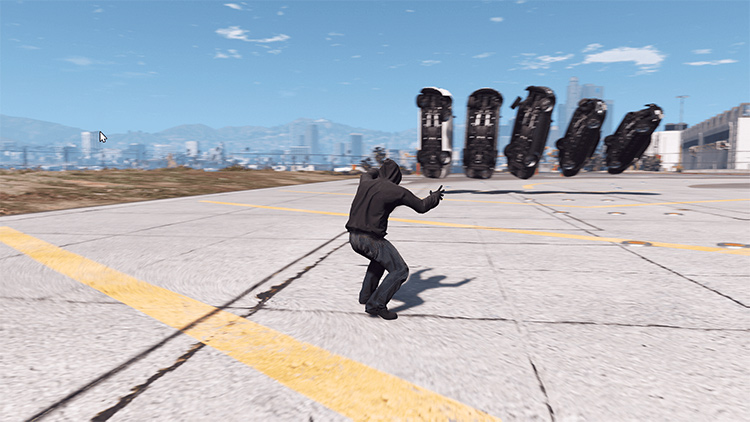 Sure, being a traditional bank robber is fun.
But wouldn't it be much more fun if you could do it while also being a god-like telekinetic being?
This mod allows your character in GTA V to fly around, push and pull things, and do many of the things that a powerful psychic could only dream of doing.
You'll be able to freeze people around, grab pedestrians, throw them against walls, and much more.
If you have a weakness complex then this mod is the one to let you relieve all the stress of it.
11.

Spider-Man Mod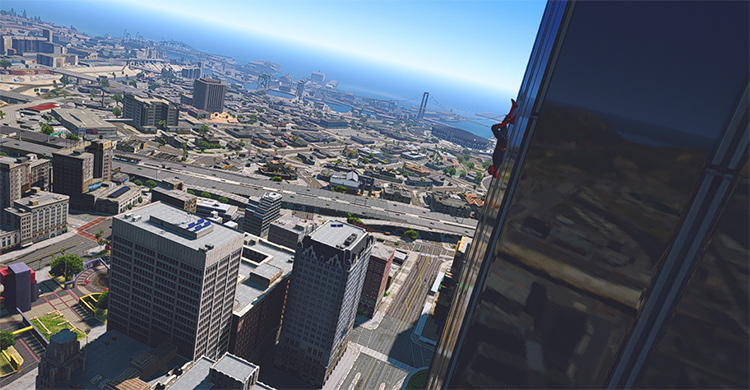 Spider-Man is probably getting tired of New York City after so many years, so he's paying a visit to Los Santos to fight crime in one of the most dangerous islands in America.
Climb walls, swing between buildings, jump like a superhero, and play with many of the best Spider-Man suits ever made with this fantastic mod.
It also seems to be getting constant updates as well, which is always a nice thing to see. So you can expect to keep your friendly neighborhood spider man around for a few more years to come.
In my opinion it's fantastically well done and by far one of the best GTA mods if you're a fan of the Marvel character.
10.

Open All Interiors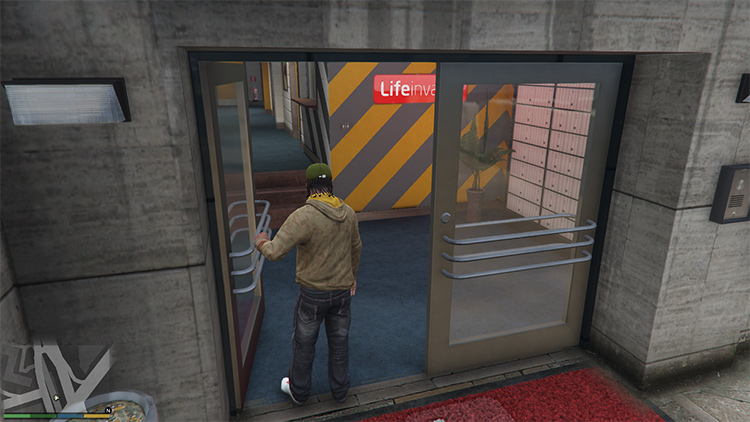 How frustrating is it that many of the incredible GTA interiors that you see during certain missions, all seem to be gone from the game after you finish them?
This mod allows you to enter every single available interior in the game by replacing the locked doors of all buildings with interactable objects. They can be opened and closed as you walk in and out of each place with ease.
Some of the buildings even have pedestrians in them, although this seems to be more of a coincidence than an intended feature of the mod.
In any case, Open All Interiors allows you to visit (and re-visit) certain locations that you've been locked out of as you play.
9.

GTA V Remastered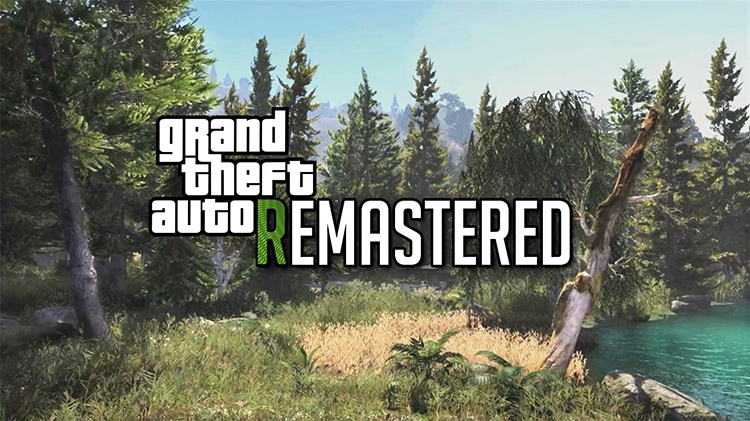 If you're looking for a graphical overhaul for GTA V then you've come to the right item on the list.
This mod is one of the most complete that I've reviewed out of everything here. The developers have spent time detailing every single street in the game to make it look more realistic—and it shows.
The attention to detail creating this mod certainly paid off, as the GTA V Remastered addition adds one more layer of depth to GTA V. It truly makes the game feel more realistic in terms of sheer core visuals.
8.

Vice City Overhaul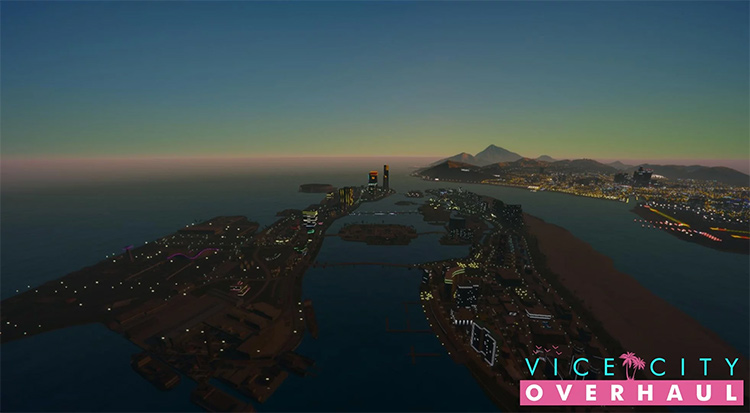 This massive mod introduces Vice City to the game. Perfect for all you classic GTA gamers.
The entire city is now playable and you'll be able to visit Vice City inside GTA5 with the legend that is Tommy Vercetti.
Keep in mind that the city's graphics are not as good as the ones you get in GTA V, so that can be a let-down for some people. But given that this mod was developed by a small team of just a handful of passionate gamers, it's safe to say they've done quite an amazing job with limited resources.
7.

Forests of San Andreas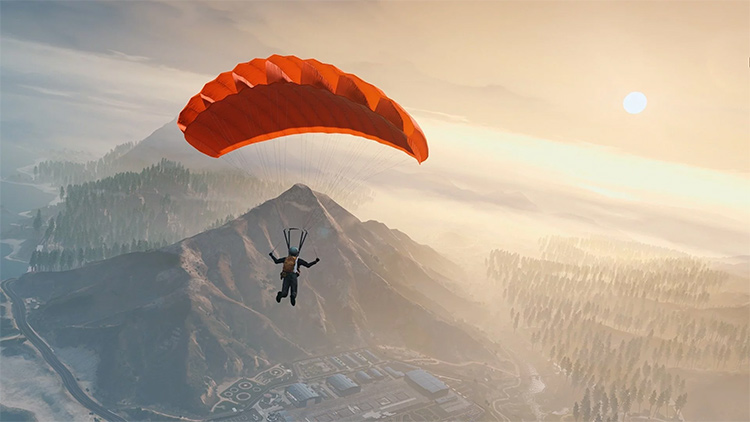 Forests of San Andreas is a complete mod (which some might call a modpack) that combines many little tweaks and bigger additions to the forests of everyone's favorite island.
This adds brand new scenarios where cars spawn in forests, countless new plants, items, rocks, and it makes the game feel more alive with all the variety of flora that it tweaks.
Worth testing just to see what you think. Although it may not be for everyone but I'm really a big fan.
6.

Single Player Apartment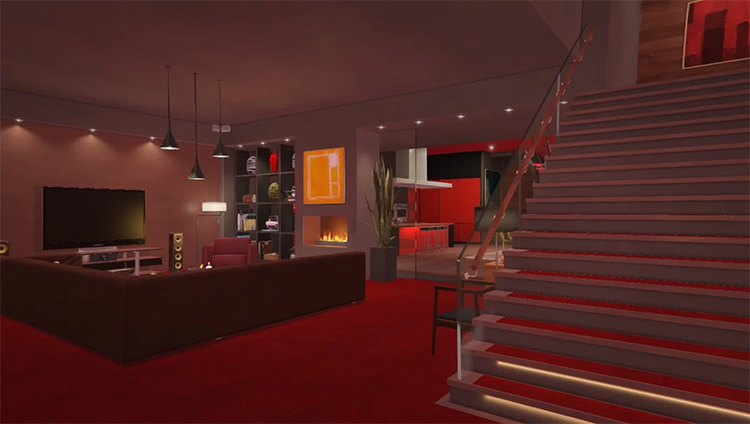 It doesn't make much sense that you can't buy any of the apartments that keep getting added to GTA V's DLC in the single player game.
This mod changes all of that, as it allows all characters from the base game to purchase properties introduced as online DLC.
Over 20 new houses for you, Trevor, Franklin, and Michael to live at. Think of the possibilities!
5.

Realism Dispatch Enhancer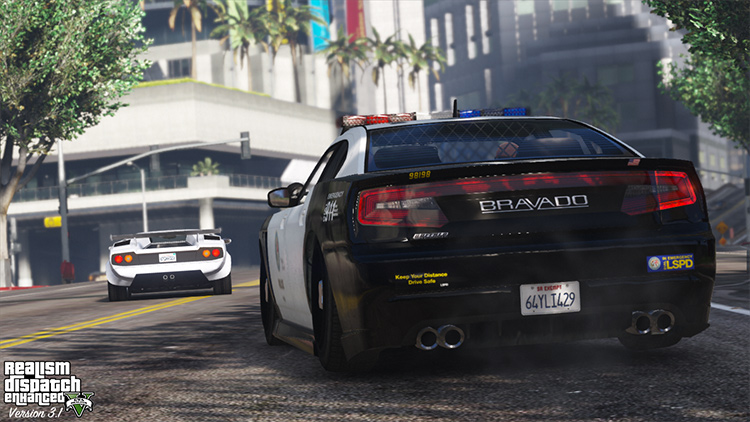 This fantastic mod changes the way police works in the game. From their core movement mechanics to the way they dress, it's a total overhaul for some cool novelty.
Realism Dispatch Enhancer adds many new peds, changes the interior of cop cars, improves some instances of cop behavior, and so much more. If you want customization you'll probably love it.
4.

Gangs of Los Santos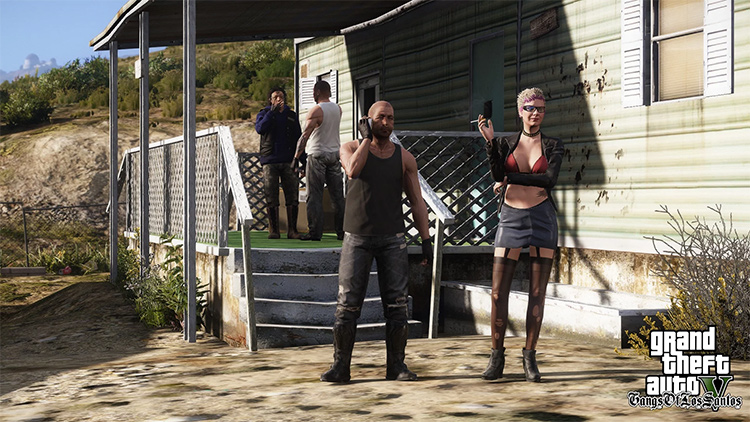 GTA V is missing the feel of gang violence that made San Andreas such a great installment in the GTA series.
The creators of the mod clearly recognize this, and they've introduced gang violence back in the game with Gangs of Los Santos.
Gangs now have territorial fights and it's no longer safe for you to visit certain ghetto areas of the city. Watch your back out there!
3.

World of Variety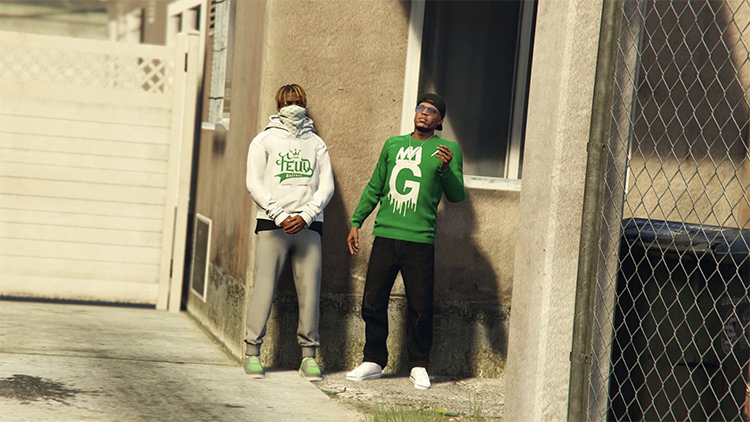 World of Variety adds many of the amazing features introduced to the online scene of the game into the story of GTA V.
This adds a whole new variety of layers to the single player flow of GTA V, making it far more appealing for players that have spent a fair share of time playing GTA already.
Cause to me that's what the best mods really do: change up the original game to make it more enjoyable to play through all over again.
Base game GTA V lacks a ton of variety that the game did introduce later with the DLC's.
But since Rockstar seems to have neglected single player in favor of their online cash cow, some modders have taken matters into their own hands to add more features themselves. And this mod packs a lot of good into a small package.
2.

VisualV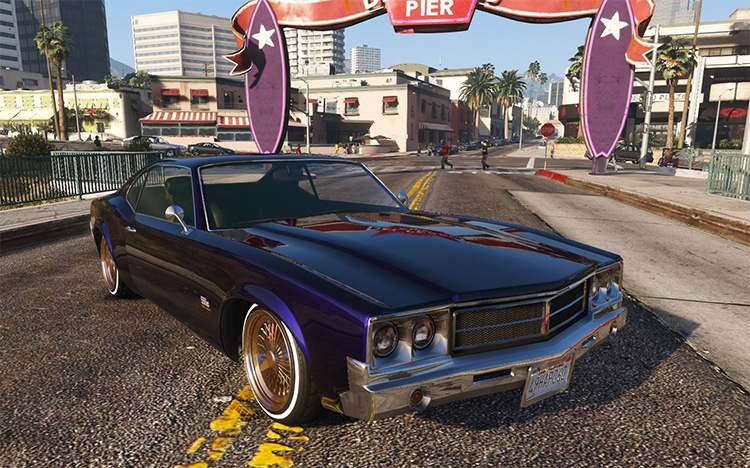 NaturalVision might be one of the best graphical enhancements made to GTA V.
But given that the current version is a tad outdated, VisualV takes the cake as the best graphic mod that the game has to offer in its current state.
The modders that put together VisualV have managed to rewrite many of the game's features from scratch. Yes, completely from scratch!
This creates an amazing set of weather, lighting, and sound features that converts the game's feeling into a much more realistic adventure.
1.

Grand Theft Space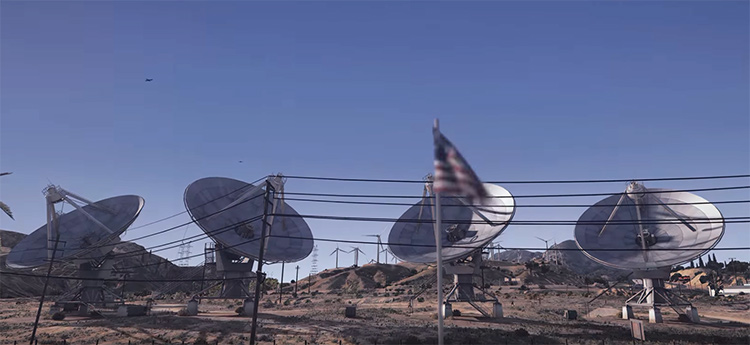 By far one of the most ambitious mods on this list, Grand Theft Space takes the #1 spot by allowing players to travel to three moons and eleven different planets across a new storyline that takes you out of San Andreas and into the depths of space.
Sounds pretty weird I know. But once you get going it's incredibly captivating.
The mod doesn't lose GTA's comedic feeling either, as you'll be fighting off aliens with machine guns if you choose to download the GTS mod.
It's a truly unique experience, and one that is sure not to disappoint any genuine GTA fan.
Browse:
Grand Theft Auto
Grand Theft Auto 5
Lists
Video Games