25 Best Iyashikei Anime To Watch: The Ultimate List
This post may contain affiliate links. If you buy something we may get a small commission at no extra cost to you. (Learn more).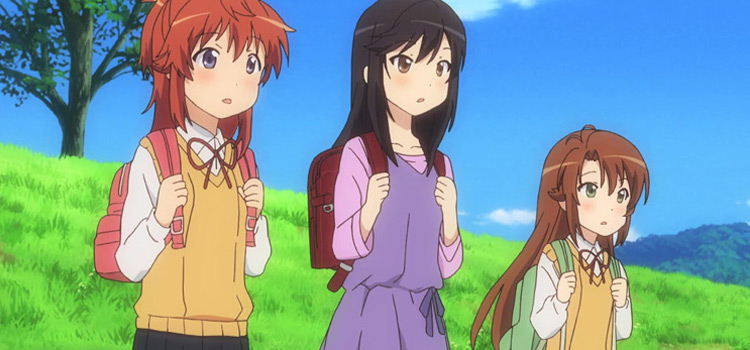 Alongside slice of life, iyashikei is undoubtedly one of my favorite genres in anime — but what exactly is an iyashikei anime?
Simply put, it's a 'healing' show for one's soul.
Such shows are meant to soothe your senses and provide emotional comfort.
Iyashikei titles may have varying degrees of elements like comedy, drama, romance, and adventure, but they all have an atmosphere that evokes calm & an appreciation for the slow and mundane aspects of life. And even nostalgia and a desire for self-reflection.
Of course, everyone reacts differently to what they watch.
So while some may think one anime is too energetic or comedic to be an iyashikei, others may argue that it has enough atmospheric sequences and is adept at relaxing their worn-out soul.
With that out of the way, let's get into my picks for the best iyashikei anime – the shows that helped me sleep peacefully and find tranquility in times of stress and anxiety.
25.

Konohana Kitan
Released in 2017, Lerche's Konohana Kitan is another seinen slice-of-life anime that capably balanced its comedic antics and charming setting.
And how could it not be relaxing?
This series is about an enthusiastic small fox girl who just started working at a traditional hot springs inn — and it's set in a world filled with spirits. It's an interesting combination that marries Japanese culture with fantasy elements.
And you don't only have the klutzy yet extremely lovable Yuzu.
You also have other distinct fox girls such as Satsuki and Sakura to guide her in the Konohanatei inn, as they all form wondrous connections with guests and know one another's stories (and solve problems).
24.

Barakamon
Summer 2014 is one of my all-time favorite seasons.
It was packed with interesting and beautiful shows — and Barakamon slowly but surely captivated many hearts.
Produced by Kinema Citrus (Made in Abyss), this slice-of-life comedy features Sei Handa as the MC, a guy forced to self-reflect and hone his calligraphy skills after punching an art gallery director.
And his new location is what makes this a solid iyashikei.
Goto Islands in the Nagasaki Prefecture offers stunning blue skies, the soothing sound of the sea, and its residents, particularly the adorable first-grade girl Naru Kotoishi, help Sei and viewers alike to wind down and reassess their priorities in life.
23.

Poco's Udon World
Udon no Kuni no Kiniro Kemari is such a sweet series.
Like the best slice-of-life shows, this is a seinen title that understands the headspace of young adults (men, in particular).
Similar to Barakamon, this has a man leaving his current high-pressure place of residence to somewhere more relaxed.
The difference, however, is that the 30-year-old Souta Tawara thinks his hometown is dull — and he only went back because he had to clean his family's place.
But then he spots a boy in his family's now-abandoned udon restaurant, and it turns out to be a tanuki, a mysterious creature with furry ears and tail.
Instead of ignoring him, Souta decides to call him Poko and offer shelter and food.
And so begins his heartwarming food-filled daily life with Poko, which in turn allows him to reassess his past, his 'boring' hometown, and how he perceived his father.
22.

Bunny Drop
Thank goodness I'm only talking about anime and not the source material.
If you enjoy this series, don't check the manga – because it takes a highly questionable turn of events, ruining the warmth of the anime.
This is an iyashikei that's a josei instead of a seinen.
Thus, it's primarily marketed to young adult women.
Similar to Poco's Udon World, the MC here is a 30-year-old man who meets a kid. Instead of a tanuki, the child is a normal human being — but no one wants to take care of her because she's an illegitimate child.
The cold treatment toward Rin Kaga prompts Daikichi Kawachi to take her in.
Soon, viewers understand their fully realized personalities and are treated to a mature anime.
And this is mature not in the sense that it's violent or inappropriate (because it's not), but moreso because it explores parent-child relationships and familial expectations with such grace and realism.
21.

Kamichu!
Otherwise known as The Goddess is a Middle School Student, Kamichu is an award-winning series from 2005.
Also, this is an anime-original title that's not even set in the 21st century — it's about middle-grade kids in the 1980s.
Yurie Hitotsubashi is just an ordinary girl.
She's often nervous about her exams and how she can build the courage to confess to her crush, Kenji Nonomiya.
One day, she reveals to Mitsue Shijo that she transformed into a deity. This gives their friend Matsuri Saegusa a bright idea:
What if Yurie becomes the new divine figure of their financially lackluster Shinto shrine?
Kamichu may not seem relaxing because of its supernatural elements (including curses and aliens), but this unusual school slice-of-life anime has an effortlessly comforting soundtrack.
Furthermore, the girls have naturally paced conversations and character interactions that you'd expect to see from girls their age in real life.
20.

Yokohama Shopping Log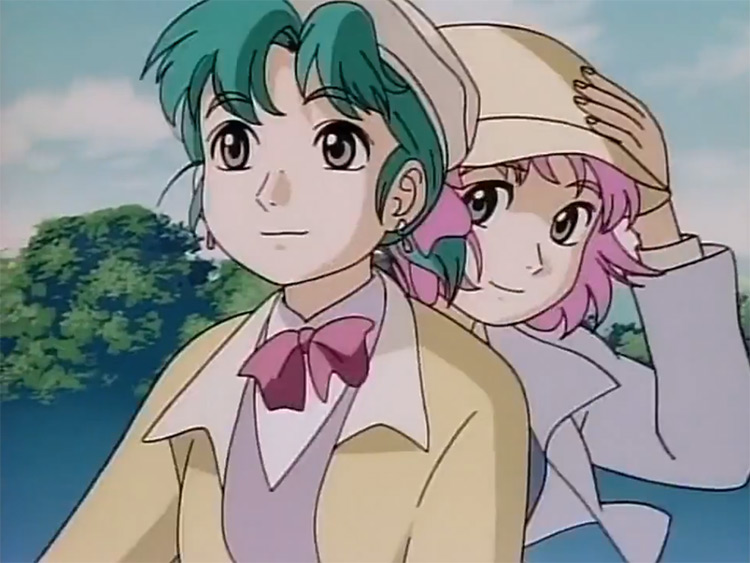 Yokohama Kaidashi Kikou is one of the shortest iyashikei out there.
With just two 30-minute OVAs and another two-part OVA sequel (Yokohama Shopping Journal: Quiet Country Cafe), you may as well treat this as a feature-length anime film.
You can't go wrong with this sadly forgotten show.
It's not only a seinen slice-of-life anime but also a sci-fi story crafted by the award-winning mangaka, Hitoshi Ashinano.
Humanity suffered from a catastrophic incident, and Japan is left in a terrible state.
At the remains of Yokohama is Alpha Hatsuseno, an android working at a coffee shop and patiently waiting for the cafe owner's return.
Then, she receives a camera, apparently sent by her master.
With the device, she sets out to capture the beauty of the world — or at least what's left of it.
It's an entrancing and adequately slow OVA meant for appreciating what life has to offer, no matter its impermanence.
19.

Restaurant to Another World
Isekai Shokudou just got a second season confirmation earlier in 2021 and I am all for it — and I initially wasn't fond of this world at all.
With each succeeding episode, I experienced the magic of an isekai adaptation that's not obsessed with big action and self-insert main characters.
Instead, Restaurant to Another World introduces your typical fantasy creatures to the food that humans eat.
As you witness an elf, a mage, or a reptilian warrior express their delight at their first bite of a Japanese or Western meal, you're also reminded to enjoy the simple things.
Moreover, the characters have their own gastronomic preferences.
And while some argue over which snack or drink is superior, at the end of the day, they all come to this restaurant every Saturday to enjoy their favorite 'rare' food.
Silver Link did a splendid job with the backgrounds and instrumentals too. I can't get enough of a specific piano piece, so much so that I listen to a looped version on occasion.
18.

Interviews With Monster Girls
In 2017, A-1 Pictures launched the Blue Exorcist sequel, the harem Saekano, and the loli romcom that is Eromanga Sensei.
But the studio wasn't all about shonen and lewd anime adaptations that year — it had Demi-chan wa Kataritai.
Many people will be surprised that I consider this an iyashikei, especially if they look at its general info.
This is a school comedy with a fun-loving blonde vampire and a bespectacled succubus trying her best not to cause a commotion among the male students and teachers.
But the series doesn't treat these non-human individuals as oddities.
They're not ostracized, and the male MC approaches them with the care and respect they deserve as he conducts interviews and interacts with them each day at school.
17.

Sound of the Sky
Wait, how is a military series supposed to help you relax?
See, that's the beauty of So Ra No Wo To.
It's not your usual adrenaline-fueled, conflict-torn show.
The show distinguishes itself right from the get-go:
The MC is a 15-year-old girl named Kanata Sorami. She doesn't dream of killing enemies with her own rifle nor does she glorify war.
Instead, Kanta wants to be adept in playing the bugle, a brass instrument historically associated with the military. It's been used to signal the start of daily routines, send orders, and pay final respects to a fallen comrade.
Moreover, the setting itself feels serene at times – but it's often accompanied by a sense of bleakness.
Kanata and the rest of the Helvetian army's 1121st platoon are in Seize, an old town that's beautiful for its realism, with its aging elements giving it more identity.
As their surrounding area falls further into a state of strife, the people of Seize persevere – preserving their traditions as long as they're breathing.
And finally, Sound of the Sky has a magnificent and unique soundtrack that puts it above most anime series, including a soul-stirring cover of Amazing Grace.
16.

Miss Kobayashi's Dragon Maid
Kobayashi-san Chi no Maid Dragon wasn't supposed to be as good as it is.
The manga source material is considerably lewd.
But that's Kyoto Animation for you.
They can find (and create) heartwarming moments in the unlikeliest of places.
Yes, their adaptation still has a dragon woman with an unbelievably large bosom (and the second season is teasing another one). But the anime is also brimming with tender moments.
One early scene conveys a surprised Tooru, smiling as she realizes the subtle ways Kobayashi expresses concern no matter how she often appears annoyed.
Likewise, Kanna Kamui is a huge source of iyashikei goodness.
She may be a dragon, but she's more of an innocent & curious little girl in the human realm — and she might as well be Kobayashi's foster daughter.
15.

Sweetness and Lightning
Alongside Poco's Udon World and Bunny Drop, Amaama to Inazuma completes the unofficial trilogy of anime series about men learning to be good fathers to a kid regardless of whether they're related or not.
But while those two other shows feature a single adult guy, this one has a man whose wife passed away, leaving him to take care of their young daughter.
Thus, the show has a strong emotional foundation.
But even with this tragic history, Kouhei Inuzuka and her little girl, Tsumugi, will make you smile — and even hungry.
Viewers humorously say that Sweetness and Lightning is essentially a cooking show.
And that's what makes this a delight.
Kouhei yearns to be a better dad to Tsumugi, particularly in the field of cooking.
Thanks to his student Kotori (her family runs a restaurant), he learns how to cook delicious homemade meals, and they get to experience the simple joys of eating food together.
14.

Super Cub
I was already interested in Super Cub when I saw the visual teaser.
But its first episode proved that this is a pleasantly slow-paced slice-of-life series:
The first scene perfectly evoked that distinct feeling of the early morning, when the world is still asleep, the roads barely have cars, the sun has yet to rise, and it's still fairly cold.
Afterward, viewers are taken to Koguma's room.
She appears sleepy and gloomy. Her morning routine lacks energy, and the anime amplifies this feeling by going for a muted color palette and forgoing any background music.
If those signs weren't enough, the MC expresses her dissatisfaction with life by greeting the morning sun with a deep sigh.
Then she decides to buy a secondhand motorbike.
With her Honda Super Cub, Koguma's world becomes bigger and a little bit brighter. She still has bleak moments (like everyone does), but this time, she finally has something that makes her smile and eager to wake up.
Super Cub is a predominantly quiet show from its visuals and music (it loves classical piano) to its main character, and I hope you enjoy the comfy ride.
13.

Tanaka-kun is Always Listless
Tanaka-kun wa Itsumo Kedaruge is my favorite show from Spring 2016 — and that season had Re:Zero and My Hero Academia.
As the title implies, this is about a guy named Tanaka who always appears disinterested in life.
If there's one thing he loves, it's sleep.
Tanaka doesn't want to exert himself in anything.
He'll take naps as much as he can, which is why his friend Oota will often casually carry him around back to class.
And when you have an MC like that, how could this show not be relaxing?
Sure, it has bits of (excellent) wacky comedy. But Silver Link knocked it out of the park.
The anime always has a warm tone and an appropriately sleepy vibe, and the character line art and backgrounds are crisp.
I truly wish a second season would happen.
12.

Hakumei and Mikochi
Sometimes referred to as Tiny Little Life in the Woods, Hakumei to Mikochi is a 12-episode TV series from 2018.
Sure, its director is Masaomi Andou. But this is far from the excruciating school romance dramas of Scum's Wish and White Album 2.
Starting from its detailed and nature-filled visual teaser, Hakumei and Mikochi immediately invites you to a small world with a big heart.
In each episode you follow two tiny women as they go about their daily life.
Sometimes they're busy at work, exploring the area, or visiting the market.
More often than not, they'll meet new wonderful friends.
And while some shows of this nature feel like their episode ideas are randomly generated, Hakumei and Mikochi boasts a beautifully designed and intricate world that's seemingly out of a fairy tale.
11.

Tamayura
Tamayura is the creation of an individual who has a keen eye for this genre.
Satou Junichi directed Aria, but for this series, he took on multiple key tasks such as direction, series composition, and even sound direction.
Similar to Yokohama Shopping Log, Tamayura features a girl who's fond of photography.
But while that was only an OVA, Tamayura only started as a four-part OVA — it eventually earned a two-season show and a four-part film series.
So how did this last for six years?
Essentially, Tamayura's individual strengths become more potent (or rather, supremely relaxing) when they come together.
The art and music here are unfailingly homely.
More importantly, the main girls here have satisfying and believable character development. Each faces their battles and path to adulthood with a pure heart, and I'll forever admire their dynamics.
Fuu Sawatari, the girl who lost her father many years ago, is an exceptional MC.
And overall, Tamayura will provide solace when you need it — and a few sequences may even make you shed a tear or two.
10.

Flying Witch
The inclusion of Flying Witch and Super Cub on my list is amusing.
Both utilize a muted color palette, and they each feature a female MC with black hair and bangs.
Released in 2016, this JC Staff anime is an instant iyashikei classic.
Somehow the characters in this supernatural series are more realistic than shows where everyone is completely normal.
The 15-year-old Makoto Kowata might be a witch in training, but she's not bent on putting a curse on people. Like her cousin Kei Kuramoto, she's also a teenager who goes to school and is learning about herself and her world.
There's no major conflict here whatsoever.
You won't find undesirably eccentric personalities here either.
Everyone from Makoto to the little girl Chinatsu Kuramoto behaves like ordinary humans, and even Makoto's familiar Chito is a believable cat.
All in all, Flying Witch is a tranquil rural slice-of-life show that reminds you to be kind and appreciate the small things in life.
9.

Natsume's Book of Friends
With six sprawling seasons and one beguiling feature film, Natsume Yuujinchou is one of the best anime titles in history.
Takashi Natsume is such a well-written and likable MC.
His past is nothing short of terrible, to say the least.
He became an orphan at a young age — and no one wanted to be near him because he could interact with spirits or ayakashi. Takashi's life seemingly had no stability as relatives gave up on him one after another, but then the genuinely caring Fujiwaras took him in.
With the Fujiwaras providing him the familial love he lacked for many years, Takashi doesn't want them to be involved with all the ayakashi and how many of these spirits (and some exorcists) want to exploit him.
But don't think that Natsume's Book of Friends is merely overflowing with drama.
Each spirit encounter is valuable not only to Takashi but also to the viewer in different ways.
At its core, this is a story about humanity & sharing deep bonds, which are elevated by the warm atmosphere and soundtrack.
8.

K-On!
K-On is one of the first Kyoto Animation anime series I watched — and it's probably my first slice-of-life anime too.
Some will disagree about K-On being an iyashikei, but I 100% believe in this show's soul-healing power.
This is where Naoko Yamada became a director.
It's why characters feel so real and nuanced even with their so-called 'moe blob' design.
Yamada is gifted in portraying the distinct personalities of the K-On girls just by how she frames each scene.
Despite the often slow nature of the show, I don't find it boring.
In contrast, the mundane moments of Yui and the other members of the Light Music Club are beautiful.
The series illustrates youth in all its energy and laziness. But it's also well aware that the girls can't stay the same forever.
It's a bittersweet thing.
So when they spend their last days in the club room and bid farewell to their younger member with one last song, I can't help but remember being in my high school classroom, with that distinct smell of dust and chalk lingering in the air.
Both seasons are magnificent, but don't forget the film too.
7.

Encouragement of Climb
"Encouragement of Climb walked so Yuru Camp could run" might be half-jokingly said, but this truly was the first memorable anime about girls who love nature and going up the mountains.
Plus, who doesn't love its success story?
Yama no Susume started as a 12-episodes series in 2013 — but episodes were only three minutes each.
A year later, they earned a second season where each of the 24 episodes had a 13-minute runtime.
The third season followed in 2018, and Yama no Susume: Next Summit was announced earlier in 2021.
The franchise has been around for eight years.
Yet it continues to bring in new fans with how superbly it combines the girls' passion for mountaineering with their growth both as individuals and as friends.
Even when Aoi and her pals aren't on an adventure, their daily lives are still a pleasure to watch.
6.

Girls' Last Tour
If Sound of the Sky had an ongoing war, Shoujo Shuumatsu Ryokou is about two girls trying to survive in the aftermath of an apocalypse.
Chito and Yuuri don't spend their daily lives window-shopping or eating in fast-food restaurants. In a city that's in utter desolation, they scour military areas for food and vehicle parts for their Kettenkrad, which is like a small hybrid between a tank and a motorcycle.
Sometimes they read books or make snowballs and throw them at one another.
Other times, they test their shooting skills.
Instead of embracing full-on cynicism, Girls' Last Tour balances its bleak, cold, and pensive atmosphere with its main characters:
Chito and Yuuri are trying their best every day to live, to feel alive and experience what the world has to offer when the world itself is dying.
It's a testament to the power of companionship — that even the end of the world can be a little more bearable if you're tagging along with someone.
5.

ACCA: 13-Territory Inspection Dept.
At this point, you can most likely guess the top four iyashikei titles.
But my No. 5 pick is a sure surprise for at least two reasons.
First, ACCA: 13-ku Kansatsu-ka never got that popular.
It premiered in Winter 2017 and had to compete against Gintama, KonoSuba, and a fellow iyashikei pick, Kobayashi-san Chi no Maid Dragon.
Most anime fans probably didn't even realize that Madhouse didn't just have the second part of the rugby series All Out that season.
Second, this show was understandably viewed more as a mystery & investigative seinen, than an iyashikei masterpiece.
But I'd be lying if I said this wasn't entrancing right from EP 01.
And Jean Otus is one of my all-time favorite MCs.
He's 100 percent chill, and is designed as if he'll always be unbothered — and his arguably cinematic moments of cigarette-smoking just look so relaxed and cool.
Furthermore, ACCA: 13-Territory Inspection Dept. often features Jean traveling to the many states of the Dowa kingdom, and each new location has its own culture and visual identity.
Add the chill and vintage-looking backgrounds, the jazzy soundtrack, and the natural calm dialogue together, and it's not hard to see why this ranks highly on my list.
4.

Aria the Animation
This is the best iyashikei franchise for many people out there, and I understand why.
Starting with the 2005 series, Aria continued with two more seasons, a three-part special, and even released a movie in early 2021, Aria the Crepuscolo.
So what has made Aria such a lasting franchise?
Like other entries, Aria the Animation and its sequels are a mix of slice-of-life and fantasy or sci-fi.
Here, you follow Akari Mizunashi as she moves from Manhome (Earth) to terraformed Aqua (Mars).
In particular, she's set to become an Undine, a tour guide in Neo Venezia City, which resembles Venice, Italy.
Thus, you're treated to a refreshing environment characterized by white structures, gondolas, and waterways.
As you move from Aria the Animation to the sequels, you'll witness Akari develop as an Undine and a resident of Neo Venezia.
She'll meet more interesting, likable folks, and Aria will consistently provide viewers with high-quality art, sound design, and character dynamics.
3.

Non Non Biyori
Non Non Biyori just ended in Winter 2020/2021.
Yes, there's a spin-off manga announced.
But the fact remains that the main story is already over — and it's a bittersweet feeling.
The Non Non Biyori wasn't my first Silver Link anime (that was fellow Iyashikei entry Tanaka-kun is Always Listless).
But Non Non Biyori is what I'll forever be grateful to the studio for.
From the first season in 2013 to the film Vacation in 2018, and the third and final season Nonstop, the core staff remained the same:
The voice actors, director, supervisor, character designer, background art artist, music composer, opening theme performer, were all the same for eight years.
And the series wouldn't be the same without its sound and visuals.
Renge is the most adorable kid in anime. And the rest were likable in their own ways.
But Non Non Biyori masterfully set its iyashikei vibe each episode with its conscious decision to highlight rural sceneries and ambient nature sounds.
Furthermore, its soundtrack is a blend of whimsical, fun tracks and lots of peaceful woodwind, guitar, string, and piano instrumentation.
Non Non Biyori is also unlike other anime series because its seasons don't necessarily mean that time is progressing.
The seasons and the film all take place in one [school] year, and you simply move from one day or character focus to another.
2.

Laid-Back Camp
Despite being one of the newer entries in the slice-of-life and iyashikei genres, Yuru Camp has already established its dominance.
And why wouldn't it be right near the top?
Even with just two seasons, Laid-Back Camp has the strengths of Encouragement of Climb and Non Non Biyori without losing its identity.
The food-loving, comfy Nadeshiko Kagamihara is now one of the most recognizable faces in anime. But my favorite character is Rin Shma.
This blue-haired Vespa-riding girl prefers solitude most of the time.
There's nothing wrong with wanting to go solo — and I love that the other girls respect her.
Unlike other people that you'll come across in real life, they don't get angry at Rin for choosing to not join in on social activities all the time.
Laid-Back Camp is excellent in its simplicity.
If you think you're getting camping trips, hot food, and casual conversations that develop the characters, you're right.
But you also get a top-tier OST and awe-inspiring shots of nature, from the sunrise and star-filled night sky to the fallen autumn leaves and snow-capped mountains — and the locations are real and in Japan.
1.

Mushishi
Mushishi is the undisputed king of iyashikei anime.
It's a perfect series that, like Non Non Biyori, is one of those rare long-running manga titles that receive a complete and excellent anime adaptation – despite not being an action-heavy shonen series.
Think about it:
Mushishi already had a 26-episode first season in 2005 when most anime shows can only get half that number.
After that, the award-winning show got a split-cour second season, two specials, and a feature film adapting the final arc.
Essentially, it's about a man named Ginko who wanders from one area to another looking for mushi — fantastical entities that exist to, well, exist.
Mushi aren't inherently good or evil, and their appearances vary from inverted rainbows and long-tailed comets to butterflies shadow-like creatures.
The usually unflustered MC hopes to understand these mushi.
These life forms sometimes cause trouble to humans, but Ginko believes they're only doing what they can to survive, just like people and animals.
With adequately simple character design, naturalistic voice acting, a minimalist soundtrack, and art that recognizes the small yet magical moments in nature, Mushishi is the complete package for relaxation and contemplation.
Anyone looking for acclaimed works of fiction (anime or not) should check this iyashikei masterpiece.
But just like Mushishi itself, don't rush the process:
This is a series you're meant to gracefully experience, one mushi story at a time.
This approach ensures you'll have enough Mushishi for the times you need a breather the most, or when you need some anime to soothe your senses before sleep, or when you're in the mood for introspection and philosophical musings.
Browse:
Japanese Culture
Lists
Anime