The Best Multiplayer Game Boy Advance Titles, Ranked
This post may contain affiliate links. If you buy something we may get a small commission at no extra cost to you. (Learn more).
The Game Boy Advance was one of the most important consoles of my childhood, and I'm hardly the only one.
I burned through so many AA batteries, and I probably spent more on those than on the console itself.
At the time, most people didn't look to handhelds to get their multiplayer fix – but those privileged enough to own the Game Link Cable probably know that the GBA had some solid options for 2-4 players.
Some consumer-friendly games even used the system's "multi-boot" option, which allows for multiplayer despite owning a single copy of the game in question.
Whether you're thinking of reviving your old handheld or just want to take a trip down memory lane, join me for a look at some of the best multiplayer experiences on the GBA.
30.

Dr. Mario & Puzzle League (2005)
Up to 2 Players / Single-Pak & Multi-Pak
Dr. Mario and Puzzle League share a lot in common, so it makes sense for Nintendo to package them together in a single Game Pak.
They're both about matching colored tiles.
In Dr. Mario, you'll be dropping pills on viruses, while Puzzle League tasks you with swapping blocks around as you do in Candy Crush to keep them from covering the whole screen.
Both games feature solid multiplayer that requires equal parts strategy and speed to triumph.
They'll keep you occupied until you start seeing blocky grids when you close your eyes.
29.

Godzilla: Domination (2002)
Up to 4 Players / Single-Pak & Multi-Pak
Godzilla: Domination isn't the most complex fighter.
But you can't deny the appeal of Kaiju rampaging through the city!
The more buildings you destroy during the fight, the more chances you have of finding power-ups that'll help you dominate enemy monsters.
One of the best parts about this game is battling up to four friends with a single Game Pak – though everyone has to play as Godzilla.
28.

Bubble Bobble: Old & New (2004)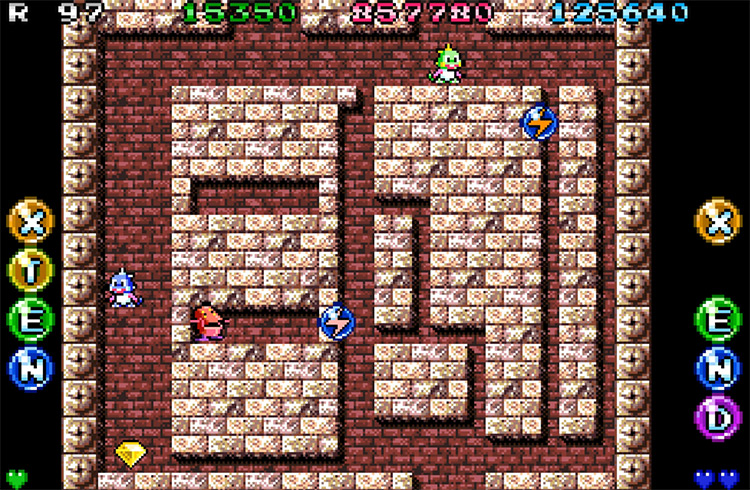 Up to 2 Players / Single-Pak & Multi-Pak
The classic platforming arcade gameplay of Bubble Bobble (1986) remains just as enjoyable in this updated port for the GBA.
As its title may suggest, the game includes two modes:
An "old" one that's indistinguishable from the arcade original, and a "new" one with a renewed art style and some remixed levels.
You and a friend can tackle all 100 levels as dinosaurs Bub and Bob with a single Game Pak, though you'll need two of them if you want background music.
27.

Boulder Dash EX (2002)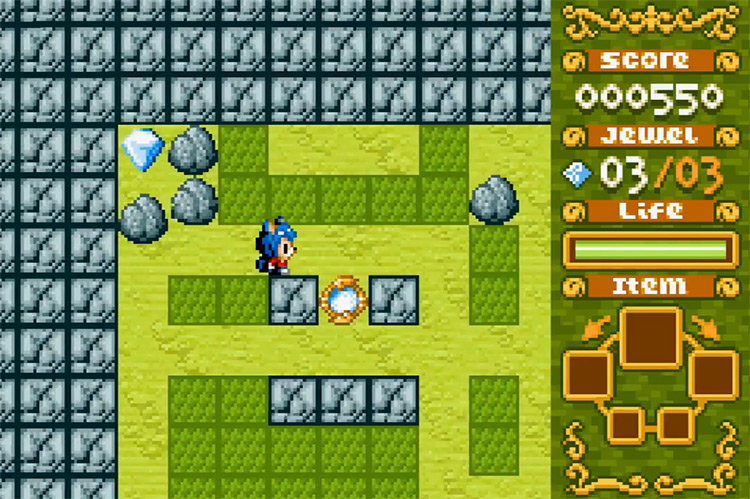 Up to 4 Players / Single-Pak
The classic arcade Boulder Dash makes a comeback on the GBA with updated graphics and much-improved audio.
The single-player offers over 60 levels of brainy action, while the multiplayer allows up to four diggers to compete against each other with a single Game Pak.
You'll have to tunnel around the same playing field, trying your best to squash your enemies with a rolling boulder or blow them up with a bomb.
It's easy to pick up and surprisingly addictive for such a simple game.
26.

Konami Krazy Racers (2001)
Up to 4 Players / Multi-Pak
Konami's take on the kart racing genre is surprisingly good – if only because it's a shameless replica of Mario Kart.
It features iconic characters from Konami franchises, including Takosuke from Parodius, Dracula from Castlevania, Gray Fox from Metal Gear Solid, and the famous ninja Goemon.
It may not be the most original game out there.
But the controls are tight, and the visuals are pretty good. And for Konami fans this'll be a blast.
25.

Rayman 3 (2003)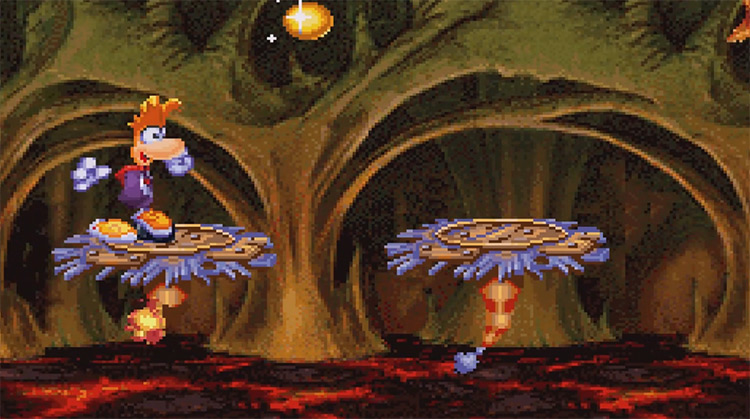 Up to 4 Players / Single-Pak & Multi-Pak
Rayman 3 is a total gem in any one of its releases – and the 2D GBA port is no exception.
It features over fifty different levels where you'll take evil by surprise and cripple the ranks of the Hoodlum Army.
It's also the first handheld Rayman title to support multiplayer.
And this game features several exciting mini-games for up to four players – including a game of tag, reverse-tag, racing, and a bumper car battle mode.
Players with only one Game Pak can still shoot it out against a friend in a mini-game reminiscent of Rayman Revolution's Missile Dogfight.
24.

Super Monkey Ball Jr. (2002)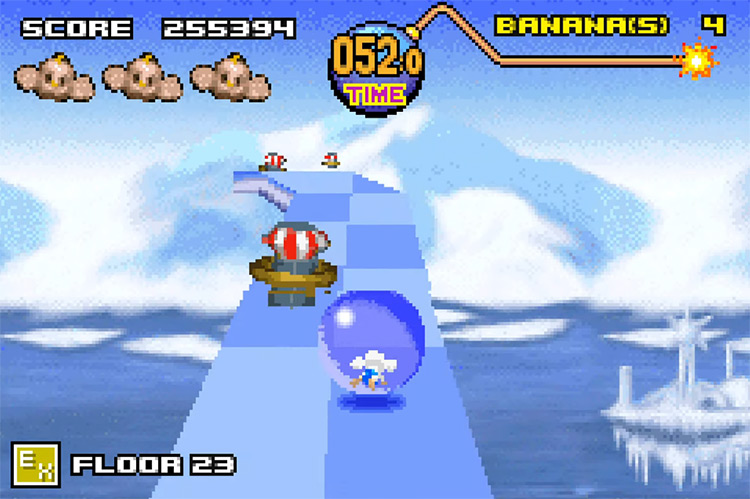 Up to 4 Players / Single-Pak & Multi-Pak
This incredible platformer with pseudo-3D graphics blew my mind the first time I played it.
I'd played the GameCube version and loved it, but experience taught me to curb my expectations when it came to handheld ports.
While not entirely on the level of the GC original, it still managed to put a smile on my skeptical face.
The multiplayer mini-games were a big hit with me and my friends – especially Monkey Bowling and Monkey Golf, which require a single Game Pak.
23.

Super Mario World (2001)
Up to 4 Players – Single-Pak
Mario's second main outing in the GBA was Super Mario World, an enhanced port of the classic SNES game.
Regrettably, you can't tackle the main campaign in co-op.
But still, SMW offers a four-player competitive mini-game based on the arcade classic Mario Bros.
It's simple but really fun – and you only need a single Game Pak!
22.

Disney's Magical Quest 3 Starring Mickey& Donald (2004)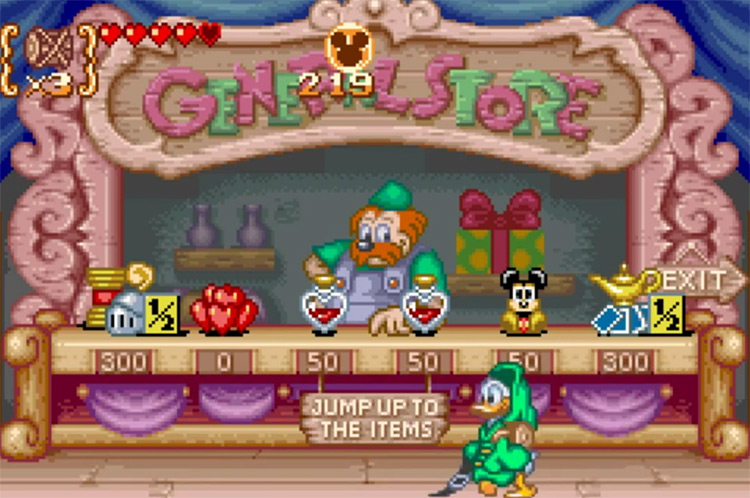 Up to 2 Players / Multi-Kart
Disney's Magical Quest series includes some of the most beautiful games on the SNES, and it's no different on the GBA.
The third entry in the franchise was initially released in Japan for the Super Famicom in 1995, and it stayed there for nine long years until it was ported to the GBA.
As the title suggests, it follows Mickey and Donald on a magical quest to rescue Donald's nephews from King Pete.
To do this they'll wear powerful outfits that give them different abilities to fight and progress through the levels.
The best way to enjoy this title is by playing through the story mode with a friend.
It also features some fun mini-games for a change of pace.
21.

F-Zero: Maximum Velocity (2001)
Up to 4 Players / Single-Pak & Multi-Pak
If you're not afraid of going pedal to the metal in some of the most dangerous racing courses in the galaxy, F-Zero: Maximum Velocity is a must-own on the GBA.
This zero gravity racing classic supports up to four players maneuvering lightning-fast hovercrafts over 20 different stages as one of ten distinct racers.
Even if only one of you owns the game, you can still play together – though you'll have to drive a generic car on a single track over and over. It's fun, but it gets old fast.
20.

Sonic Battle (2004)
Up to 4 Players / Single-Pak & Multi-Pak
Surprisingly, the best brawler on the GBA stars Sonic the Hedgehog and his furry friends.
Sonic Battle pits nine characters from the Sonic series against each other on large, multi-tiered pseudo-3D arenas.
It features the usual suspects like Sonic, Tails, and Knuckles, along with some less-known faces like Cream the Rabbit and Emerl – a programmable robot that copies other character's moves.
Of course, the game's main appeal is trading blows with your peeps in multiplayer – which requires multiple Game Paks and your trusty Link Cable.
But if you only have one copy of the game then you can still compete in several cool mini-games. These include a treasure hunt, races, and even minesweeper, among others.
19.

Puyo Pop (2002)
Up to 4 Players / Single-Pak & Multi-Pak
Puzzle games are always great fun in multiplayer – and Sonic Team's Puyo Pop is a prime example.
This Japanese take on Tetris has you matching rows of adorable round creatures called "Puyos".
The longer combos you create, the more garbage you drop on your opponent's side until, finally, you bury them deep enough to win the match.
Both Double Puyo Puyo (2 Player) and Everybody's Puyo (4 Player) can be enjoyed with a single cartridge. Still, the graphics and sound really shine when everybody has their own copy.
18.

Sonic Advance 3 (2004)
Up to 4 Players / Single-Pak & Multi-Pak
Sonic Advance 3 is, at its core, a co-op game.
Two players can tackle the campaign together, each taking control of Sonic, Tails, Knuckles, Amy, or Cream. Different combinations will open up diverging paths through each level, adding some replayability to this excellent game.
There's also a competitive race mode, in which two teams try to reach the end of any Act from the Story Mode before their opponents.
If only a single Game Pak is available, up to four players are tasked with retrieving a missing Chao hiding somewhere in a closed stage.
Whoever has the Chao when the game's three-minute timer runs out wins.
17.

Banjo-Pilot (2005)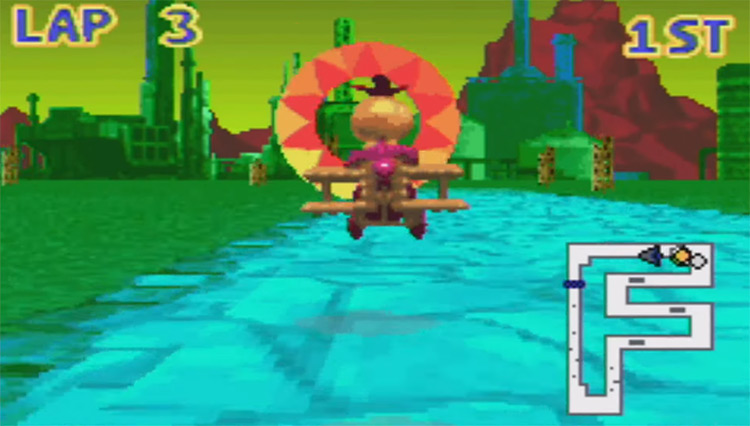 Up to 4 Players / Multi-Pak
One of the least-known entries in the Banjo franchise is Banjo-Pilot, a fantastic racer featuring iconic characters.
You'll control Banjo, Kazooie, Humba Wumba, and even Gruntilda, as they fly biplanes over 16 tracks based on environments from the Banjo universe.
While the single-player racing can be great fun, it's much better if you've got some friends who also own the game to tackle the Grand Prix or go head-to-head in a quick race.
You'll also love Dogfight Mode, in which you'll use weapons to shoot down your opponents until you're the last plane flying.
16.

Super Street Fighter Alpha 3 (2002)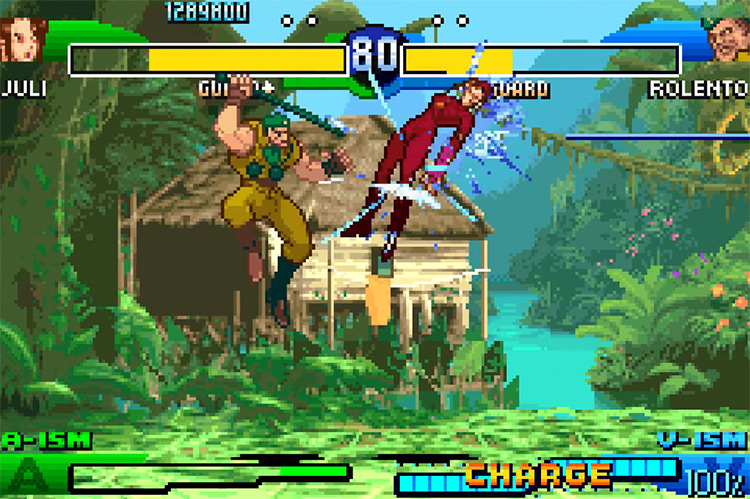 Up to 2 Players / Multi-Pak
Porting a content-heavy arcade game to a 128 megabit cartridge isn't an easy task.
Yet Capcom made the GBA version of SSFA3 one of the best.
Sure, they had to downgrade the audio a bit. And the game is missing some stages.
But they managed to keep every character from the arcade game intact and even had some space left to add three more for a total of 37 fighters.
This fast-paced button masher runs surprisingly well on the small handheld, and it's the best multiplayer fighter on the console.
15.

Mario Golf: Advance Tour (2004)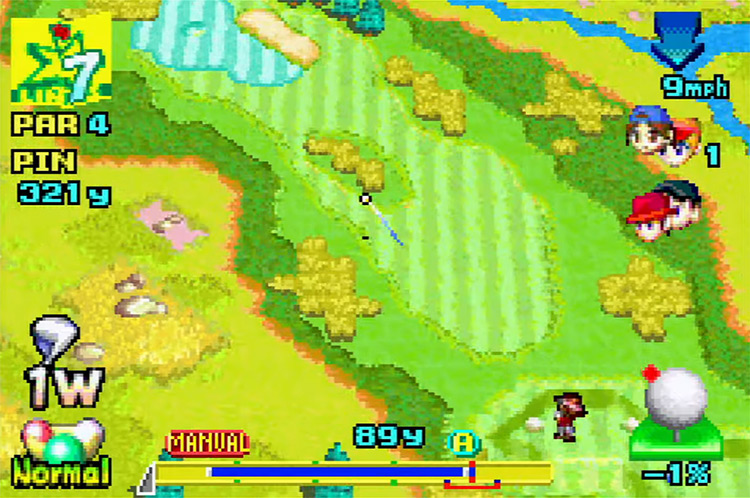 Up to 4 Players / Multi-Pak
The Mario sports games on the GBA share one weird thing in common: for some reason, they're RPGs.
That ends up playing in their favor.
The RPG campaign gives a lot of extra depth to Mario Golf's single-player campaign.
Even if you don't dig the RPG mechanics, you'll love this title's multiplayer component.
It lets up to four players challenge 18 holes as one of 18 unique characters, most of which are exclusive to this title.
You can actually enjoy the multiplayer with a single GBA by passing it around!
14.

Mario Tennis: Power Tour (2005)
Up to 4 Players / Multi-Pak
Much like Mario Golf, Mario Tennis: Power Tour features a story mode with heavy RPG elements and an all-new cast.
While that's entertaining on its own, the game really shines for its competitive multiplayer.
You can either go head-to-head against a friend, or test your reflexes and teamwork in a doubles match with the whole squad.
You've got a whopping 30 characters to choose from, though only six of them belong to the Mario franchise. These include Mario, Luigi, Peach, and Waluigi.
13.

Kirby: Nightmare in Dreamland (2002)
Up to 4 Players / Multi-Pak
Nightmare in Dreamland is an enhanced remake of the original Kirby's Adventure on the SNES.
Besides updated graphics and sound, the remake introduces four-player co-op for the Story Mode and Boss Endurance.
In addition, there are three mini-games to challenge your friends:
Bomb Rally has you playing tennis with a bomb, Kirby's Air Grind lets you race on rails, and Quick Draw is a reflex-based competition where you try to press a button faster than your opponent.
12.

Super Puzzle Fighter II Turbo (2003)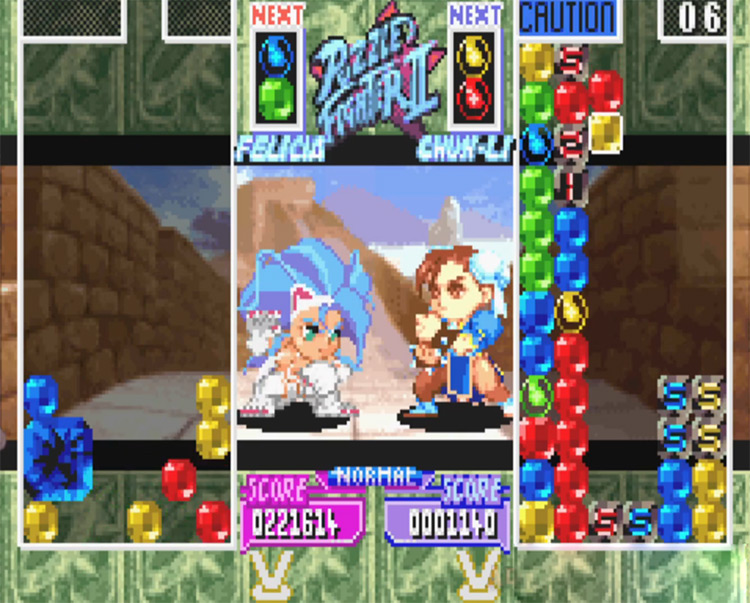 Up to 2 Players / Multi-Pak
One of the most unusual puzzlers on the GBA is Super Puzzle Fighter II Turbo, an arcade port where you'll match tiles to win instead of throwing punches.
This vibrant game shows pint-sized versions of your favorite Street Fighter characters exchanging blows while you desperately try to score more points than your opponent.
The better you are at matching tiles, the more violence your character will exert on their foe – until one of you finally gets KO'd.
While it focuses on Street Fighter characters like Ryu, Ken, and Chun-Li, there are also iconic cast members from other Capcom properties – including Morrigan from Darkstalkers and Donovan from Night Warriors.
11.

Bomberman Tournament (2001)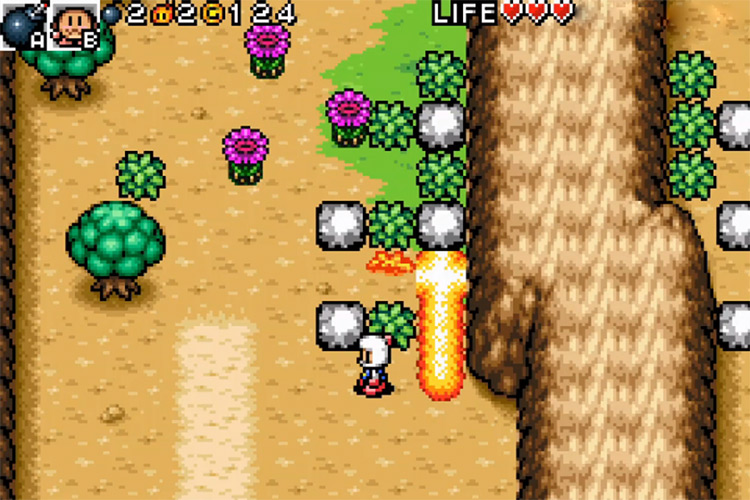 Up to 4 Players / Single-Pak & Multi-Pak
Bomberman Tournament's single-player has the lil' bomber exploring a vast world, collecting magic items, and rescuing charaboms.
Its multiplayer offers the best classic Bomberman experience available on the GBA.
It's easy to pick up and play with no prior experience, and burning your friends to a crisp never gets old.
Even better, you only need a single Game Pak to share the fun with your friends.
10.

ChuChu Rocket! (2001)
Up to 4 Players / Single-Pak & Multi-Pak
ChuChu Rocket! is one of the simplest puzzle games out there and one of the best.
Up to four players compete in a fast-paced battle of the minds where they'll try to lead their mice-like ChuChus to a spaceship by putting down strategic arrows.
Even better if these arrows also lead the feline KapuKapus to their opponent's ChuChus.
It doesn't really matter whether you have a single Game Pak or four. The core gameplay is the same on both modes.
9.

WarioWare, Inc.: Mega Microgame$ (2003)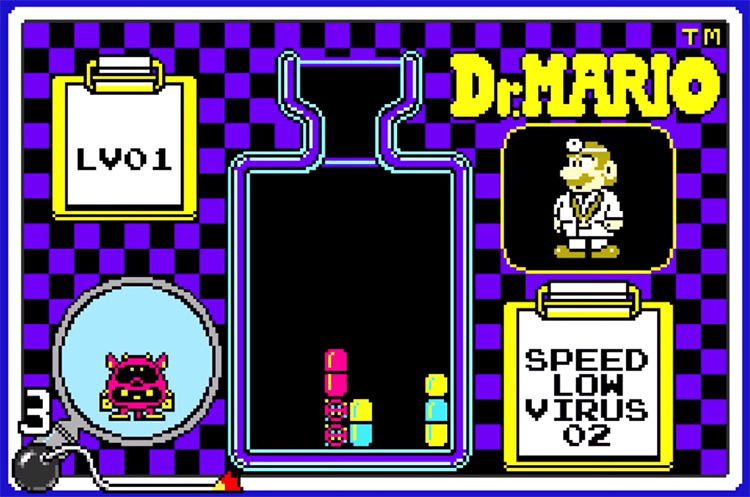 Up to 4 Players / Single-Pak & Multi-Pak
It's tough to picture a better party game on a handheld than WarioWare.
This wacky experimental title revolves around playing the most micro-games in the least amount of time. The shorter, the better!
It's a formula that promotes frantic, lightning-fast gameplay.
There's not a dull moment while playing WarioWare.
While it features multiplayer options with one or more copies of the game, you don't even need more than a single GBA console to enjoy WarioWare with friends.
Just pass it around!
8.

Pokémon LeafGreen & FireRed (2004)
Up to 4 Players / Multi-Pak
The Pokémon franchise has been a staple of Nintendo handhelds since Pokémon Red & Blue made their debut on the Game Boy back in 1998 – and the GBA was no exception.
Pokémon LeafGreen & FireRed give users a chance to revisit the Kanto region from the first generation, with updated graphics and mechanics as seen on Pokémon Ruby & Sapphire.
It also opens up the all-new Sevii Islands for exploration, where you'll find a lot of new content to discover.
Of course, you can hook your GBA up to your friend's through the Link Cable for trading and battling your beloved critters, which is one of the main appeals of the franchise.
7.

Pokémon Emerald (2005)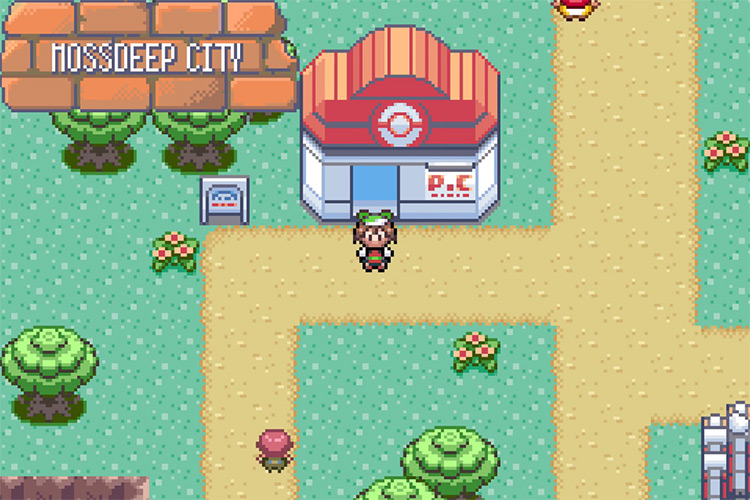 Up to 4 Players / Multi-Pak
Playing Pokémon was the sole reason most of us even got the Link Cable in the first place.
It shouldn't be a surprise to find two Pokémon games in the ranking!
Pokémon Emerald is the perfected version of Ruby & Sapphire – my favorite games in the franchise.
There's just something about Hoenn that captures my heart like no other region has been able to.
The graphics are easily the most charming of the 2D era, and the sense of adventure is unmatched.
Once again, the Link Cable will let you connect with other trainers to trade and battle. You can become the very best that no one ever was, at least among your friends.
6.

Advance Wars (2001)
Up to 4 Players / Single-Pak & Multi-Pak
Nintendo hit it out of the park with Advance Wars, a turn-based Tactical RPG that brought the genre into the spotlight for Western audiences.
It was one of the very best games released in 2001, and it remains pretty fresh to this day.
Multiplayer has up to four players choose from several commanding officers to lead ground, air, and naval forces against each other's armies over 114 unique maps.
It also features a map design mode, which takes the game's replay value up to infinity if you're into that sort of thing.
While the game features some basic multiplayer functionality with a single Game Pak, you'll be better off using its hot seat function to pass the console around.
5.

Ultimate Brain Games (2003)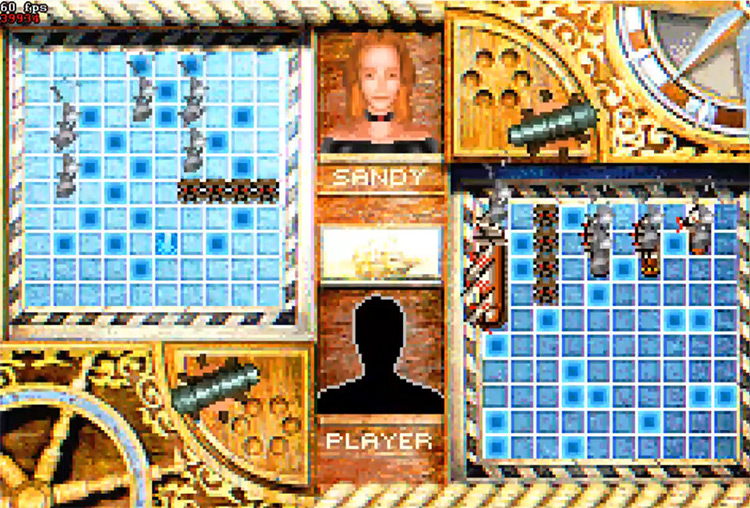 Up to 2 Players / Single-Pak
Ultimate Brain Games is one of those titles that give the player premium treatment in virtue of their simplicity.
The game lets you and a friend compete in any of its eight classic board games – chess, checkers, reversi, backgammon, dominoes, sink ship, connect four, and mahjongg.
Even if you only have a single GBA, you can enjoy multiplayer by passing it back and forth.
When it comes to multiplayer I'd say this game gives you the most bang for your buck.
4.

Shining Soul 2 (2004)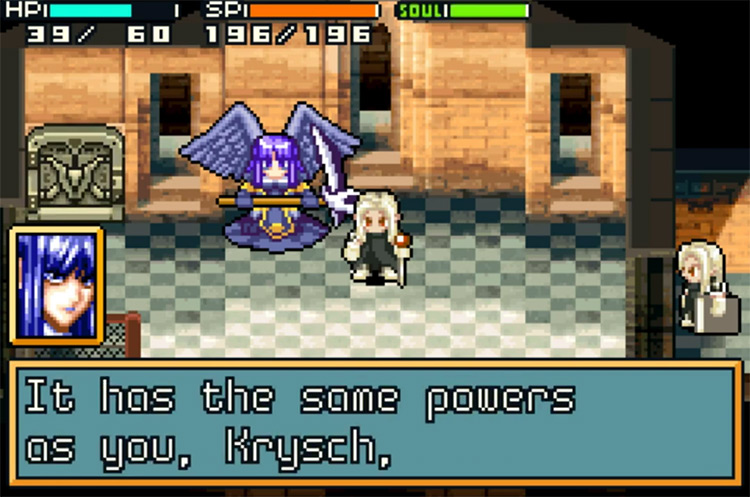 Up to 4 Players / Multi-Pak
You don't usually look at JRPGs for their multiplayer mode.
But Shining Soul II shines the brightest when played with friends.
This Action RPG lets four adventurers choose one of eight classes – including Warriors, Ninjas, Dark Wizards, and more – to tackle challenging dungeons full of experience to earn and fierce bosses to conquer.
Sure, you can do all of this in single-player too, but it's not half as exciting – and some classes, like the Archer and the Priestess, only work as intended as part of a team.
With appealing graphics and gameplay reminiscent of Diablo, it's easy to see why everyone who's played it remembers Shining Soul II fondly.
3.

Kirby & The Amazing Mirror (2004)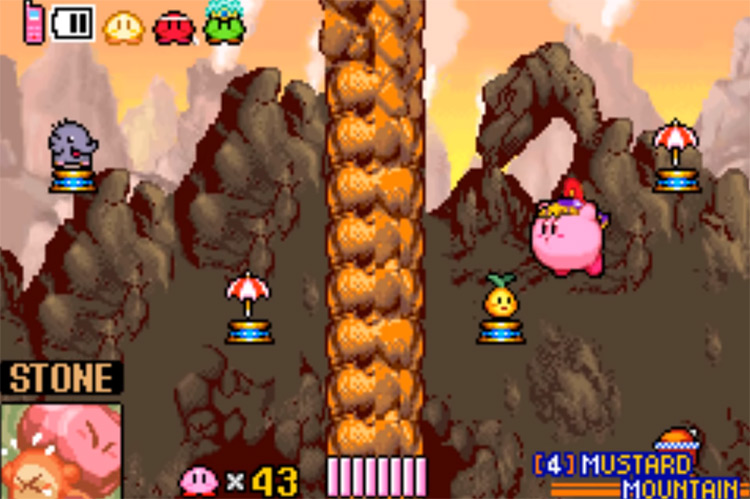 Up to 4 Players / Single-Pak & Multi-Pak
The pink blob is at it again, and this time, he'll need all the help he can get – help he'll get from… himself?
Kirby & The Amazing Mirror has Kirby summon copies of himself through the titular mirror to assist him in this adventure.
Each one has unique copy abilities, and they can be controlled by up to three friends as long as they have their own Game Paks.
Some fantastic mini-games can also be played with a single copy of the game. These include a Boss Rush, a Warp Star surfing race, and more.
2.

The Legend of Zelda: A Link to the Past & Four Swords (2002)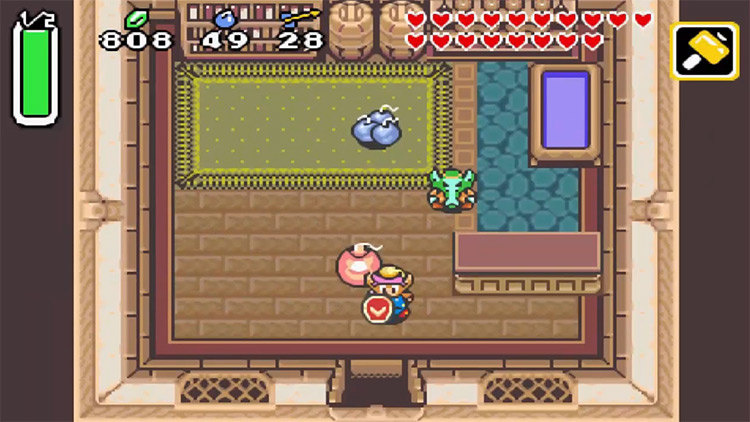 Up to 4 Players / Multi-Pak
It would have been enough to just port The Legend of Zelda: A Link to the Past to the GBA – but that's not Nintendo's style.
Instead, they packaged it with the first Zelda multiplayer experience ever made – and a damn good one at that.
Four Swords lets up to four players (duh) fight their way through several dungeons, cooperating to solve puzzles and defeat enemies while simultaneously competing to see who collects the fattest rupee bag.
It also has especially appealing graphics inspired by the style of TLoZ: The Wind Waker, also released in 2002.
1.

Mario Kart: Super Circuit (2001)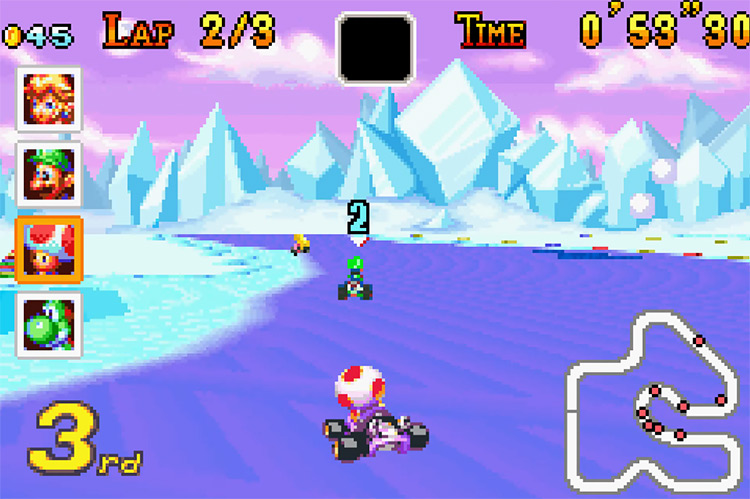 Up to 4 Players / Single-Pak & Multi-Pak
Mario Kart is always a blast to play regardless of the console.
But this GBA title of the kart racer series looks and sounds even better than its SNES counterpart.
Super Circuit features a whopping 40 tracks to burn rubber on, playing with up to three friends as an iconic Mario character.
Even if you've only got the one Game Pak, you and your squad can compete in four classic SNES tracks as different colored Yoshis, which isn't half bad.
That said, this game is good enough to warrant getting some extra copies for everybody. That way you can enjoy it to the fullest.
Browse:
Lists
Nintendo
Video Games