25 Best Nicktoons & Nickelodeon Video Games Of All Time
This post may contain affiliate links. If you buy something we may get a small commission at no extra cost to you. (Learn more).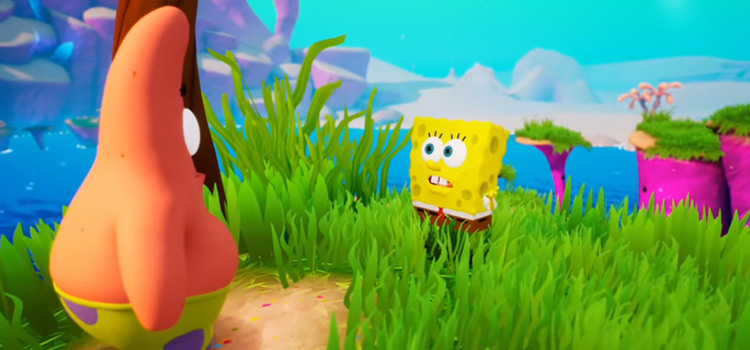 Being the media giant that it is, Nickelodeon has put out a staggering amount of shows over the past few decades.
With gaming's fast growth as an entertainment industry of its own, Nick was quick to start pumping out video games as well.
There have been so many that it's hard to keep track or even remember most of them — especially since the vast majority simply suck.
Still, probability tells us there's a higher chance of success the more you try. And games starring our favorite Nicktoons have hit it out of the park a good amount of times.
Whether you're here to reminisce or looking for something recent to sink your teeth into, you've come to the right place. Nickelodeon fans rejoice, and get your controllers ready!
25.

Nickelodeon Fit (2010)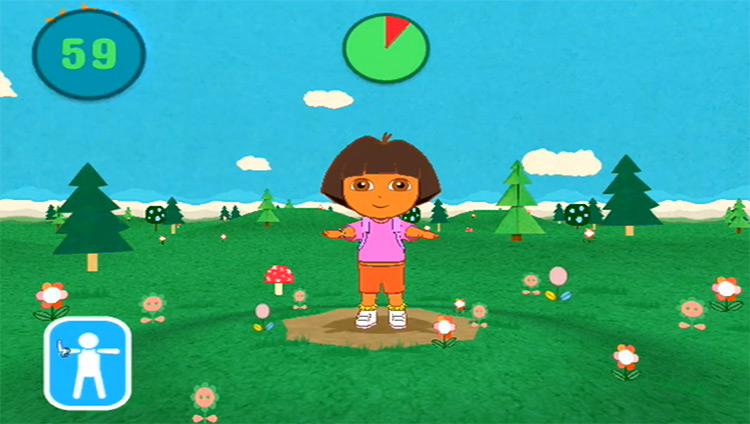 Platforms: Nintendo Wii
Getting children to exercise is almost impossible (even more than getting adults to do so).
Nickelodeon Fit endeavors to make exercising fun by including characters from Dora the Explorer, Go Diego Go, Ni Hao Kai-Lan, and Backyardigans.
While the game is advertised to be played with the Wii Balance Board, most exercises are more intense when done with the Wiimote. So there's no need to acquire any extra hardware.
It has positive role models, healthy messages, and kids look hilarious doing the exercises.
It's a solid choice for parents worried about their children's health.
24.

Nickelodeon 3D Movie Maker (1996)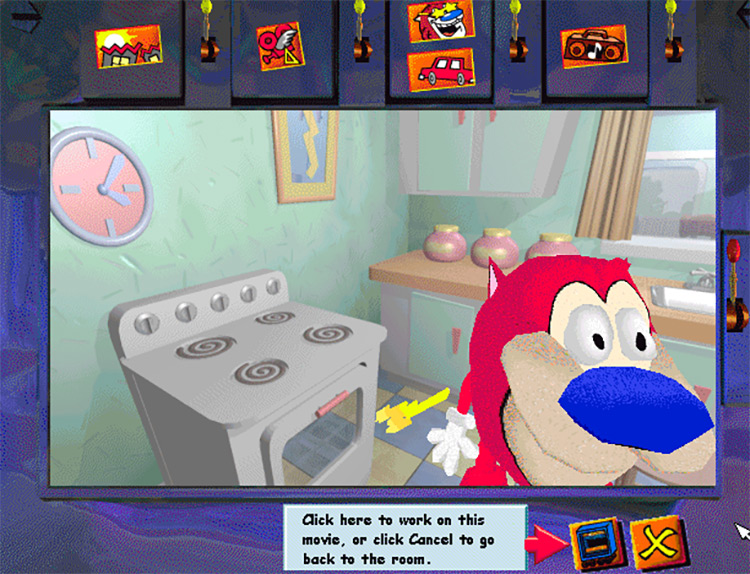 Platforms: PC
Nickelodeon 3D Movie Maker isn't strictly a game in the traditional sense of the word.
But for the creative mind of a Nicktoon-loving kid, it was a universe of possibilities.
It lets users create animated scenes with 3D actors on pre-rendered backgrounds, all based on Nickelodeon properties like Ren & Stimpy, Aaahh!!! Real Monsters, and Rocko's Modern Life.
It's not a program you'll be able to master quickly, even as an adult. But kids are never afraid of challenges.
Sure, the results are bound to be deeply disturbing half the time.
But it's about the journey, not the destination.
23.

Rugrats: Search for Reptar (1998)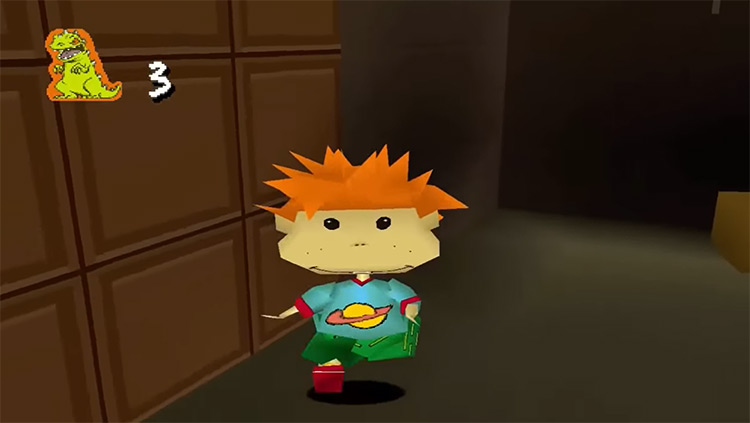 Platforms: PlayStation
Rugrats: Search for Reptar has simple gameplay based on collecting items all around the Pickles' residence.
It may not sound interesting nowadays, but it was a dream come true as a kid.
Regrettably, the game has several technical flaws like clunky controls and sensible collision physics that'll have your character bumping into stuff and reeling back every couple seconds.
It's infuriating as an adult, but I don't remember paying much attention to it as a child.
My favorite part of the game has always been the ending.
After collecting all items and completing the main campaign, you get to rampage through the city as Reptar. Good times!
22.

The Ren & Stimpy Show: Stimpy's Invention (1993)
Platforms: Sega Genesis
Stimpy's Invention came out for the SEGA Genesis before I was even conceived, but playing it so many years after the fact has taken none of its charm away.
The gameplay in this action-platformer is simple.
You walk to the right, jumping over hazards and avoiding enemies while collecting the scattered nuts and bolts of Stimpy's latest (destroyed) invention, the Mutate-o-Matic from the episode of the same name.
What stands out for me about this game is definitely how crisp the graphics look. With some of the most colorful backgrounds I've seen, hard to believe this game is so old.
Plus, it has co-op!
21.

Danny Phantom: Urban Jungle (2006)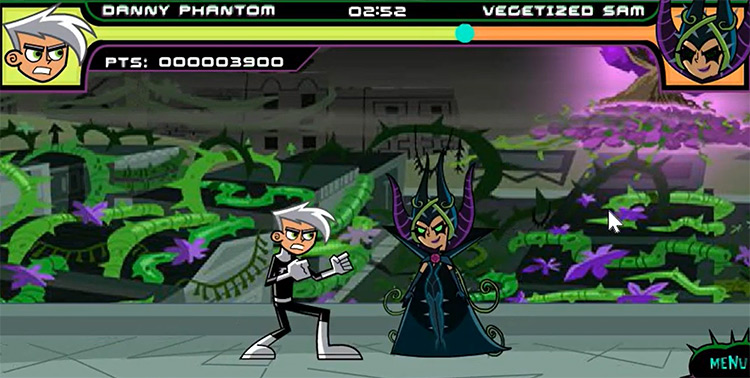 Platforms: GBA, Nintendo DS
Danny Phantom was one of the coolest series you could catch on Nickelodeon back when I was a young teen.
Absolutely all of my friends were obsessed with the paranormal adventures of Danny and his friends.
If you've ever wanted to enter the Ghost Zone and face the horrors within, Danny Phantom: Urban Jungle is about the best way to do it.
The game is a solid 2D brawler that'll pit Danny against a wide variety of villains from the show, including Undergrowth and the bad-ass Vlad Plasmius.
Initially, the game was set to release on home consoles as well. But these versions were inexplicably scrapped sometime before release.
20.

Nicktoons: Freeze Frame Frenzy (2004)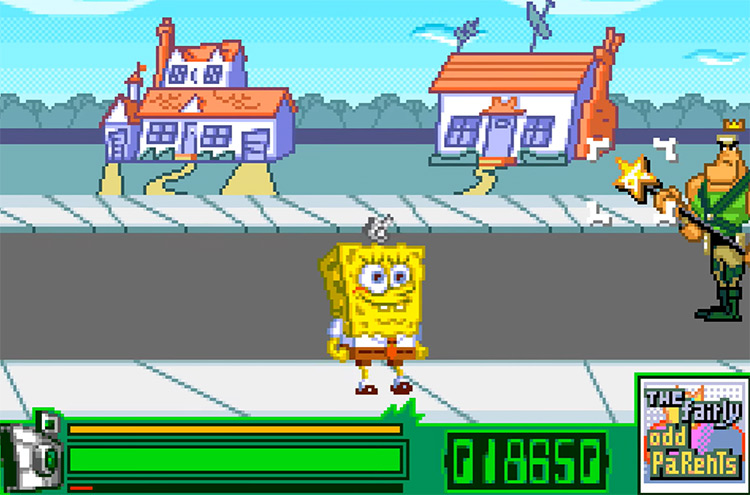 Platforms: GBA
If you liked Pokémon Snap on the Nintendo 64, then this GBA gem is a definite must-play.
The game is unusual because its main mechanic is taking pictures with the special camera invented by Jimmy Neutron. I feel like there's a meme in there somewhere…
You'll have to avoid hazards through several iconic locations from the show, as you try to complete diverse photograph challenges. Basically, become a Nickelodeon cartoon photographer.
Among the playable characters you'll find Danny Phantom, Arnold Shortman, plus plenty of others including Nick's poster boy SpongeBob SquarePants.
Fun fact: The game is also known as SpongeBob SquarePants & Friends: Fatal Frame in PAL regions. And no, it's not a weird crossover with the Fatal Frame survival horror series. Although now that you mention it…
19.

Nicktoons Racing (2001)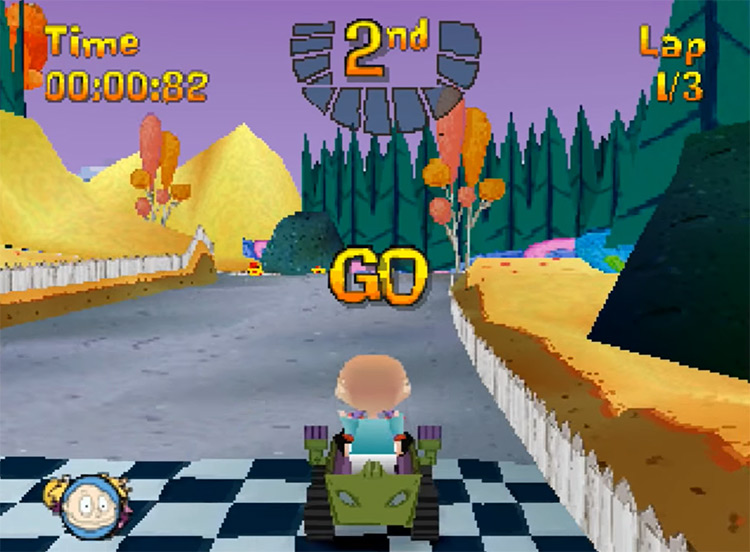 Platforms: PC, PS1, GBA, Game Boy Color
Kart racers have always been the go-to genre for franchise tie-in games like Cartoon Network shows and even the Power Rangers.
Of course, Nicktoons couldn't miss out on the fun.
After a mysterious racer sends invitations throughout the Nicktoon multiverse, all our favorite characters compete in a Grand Prix for the Krusty Krab Big Bun award.
Sure, it's a Mario Kart clone. But it features landscapes from Nick shows to race through, and many of our favorite characters.
The game also made it onto handheld consoles like the GBC and GBA, but the home console and PC version are the better ones to pick up these days.
18.

Nickelodeon Kart Racers (2018)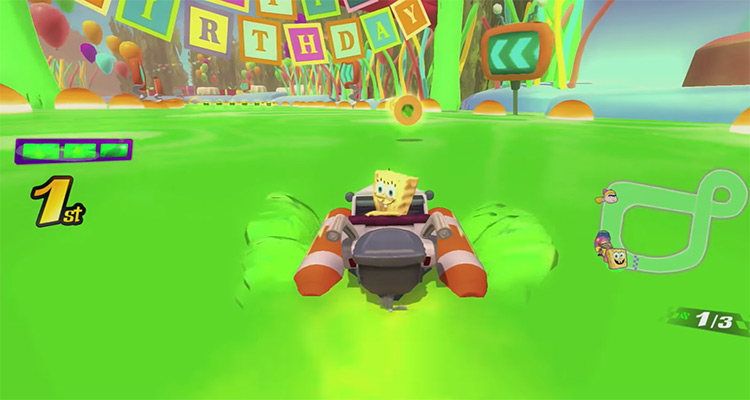 Platforms: PlayStation 4, Xbox One, Nintendo Switch
Nicktoons Racing was pretty successful. It ended up spanning a series of games, including Nicktoons Winners Cup Racing, Nicktoons Nitro, and Nickelodeon Kart Racers.
This game is basically the most updated kart racer for our Nick friends. It offers many of the same features with updated graphics and characters from more recent shows, like the Teenage Mutant Ninja Turtles reboot.
It has most of what you'd expect from a Nickelodeon game, including recognizable tracks based on places from their shows.
And a lot – and I mean a lot – of slime.
Regrettably, the game has a few design flaws that keep it from being the crossover kart racer we deserve. These include the mediocre graphics, complete lack of voice acting, and a terribly annoying soundtrack.
Still, hard to pass up if you're a Nick buff.
17.

Nicktoons Unite! (2005)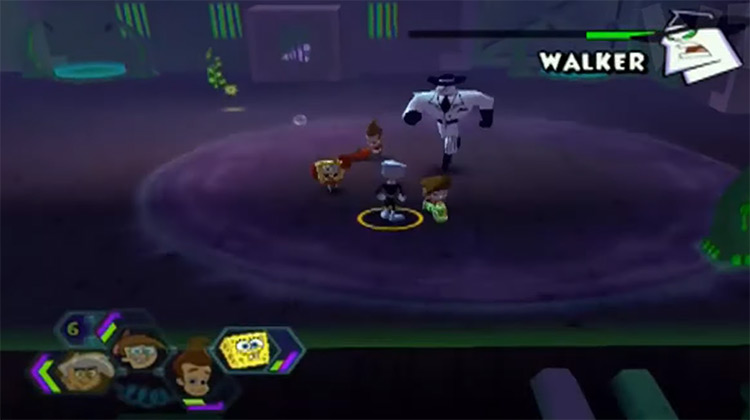 Platforms: PlayStation 2, Nintendo DS, GameCube, GBA
The Nicktoons crossover beat-em-up series is one of Nickelodeon's best intellectual properties in gaming, and it all began with Nicktoons Unite!
After the villains from several shows pool their forces together and concoct an evil plan too big for one hero to stop, it's up to the Nicktoons all-star squad to save the day.
Jimmy Neutron, SpongeBob Squarepants, Danny Phantom, and Timmy Turner now team up and kick some butt.
The game is pretty entertaining, but not as good as more recent installments due to a dull color palette and some uninspired level design.
Still, it was pretty damn enjoyable back in the day. Funny plot too.
16.

SpongeBob's Truth or Square (2009)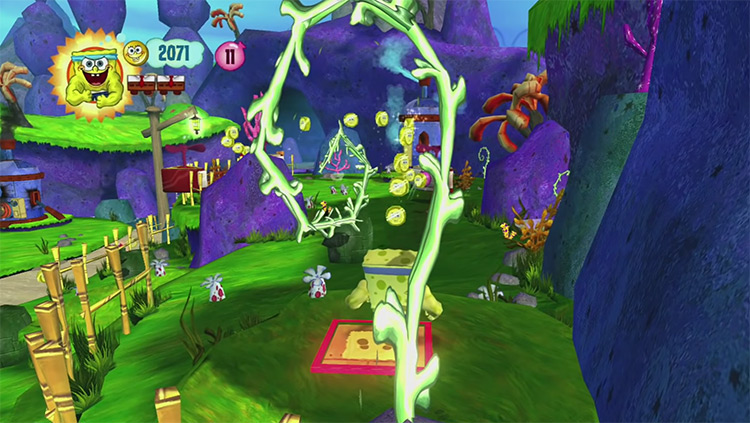 Platforms: Nintendo Wii, Nintendo DS, PSP, Xbox 360
After being entrusted with the Krabby Patty formula and losing it in record time, SpongeBob must turn to Plankton for help.
Luckily the tiny inventor has just the thing: a machine that can explore memories.
With Plankton salivating at this recipe, it's all a ploy to get his hands on the formula.
Chaos ensues.
The game is mainly a platformer collect-a-thon like most SpongeBob games. But it includes several boss battles against giant robotic versions of characters from the show that'll provide a pretty intense challenge.
Fun Fact: The game is "based" on the hour-long TV special of the same name, but the only thing both stories have in common is paying homage to past episodes of the series.
15.

The SpongeBob SquarePants Movie (2004)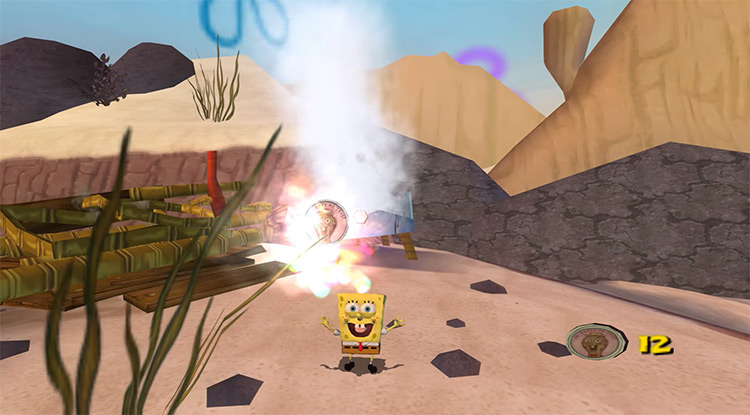 Platforms: GameCube, GBA, Wii, PS2, PC, Xbox, Windows Phone
The SpongeBob SquarePants Movie video game centers around going around collecting items and platforming.
If you haven't seen the film, the plot follows SpongeBob and Patrick as they go on an epic quest to retrieve King Neptune's crown, which has been stolen by Plankton for his evil deeds.
Basically the game follows a similar idea.
Other than the platforming, the game also includes some driving sequences and a couple of mini-games you're sure to love, if you liked the movie.
The dialogue and humor are on point.
14.

Rocket Power: Beach Bandits (2002)
Platforms: GameCube, PlayStation 2, GBA
One of Nickelodeon's most unique shows has to be Rocket Power, which came out during the final days of the Xtreme Sports craze, and possibly even extended its lifespan by getting kids fired up for skating.
Rocket Power: Beach Bandit takes a page from the show. It allows you to traverse the levels in different vehicles like bikes, skateboards, line rollers, and even a hoverboard.
The story is uncharacteristically bizarre, as the Rocket Power gang goes against an evil corporate empire run by robots that's stolen all the sand from Ocean Shores.
It's a pretty solid game with appealing graphics and varied fast-paced gameplay. Anyone could enjoy this title, regardless of whether they're a Rocket Power fan or not.
13.

The Fairly OddParents: Shadow Showdown (2004)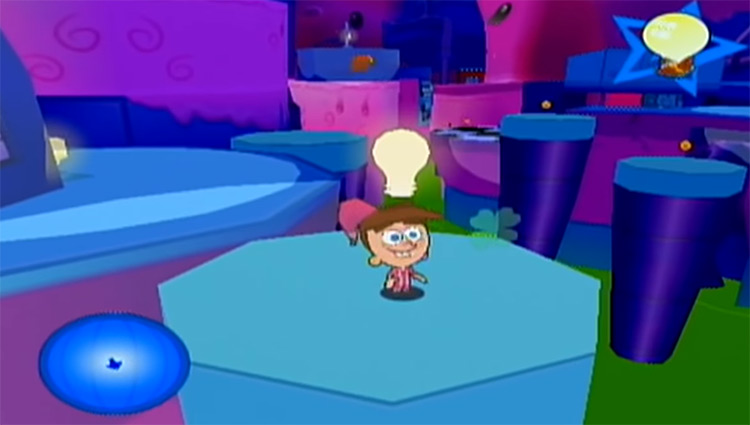 Platforms: GameCube, PlayStation 2, GBA, PC
The Fairly OddParents is a criminally underrated series.
Which is why it doesn't have as many games compared to SpongeBob SquarePants.
Considering the fantastic game that is Shadow Showdown, that's probably a marketing mistake.
It follows Timmy, Cosmo, and Wanda as they try to restore the Fairy World's power, and their own wish-granting abilities in turn.
This quest takes them through several areas like the pages of Crimson Chin's comics, and Fairy World itself.
Among the game's best features are the dialogue and voice acting, which are fresh and often hilarious, just like an episode from the show.
The cel-shaded graphics are also an excellent way to translate the show's look into gaming, making its appeal timeless.
12.

Lemony Snicket's A Series of Unfortunate Events (2004)
Platforms: GameCube, GBA, PlayStation 2, Xbox, PC
If you're a fan of Lemony Snicket's A Series of Unfortunate Events book series, you can't miss out on the beautiful video game adaptation.
It follows more or less the same narrative as the 2004 movie, re-telling the events from The Bad Beginning, The Reptile Room, and The Wide Window – the first three books in the series.
The gameplay is part adventure game, part shooter.
Violet, Sunny, and Klaus each have different abilities you'll need to exploit to overcome the challenges the many villains like Count Olaf and the White-Faced Women throw at you.
The movie's cast does the fantastic voice acting.
Along with the beautiful graphics, it does a lot to bring the story to life too.
11.

Nicktoons MLB (2011)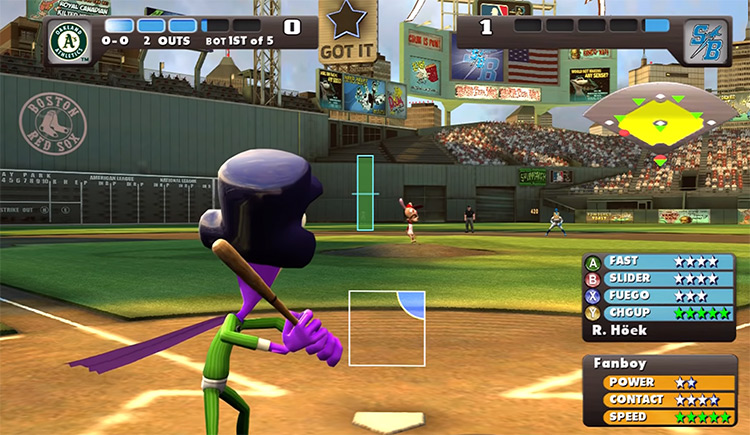 Platforms: Nintendo DS, 3DS, Wii, Xbox 360
I've never been a fan of sports games. And 2K's MLB series might be the last game I'd ever willingly play if given a choice.
That is, except for the Nicktoons-themed version.
Much like the Super Mario Strikers series, this game stays away from an overly realistic simulation of the sport.
Instead it captures the magic of actually playing baseball by focusing on the fun factor. Much like cartoons.
But it's the characters that ultimately draw me to this surprisingly entertaining game.
The all-star cast includes icons from a wide array of Nicktoons, each with amazing baseball-themed costume designs.
Watching Stimpy try to hit a curveball from air-bender avatar Aang is simply surreal.
10.

The Legend of Korra (2014)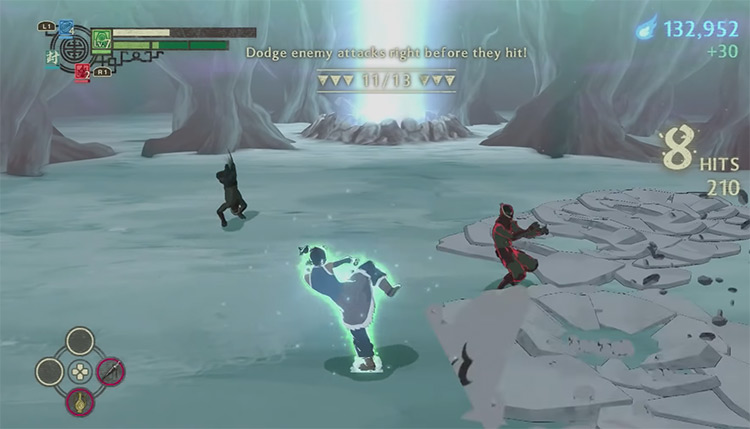 Platforms: Xbox One, PlayStation 3, Xbox 360, PC
Here's a divisive topic among Nickelodeon fans. And more specifically, fans of the second part of the Avatar saga, The Legend of Korra.
This game was developed by PlatinumGames, famous for their work on Bayonetta and Metal Gear Rising Revengeance, and written by Tim Hedrick.
He headed the writing team behind seasons 2-4 of the original show.
Given this pedigree, the game was intensely hyped.
Fans expected some next-level stuff.
It certainly has some sleek cel-shaded graphics and tight gameplay. But its scope was smaller than fans expected, clocking in at around four hours long and providing little variety in the way of enemies.
This led to the game being so badly hated-on by fans, it actually got taken off most platforms, and now it's quite hard to find.
A shame, since the game is actually pretty good and genuinely fun.
9.

The Legend of Korra: A New Era Begins (2014)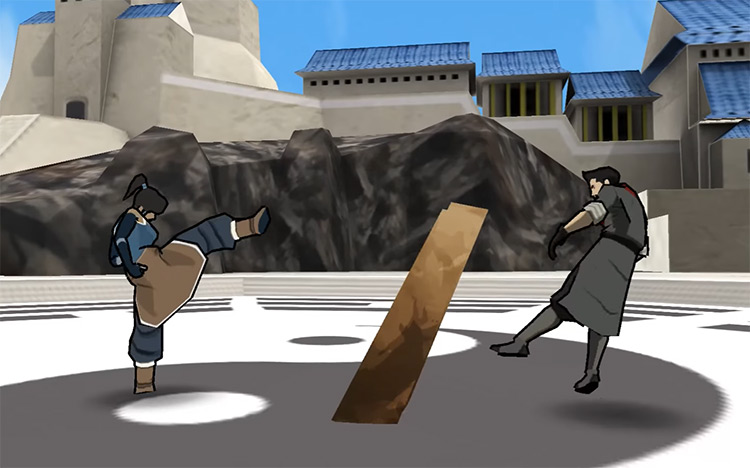 Platforms: Nintendo 3DS
Along with the hack-and-slash came a Tactical RPG similar to Fire Emblem on the 3DS, following much the same story as our previous entry.
It could be argued that it's a bit "too similar" to Fire Emblem.
But I'd say the elemental weakness system, and a couple of other tweaks introduced to the formula by Webfoot Technologies, are enough to make it feel like its own thing.
Plus, it looks terrific. And I can't argue with a good art style.
8.

Tak and the Guardians of Gross (2008)
Platforms: Nintendo Wii, PlayStation 2
Despite starting its life as one of THQ's independent series, Tak is currently a full-fledged Nicktoon, going so far as to appear in many crossover games.
Tak and the Power of Juju began airing in 2007.
While the best game in the series is arguably the 2003 title of the same name, the 2008 "Tak and the Guardians of Gross" sequel is the first one to count as a Nicktoons game.
The graphics are just as good as you'd expect from the franchise, the platforming remains dynamic, and it's quite simply fun.
Fun fact: In the game, Tak must climb the giant Big G bosses before engaging them in battle, a mechanic possibly inspired by the 2005 classic Shadow of the Colossus.
7.

SpongeBob SquarePants: Lights, Camera, PANTS! (2005)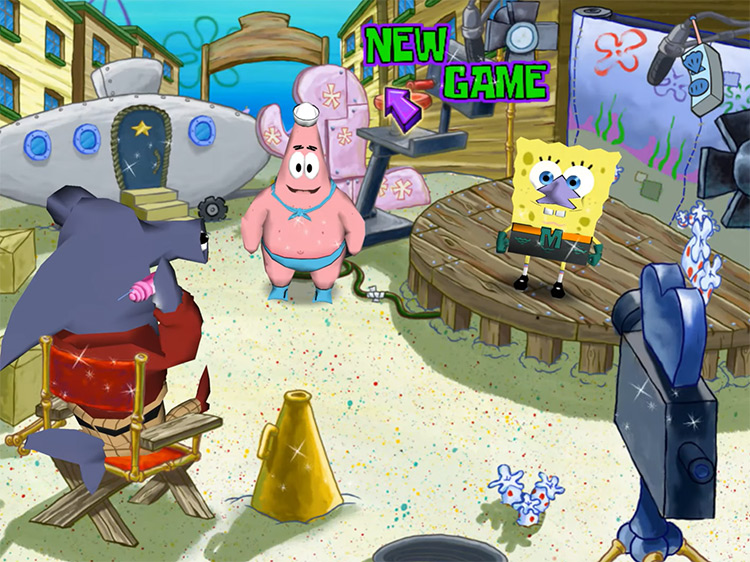 Platforms: GameCube, PlayStation 2, GBA, Xbox, PC
While Mario Kart clones aren't especially good, this Mario Party-like game starring our favorite denizens from Bikini Bottom is an entirely different story.
The narrative follows our heroes as they compete in several auditions to become the main villain for The New Adventures of Mermaid Man and Barnacle Boy.
Each audition plays out as a different mini-game, adding up to 30 unique activities.
These mini-games all happen in areas from the show, taking the six playable characters all around Bikini Bottom and beyond.
The graphics are nice, the scenery is really accurate to the show, and the game remains as funny as the show all the way through.
6.

Nicktoons: Attack of the Toybots (2007)
Platforms: Nintendo DS, Wii, PlayStation 2, GBA
With a dozen playable characters from all over the Nicktoons multiverse, Attack of the Toybots carries the crossover franchise forward with ease.
These include staples like SpongeBob and Danny Phantom, but also more niche characters like El Tigre and Ren Hoek.
This time around, our heroes must team up to stop Professor Calamitous.
He's using Krabby Patties, Fairies, and energy from the Ghost Zone to power his army of evil Toybots.
They'll visit several areas around Bikini Bottom, Amity Park, and Fairy World, beating up any wrongdoer they meet along the way.
While not the best entry in the series, the variety in character playstyle and unique graphics make it a delightful title. Definitely worth a try.
5.

Nicktoons: Battle for Volcano Island (2006)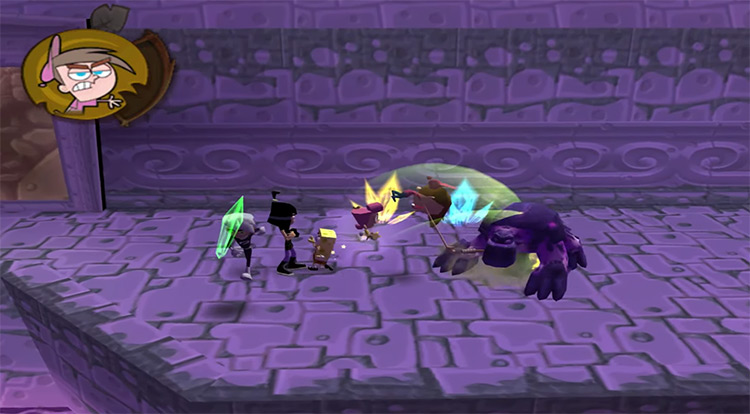 Platforms: PlayStation 2, Nintendo DS, GameCube, GBA
While Attack of the Toybots is the newer of the two, I much prefer the previous installment of Nicktoons crossover games: Battle for Volcano Island.
With incredible voice acting and excellent dialogue, the game is simply a joy to play.
There's nothing quite like watching Danny Phantom and SpongeBob spewing pure hilarity as they ruthlessly demolish enemies on their path.
The story is probably the best in the series, too.
The premise of nine Nicktoons being summoned to a crustacean-inhabited island to fight an ancient evil is entirely bizarre, but the excellent writing makes it work.
Also the co-op feels especially good in this game. So grab a friend and give it a try!
4.

SpongeBob SquarePants ft. Nicktoons: Globs of Doom (2008)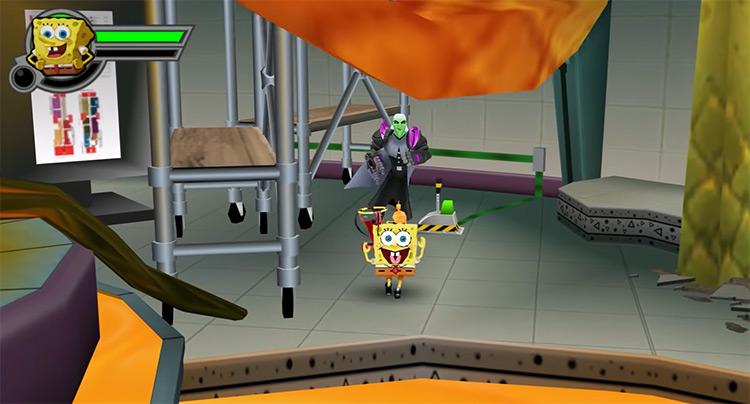 Platforms: Nintendo DS, Wii, PlayStation 2
The latest installment in the crossover beat-em-up series may have SpongeBob's name on the title for marketing reasons, but it's just as varied as the previous three.
When orange slime starts falling from the sky and turning folks into mindless zombies, it's up to Jimmy Neutron to bring the Nicktoons together and lead the charge against this new threat to the multiverse.
What I like most about this game is that both Zim and Dib are included as playable characters.
Which overjoys the Invader Zim fan in me.
The only thing keeping this game from greatness is the slightly uninspired writing.
But it makes up for that with well-placed jokes and genuinely fun gameplay.
3.

Super Brawl Universe (2019)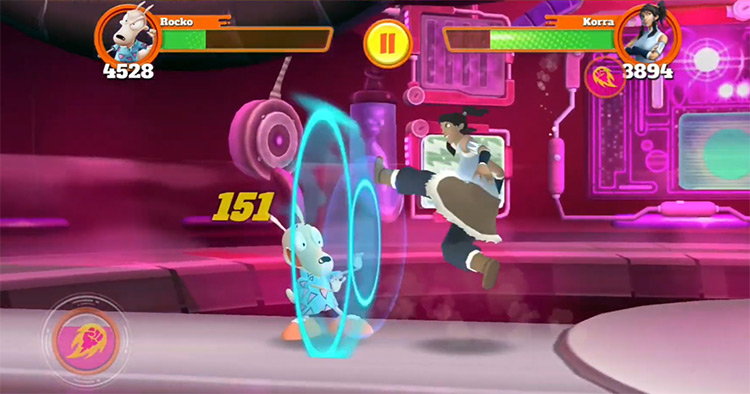 Platforms: iOS
Besides kart racers and party games, the fighting genre is one of the best ways to cram as many licensed characters into the same screen as possible.
Super Brawl Universe doesn't only sound like Super Smash Bros. Brawl, but it plays essentially the same.
Everyone picks a character, then a stage, then you beat the stuffing out of each other.
Pitting Korra against Aang is priceless.
And the inclusion of characters like Gir and Patrick takes the silliness to a new level.
It's a simple, fun game with solid graphics and a massive roster of characters.
This one's bound to keep you hooked for a while.
2.

SpongeBob SquarePants: Battle For Bikini Bottom (2003)
Platforms: PS2,Xbox, GameCube, GBA, PC
If there's a game we all knew was going to be high up in the list, it's Battle For Bikini Bottom.
This amazing platformer collect-a-thon is widely recognized as the SpongeBob SquarePants property's best use to date, mainly due to the crisp graphics and excellent humor.
Another big draw are the fantastic levels, based on a variety of iconic locations like the Goo Lagoon, Jellyfish Fields, and of course the Krusty Krab.
The only real criticism I'd level at this game is the somewhat sloppy voice acting.
That doesn't sound like Mr. Krabs! Although who knew there'd eventually be such a big update…
1.

SpongeBob SquarePants: Battle for Bikini Bottom Rehydrated (2020)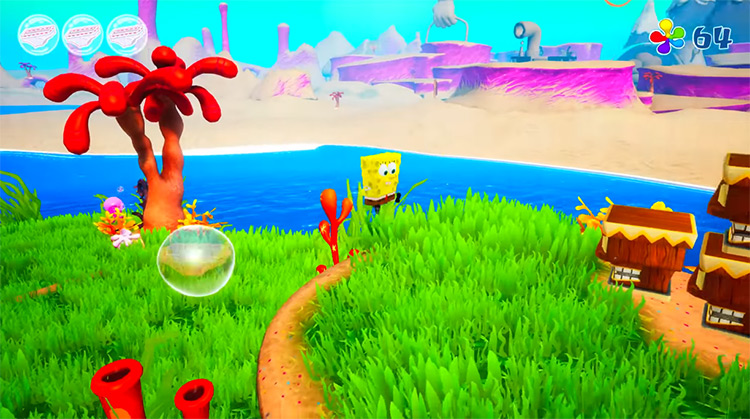 Platforms: PlayStation 4, Nintendo Switch, Xbox One, PC
The original Battle for Bikini Bottom may have been the absolute bomb back when it came out.
But times have changed, and it's time for an update.
Battle for Bikini Bottom Rehydrated is a remake of our previous entry, maintaining the basic premise and most of the level design. But substantially updating the game's looks and controls.
While some people criticize the game for not bringing anything new to the table, I'd argue the extra polish and facelift are more than enough to justify a re-release.
Nostalgia is a big part of these Nickelodeon games, and it's supposed to be that way!
The best improvements (other than the graphics) are the new updated voice acting and soundtrack, which does a lot more to bring Bikini Bottom and its residents to life.
We ranked this game right at the top of our favorite SpongeBob games of all time, and for good reason. It's just plain fun!
Browse:
Lists
Nickelodeon
SpongeBob
Cartoons
Video Games