The Best Online Multiplayer Xbox One Games (Ranked)
This post may contain affiliate links. If you buy something we may get a small commission at no extra cost to you. (Learn more).
Back when I was younger, I couldn't picture a better afternoon than one spent with friends shooting each other in split-screen or tackling some challenging co-op game.
Nowadays, my friends have spread far apart across the world.
But it hasn't stopped us from playing together thanks to the Internet.
You don't even need friends to play with other people these days. Tons of exciting multiplayer games match you with random people, and it's a great way to make new acquaintances.
These are the best options to try for those of you with an Xbox One and looking for some online fun.
25.

Stardew Valley (2016)
It isn't immediately apparent how well an RPG about farming would translate to multiplayer gameplay, but it definitely works in the case of Stardew Valley.
There's so much to do in this game that having up to four people sharing the same farm can't hurt.
Someone may be out mining while another three tend to the farm – and nothing beats going out for drinks with the squad and meeting some eligible bachelors/bachelorettes.
Make sure to woo your favorite character before the other players get a chance! You wouldn't want to end up with a Joja employee when you could've had an aspiring astronomer or a beach-dwelling poet.
And if you're not sure how multiplayer could even work with Stardew, this guide has some good info to get you started.
24.

Dead by Deadlight (2017)
If you're one of those people who just love 3v1 mini-games in Mario Party, you'll love Dead by Deadlight.
While zombie/monster survival is generally considered a co-op affair, Dead by Deadlight injects a touch of competitiveness through asymmetric multiplayer:
A team of four escapes from a fifth player controlling a monster to sacrifice them to "The Entity."
There are tons of perks and customization options for survivors and monsters, and enough DLC to keep you all busy for months.
Dead by Deadlight's DLC is especially interesting because it includes collabs with licensed properties like Silent Hill, Stranger Things, the Evil Dead, and Resident Evil.
23.

Overcooked: All You Can Eat (2021)
Overcooked has quickly become a staple of family-friendly gaming.
Anyone can pick it up, and nobody wants to put it down.
There's something about the commotion of an overworked kitchen that glues people's attention to the screen.
There are always vegetables to chop, dishes to wash, and fish to fry.
Overcooked: All You Can Eat combines all the content from Overcooked and its sequel – including all DLC – into one neat package, all running on Overcooked 2's updated engine.
22.

Minecraft: Xbox One Edition (2014)
Way back in the day when Minecraft was still in Alpha, I used to share a save file with a friend to build together on this single-player game.
And here we are over 10 years since the release of Alpha.
Now Minecraft is seen by most as a primarily multiplayer affair.
You can either invite people to your own world, or visit theirs to explore and survive together. You can also join a server to experience massive multiplayer worlds.
One thing I love about Minecraft as a multiplayer option is cross-platform support.
You can connect with friends on Xbox Series X/S, PS4/PS5, mobile devices, or even on PC.
21.

Minecraft Dungeons (2020)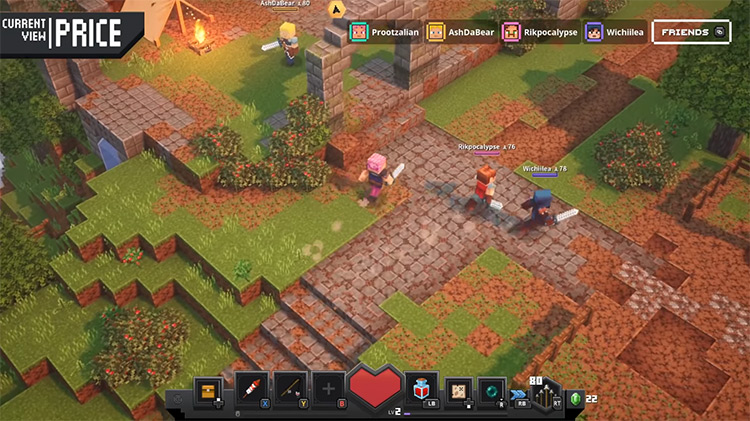 Minecraft is great. But not everybody likes the open-ended gameplay of this sandbox.
Minecraft Dungeons is just the thing for people who prefer a clear objective.
And for anyone new to multiplayer in Minecraft Dungeons, here's another handy guide worth checking out.
This action RPG spin-off can be described as "baby's first Diablo clone." It's a colorful and exciting hack-and-slash with cutesy graphics and a family-friendly storyline.
Unlike actual Diablo, you won't have to worry about kids having nightmares about The Butcher or Azmodan.
20.

Dark Souls III (2016)
Dark Souls III can give anyone nightmares – not only because of its bosses or its maliciously-placed enemies, but also for the dark spirits that invade your game.
These red phantoms are half of the game's multiplayer component.
These malicious players wait to catch you off-guard and get rewards for ending your run. They'll always come at the worst time, and if you've only battled NPCs so far, they'll probably cut you down quickly.
But don't worry!
You can also summon blue phantoms to help you clear treacherous areas, defeat tough bosses, and defend yourself from invaders.
It may be a primarily single-player game, but the online multiplayer element is key to the DS experience.
19.

Destiny 2 (2017)
Even if your workspace lies just a couple meters away from your bed, we still need to unwind after a tough day at work – and there's nothing quite like mindless shooting and looting to release tension.
Destiny 2 is all about killing aliens to obtain better equipment so you can kill stronger monsters for even better loot.
You can also play through story missions, explore the game's complex lore, and do all sorts of side-quests for – you guessed it – exclusive loot.
This epic space fantasy shooter features exciting co-op missions and traditional PvP matches in The Crucible, where you'll finally put your hard-earned load-out to the test.
18.

Gears 5 (2019)
The Gears of War series has been going strong for over 15 years, though the fifth main installment decided to drop the "of War" to indicate a new direction for the franchise.
It's all superficial, though.
There's a strong female lead on the cover, and the game's visual style has evolved a fair bit since the days of hyper-masculine beefcakes with chainsaws – but under the hood, it's the same Gears we all know and love.
Gears 5 features a fantastic three-player co-op campaign that's perfect for a weekend of gaming with your peeps, but you really want the game for its competitive multiplayer playlists, acclaimed Horde survival mode, and the all-new Escape mode.
17.

No Man's Sky (2018)
For a while before No Man's Sky was released, we thought it would be the most expansive multiplayer experience the world had ever seen.
Then it was released with no multiplayer at all.
And that was only one of the countless things that were missing from the game.
After many years of hard work, Hello Games has elevated No Man's Sky to something resembling their original plan. There's base-building, all-new surface vehicles, and you can manage your own fleet!
The game also supports cross-platform multiplayer, and up to 8 players can explore together on Xbox One.
16.

ARK: Survival Evolved (2017)
I love discovering new worlds with exotic flora and fauna – but sometimes, you want to settle down and get to know the local wildlife.
ARK: Survival Evolved is a massive online game where players form tribes to survive a mysterious environment full of gorgeous but treacherous biomes and powerful beasts.
The game used to focus entirely on dinosaurs, but all sorts of unique creatures can now be hunted and tamed.
These include wyverns, griffins, and even phoenixes.
15.

For Honor (2017)
If you're a fighting game buff who can't get enough of complex commands and different stances, you'll find a lot to love in For Honor.
This historically inaccurate hack-and-slash pits Knights, Samurai, Vikings, and the Chinese Wu Lin against each other in fierce battles, including 4v4 melees, 2v2 doubles, and 1v1 duels.
With an intricate combat system and complex blocking mechanics, it will take a while before you're anything more than cannon fodder – but once you get into it, it's hard to stop.
14.

Star Wars: Battlefront 2 (2017)
Star Wars: Battlefront 2 remains the go-to video game for fans of the series thanks to gorgeous graphics, fun game modes, and a vast variety of scenarios and units taken straight from the movies.
The story mode is great fun, but the game shines for its large-scale battles on disputed planets and the cramped halls of spaceships.
Modes include classic shootouts, objective-based operations, space dogfighting, and even heroic skirmishes between famous warriors like Rey, Finn, Kylo Ren, Yoda, and Darth Vader.
13.

Star Wars: Squadrons (2020)
A more recent option for Star Wars fans is Squadrons – a space combat simulator set right after Return of the Jedi.
It features the same jaw-dropping presentation as SW: Battlefront 2, with slightly upgraded graphics and excellent sound design that just screams "Star Wars."
Still, think twice before buying it.
It's fantastic, but it features sophisticated flight controls that make the learning curve more than a little steep if you've never played something like Ace Combat before.
12.

Castle Crashers Remastered (2015)
Games have become more long-lived than their predecessors.
Thanks to remasters and updates, classic titles like Skyrim and GTAV are still on everyone's mouths and storage drives after a decade.
Castle Crashers is no different.
The game was a blast back in 2008, and the HD Remaster on the Xbox One is even better.
Not only does it look incredible, but it features a ton of minor updates to improve online multiplayer. If there's ever been a time to enjoy this exciting beat-em-up with the squad, it's now.
11.

Red Dead Online (2019)
Red Dead Online is the online multiplayer component to Rockstar's critically acclaimed Red Dead Redemption 2 – featuring the same immersive gameplay and jaw-dropping graphics.
In other words, it's GTA Online with cowboys.
Whereas the primary RDR2 campaign casts you as Arthur Morgan, Red Dead Online lets you create your own cowboy outlaw to tackle all sorts of bounties and complete Wild West quests.
If you ever grow bored of robbing trains and sticking it to the authorities, you can participate in the Showdown Series and shoot it out against other players for rewards.
10.

Monster Hunter World: Iceborne (2019)
The hit Japanese series Monster Hunter finally made it big abroad with the release of Monster Hunter World in 2018.
The Iceborne expansion suggests there's still plenty of life in this game.
The game's structure mimics that of a single-player game, and missions can technically be cleared solo – but it doesn't have to be that way.
You can always find other players to hunt together, and the more demanding the missions get, the more necessary it becomes.
Even if you've already cleared the campaign covered yourself in Elder Dragon equips, you'll definitely have fun tackling large-scale raid events like the Kulve Taroth Siege.
9.

Forza Horizon 4 (2018)
Few genres are a better fit for multiplayer than racing, and Forza Horizon 4 is the best the Xbox One has to offer.
This stunning racing simulator has found the perfect middle ground between enjoyable arcade controls and realistic handling for one of the most sublime virtual driving experiences ever.
Forza Horizon 4 takes place in a beautiful open world where you'll see others looking for their next thrill alongside you.
It's amusing to watch other players' shenanigans – but you can also join a party, challenge each other to races, and more.
8.

Rocket League (2016)
I've never been too good at realistic racing games.
Whenever I want some high-octane fun, I boot up Rocket League.
That's not to say Rocket League is easy, though.
Sure, you can jump into a match against newbies and have fun laughing at how six people miss the same ball over and over – but as you rank up, you'll have to hone your skills fast.
Playing friendly matches against friends is always a great way to practice.
Alternatively, you can play co-op with a skilled friend to make goals while you worry about getting cooler cosmetics for your car.
7.

It Takes Two (2021)
Sometimes, we don't want to play with randoms online.
If you're turning to multiplayer to spend time with a loved one who's far away, a beautiful co-op adventure like It Takes Two is the way to go.
This unique platformer defies genre boundaries by shaking up gameplay for every level. It's supposed to mirror the hoops people have to jump through to keep relationships healthy – so every chapter presents a different challenge.
Instead of getting good at the game, you and your partner must learn how to communicate effectively and co-operate no matter the situation – much like successful couples (and friends) do in real life.
6.

Grand Theft Auto Online (2014)
GTA Online has been a staple of multiplayer gaming for ages, and it'll remain popular until Grand Theft Auto VI comes around.
This game is all about freedom – the freedom to look how you want, drive what you want, and cause as much havoc as you want.
Once you've created your very own criminal, you can drop into San Andreas with up to seven friends (or randoms) to tackle missions, explore the city, and generally paint the town red.
It's still getting frequent updates that add to the already massive available content, too.
There has never been a better time to play GTA Online.
5.

Tom Clancy's Rainbow Six Siege (2015)
Shooting mindlessly at each other in Call of Duty or Fortnite is always a blast – but some people prefer the tension of simulated military operations rather than open combat.
Rainbow Six Siege is more of a strategy game than a shooter. There are tons of available weapons and attachments – and gunplay definitely plays a role – but it's careful, well-executed operations that will carry you to victory.
You'll have to master tools like drones, deployable cover, and explosives to triumph in modes like Hostage, Bomb, and Secure Area.
I recommend Tactical Realism, which removes your HUD and anything you wouldn't have in the real world for maximum immersion.
4.

Call of Duty: Warzone (2020)
Warzone is a great middle-ground between the lightning-fast gameplay of classic CoD and more tactical experiences like Rainbow Six Siege.
While not as tense as rescuing hostages from terrorists, scouring the map for the right equipment with your team requires a fair bit of forethought.
You'll find yourself in high-adrenaline shootouts between teams where quick thinking, an understanding of your 3D environment, and effective communication can mean the difference between life and death.
Whether you play alone, with a friend, or in a team of four – you'll find a lot to love in this battle royale.
3.

Sea of Thieves (2018)
Avast ye!
Is that a beautiful open-world pirate adventure I see in the distance? Well blow me down!
I may have found the best pirate game ever made for the Xbox One.
Sea of Thieves lets you and your friends command your own pirating vessel and set out on perilous journeys in pursuit of loot and riches to pour into your clothes, your weapons, and your ship.
What's so good about Sea of Thieves is its focus on immersion.
It's not only about the loot, but also about fishing, dancing around a campfire with your hearties, and the freedom of the seven seas.
2.

Apex Legends (2019)
One of the most rapidly growing hero-based shooters is Apex Legends: Titanfall 2's quirky battle royale spin-off.
It may have started as an offshoot of their main game, but Apex Legends has reached popularity never before experienced by a Titanfall game.
That's in part thanks to its well-defined personality and the lovable Legends we get to play as.
Just keep in mind that this battle royale doesn't hold your hand at any point – and there's a ton you have to learn between character abilities, weapons, and attachments.
It takes time, but it's worth it.
1.

Halo: The Master Chief Collection (2014)
This is an Xbox One ranking.
So it's only fair a Microsoft exclusive gets the first spot.
Halo was the franchise that built up the Xbox brand and made Microsoft machines competitive during the 2000s.
Now, you can experience the first four Halo games plus Halo 3: ODST and Halo Reach in a gorgeous 60fps remastered package.
And more importantly, you can play on over 120 multiplayer maps from across every game.
With an astonishing variety of maps and game modes, The Master Chief Collection will keep you busy for a long time – or at least until you pick up Halo Infinite.
Browse:
Lists
Xbox
Video Games