Top 25 Best PS4 Fighting Games Of All Time
This post may contain affiliate links. If you buy something we may get a small commission at no extra cost to you. (Learn more).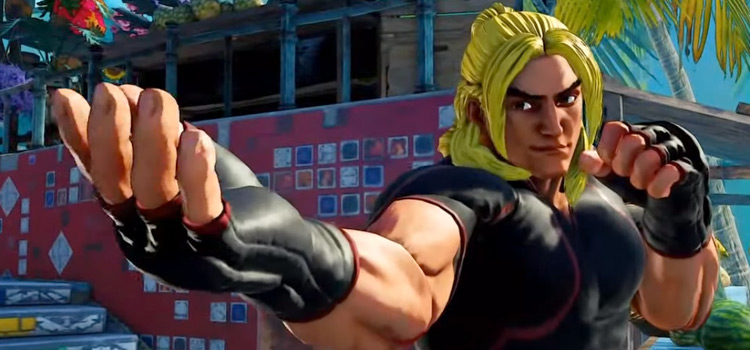 Considering fighting games are one of the last bastions of couch co-op, it's always important to have at least a couple in your library.
Just for when the squad wants to beat each other to a pulp over nachos. Or even if you're miles apart, it's always fun to play online.
Unlike some of the other broad categories, the PS4 has a wealth of fighting games to pick from.
This immense variety makes it complicated to pick just 25 to recommend. But it also guarantees that I've only included the very best. Every single entry in this list is worth a look, be it an anime fighter, a crunchy button masher, or something entirely unexpected.
25.

Under Night In-Birth Exe: Late [cl-r]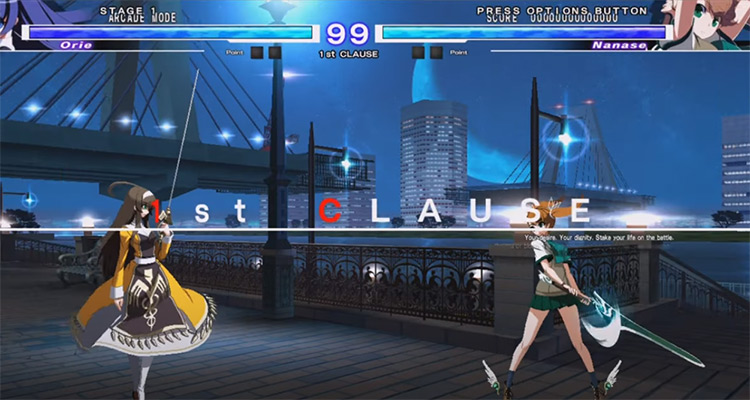 Developed by Arc System Works and released in 2020, Under Night In-Birth Exe: Late [cl-r] is the latest update to the 2D fighter series.
Like many similar games, it's fast-paced and quite technical. But also incredibly flashy and full of appealing anime-style characters.
It feels like an indie game, and the 3D backgrounds could use a lot of work.
But if you're not too picky about graphics make sure to check it out.
24.

Gundam Versus
Also hailing from Japan but considerably less "underground" is Bandai Namco's Gundam Versus, a mobile suit fighter released in 2017.
Taking place in 3D battle arenas, confrontations in this game are all about mobility and situational awareness.
It combines flashy melee combos with long-range shooting for a varied experience that gives players a lot of room to develop their own style.
Even if you're not a fan of Mobile Suit Gundam, the four-player brawls and robust single-player are sure to captivate you.
23.

Jump Force
For lovers of the Shonen anime/manga genre comes Jump Force, bringing together an all-star cast of characters from the renowned Weekly Shonen Jump magazine.
Released by Spike Chunsoft in 2019, the game plays similarly to the Naruto Shippuden: Ultimate Ninja Storm series (one of our favorites).
Basically it focuses on flashy moves and cinematic battles in 3D arenas.
While the battle system is engaging and pretty fun, this game is all about its characters. Including fan-favorites like DBZ's Goku, One Piece's Luffy, and several ninjas from Naruto Shippuden.
22.

One Punch Man: A Hero Nobody Knows
Even though the Shonen genre generally revolves around battles and super-powers, it can be surprisingly tough to translate into game-form. Thus forcing developers to get creative.
A prime example is Spike Chunsoft's One Punch Man 3v3 arena fighter, released in early 2020.
If you're a fan of the series, you know the main character Saitama is basically invincible.
For this to make any sense in-game, the developers made it so he'll arrive pretty late to battles.
If you have him on your team you'll have to make do with only two characters against your opponents' three.
However, once he gets there, it's game over for your rival.
Imbalanced? Perhaps. Amusing? Definitely.
21.

Brawlhalla
I've always been a fan of indie games with a lot of personality. And Blue Mammoth Games' Brawlhalla has it in spades.
Released in 2017, this game is unlike anything you'll find in the PS4's roster… because it's basically Nintendo's Super Smash Bros. minus the all-star cast.
Despite sounding like a bootleg SSB, I assure you this game is a blast to play with up to seven friends.
Its weapon-based combat system sets itself apart by bringing together staggering simplicity with character-specific movesets you'll have to learn if you wish to survive.
Since Ubisoft acquired it, licensed characters like Lara Croft and the Crystal Gems from Steven Universe have also made it into the game. So there's never been a better time to play Brawlhalla.
20.

Street Fighter 30th Anniversary Collection
The Street Fighter franchise has been setting the bar for the fighter genre for over 30 years, and Capcom decided to celebrate it with and Anniversary Collection, including 12 classic titles representing the series' best moments.
Other than the opportunity to re-live some fantastic classics, this game opens the possibility of online play.
It also features a Museum Mode for true fans and lovers of video game history, including behind-the-scenes stories, concept art, and much more.
It's a great title with a lot to offer, for fans and general gamers alike.
19.

My Hero One's Justice 2
Japanese super-hero series My Hero Academia has been steadily climbing the ranks of shonen manga and anime to become one of the most popular IPs in recent memory.
Despite the first fighter game based on the series being lambasted by fans for being… well, terrible, its 2020 sequel picked up the slack.
Combat is satisfying, special attacks look incredible with the game's beautiful graphics, and it features characters up to the Shie Hassaikai Arc of the story.
18.

Naruto Shippuden: Ultimate Ninja Storm 4
Naruto Shippuden is long over, and its successor Boruto is far from capturing the same popularity.
Still, the game based on Masashi Kishimoto's magnum opus remains one of the best anime fighters this generation.
The latest entry in the series came out in 2016 with lots of technical issues. But time and lots of effort on the part of developer CyberConnect2 have smoothed out the edges, making it into the definitive Ultimate Ninja Storm experience.
I wouldn't say it's a balanced game. But the fun factor is through the roof if you're a Naruto fan.
Mainly thanks to the massive roster of characters – including those introduced with the Road to Boruto expansion.
17.

Marvel vs. Capcom: Infinite
Despite Marvel vs. Capcom 3 and subsequent entries being an absolute sensation back in the day, Marvel vs. Capcom: Infinite didn't achieve quite the same level of critical acclaim.
Ditching the classic 3v3 battles and character assist system in favor of 2v2 tag battles was a bold move.
As expected, it was divisive among long-time fans.
Still, the game remains an excellent combo-based fighter with an all-star cast.
This 2017 entry also introduced an Infinity Stones power-up system that can give you the edge in battle.
It's 100% a gimmick to cash in on the MCU's popularity, but it's well-implemented and a nice way to change things up.
16.

Injustice 2
When it comes to the film industry, DC Comics just can't compete with Marvel's cinematic empire.
However video games are an entirely different story.
The 2017 sequel to Injustice: Gods Among Us remains the best super-hero fighter in gaming history.
It's a medium where DC's bet for the dark and gritty works wonders, and NetherRealm's experience developing Mortal Kombat makes them a match made in hell.
With sharp graphics, insanely varied characters, costumes, and loads of content, Injustice 2 is an absolute must-have in anyone's game library.
15.

EA Sports UFC 3
Expect lots of broken bones and held-back tears as you get to know EA's gruesomely realistic 2018 MMA simulator.
I'm not personally a fan of UFC, but the game is an entirely different story.
No other game offers this level of visceral realism and violence on Sony's system. And absolutely every fighter looks like a total bad-ass while duking it out in the octagon.
Coupled with a robust career mode and excellent online capabilities, the third installment in the UFC series is the best iteration yet.
14.

Granblue Fantasy Versus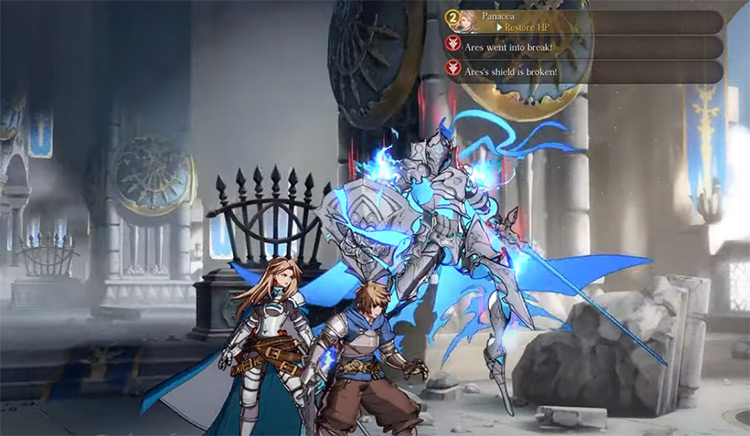 If realism is not your thing, then perhaps Arc System Work's latest stylish anime fighter is the way to go.
Released in 2020, Granblue Fantasy Versus is the fighter spin-off of Cygame's massively popular character-collecting RPG, bringing the game's unique art style and beloved characters to a fast-paced battle arena.
Among the game's most significant achievements is the beautiful reprise of the original game's art style.
Even the damage numbers that show up whenever you hit an enemy are just like those in the mobile game.
13.

Samurai Shodown
One of the most unique fighters on the PS4 has to be SNK's Samurai Shodown, a new take on the Neo Geo classic that brought all the kids to the arcades back in the 90s.
Like the original, this 2019 version of Samurai Shodown features a decidedly Japanese aesthetic that's been greatly refined since the old days.
It also retains the same focus on well-timed, heavy-hitting attacks rather than long strings of complex combos.
This unique combat system makes it a perfect title for those of us who just can't get into the flow of button mashers like Street Fighter or King of Fighters, and a nice change of pace for fans of the genre.
12.

Guilty Gear Xrd: Rev 2
Featuring one of the coolest character rosters in the history of the franchise along with gorgeous 2D graphics that blow away anything the series had offered up until now, Guilty Gear Xrd: Rev 2 is a no-brainer for fans of Guilty Gear and anime fighters in general.
Like in previous installments, the possibility of devastating combos is always just around the corner. Meaning tensions run high from start to finish.
No fight is in the bag until your opponent hits the ground.
11.

Guilty Gear Strive
If you're a newcomer just getting to know the franchise, you're better off getting Guilty Gear Strive, due to be released in late 2020.
This entry in the series streamlines several aspects of combat and makes Guilty Gear something it's never been – beginner-friendly.
The intention of opening the series up for new players is reinforced by the inclusion of ease-of-use ratings on the character select screen.
It also marks a change in graphic style, making the jump from super-detailed 2D sprites to stylized 3D models coupled with some of the nicest effects I've seen on the PS4.
10.

For Honor
At first glance, you might not recognize Ubisoft's For Honor as a fighter. Mostly because the weapon-based combat and overall feel of the game are that of a hack-and-slash or something of the sort.
But once you find yourself face to face with a human opponent, it reveals itself as a very technical fighting game that's all about reading your enemy's moves and reacting accordingly.
Whether you fight like a fierce Viking, a solemn Knight, an honorable Samurai, or a glory-seeking Wu Lin, you'll enjoy a very polished experience kept fresh by a dedicated community.
9.

BlazBlue: Central Fiction
The latest entry in BlazBlue's main line of 2D fighting games presents the player with fast-paced combat where precision and speed are the keys to victory.
Arc System Works' combo-based fighter refines the classic combat system to the extreme.
Released in 2016, it's among the oldest entries in this list. But its tight controls and wealth of interesting characters haven't aged one bit.
Despite being hard to get into due to its very technical nature, it continues drawing in new players with its appealing character designs and over-the-top animations.
8.

The King of Fighters XIV
Also from 2016 comes the latest installment in The King of Fighter's long line of excellent team-based fighting games, complete with a tremendous character roster featuring all-stars from the series' history and some new faces.
What makes TKoF such a popular series, other than SNK's age-old clout and well-known characters like Mai Shiranui and Terry Bogard, is how the combat system remains at the same time approachable and deep.
This game received bad reviews upon release due to mediocre graphics and a fair amount of bugs. But after four years of fine-tuning and a graphical overhaul, it's a worthy entry in the series.
7.

SoulCalibur VI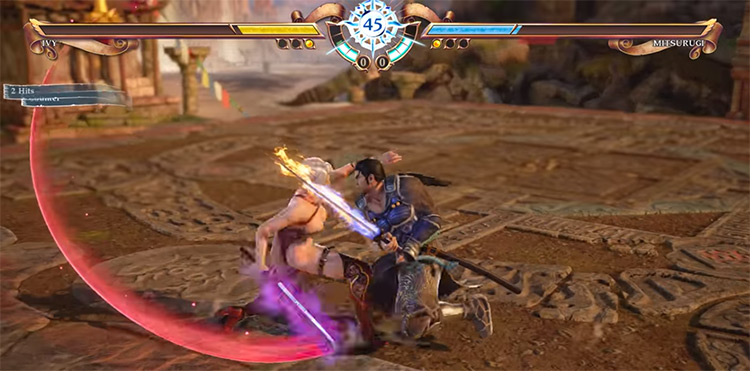 I've been a fan of Soulcalibur ever since I played SC2 on the GameCube, considered by many as the best title in the franchise.
Years of questionable releases and the absolute nonsense that was SCV had made me unsure of the series' future… until Bandai Namco released SCVI back in 2018.
It features Geralt of Rivia as a guest character – easily the best one since Link in the GameCube version of SCII.
It also brought back many of the series' most beloved characters and focused on a tight, approachable battle system rather than experimentation.
With a massive character creator and beautiful graphics, this return to form for the franchise sits comfortably among the PS4's best games.
6.

Dragon Ball FighterZ
The first shonen anime to take the world by storm receives yet another fantastic fighter adaptation by the hand of Arc System Works.
It's the best one the series has seen in a long time.
Released in 2018, Dragon Ball FighterZ shines in both technical and visual aspects.
Akira Toriyama's character designs are beautifully realized in the game's graphic engine, and everything about them is true to the source material.
Other than the stellar multiplayer, which puts you in control of 24 different characters ranging from Goku to Android 21, the game also features a lengthy Story Mode following a new story rather than re-telling DBZ for the eleventh time.
5.

Dead or Alive 6
The latest installment in Team Ninja's rebellious fighter series maintains the quality and polish we've come to expect, along with the extensive cast of beautiful ladies the franchise is known for.
While the combat system has been refined and made more fast-paced compared to DoA5, what draws me to this game is its visual accomplishments.
The game looks gorgeous, and the level of detail on the fighters is astonishing.
4.

Dead or Alive 5 Last Round
That said, DoA6 is still in the early stages of its life cycle and lacks the polish and sheer amount of content offered by the previous entry in the series – Dead or Alive 5 Last Round.
Fans are absolutely in love with this game.
And despite being the one to bridge the gap between last-gen consoles and the PS4 back in 2015, it still has dashing graphics.
Its combat system, which asks players to focus on predicting and countering their opponent's moves, still sets it apart from the sea of button mashers that surround it.
3.

Street Fighter V: Champion Edition
Released in early 2020 after SFV: Arcade Edition's massive success, the Champion Edition of Street Fighter V is probably the best option for hardcore fighting game fans.
Specifically fans who not only accept, but desire the crunchy technical nature of its combat system.
The graphics are crisp, and they feature the best art style the series has seen since making the jump to 3D.
This version of Capcom's flagship fighter series stars 40 characters with over 200 costumes, almost guaranteeing a varied experience throughout its 34 stages.
If you like the franchise but still haven't given its fifth installment a chance, the time is now.
2.

Mortal Kombat 11
NetherRealm Studios' 2019 entry in Mortal Kombat's long list of iconic fighters has received lots of praise from critics and users for its detailed graphics, flashy super-moves, and satisfying "kombat".
The cast of characters in the game still hasn't reached the monumental proportions of Mortal Kombat XL. But the fighters are slowly coming in DLC after DLC.
Even then, there's still a lot to experience in MK11. Including the absurd story and wealth of novel features such as the all-new Krushing moves.
1.

Tekken 7
While I love bringing attention to lesser-known games and giving our less-skilled readers a wealth of options, I couldn't possibly ignore Bandai Namco's crowning achievement.
Tekken 7 has been hailed by fans as the best release the franchise has seen since the profoundly influential Tekken 3.
The series' popularity among hardcore fighter enthusiasts and in tournaments worldwide has forced developers to put every detail about the combat system under a microscope.
The result is a blinding level of polish that's a pleasure to experience.
If you're up to the challenge of learning 10-hit juggle combos and don't mind being ground to a pulp by experts online, this game is the absolute coolest fighter that the PS4 has to offer.
Browse:
Lists
PlayStation
Video Games