Top 30 Best PS4 Puzzle Games Of All Time
This post may contain affiliate links. If you buy something we may get a small commission at no extra cost to you. (Learn more).
From Zeno's Paradox to newspaper crosswords, we've always been obsessed with solving puzzles since we developed conscious thought. It's basically our job description, and we love doing it.
And video games provide the perfect medium for presenting more complex puzzles, weaving them into audiovisual experiences.
Puzzle games are a fun way to train your brain and give your neurons an adrenaline shot after hours of Reality TV-induced decay.
Luckily for Sony fans like myself, the Japanese giant's home console has no shortage of them. To save you some time(and brainpower) for actual gaming, I've put together a list with the very best puzzle games ever released on the PlayStation 4. Let's dive in and have some fun!
30.

Little Big Planet 3
Sony's flagship puzzle-platformer has seen many entries over the years, culminating in the exhilarating chaos that is LBP3.
Despite changing developers to Sumo Digital for this last installment, this game retains the same hand-made feel and playstyle of the previous two. But it also introduces some new elements to spice things up.
One of these new features is the addition of different characters with diverse skillsets, which makes multiplayer with friends much more enjoyable.
If you think the game's base puzzles are too easy, consider playing through user-created levels. Or make some yourself in Create Mode.
29.

Pneuma: Breath of Life
Deco Digital's Pneuma: Breath of Life feels pretentious from start to finish.
The gaudy Greek/Roman architecture and thought-provoking philosophical themes contrast with its sometimes overly-simple gameplay.
That said, the way the narrative drops hints on what to do next(in the form of existential conundrums) is fantastic.
And the puzzles themselves can sometimes be interpreted as metaphors in a way that's thrilling, if you're a fan of contextual storytelling.
It can get a bit boring at times. And the graphics leave much to be desired.
But if you make it to the final scene, you'll love the enlightening ending.
28.

Keep Talking and Nobody Explodes
Some people see puzzle games as the domain of big-brain hermits who love to flex their cognitive muscles.
But it's a varied genre, and it includes many fun multiplayer experiences that go well with beer and chips.
One of them is Steel Crate Games' Keep Talking and Nobody Explodes, which takes advantage of PSVR to "isolate" one player who must disarm a bomb while everyone else works to make sense of the manual.
Hilarity ensues.
Regrettably, there's a high chance your players will become too good for it to be fun after a while… so keep the drinks coming and enjoy it while it lasts.
27.

Hitman GO: Definitive Edition
It's a bit of a surprise to find Agent 47 in a puzzle game ranking.
Mostly considering he's a rather violent type.
That said, isn't pulling off a perfect assassination also a kind of puzzle?
Developed by Square-Enix, this game has you guide Agent 47 through several boards in a turn-based fashion. All the while avoiding or eliminating guards on your way to the exit.
It can get a bit repetitive, sure. But if you pace yourself and avoid 6-hour long play sessions, the increasing difficulty will keep you coming back for more.
26.

Puyo Puyo Tetris
What's better than one of history's most popular puzzlers?
Two of them at the same time!
Originally released on the PSP, this fantastic title brings together the shape-matching gameplay of Tetris with Puyo Puyo's color-based puzzles.
This combination makes the multiplayer a bizarre experience where one participant plays Tetris while the other plays Puyo Puyo.
It's in no way balanced. But it's definitely fun.
It also features a robust campaign featuring characters from the Puyo Puyo anime, complete with voice acting and several other modes to keep you entertained.
It's great whenever you want a short and sweet puzzle fix.
25.

Hue
One of the puzzler genre's best aspects is that developers continuously experiment with new gameplay mechanics.
Developed by Fiddlesticks, Hue is a charming puzzle-platformer where your objective is simple:
Bring color back to a black-and-white world.
As the game progresses you'll unlock colors that you'll have to apply intelligently to solve new chromatic puzzles.
The more colors, the more complex and challenging they become.
Just when you think you're getting the hang of this game it'll ramp up difficulty. You won't get bored for a long while.
24.

Moss
Virtual Reality has become a surprisingly good vehicle for puzzle games in the last few years.
And Polyarc's adorable Moss is one of the best examples.
It follows Quill, a cute little mouse trying to save the world from an evil fire-breathing snake.
To achieve this, Quill needs you to manage some combat sequences and many puzzles.
Other than its excellent learning curve and challenging puzzles, I appreciate that characters use sign language to communicate between themselves. Which is both cute and inclusive.
23.

Brothers: A Tale of Two Sons
If you're up for something short and sweet, I'd recommend Brothers: A Tale of Two Sons.
It's a fun yet challenging puzzle/adventure title with a heartwarming story.
The game follows Naia and Naiee, two brothers you'll have to control with one analog stick each.
It may sound simple at first. But you'll soon realize our brain isn't fine-tuned to handle such shows of fine motor skills.
Another great feature is how Starbreeze Studios wove the story into the puzzles, slowly revealing it without the need for dialogue or exposition.
22.

Zero Time Dilemma
Escape Rooms have been all the rage ever since movies like SAW made the concept popular in the early 2000s.
The idea has also made its way into gaming, and Chime's Zero Escape series is one of its best proponents.
Featuring suspenseful storytelling and an oppressive atmosphere that truly makes you feel like a prisoner in an endless maze, Zero Time Dilemma will keep you hooked from start to finish.
What keeps me from giving this fantastic game a higher spot on our ranking is that the story is almost incomprehensible if you haven't played the previous installments.
So maybe check out the Zero Escape franchise before grabbing this one.
21.

Transcripted
I love it when developers mix different genres into innovative new games.
The puzzle genre is known for being a melting pot of creativity where greatness can be born. This game included!
Developed by Alkemi, Transcripted puts you in control of a nano-probe in beautifully-realized microscopic environments. You'll be battling a deadly infection inside a living human.
It brings together puzzles and twin-stick shooter gameplay similar to the Geometry Wars series, and includes some RPG mechanics for good measure.
20.

The Last Guardian
Fumito Ueda's The Last Guardian puts you in the shoes of a child making their way through the ruins of an ancient temple, known only as "The Nest".
On your way you'll meet and befriend Trico, a dog-like chimera who'll be your staunchest ally during your quest.
While the puzzles aren't especially hard to figure out, the game is beautiful.
Its minimal aesthetic uses bright greens and dull grays to confront life and decay, which plays nicely into the story. And the story is a bit of a tearjerker so… fair warning.
19.

Kine
For a more hardcore puzzler experience, consider Gwen Frey's Kine.
This is actually one of the most recently released titles to make our ranking.
While the game's narrative isn't the best around, it does an excellent job of representing the hardships of aspiring musicians, expressed through an unusual cast of talking musical instruments.
These same characters are the blocks you'll use to traverse the game's levels.
Both musical elements and camera angles are of the utmost importance to solve each of these challenging, creative puzzles.
18.

Roads Not Taken
Developer Spry Fox has been making traditional mobile puzzle games like Triple Town and Alphabear for a long time.
But Roads Not Taken sets itself apart for its experimental nature.
After all, a roguelike puzzler isn't something you see every day.
The game's most interesting mechanic is the ability to combine items acquired on your quest to make new ones, which allows you to traverse its randomized puzzles with ease.
Useful recipes and other relevant information gets written down in your Book of Secrets. So even if you fail once, you'll come back next time with more knowledge.
Victory is achieved through trial and error, and learning from our mistakes. Much like life, eh?
17.

Lumines Remastered
Many of the best puzzle games on the PS4 are enhanced versions of classics from the PSP, a console known for its wealth of creative puzzlers.
Like Tetris or Puyo Puyo, your objective in this title is to clear your board as fast as you can by placing and rotating blocks.
Other than its simple but engaging gameplay, Lumines shines for its beautiful artistic direction. As you progress through the game you'll see it change "skins" several times, treating you to a wide range of color palettes and visual effects that look better than ever in this remaster.
This release features every level from the original, along with many additions from sequels and spin-offs. If you loved the PSP version you will love this one.
If you never played the PSP version, but like Tetris-style puzzle games, give this a go.
16.

Bridge Constructor Portal
ClockStone Games' excellent engineering-puzzler makes its way to the PS4 with a fresh, Portal-based coat of paint (hopefully asbestos-free).
It may not be a new Portal title.
But at least the game's core aesthetic remains! Along with portals as an interesting new gimmick.
It's enough to freshen up the classic Bridge Constructor gameplay for long-time fans, while also drawing in new players looking for a job at Aperture Science.
It features over 60 levels to keep you occupied for quite a long time.
15.

Tetris Effect
A renewed classic with beautiful visuals, Tetris Effect brings fans of the most re-released game in the history of gaming a whole new way to enjoy its puzzle action.
Developed by Monstars and Resonairs, the game retains the same classic gameplay without introducing any silly new gimmick.
Instead it focuses on giving players an audiovisual experience that's reactive to their actions in the game.
Tetris Effect is playable on PSVR, which offers a tremendously trippy experience you shouldn't overlook.
14.

Thomas Was Alone
Created by developer Mike Bithell, Thomas Was Alone is a minimalist puzzle-platformer that couples increasingly addictive gameplay with witty humor, all carried by the game's geometrically-shaped characters.
Other than making you chuckle here and there, the story in Thomas Was Alone deals with themes of Artificial Intelligence and the nature of life.
Why is tackling deep existential issues a trend among puzzle game developers?
13.

The Swapper
In all of my years as a gamer, I've hardly ever seen a game with such a unique and masterfully crafted visual style as Facepalm Games' The Swapper.
And I use the term "crafted" for a reason.
This award-winning puzzle-platformer looks as if every character and element in the environment was sculpted in clay.
Along with beautiful visual effects and lighting, the result is striking.
Gameplay revolves around making clones of yourself and transferring your consciousness back and forth to clear diverse puzzles, which range from very easy to "I-need-to-Google-this" levels of frustrating.
This gameplay mechanic is also the crux of the story, which presents psychology and morality questions at every turn.
12.

Human: Fall Flat
If the previous puzzler feels too dark for you, let me recommend something that's bound to make you laugh out loud – No Brakes Games' Human: Fall Flat.
Its popularity among famous YouTubers almost guarantees you've seen footage of this game at some point.
It puts you and your friends in control of boneless blob-people and asks you to work together to solve several environmental puzzles.
At first glance, these puzzles are pretty simple. But the downright bizarre controls and jelly-like consistency of the characters will have you failing miserably(and hilariously) at the simplest tasks.
11.

The Sexy Brutale
Fusing the mysterious charm of closed circle mysteries and the time-rewinding shenanigans of Groundhog Day, The Sexy Brutale offers players a mix of criminal investigation and puzzle-solving wrapped in a bold and stylish visual style.
Developed by Cavalier Game Studios and Tequila Works, the game features a bizarre cast attending the famous party known as The Sexy Brutale, where a string of murders takes place over the course of 12 hours.
The mansion is stuck in a time loop, from which only the player can escape. Once that happens, it's up to you to free others one by one and unmask the culprit.
The puzzles are great, but it's the narrative that'll keep you hooked.
10.

Unravel Two
If you're on the lookout for something soothing to play with a friend, or something to keep you & your special-other busy on a lazy Sunday, you can't go wrong with Unravel Two.
Make your way through beautiful lifelike scenarios of a colossal scale – you are, after all, an anthropomorphic bundle of yarn.
All this while working together to clear obstacles in creative ways. It's a multiplayer for the ages.
It'll require precise collaboration, but the puzzles are never too hard to figure out. Basically leaving you enough time to enjoy the scenery.
9.

Fez
Despite the sequel being canceled after developer Phil Fish retired from game development as a whole, the original indie masterpiece Fez remains a testament to his genius.
While the beautiful pixel-art and great soundtrack are a big part of the game's charm, its complex yet challenging gameplay is the real selling point.
You'll have to rotate the three-dimensional environments to access new platforms and clear diverse puzzles despite your character's existing in a two-dimensional plane.
It's bizarre and hard to the point of frustration. But it's fantastic all the same.
8.

Q.U.B.E. 2
The sequel to Toxic Games' original Q.U.B.E. doesn't have the same indie charm.
But it makes up for it with gorgeous 3D visuals and amazing physics-based puzzles that'll remind you of the Portal series – minus the witty humor.
That said, the narrative doesn't suffer for it.
And you'll want to stick around until the end to uncover its mysteries.
With great graphics, an engaging story, and challenging puzzles that force you to think outside the box as you rearrange the world around you, this game is a must-play: both this sequel and the original.
7.

RiME
Tequila Games' puzzle-platformer shines just as much for its visually-striking art style as it does for the emotional story it tells.
You'll make your way around a picturesque island guided by a fox-like spirit, clearing challenging puzzles as you try to piece together what's happening behind the drapery.
It would be a disservice to spoil the game's story, as it's one of its best features. But I recommend you have lots of ice cream and tissues ready if you're planning to finish it.
6.

Gorogoa
This minimalist visual puzzler developed by Jason Roberts is easily one of the best and most overlooked games in the PS4's roster.
The gameplay is simple.
An image is split into several tiles that interact with each other in interesting ways, depending on how you arrange them.
The world in the pictures will change based on your actions, unlocking even more interactions you may not have seen before.
The game is an absolute pleasure to play, filled with satisfying "eureka" moments and beautiful art.
5.

The Turing Test
Named after the famous test created by mathematician Alan Turing to detect intelligent behavior in machines, The Turing Test tells a compelling story and puts your brain cells to work with its challenging puzzles.
Not to mention its strange narrative mysteries.
The game follows International Space Agency engineer Ava Turing after she's woken up from cryo-sleep to solve a crisis at a nearby research center.
All of the puzzles center around re-routing energy in the facility and clearing "tests" left behind by an unknown third-party.
As you'd expect from such a game, the story makes you consider existential conundrums like the nature of consciousness, which gets expertly woven together into the game's narrative.
Expect mind-blowing plot twists.
4.

Untitled Goose Game
Calling Untitled Goose Game a "puzzler" may be strange for those that play just for its humor factor.
But considering the complex nature of some of the titular goose's pranks, that's exactly what it is.
Developed by House House, the game brings together elements from the puzzle and stealth genres, then wraps it all in an adorable visual style reminiscent of a children's book.
However that's where the "adorable" part ends.
The feathered criminal you control is nothing short of cruel as they go around wreaking havoc and ruining everyone's day with no regard for common decency.
I mean, making a child trip? That's fine.
But taking their glasses? That's just abuse!
3.

Inside + Limbo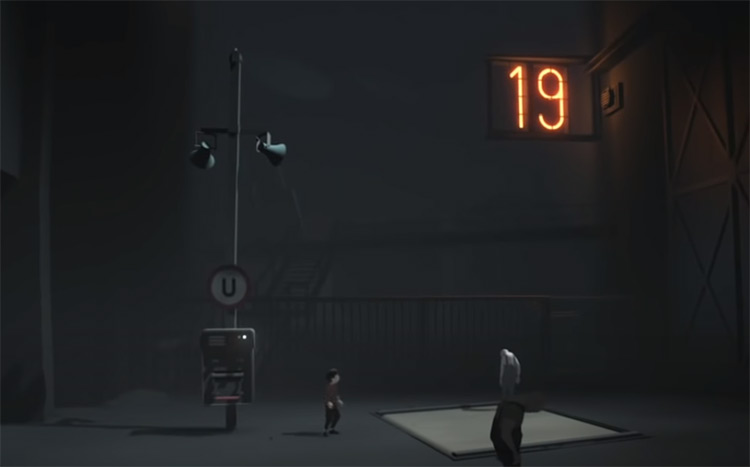 Two games together in a single entry may seem like a bit of a cop-out.
But after some pondering, there's no way I can place one of Playdead Games' critically-acclaimed masterpieces above the other.
Luckily they're generally sold in a bundle.
Both are unforgiving side-scrollers that have you figuring out complex puzzles on the fly to avoid capture by either demon-like beings, or the authorities of a dystopian society.
Where Limbo offers one of the eeriest and most dreadful atmospheres in the genre, Indie presents us with gorgeous visuals and interesting perspectives.
Regardless of which one you choose, you'll fail, die, and repeat so much that it could be considered a game mechanic.
Don't beat yourself up about it and just power through to the finish line. Then you can play the other one!
2.

The Talos Principle
Continuing the seemingly endless trend of philosophical puzzlers comes The Talos Principle, arguably the most accomplished and extensive title in the genre.
Developed by Croteam, this first-person puzzler will parade you around beautiful ruins of an ancient civilization. You'll be solving increasingly hard puzzles to collect "sigils" and reveal the way towards the truth of its mysterious simulated world.
Full of references to the Bible, existential questions and over 120 puzzles to conquer, The Talos Principle is one of the weirdest games on the PS4.
And it's one you can't overlook.
1.

The Witness
There's hardly a game in this list that's been talked about more than The Witness, which became a total sensation on YouTube and other social media back when it came out in 2016.
The reason lies not only in its beautiful visuals and diverse puzzles, but also in the masterful way that it places puzzles within puzzles… which are themselves just part of another puzzle.
It's puzzle-ception and it's magnificent.
The steep (read: vertical) learning curve is enough to deter most newcomers to the puzzle genre.
But if you're truly passionate about making your neurons work, this game won't disappoint.
It's also perfect for backseat gaming, as having another human being with you throughout the experience won't only help you figure out the puzzles, but help to retain your sanity during your darkest hours.
Browse:
Lists
PlayStation
Video Games