30 Best Racing Games On PS4, Ranked & Reviewed
This post may contain affiliate links. If you buy something we may get a small commission at no extra cost to you. (Learn more).
Racing has been a staple of gaming for a very long time. Ever since Atari released its Gran Trak 10 arcade cabinet, gamers have been craving more.
From whimsical go-kart racers to the most detailed racing simulators, there's something for everyone looking to burn rubber on Sony's PS4.
It may not be the system with the biggest roster of racing games. But PSVR functionality and a handful of excellent exclusives make sure you'll never run out of new asphalt to tread on.
30.

NASCAR Heat 4
For fans of USA's most beloved motorsport comes Monster Games' NASCAR Heat 4, the most complete NASCAR experience in gaming.
Released in 2019, it features over 150 official teams and drivers from the last few years.
It also includes events from the Monster Energy NASCAR Cup Series, NASCAR Gander Outdoors Truck Series, the Xtreme Dirty Tour, and of course, NASCAR Xfinity.
Altogether it adds up to 38 tracks of pure adrenaline. With solid graphics and excellent sound design to boot.
29.

MotoGP 20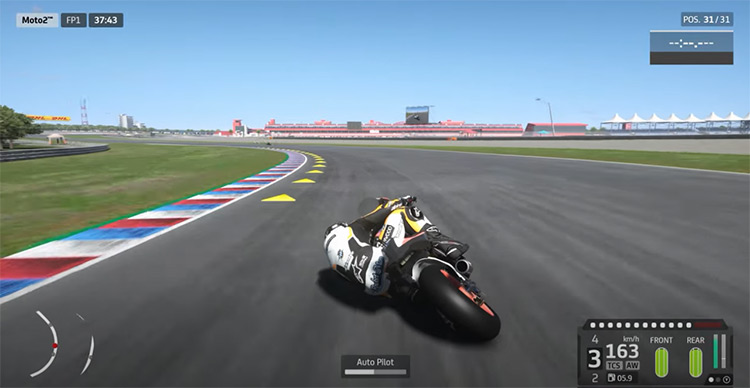 MotoGP 20 is one of the most recently released entries in this list, developed by Milestone and released in early 2020.
As expected from a licensed game, it includes all official teams, locales, and riders featured in 2020's MotoGP season.
All rendered in a fantastic graphical engine that almost lets you smell the burnt rubber.
Just be advised that the game puts absolutely zero effort into teaching you how to play. So if you're not up to the challenge of this high-speed motorbike simulation, better steer clear.
28.

Monster Energy Supercross – The Official Videogame 3
Become a Supercross champion in Milestone's latest Monster Energy Supercross licensed video game, riding alongside track legends like Jason Anderson (the 2018 champion).
Sony makes every effort to market this game in their online store, and for a good reason.
It's one of the most unique racers on the system, and cashing in on America's fastest-growing motorsport is a no-brainer.
It has even more multiplayer features than its predecessor, which makes it a pleasure to play with friends.
Career mode is also robust and lets you become teammates with one of around 100 official stars from the 250SX and 450SX categories.
Remember to buy a six-pack of Monster Energy before you decide to play, you know for maximum immersion.
27.

Gravel
Also developed by Milestone comes Gravel, the definitive off-road experience for lovers of cross-country racing.
Released in 2018, Gravel is one of the most unique and fun racing offerings on the PS4.
Handling is closer to an arcade racer than to that of a simulation, which lets you enjoy cruising through real-world roads from all over the globe without needing an actual driver's license.
Other than Cross-Country, this game also includes Wild Rush, Speed Cross, and the Stadium Circuit modes.
If you're looking for an adrenaline-filled gaming session I'd recommend Stadium Circuit, which features big air time and lots of stunt opportunities.
26.

Need For Speed Rivals
The well-known Need For Speed franchise has seen several ups and downs in the last few years. Mainly downs if you ask me.
Even so, they started off with sound footing after making the jump to current-gen consoles back in 2013, and Need For Speed Rivals remains one of the best racers on the system.
It was developer Ghost Games' debut as the brains behind the franchise.
And they took inspiration in one of the series' recent successes – Need For Speed: Hot Pursuit.
The result is a binary experience that lets you choose whether to play as a cop or an illegal racer, each with their own playstyle.
Personally I love the police's futuristic weaponized versions of modern super-cars. But you'll find something you like even if you're not a fan of national security forces.
25.

Team Sonic Racing
It's a bit sad for Sonic fans that the blue hedgehog's best game in recent memory is actually a kart-racing spin-off, rather than a main title in the series.
But if you're a fan of kart racers, there's nothing to do but to celebrate.
Released in 2019 by the hand of Sumo Digital and SEGA, Team Sonic Racing focuses on teamwork. Which goes well with Sonic's usual "friendship overcomes anything" message.
Now if that's not your thing, this colorful casual racer can also be played in the usual free-for-all way, giving you a chance to wipe the floor with your peeps as your favorite anthropomorphic animal from one of the most iconic franchises in gaming.
24.

Tiny Trax
As its title suggests, Futurlab's 2017 Tiny Trax is about… well, tiny cars in tiny tracks.
This unique VR game tries to recreate the childlike fun of playing at slot-car racing venues by breaking the mold and letting you control your car from a distance in a variety of beautiful tracks.
It's easy to pick-up and play, but optimizing your corners will take a while to master.
23.

GRID
Developer Codemasters had a tough job ahead when they began work on this reboot, which tries to recapture the appeal of the original 2008 Race Driver: Grid.
While the remake didn't enthrall fans as it did back then, 2019's GRID remains a polished racer walking the edge between simulation and arcade.
It gives novices a chance to hone their skills while still providing racing game veterans with something to chew on.
The sheer event variety in its robust career mode is one of its best features. As are the fantastic graphics, which you'll appreciate more at 60fps on a PS4 Pro.
22.

Trials Fusion
For something entirely different consider Trials Fusion, developed by RedLync & published by Ubisoft back in 2014.
It's the first title in the Trials series to make it onto a Sony console, giving us Sony-fanboys the opportunity to experience its physics-based platform racing.
You'll navigate obstacles, and (hopefully) pull-off stunt jumps through a wealth of different levels, unlocking new bikes and honing your skills.
It can be frustratingly hard at times. To the point where it feels more like a puzzle game than a racer.
But the feeling whenever you successfully overcome a challenge is among the best the PS4 can offer.
21.

TT Isle of Man: Ride on the Edge 2
Every year around May/June, the parliament of the Isle of Man closes off roads all across the island to host one of the world's most dangerous motorbike racing events – the Isle of Man Tourist Trophy.
Developed by Kylotonn and released in early 2020, TT Isle of Man: Ride on the Edge 2 allows players to partake in the event without risking their lives and emptying their bank accounts.
The level of detail and faithfulness of the track's realism is astounding.
And the bike physics feel incredibly realistic as well. Really, this whole game is crazy detailed.
This is especially true when it comes to losing control of your bike and crashing, which can happen even after minor mistakes. So it'll take some practice to get used to this bad boy.
20.

Horizon Chase: Turbo Edition
Unlike racing simulators, arcade racers don't need to worry as much about realism or even top-notch graphics to be fun.
Aquiris' Horizon Chase: Turbo Edition is a prime example.
It was released on the PS4 back in 2018, but began its life as a mobile game sometime before. And the minimalist visual style reflects its origin.
What makes this game qualify for this list of some of the best PS4 racing titles is the addictive 4-player split-screen gameplay.
Along with the varied car pool and over 100 different tracks that'll keep you coming back for more for a long time.
19.

Trackmania Turbo
Few things are as exciting as the last lap in a racing game. When the favorites have already distanced themselves from the chaff, and every inch of the circuit is a new opportunity to turn the tables.
Developed by Nadeo and released in 2016, Trackmania Turbo goes straight for that feeling by focusing on short courses with lots of air time and vicious twists.
This is where every turn could make or break your stride.
Multiplayer is an intense experience here. As is trying out other user's tracks and making your own through the Course Creator.
It also features a fantastic Co-Op campaign.
18.

Sprint Vector
The most unusual racing title in the entire PS4's roster has to be Sprint Vector, a 2018 PSVR racer developed by Survios.
What makes this game so unique is that, unlike literally every other game in this list, racing is done on foot. They usually call that "running" but trust me, it's a lot more fun than it sounds.
You'll accelerate by swinging your PSMove controllers back and forth as if you were actually running track. That's kinda like exercise, right?
The exhilarating feeling of running, jumping, and gliding at high speeds in VR is incomparable to anything you've felt before.
You'll even burn some calories while playing!
17.

Rocket League
Rocket League may not be a racing game by definition.
But Psyonix's acrobatic car soccer has remained extremely relevant since its release in 2015.
Soccer with cars sounds like a crazy idea at first. And once you're flying through the air trying to hit the ball at just the right angle to score a goal, your suspicions will be confirmed.
And yet, it works.
With some of the most intense multiplayer gameplay on the system and several modes such as car-basketball and car-hockey, Rocket League is here to stay. Absolutely worth a try.
16.

Onrush
This may not be as unusual as Rocket League, but Codemasters' Onrush brings a refreshing new take on the racing genre with a heavy focus on teamwork.
Released in 2018, this arcade combat racer pits two teams of up to six players against each other in several modes.
One such mode is Overdrive, which rewards earning boosts by pulling off stunts. Or Switch Mode, which turns the game into a death race (how fun!)
If you're tired of regular racing then Onrush's unique vehicles, varied objectives, and colorful graphics are perfect to break up the monotony.
15.

F1 2019
If you have the cash to pour into a good set of peripherals to achieve the most hyper-realistic experience possible, I can't recommend F1 2019 enough.
Developed by Codemasters Birmingham, it continues the series' tradition of excellent F1 racing simulation, while also introducing F2 racing for a little more variety.
As a licensed game it includes all of the official teams, riders, and 21 tracks of the 2019 season.
You'll also see plenty of the same heart-stopping moments and tense season drama that keeps fans interested in one of the world's largest motorsports.
14.

Wreckfest
More of a destruction derby than a racer, Wreckfest brings players the opportunity to let go of their inhibitions and let all pent-up frustrations and bottled-up feelings fuel their race to victory.
Developed by Bugbear Entertainment, this 2019 title takes the same fetishistic focus on car destruction like in the Burnout series, but makes it the crux of the matter.
Where other games feature hyper-realistic tracks and handling, Wreckfest offers a sophisticated physics-based crashing engine that makes damage look incredibly real and over-the-top.
Is this even really a racing game? I'm gonna say yes, but who cares you'll have fun either way.
13.

DriveClub
DriveClub began its life in 2014 as one of the PS4's main console-selling titles.
Or at least that was the plan, until terrible reviews drove it into obscurity.
Over five years later, developer Evolution Studios has managed to right past wrongs and turn DriveClub into one of the most beautiful racers on the system.
Vehicle handling sits comfortably on the edge between simulated realism and arcade accessibility.
Plus with a striking amount of cars (and bikes!) to try, the game is a must-have for any racer-lover who owns a PS4.
12.

DriveClub VR
If you can get your hands on a PSVR headset, DriveClub becomes several orders of magnitude more impressive. Not exaggerating.
While it does lose a bit of its graphical fidelity to accommodate VR capabilities, the change is 100% worth it.
DriveClub VR is one of the most intense VR racing experiences on the system.
If rather than having a 360-degree view of your car's interior, you'd prefer to enjoy the scenery for yourself, well you'll be glad to know you can also play in third-person view here too.
11.

Need For Speed Heat
After a string of questionable titles, developer Ghost Games finally hit the nail in the head with Need For Speed Heat, taking place in the beautiful open-world of Palm City.
It's a return to form of sorts.
This title lets you enjoy free-roaming at your leisure and engaging in the same insane illegal races that made the series famous in the first place.
That's only at night, though.
During the day, you'll participate in sanctioned races where you can focus on perfect driving rather than avoiding the cops or incoming traffic.
It's not perfect. But NFS Heat is definitely a step in the right direction, and certainly noteworthy on the PS4.
And with over 125 deeply customizable vehicles it should keep you busy for a while.
10.

Project Cars 2
Developed by Slightly Mad Studios, Project Cars 2 shines for the sheer gameplay variety it offers.
It may not feature real-life teams in any discipline. And the simulated handling doesn't feel as lifelike as that of Assetto Corsa.
But this game will let you experience everything from rallies to go-kart circuits.
Not only does it feature a massive number of cars to choose from, but its 140 tracks in over 60 different locations guarantee that you won't have to repeat a single race for a while.
9.

The Crew 2
I've always loved racing games that think outside of the box. Specifically those that include vehicles other than cars and bikes.
I loved Diddy Kong Racing on the N64, Hydro Thunder in arcades, and now I adore The Crew 2 on the PS4.
This 2018 game developed by Ivory Tower features so many vehicles, it's hard to wrap your head around it.
Cars, motorcycles, and trucks are fine. But the addition of boats and even planes really takes variety to the next level.
Not only that, but this gorgeous-looking game also includes a wide array of diverse events to compete in, including drag races, street races, and even a demolition derby.
8.

Redout: Lightspeed Edition
Anti-gravity racers are some of the most fast-paced and over-the-top options for racing. And 34 Big Things' Redout is among the best.
It takes inspiration from the classic Wipeout, trying to fill the void left by years without a serious entry in the series.
While it could use some more fine-tuning, it largely achieves its objective: using fantastic visual effects and exciting music to make you feel the speed as you race through vicious tracks.
The excellent Boss Races and frenetic multiplayer action are easily the highlights here.
7.

Wipeout Omega Collection
And yet, the newcomer can't quite compete with the tried-and-true Wipeout formula.
Published in 2017, Wipeout Omega Collection doesn't bring anything new to the series.
But it puts together the best from Wipeout HD, Fury, and 2048 into one sparkling package sure to please long-time fans and new players alike.
Definitely give this one a try if you've never played a Wipeout game before.
6.

Burnout Paradise (Remastered)
The free-roam open-world racing genre is incredible in this 2018 remaster. Just as it was when it first came out on the PS3.
Other than the exciting challenges and aggressive races, Paradise City is full of stunt jumps to pull off and secrets to uncover.
By doing this you'll also unlock over 150 vehicles.
The game has a perfect personality, a tremendous aesthetic direction, and it fits comfortably among newer games thanks to how innovative it was when it first came out.
This remastered version doesn't only look much better than the original, but it also includes each of its eight DLCs. Making it the definitive Burnout experience.
5.

DiRT 4
Among the many racing series developed by Codemasters, few are as accomplished as DiRT, the best rally simulator the world has ever seen.
Released in 2017, the fourth installment in the main franchise is considerably more appealing to the general population than the maniac-only DiRT Rally series.
Not only can you choose between Simulated controls and "Gamer" mode (which features more accessible arcade-like handling). But it also includes Rallycross, which is like regular racing but with off-road dirt tracks in gorgeous locales.
It's also the prettiest game in the series by far. And one of the most graphically accomplished on the system.
4.

Crash Team Racing: Nitro-Fueled
Crash Team Racing: Nitro-Fueled is the 2019 remake of the PlayStation classic of the same name.
Just as the original did, this remake features an all-star cast of Crash Bandicoot characters like Dr. Nefarious and the titular Crash.
Other than updated visually-striking graphics and better sound design, developer Beenox focused on being as faithful to the original as they could. And they really hit this out of the park.
As you play you'll slowly realize you know these tracks by heart.
The nostalgia factor is through the roof on this one. But even newer gamers who never played the original will love this title.
3.

DiRT Rally 2.0
The latest installment in the DiRT franchise brings back the hardcore rallying experience fans know and love, all in its most polished version yet.
It does include Rallycross for when you want a more casual experience. But the core game remains a true-to-life rally simulation with complex handling that'll take you a while to master.
And once you do become proficient enough to start getting good times, you'll feel as if you could do it in real life.
Just don't try it without professional supervision. Eh, on second thought maybe just stick to the game.
2.

Assetto Corsa: Ultimate Edition
Kunos Simulazioni's Assetto Corsa is a work of technical genius. It makes use of state-of-the-art technology to perfectly replicate every one of its tracks, which include famous circuits like Nordschleife and Silverstone.
Its 100+ vehicles are also treated with the same level of intricate attention to detail, giving you the most authentic experience you can get without getting on a real Pagani or Lamborghini.
If you're serious about racing simulators and have all the necessary equipment, you'll adore this game. Especially with VR! If you're a casual, don't even bother.
1.

Gran Turismo Sport
Whether you're a veteran of racing simulators or just getting into the genre, Sony's flagship racer has you covered.
Developed by Polyphony Digital, GT Sport is the latest in a long line of gorgeous-looking games with excellent gameplay.
It had a bit of a rocky launch, but regular updates have slowly polished it to perfection.
Its online multiplayer is among the best in this list. As it should be for a game where every second and tilt of your steering wheel counts.
Speaking of which, every one of its over 250 cars handles like a charm.
Plus it's one of the few games in this list with a robust Photo Mode, a feature no game should ignore in this age of insane graphical detail.
Browse:
Lists
PlayStation
Video Games