The 15 Best Racing Games on PSP (Ranked)
This post may contain affiliate links. If you buy something we may get a small commission at no extra cost to you. (Learn more).
Racing has been a popular gaming genre since the medium's inception.
You might be too young to remember, but arcades worldwide used to be filled to the brim with racing cabinets in the 80s and 90s.
SEGA Rally, Daytona USA, Ridge Racer… it was a good time to be alive.
Racing titles may have pioneered smartphone gaming, but the PlayStation Portable will always be the best way to experience the adrenaline-pumping pleasure of putting the pedal to the metal on the go.
Let me show you why every racing enthusiast should own a PSP.
15.

Crash Tag Team Racing (2005)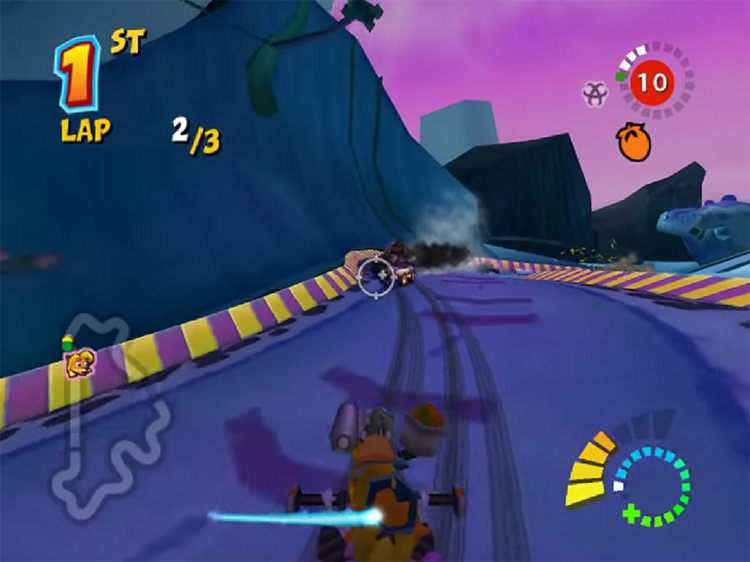 Let's start with something everybody loves: kart racing.
The Crash Team Racing series has been a favorite of fans since its beginning in 1999. If sales for CTR: Nitro-Fueled (2019) are anything to go by, the love still burns hot.
Crash Tag Team Racing is an experimental entry in the series thanks to a car-fusing mechanic that lets you turn two cars into a super-fast tank. One player drives while the other operates a turret.
While this mechanic felt very unbalanced, the game is still a blast.
14.

ModNation Racers (2010)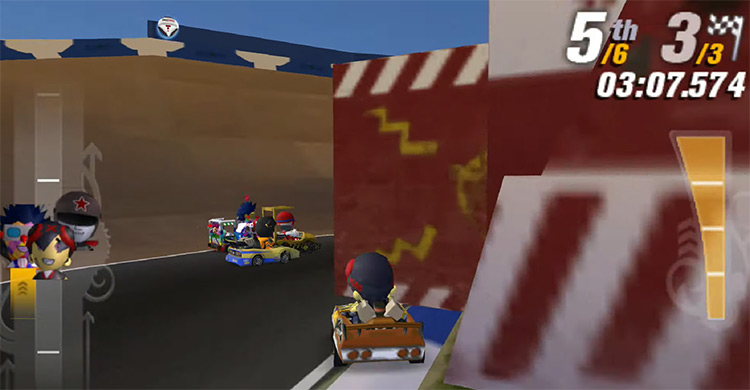 Another superb and frankly underrated kart racer on the PSP is ModNation Racers.
The racing itself differs very little from the Mario Kart formula. There's drifting, boosting, and power-ups: the usual.
What sets it apart is the powerful track creator, along with thorough racer and kart customization. Your creativity will find an unexpected outlet in ModNation Racers.
It's a competent kart racer with solid graphics and a lot to discover if you're willing to invest the time.
13.

Race Driver (2006)
If you'd rather drive a real car instead of a go-kart, Race Driver is a fantastic option.
This title does a delicate balancing act between simple arcade gameplay and the realism of racing simulators.
Although your car can take real damage and need a pit stop here and there, the game remains accessible for the average gamer.
Thanks to a wealth of vehicles to try out and many event classes like stock racing, Formula rally, and Super Truck events, Race Driver will keep you busy for a long time.
12.

Outrun 2006: Coast 2 Coast (2006)
For many of us, racing is synonymous with Ferrari.
The Italian manufacturer is at the forefront of Formula 1, and their sports cars incorporate many technological advancements born on F1 tracks.
Outrun 2006: Coast 2 Coast lets you enjoy the fruits of their labor with 15 licensed Ferrari models, including the F430, the Superamerica, and the F355 Spider.
It's simple fun with easy-to-grasp controls, smooth arcade handling, and immersive environments based on USA locations like San Francisco and Los Angeles.
The 2-5 minute long races are also ideal for on-the-go fun.
11.

Sonic Rivals 2 (2007)
Not all racers feature roaring diesel engines and the smell of burning rubber.
Sonic Rivals 2 is a high-speed platformer that puts heavy-hitters from the Sonic franchise like Shadow, Silver, and Knuckles in direct competition to reach the finish line.
You'll run through 2D horizontal-scrolling levels in events such as regular racing, battles, and ring-collecting competitions.
With many playable characters and well-designed levels, Sonic Rivals 2 is a must-try for franchise fans and anyone looking for an unusual racing experience.
10.

ATV Offroad Fury PRO (2006)
One of the first games that hooked me when I got my PSP was ATV Offroad Fury: Blazin' Trails (2005).
At the time, I didn't even know ATVs were a thing, but the game's excellent gameplay and catchy soundtrack made me a fan in no time.
ATV Offroad Fury PRO is the new and improved successor to Blazin' Trails, featuring over 30 visually striking racing tracks, six terrain types, and a ton of ATVs/Motocross bikes to try out.
9.

NFS Carbon: Own the City (2006)
What would a racing game ranking be without at least one Need for Speed title?
The PSP got a portable version of every NFS release throughout its lifetime, including Most Wanted (2005), Undercover (2008), and the infamous ProStreet (2007) – but none were as fun as NFS Carbon.
Own the City differs significantly from the home console version and is worth playing on its own.
Once you've acquired some decent wheels and thoroughly customized your ride, you'll love exploring the beautiful open-world city, full of racing events and secrets waiting to be found.
8.

Juiced: Eliminator (2006)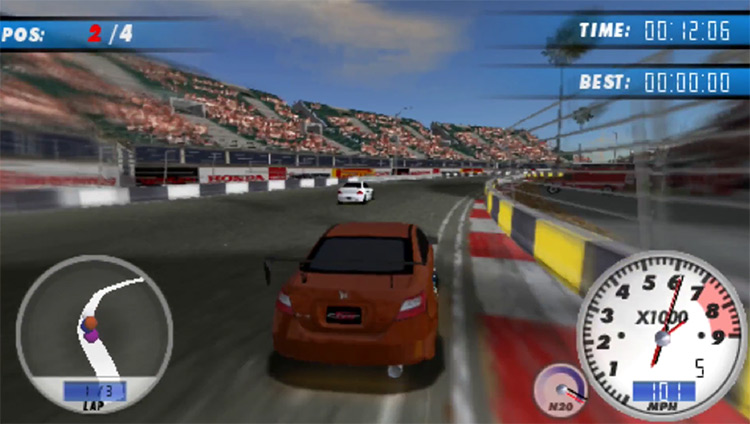 Juiced: Eliminator revolves around the player character's street racing exploits in Angel City – a thinly-veiled interpretation of Los Ángeles, California.
The game features regular circuit races, drag races, time trials, and eliminations – each tied to a different rival character.
As you advance through increasingly challenging races, you'll unlock increasingly powerful and attractive machines to add to your collection.
Juiced offers much room for customization, and unlocking the best tuning parts is where a big chunk of the late-game enjoyment comes from.
One of the game's major highlights is the soundtrack, featuring hit songs from icons like Limp Bizkit, Fall Out Boy, and The All-American Rejects.
7.

MotorStorm: Arctic Edge (2009)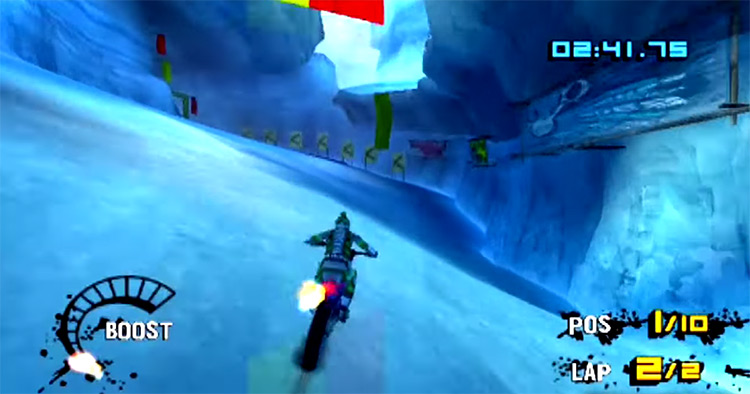 MotorStorm has you covered if you're willing to leave realism aside in favor of pure, unadulterated fun.
Does it make sense for an ATV to race a buggy and a snowplow down a frozen obstacle course? No.
Does it look epic? Hell yeah.
Arctic Edge perfectly captures the spirit of its two predecessors. The sense of speed that characterizes the franchise is beautifully achieved on the PSP – and the races are as hectic as ever.
6.

Test Drive Unlimited (2007)
What would you do if you won the lottery?
Would you move to a tropical paradise or blow it all funding your character in Diablo Immortal?
Personally, I'd become a high-rolling car collector and tour the beautiful open roads of the USA in search of more cars to add to my garage.
I don't think I'll ever win the lottery, but Test Drive Unlimited lets me live the dream with over 125 licensed vehicles from Lamborghini, Ducati, Aston Martin, Mercedes, and more.
Don't skip this underrated racer's enormous open world and in-depth car and character customization.
5.

Midnight Club 3: DUB Edition (2005)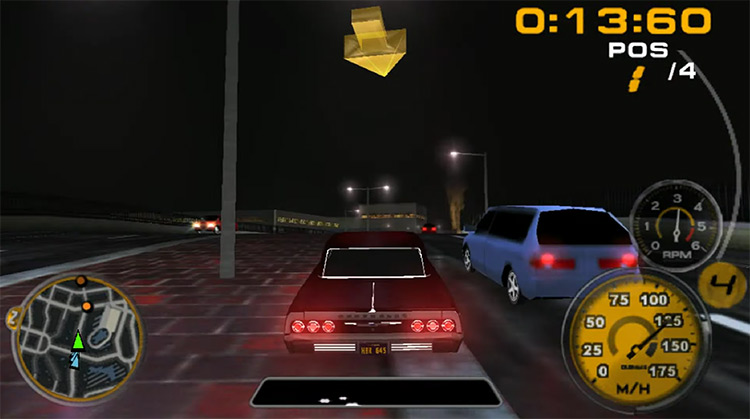 At one point during the 2000s, becoming an illegal street racer in the USA was every kid's dream.
Midnight Club 3: DUB Edition fulfills the fantasy with its beautiful and expansive open world spanning the American cities of San Diego, Atlanta, and Detroit.
The game shines for its unique vehicle types, each with unique special abilities that'll help you achieve victory and pull off some incredible driving feats.
These include choppers, sports bikes, luxury sedans, and SUVs.
4.

Split/Second (2010)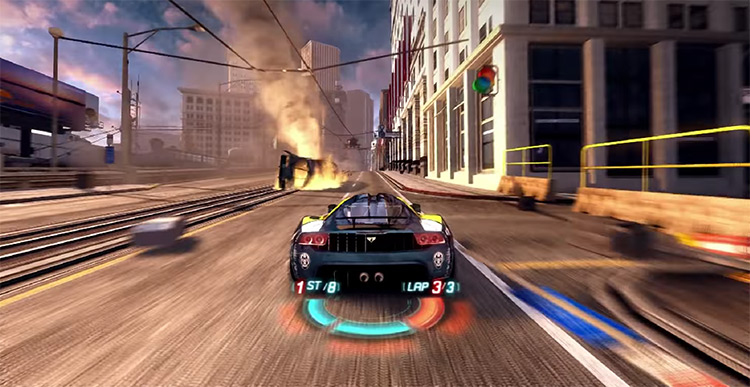 Split/Second is an action-packed arcade racer that appeals to fans of the Burnout franchise and similar games.
Instead of making your own crashes into a show like Burnout does, Split/Second introduces "Power Plays" that let you detonate parts of the environment to create shortcuts or – better yet – wreck your opponents.
Although it's not the best PSP racer from a technical perspective, the epic feeling of buildings collapsing around you is hard to beat.
3.

Ridge Racer 2 (2006)
Namco's Ridge Racer is the apex of the classic arcade racer on the PSP.
The game is celebrated for its beautiful graphics, top-notch controls, and fluid gameplay focused on drifting that everyone can enjoy.
While the original Ridge Racer launch title for the PSP was fantastic, you want to look for the sequel due to its improved graphics and increased track variety.
Ridge Racer 2 features 62 fictional cars and a whopping 42 race tracks, including some fan favorites from the series' history.
2.

Burnout Legends (2005)
After finding the Burnout franchise, I suddenly understood why wealthy people are so good at destroying their incomprehensibly expensive cars after a night of drinking.
It's not really that they can't drive under the influence – but that wrecking your car is the most exciting experience you can have behind the wheel.
If you don't have enough cash to replace your car and pay for your medical bills, turn your attention toward Burnout Legends on the PSP.
This portable installment in the Burnout series has nothing to envy its home console counterparts. It's Burnout 3, on the go, with even more modes, racing courses, and cars!
1.

Wipeout Pulse (2008)
The best way to rise above the competition is by literally hovering above it.
Wipeout Pulse is the most exhilarating racing experience on the PSP. The sense of speed is so good that you might get vertigo, and it goes together with gorgeous graphics and a mesmerizing soundtrack.
While Wipeout Pure – a PSP launch title – is also fantastic, Pulse brings improved graphics and a lot more content.
Even if you're attached to the realism of regular car racing, you're doing yourself a disservice if you haven't tried this out.
Feel the Pulse!
Browse:
Lists
PlayStation
Video Games