Top 30 Best Rom-Com Anime Of All Time: The Ultimate Ranking
This post may contain affiliate links. If you buy something we may get a small commission at no extra cost to you. (Learn more).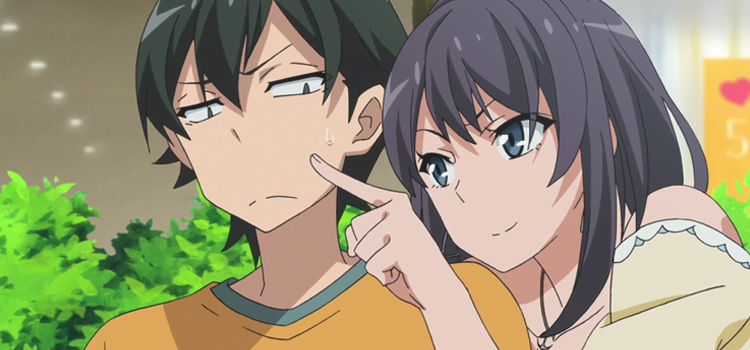 From a generic high school story to the fully-realized and mature seinen projects, the rom-com subgenre is as diverse as it is familiar.
But as each new season introduces a dozen more shows offering more ships, best girls, and best boys, it can be difficult to unearth the real gems.
So I've compiled some of my favorite romantic comedy titles into this ranking.
Some entries offer a ton of heartfelt moments, while others shine because of their brilliantly executed sequences and running gags. There are shows that include dramatic and supernatural elements, while some focus on happy & wholesome experiences.
I hope you find a show (or two) that pique your interest.
30.

Oh! My Goddess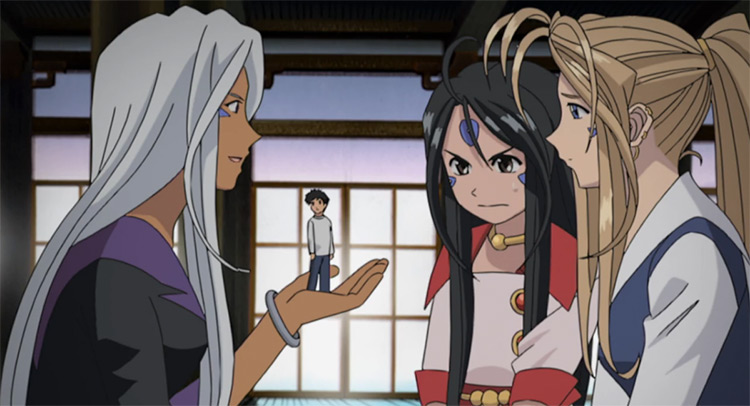 Aa! Megami-sama! is a blast from the past that future otaku generations should at least know existed.
As one of the earliest and most successful rom-coms in anime history, it began with a five-episode OVA in 1993.
However, it really took off 12 years later when a new (and arguably better) adaptation appeared.
This 2005 version is lovely.
It's already difficult to find a good rom-com, but here was a seinen rom-com that also showcased both supernatural elements and early 2000s character design.
From the angelic MC Belldandy to the dark-skinned beauty Urd, Oh! My Goddess had mature-looking women who were unlike the regular "big-eyed moe" teen girls these days.
Of course, Keiichi Morisato—the purely human guy who didn't think his wish for Belldandy to be with him forever was going to be granted—and Belldandy have wonderful chemistry.
Combine this with an eccentric supporting cast, and you've got a truly nostalgic series.
29.

The Tatami Galaxy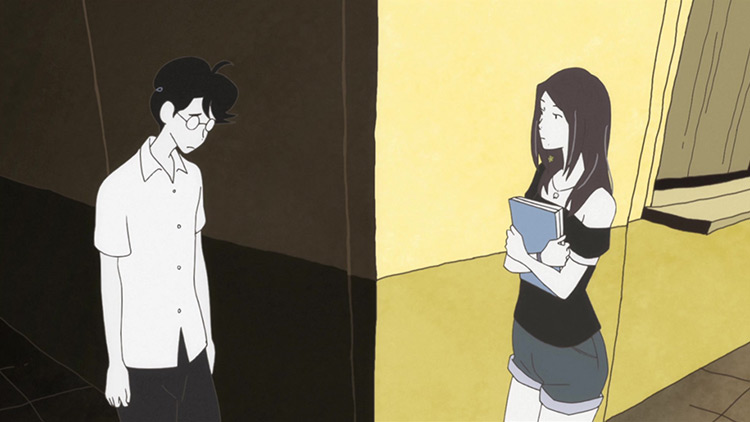 Easily the most avant-garde title on this list, The Tatami Galaxy is a masterpiece from Masaaki Yuasa, one of my all-time favorite directors.
Yojouhan Shinwa Taikei doesn't look like a rom-com at all.
It's surreal, dynamic, and seemingly repetitive yet dynamic at the same time.
But despite its peculiarity and coming-of-age identity, the series begins, progresses, and reaches its mightily satisfying conclusion largely in part due to the romance between Watashi and Akashi.
In particular, the MC's attempts to ignite the spark with his senpai is brilliantly executed.
The Tatami Galaxy is a hectic, hilarious, and ultimately familiar ride that anyone who remembers going from adolescence to young adulthood will find rewarding.
And if you fall in love with this Madhouse series as I did, then I've got some good news for you:
Yojouhan Time Machine Blues (the sequel to Tatami Galaxy) was already announced back in 2021.
28.

My Senpai is Annoying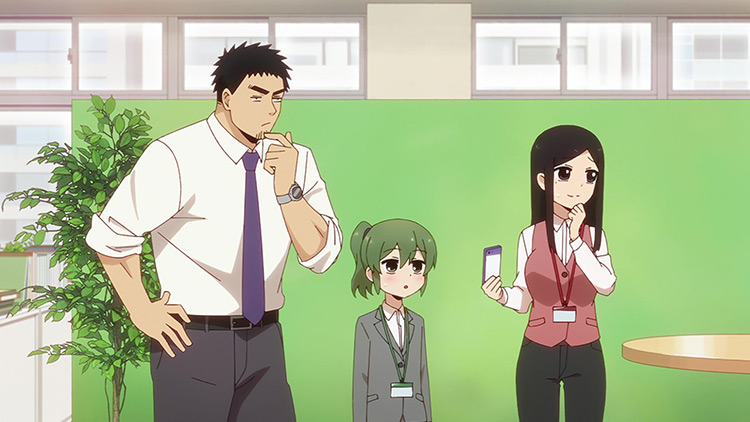 For the past 11 years (starting with Yuru Yuri), Doga Kobo has proven that they're one of the best studios for heartwarming & cute anime productions.
And in Fall 2021, they reinforced this reputation with Senpai ga Uzai Kouhai no Hanashi.
The combination of a petite lady and a big kind man isn't anything new.
But the formula definitely works.
Futaba Igarashi is someone you want to protect the moment you see her — and Harumi Takeda has done his fair share of safeguarding her from harm.
But Harumi only sees Futaba as a child to keep safe.
Will Futaba ever find the courage to confess her feelings?
Or will it happen the other way around?
With an office setting, another interesting ship (Touko Sakurai and Souta Kazama), and a catchy opening theme with a stellarly animated sequence, My Senpai is Annoying is another Doga Kobo hit that deserves a second season.
27.

Net-juu no Susume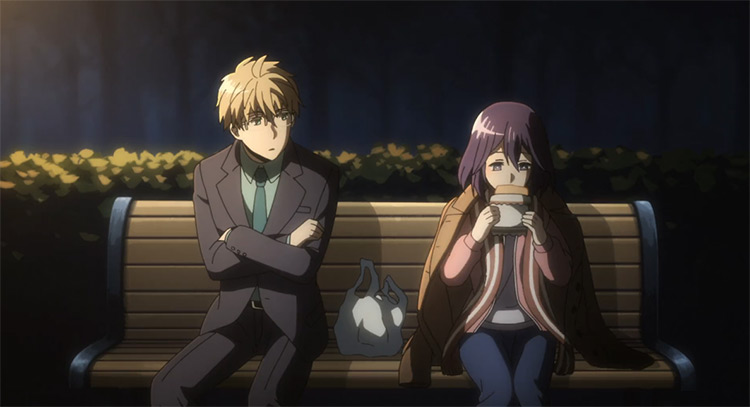 Moving from one fantastic rom-com featuring young adult MCs to another, Recovery of an MMO Junkie is a 10-episode ONA that will appeal to anxious introverts and long-time MMO players like myself.
For one, the series highlights the reality of job burnout, and how having all the time in the world after being "married to your job" can make you addicted quickly to any newfound hobby.
Second, Net-juu no Susume reflects the feel-good nature of video gaming.
Online games allow people to embrace entirely new identities and roles.
And in this case, Moriko and Yuuta play characters opposite their genders.
And in their shared joy of video games and all-nighter RPG adventures, the two unknowingly become the hero and heroine of a blossoming romance in the real world.
This is a series that recognizes the "dating" and social mechanisms of video games – and it's a fairly unique concept.
26.

His and Her Circumstances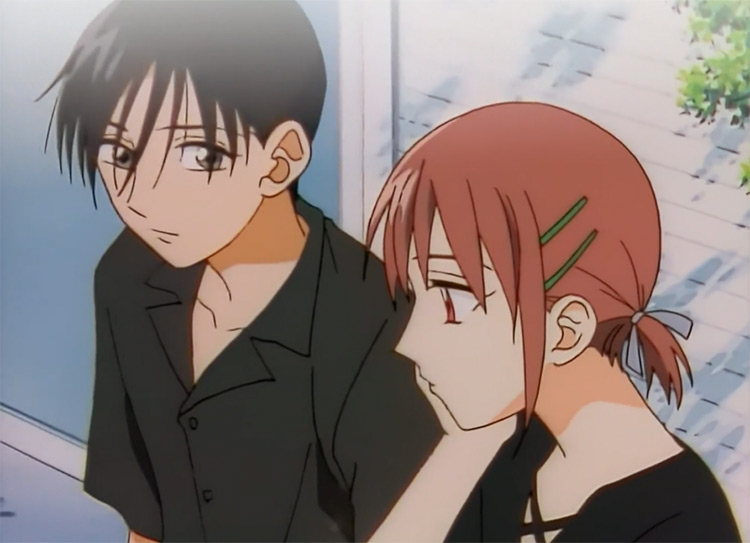 Kareshi Kanojo no Jijoui may have one of the most infamous and disastrous productions in anime history.
But it's still worth checking out as a landmark shoujo title.
With industry legends such as Hideaki Anno and Kazuya Tsurumaki (yes, the directors behind the Neon Genesis Evangelion franchise) at the helm, this 1998 school rom-com was destined to leave a big mark.
Soichiro Arima and Yukino Miyazawa are two of the most popular students at school; they're at the top of the class whether in the field of sports, beauty, or intelligence.
However, these two push themselves so much to be perfect for all the wrong reasons.
One of them has abandonment issues while the other sees her worth in other people's praises.
Similarly, they have trouble making real friends.
Soon enough, Soichiro and Yukino see through each other's public façade. And their relationship slowly develops from friendship to romance.
Oh and by the way, Kare Kano has one of the catchiest and most nostalgic ending themes ever.
Japanese people who don't even like anime have heard of it as well — and for a good reason.
25.

Arakawa Under the Bridge
Arakawa Under the Bridge was blessed with two seasons in 2011.
In fact, director Akiyuki Simbo and series director Yukihiro Miyamoto stayed for both before helming the same roles for Gen Urobuchi's Puella Magi Madoka Magica a year after.
Thus, this has the visionary execution of Shaft veterans.
Totally ordinary scenes look extra-interesting, even if the art or animation isn't always top-notch.
And the character development is fantastic for both MCs: the super-rich Kou Ichinimoya and the homeless blonde girl Nino.
Who would expect an enchanting relationship between them to grow (albeit slower than most would expect) when the premise is similar to Oh! My Goddess, except it's the girl who requests companionship this time?
Still, it's the supporting characters who truly make Arakawa Under the Bridge unforgettable.
Even if you become frustrated with the pacing of the romance aspect, the people living under the bridge make each episode a delight.
Both seasons are abundant with charming and ridiculously funny moments, because of these unusual fellows interacting and doing whatever kind of work they could to earn a living.
24.

Maid Sama!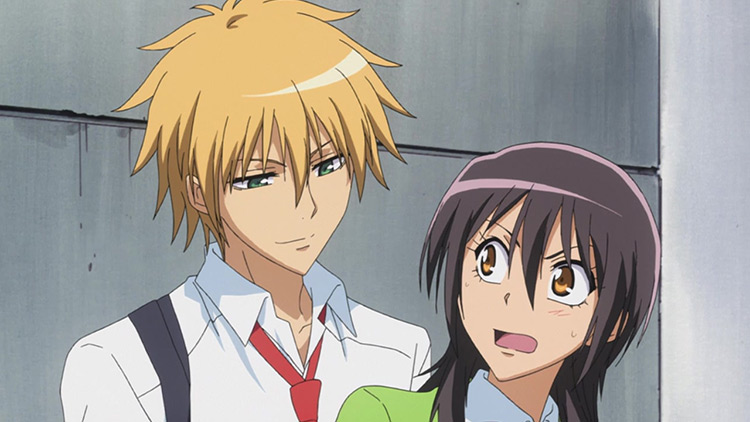 Kaichou wa Maid-sama! was one of the biggest shoujo manga titles of the 2000s.
So it was no surprise that the anime world was abuzz for the 26-episode adaptation in 2010.
But how does this particular shoujo get the ball rolling?
There are two main things to remember:
First, Misaki Ayuzawa is the student council president of her co-ed school that has way more guys than girls.
Second, she secretly works at a maid cafe to support her poor family.
In other words, she lives two different lives as a terrifying student leader (particularly to boys) and as a cute cosplaying waitress.
Takumi Usui, one of the school's most popular guys, discovers her secret but doesn't tell it to the others.
This gives him opportunities to tease and regularly admire Misaki's demeanor outside school, however, which eventually leads him to develop feelings for her.
In the end, Maid Sama! didn't fully live up to expectations in a few aspects – like its overabundance of supporting characters and pacing.
But it's still plenty good in most other areas, such as the comedy and the ending. Well worth checking out.
23.

Kamisama Kiss
I'm not sure why, but rom-com anime with supernatural/fantasy elements are often a hit in my books.
Kamisama Kiss is about how the life of a teen girl changes in an instant because of a kind act toward a stranger.
Nanami Momozono had an impoverished life because of her gambling-addicted, debt-ridden dad. When she saves a man named Mikage from a dog, she's given the rare chance to have a new home.
But there's a big catch:
Nanami will live in a rather messy shrine.
As it turns out, Mikage was a god who once served the shrine — and he's now given the divine responsibilities to an ordinary young girl.
If this wasn't unusual enough, one of the familiars (Tomoe) isn't too keen on serving her. Soon enough, Nanami and Tomoe seal their contract with a kiss – as you might expect from the shoujo nature of the series.
Thus begins their story filled with light-hearted romance, tsundere moments (especially from the male fox), and the need to balance school and spiritual work.
You'll have even more of Tomoe and Nanami's romance by the second season.
22.

High Score Girl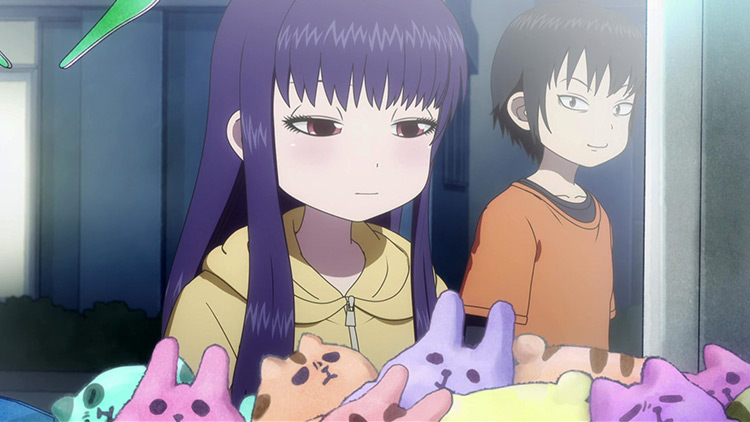 Honestly, I was about to instantly drop this series the moment I learned it was going to be a CGI anime — and now I atone for my unwise judgment.
I am in love with the setting, the characters, and the story.
This features three teens—namely, Akira Oono, Koharu Hidaka, and Haruo Yaguchi—who all fall in love with video games for different reasons.
Akira, for example, goes to the arcade to avoid the unpleasant social situation at home. Koharu willingly entered the world of gaming because she had a crush on Haruo, an egoistic lad who performs poorly at school but is fantastic at video games.
Oh, and did I mention that this takes place in 1991?
Yes, this is why High Score Girl is unlike other anime.
It captures an older time when local arcades were a big thing, instead of PCs and convenient gaming consoles.
And through both seasons, the three confront their personal troubles, their burgeoning emotions, and the realities of growing up.
High Score Girl is a special series with a lot of heart.
As one of the last great rom-com and seinen titles of the 2010s, I hope future generations still find their way to this gem.
21.

Kimi ni Todoke: From Me to You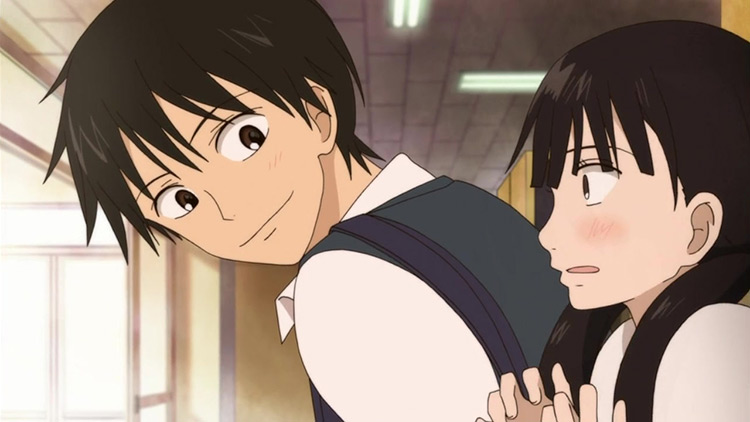 Three years before Kimi ni Todoke premiered, anime viewers were treated to The Seven Metamorphoses of Yamato Nadeshiko, a whacky comedy featuring a girl fascinated with creepy things.
This two-season rom-com from Production IG also has a female MC who's been unapproachable because of her appearance.
Specifically, Sawako Kuronuno is reminiscent of Sadako.
Yes, the Japanese horror film icon from The Ring.
Yet the reality is that she's a sweet girl who just happens to be shy.
This is why Sawako is interested in Shouta Kazehaya, an attractive and super popular guy (he has a legion of admirers) at school. But it isn't a one-sided relationship: Shouta has always been interested in her; it's just that he hasn't expressed this to Sawako.
The two help each other become better versions of themselves (knowingly and unintentionally).
Kimi ni Todoke is just a comfy watch that melts your heart, plus makes you laugh now and then.
20.

My Little Monster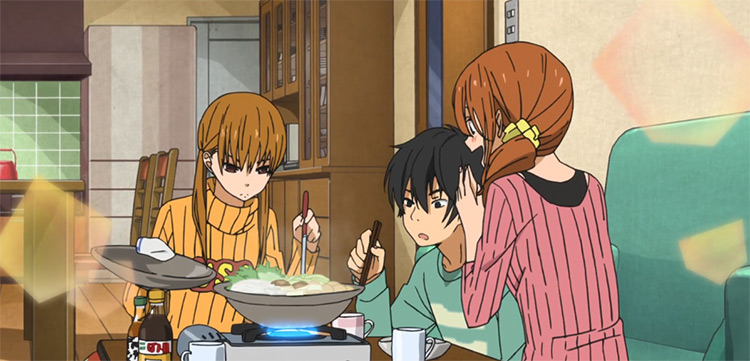 Yes, I'm all too familiar with the frustrating lack of a satisfying ending to this comedic school romance.
Then again, it's not always about the destination, right?
My Little Monster quickly caught my attention with Haru Yoshida's shenanigans involving Nagoya, my favorite pet chicken in all of fiction.
Here was a series that didn't exactly break the mold but still left you smiling at the end of each episode, thanks in part to a whimsical OST, decent animation, and characters that shone even further when you put them all in one place.
Likewise, the confession scene between the outrageous Haru and the studies-focused Shizuku Mizutani was a surprise both for its early appearance and its execution.
Tonari no Kaibutsu-kun is set to celebrate its 10th anniversary in 2022 — and I'm hoping we eventually get a much-awaited second season.
19.

The Pet Girl of Sakurasou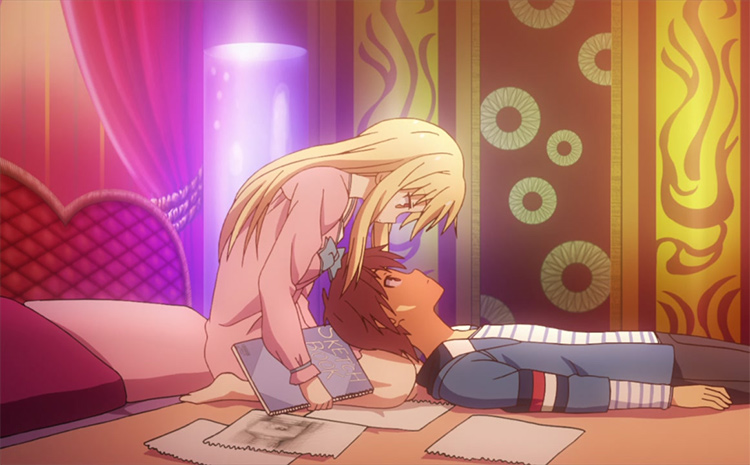 Atsuko Ishizuka is one of the best directors around.
Even before she dazzled audiences with Madhouse favorites like No Game No Life and Sora yori mo Tooi Basho, she was already making waves as a director with The Pet Girl of Sakurasou.
With its ensemble cast, this 24-episode JC Staff adaptation could've taken a nosedive.
Instead it did everything right:
Sakura-sou no Pet na Kanojo gave each and every MC their time to shine — and I'm not just referring to happy moments. I appreciate their periods of frustration, self-realization, and heartbreak as much as I applaud their victories and incredible dynamics.
The main ship might be that of Sorata Kanda and the aloof but genius (and cute) artist Mahiro Shiina.
Still, Misaki Kamiigusa and Jin Mitaka's relationship is compelling. And it takes the series to a whole new level.
Plus, Nanami Aoyama is one of the most inspirational characters I've ever seen in anime.
18.

Monthly Girls' Nozaki-kun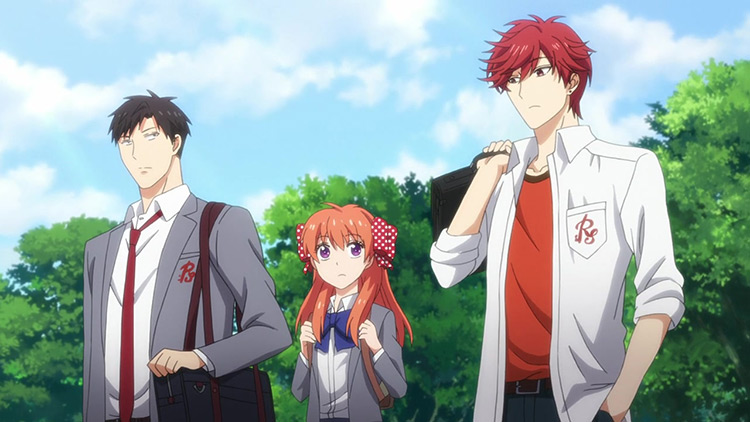 This rom-com has the usual tropes like misunderstandings and the oblivious male MC… yet it's hard not to enjoy every second of watch time.
Mostly because of the excellent production, pacing, and the perfect mixture of fluffy romance and humor.
Chiyo Sakura already surpassed the shoujo hurdle of confessing to her crush, Umetarou Nozaki, early on in the anime. But since he's dense (and is actually an acclaimed shoujo mangaka) she ends up as one of his assistants.
This unintentional relationship then leads to Chiyo meeting a bunch of interesting characters at school.
From the seemingly overconfident yet secretly tsundere Mikoto Mikoshiba, to the "female prince" Yuu Kashima, Monthly Girls' Nozaki-kun never runs out of folks who cause further misunderstandings from which hilarity ensues.
17.

Ouran High School Host Club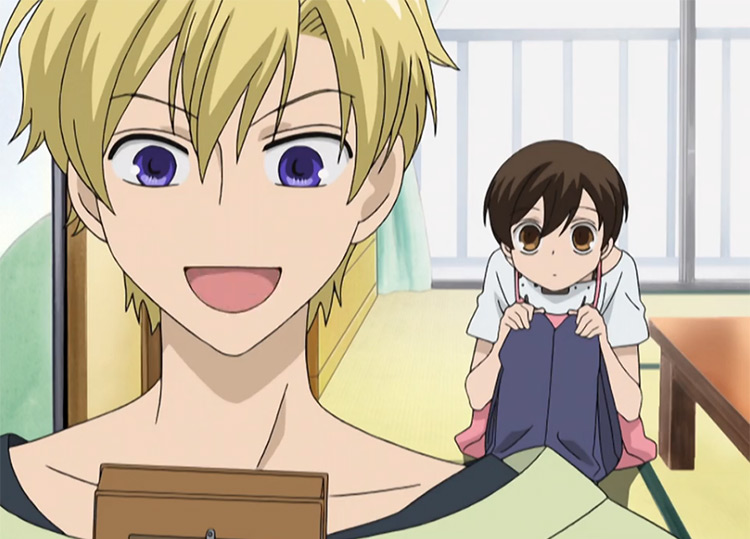 Produced by Bones and directed by Takuya Igarashi (who would eventually manage the Bungou Stray Dogs franchise), this classic from 2006 is a reverse harem filled with hilarity, romance, and splendor.
It all begins when Haruhi Fujioka breaks a super-expensive vase owned by the host club of the Ouran Academy, an elite institution she only got accepted into because of her scholarship.
She couldn't pay back the eight million yen – so the five-member club designated her to work for them.
To the surprise of the pretty boys, Haruhi is amazing as a male host, partly because of her commoner status (in contrast to the elite students) and her actually being a girl. This naturally gives her a better sense of how girls may behave and react to the romancing of guys.
Ouran Koukou Host Club is a reminder of how anime can truly be the best medium for some stories, especially when it involves a high school host club with a seemingly infinite budget.
Not to mention, anime is the home of animated chibi faces, which this show has plenty of.
16.

The Quintessential Quintuplets
With a mighty built-in fan base because of the manga source material, The Quintessential Quintuplets entered 2019 to satisfy fans and silence skeptics.
It seemed like it was a generic harem—with the only twist being that the girls are quintuplets—but the series turned out to be refreshing yet familiar at the same time.
Rather than a guy who wanted to get in the pants of every girl he sees, this had Fuutarou Uesugi: a smart and industrious student who only met the quintuplets because he was tutoring to earn money.
His only goal was to support his poor family.
Fuutarou had no interest in the girls, not even as friends.
Thanks to the varying forms of reluctance the quintuplets displayed toward learning, he's forced to learn more about their distinct personalities and find a way to make them listen, which also helps him to break free from his shell.
It's quite amazing how easy it becomes to identify which girl is which, despite their physical similarities.
The Quintessential Quintuplets fleshes them out spectacularly. And you'll find yourself rooting for all of them not just in love but also in life, especially by the second season (plus the movie).
15.

Tonikawa: Over the Moon For You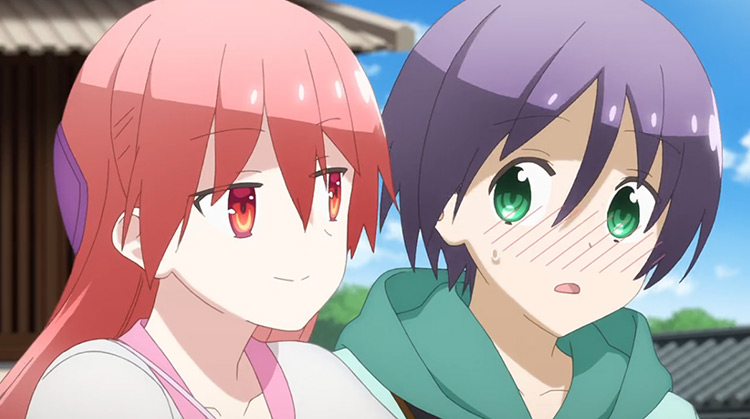 When the adaptation was announced, I remembered reading from some fans of the manga that this story was a way for the author, Kenjirou Hata, to tell everyone about his happy married life with voice actress Masumi Asano.
Whether that's true or not, I'm just glad that Hata realized the need for a thoroughly wholesome love story.
Sure, there are a few lingering mysteries in Tonikaku Kawaii.
But the show is primarily concerned with Tsukasa Yuzaki and Nasa Yuzaki's relationship, with how their simple days of married life are filled with appreciation, learning, and new ways of expressing their love for one another.
Seven Arcs doesn't have a solid portfolio (Blue Period was a failure sadly), so it was pleasantly shocking to see Tonikaku Kawaii be as competently adapted as it did.
The second season might just make this one of the modern rom-com classics in anime.
14.

Lovely Complex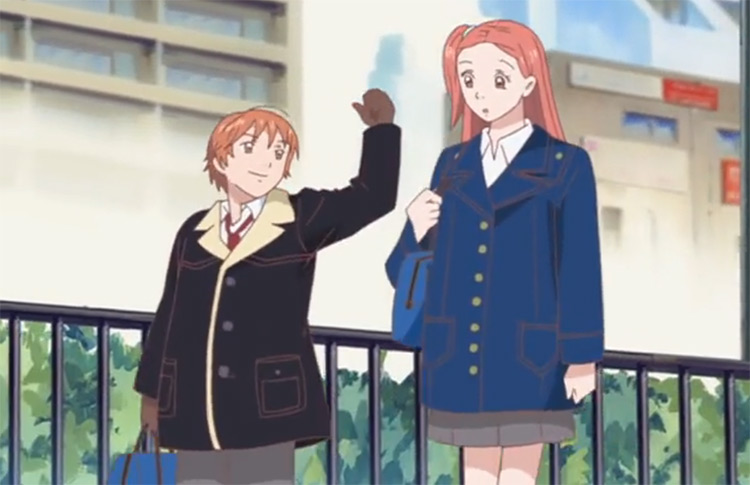 15+ years since its premiere, Lovely Complex continues to be one of the hallmarks of shoujo anime.
The twist of two people eventually falling for each other after their respective crushes end up together isn't exactly new – but it's done well here.
Plus, the anime highlights a struggle that many people in real life do experience: being too short or too tall.
Even today, short guys and tall girls get made fun of.
Lovely Complex acknowledges this dilemma through the daily lives of Risa Koizumi and Atsushi Ootani.
Yes, it's okay to have preferences in love. But there's nothing wrong with occasionally giving a chance to people who don't meet one's initial criteria.
13.

Working!!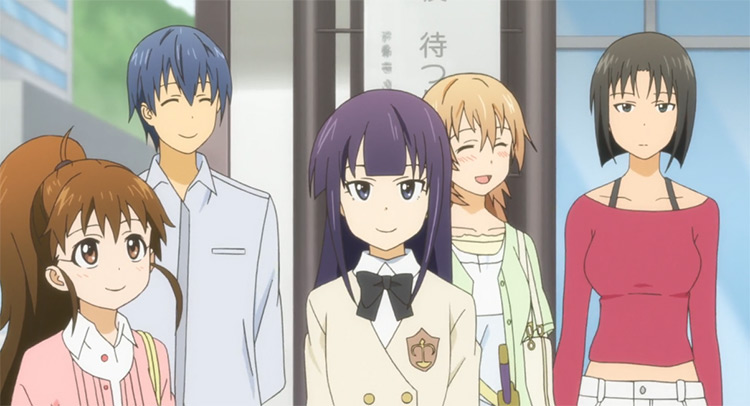 Like Gekkan Shoujo Nozaki-kun, Wagnaria!! is also based on a 4-koma manga series.
It's a workplace rom-com set in a family restaurant and features eight MCs, so you can be assured that plenty of ships will develop.
Part of the fun is guessing which among them ends up together in the end.
But you can also just enjoy their social dynamics during and outside of work.
And with three seasons—plus an "alternative" version that may as well be a spinoff—across five years, Working!! has plenty of episodes to help you become genuinely acquainted with the folks of Wagnaria.
12.

Tsurezure Children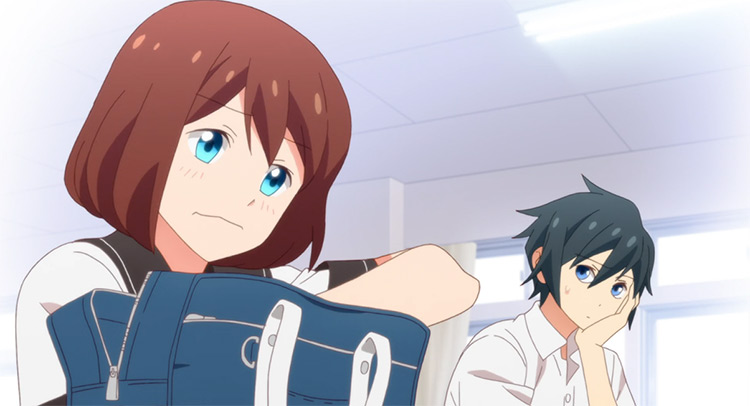 Tsurezure Children is a short series that's similar to Honobono Log in that it showcases many different couples and various expressions of love.
To be precise, this is a light-hearted collection of young love featuring 12 MCs.
The appeal of each character and couple can be a hit-or-miss, just as the characters themselves may end up as a hit-or-miss to one another in their quest for love.
In other words, not all pairings end up together or hit it off as quickly as others.
Still, that's the good thing about Tsurezure Children:
It briefly yet competently illustrates how distinct the outcomes can be for something so universal, which is to be young and in love.
11.

School Rumble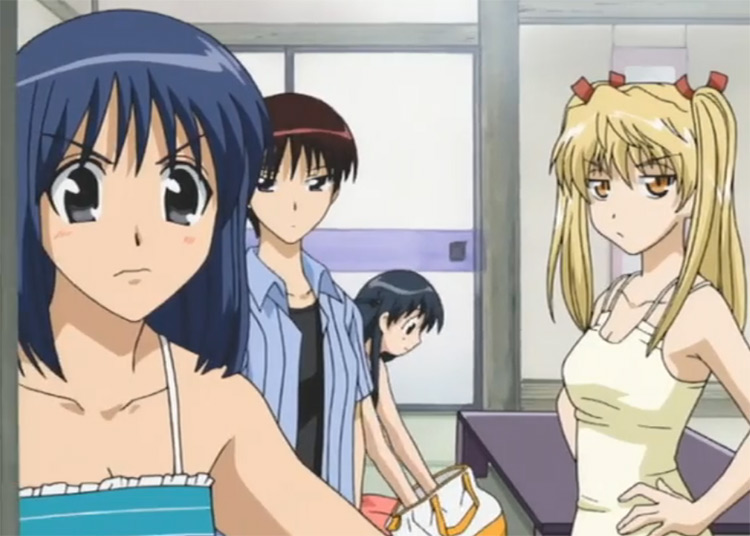 The first image that always comes to mind when I think back on this show is Karasuma in his iconic kappa raincoat, complete with his signature disinterested look.
And this odd yet adorable and hilarious memory is why I love School Rumble.
Released in 2004, this series has seven intriguing MCs, with Tenma Tsukamoto, Ouji Karasuma, Eri Sawachika, and Kenji Harima at the forefront when it comes to romance.
Tenma is in love with the curry-loving and timid Karasuma, who secretly happens to be a popular manga author like Umetarou Nozaki from Monthly Girls' Nozaki-kun.
Kenji has a crush on Tenma, but it's Eri who has feelings for him.
No matter which pair you root for, you'll have a grand time witnessing their daily school antics.
After all, this anime isn't called "School Rumble" for nothing.
10.

Nisekoi: False Love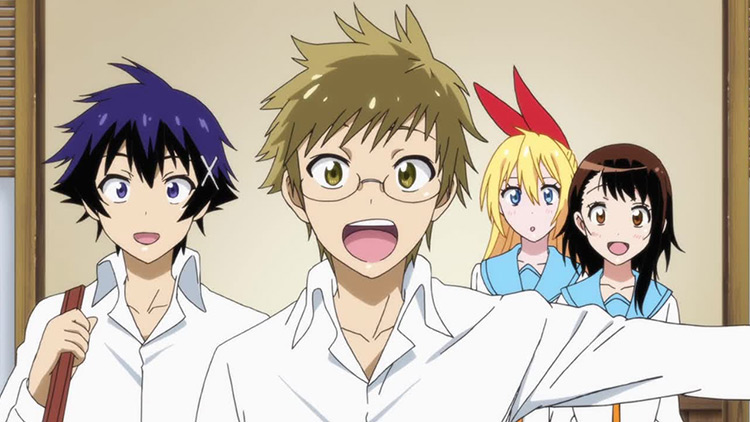 Nisekoi boasts some of the most popular girls in anime – which also means that it caused big arguments over who should end up with Raku Ichijou.
The Kosaki Onodera fan club was fierce, and it was a sweet bonus that her VA was none other than the legendary Kana Hanazawa.
On the other hand, the Chitoge Kirisaki club defended their favorite "gorilla" (Raku often teased her with this nickname) with all their might.
Thankfully Shaft didn't pick sides & did justice to all the girls.
Nisekoi looks gorgeous too, from its character designs and background art, to its editing and character acting.
Even if your favorite girl loses, you won't regret watching one of the most stylish and vivid rom-coms in history.
9.

Saekano: How to Raise a Boring Girlfriend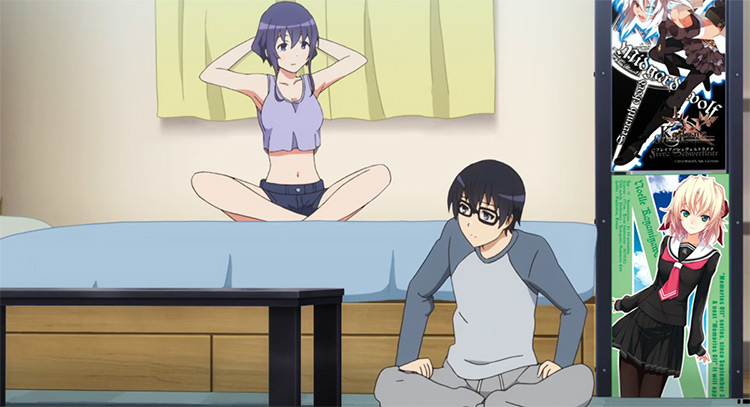 It's always a pleasure to talk about Saenai Heroine no Sodatekata.
And it's not just because this is where I found my all-time best girl, Eriri Spencer Sawamura.
Here's the thing:
Saekano is one of the anime adaptations that reaches a magnificent conclusion.
And it does so with an amazing feature-length film (thanks, CloverWorks!) that elevates the entire series and places it in the upper echelon of rom-com and harem titles.
So you're not left wondering who ends up with whom unless you finally read the source material.
Lastly, Saekano is blessed with consistently high-quality art and animation. Plus three of the most popular female MCs in modern anime (and best-selling merch-wise).
8.

Wotakoi: Love is Hard for Otaku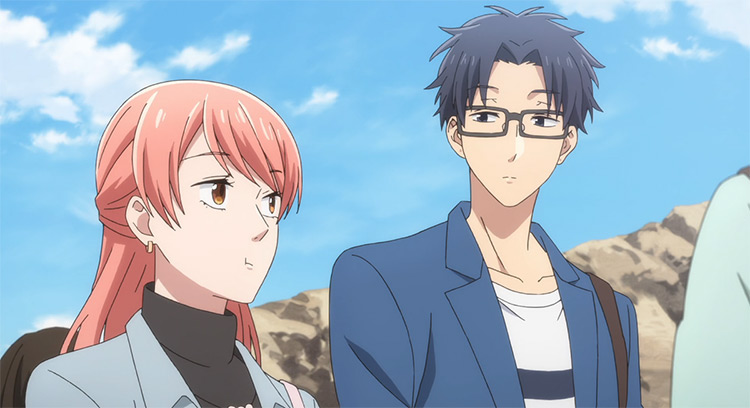 If My Senpai is Annoying and Working!! Seems like your thing, don't forget this workplace romance from 2018.
Wotaku ni Koi wa Muzukashii showcases an office romance (or two) involving real, non-NEET otaku.
Yes, this provides the long-desired representation for fans of anime, manga, and other Japanese media who have entered the adult world and taken big responsibilities.
Hirotaka Nifuji obsesses over identifying the ideal character to use in video games.
Likewise, his friend (and eventual romantic partner) Narumi Momose is a fujoshi who loves manga.
Their two other office buddies, Hanako Koyanagi and Tarou Kabakura, have their own otaku niches.
And my favorite thing about Wotakoi is that it shows that adult otaku's lives are not that different from the rest.
They go on movie dates, drink together after work, and casually talk about their interests, all without the fear of being ridiculed for their "childish" or "immature" hobbies.
Wotakoi is oddly soothing.
And that's in part due to the natural chemistry among characters, whether of the romantic or purely friendly and platonic kind.
7.

My Love Story!!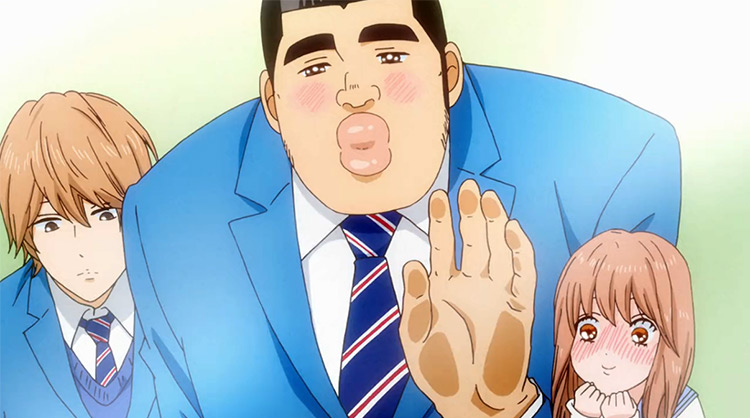 Madhouse had a banner year in 2015.
Apart from One Punch Man, Death Parade, and Overlord, they also captured the shoujo audience with Ore Monogatari!!
Takeo Gouda and Rinko Yamato look like the unlikeliest pair, but the big and buff Takeo is exactly Rinko's type.
Their unabashed love and affection for one another is something that many couples can only dream of.
And sure, Makoto Sunakawa is more conventionally attractive.
But it's his best friend who she falls for — and you can't fool your own heart.
My Love Story!! is as sweet and wholesome as Tonikawa: Over the Moon For You, yet it distinguishes itself by upping the comedic factor.
There's an unforgettable skit involving Makoto and Takeo's wish to learn how to kiss properly, and I just love how Takeo looks so similar to his mother.
6.

Horimiya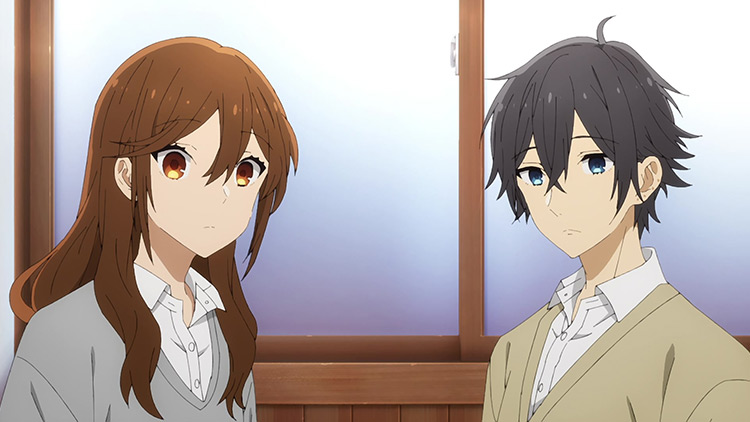 Horimiya was undoubtedly my favorite rom-com of 2021.
In a historic Winter season when the biggest shows clashed for attention—from Attack on Titan to Re:Zero and Mushoku Tensei—it was a pleasure to support this humble series.
Izumi Miyamura and Kyouko Hori had one of the best confession scenes in anime history, and I can say the same for Remi Ayasaki and Sengoku Kakeru.
They're heartfelt, quiet, and honest, and they captured the feeling of being young and in love.
Many fans of the source material wanted more episodes and seasons. But I argue that this was the best decision for practical, financial, and artistic reasons.
Plus I'm a fan of its vignette style of presentation.
CloverWorks did a fantastic job throughout the 13-episode series, which covered many of the milestone events of the popular 125-chapter manga.
The character designs and background art were always sharp, and the aural aspects—from the theme songs to the voice acting—were just as praiseworthy.
This could've been awful if it was given to a newbie, but Masashi Ishihama is an exceptional director, as to be expected from the man behind Shinsekai yori.
I love how he tackled the social themes and drama and mixed these with the warm slice-of-life and rom-com elements, giving the Horimiya anime its own identity without veering from the manga.
5.

My Teen Romantic Comedy SNAFU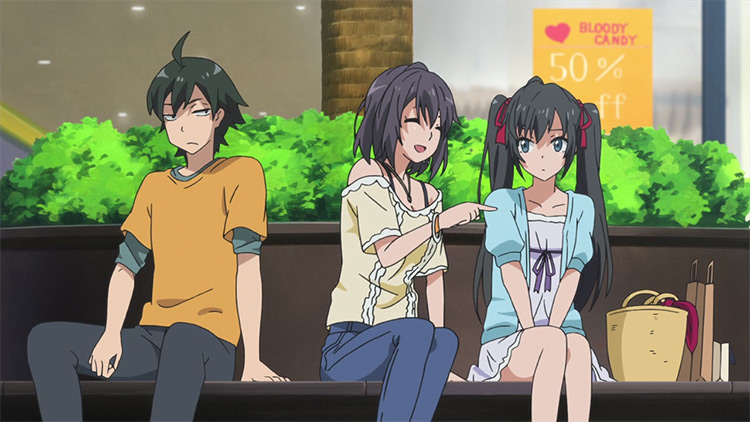 Yahari Ore no Seishun Love Comedy wa Machigatteiru. also changed its animation studio without suffering dips in its remarkable storytelling.
It set a high standard during its first season, but it raised the stakes with each sequel and succeeded.
I'm far from being the biggest fan of Hachiman Hikigaya and his snarky commentary.
But I can understand where he's initially coming from because the anime carefully lays out what viewers need to know: his core beliefs, significant past experiences, demeanor, and overall sense of self vis-a-vis other people in his immediate people.
In other words, the presentation and character writing in Oregairu successfully portrays Hachiman as a complex and flawed human being — and the same goes for Yui Yuigahama and Yukino Yukinoshita.
It's their believability as ordinary individuals, in my opinion, that gives their personal development & constant banter more weight.
4.

Toradora!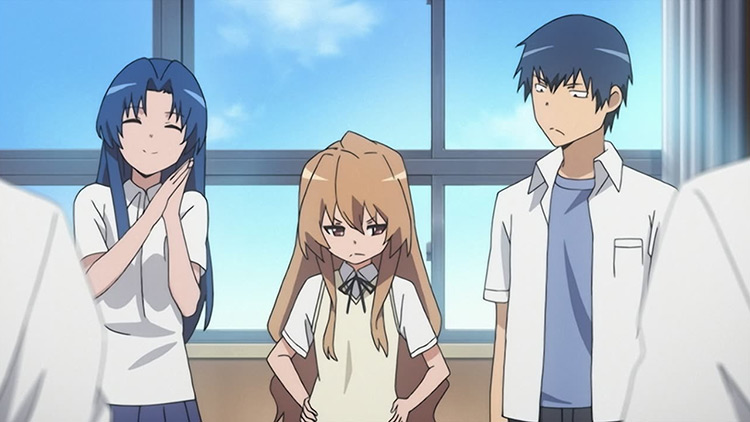 It would be a crime if Toradora! didn't at least make it to the top five.
Taiga Aisaka and Ryuuji Takasu form one of the best ships in anime history.
Produced by JC Staff in 2008, this is a romantic comedy where characters aren't stuck in their stereotypical shells.
Taiga might be a tsundere, but she's better than 99% of them because the series dedicates screentime to her family history, and to other events that significantly shape her demeanor and outlook.
Other characters are also convincingly real as they're never completely perfect nor outright terrible.
Toradora! is a masterpiece from the late 2000s.
Come for the feisty tsundere loli, stay for the exquisite character and plot developments (and for the mischiefs and A-grade OST).
3.

Teasing Master Takagi-san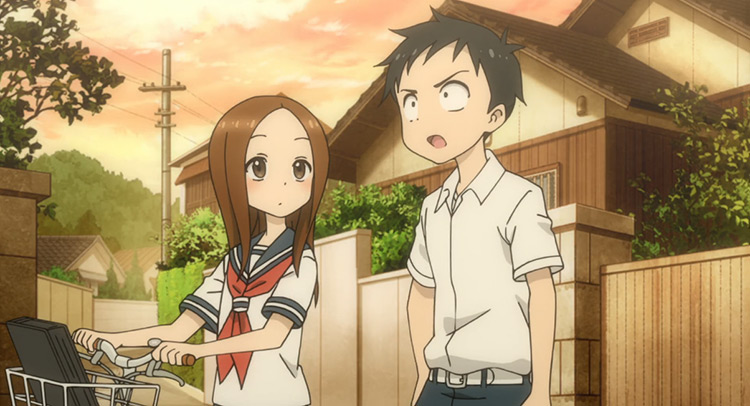 It's amusing to see how the driving force of a show remains the same for all three seasons (the third one is currently airing), and yet it's still addictively entertaining.
As you can guess from the title, Teasing Master Takagi-san is about Nishikata: a boy who yearns to finally outsmart his classmate Takagi, a girl who knows each and every way to tease him.
Each episode is a new opportunity for him to make her blush, only for her to employ a new strategy and claim victory.
But Nishikata isn't wasting his time.
Each loss is never pointless.
Every new activity they do together, even if it's because they want to outwit one another, leads to lovely moments that deepen their bond.
Many couples in real life start out as good friends bickering with each other, right?
You can even sense their romance making progress by the second season.
Anyway, be careful with this show.
I'm not sure if you can prevent a case of "rom-com anime diabetes" if you watch this together with My Love Story!! and Tonikawa: Over the Moon For You.
2.

Ikkoku House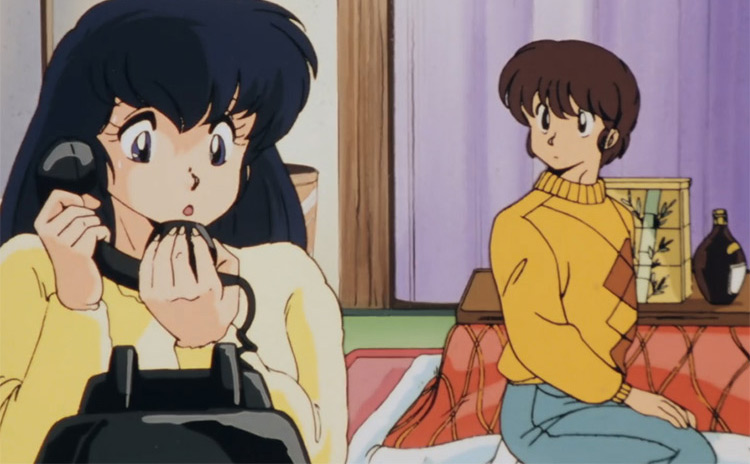 Since this debuted seven years earlier than the Oh! My Goddess OVA, Maison Ikkoku is officially the oldest entry on this list.
But why should you care about a 96-episode rom-com from 1986?
Isn't its animation quality and story outdated?
For one, Ikkoku House is a certified classic.
Even if you're not looking for a rom-com or a seinen series, you're bound to find something to love about it. Rather than fall asleep, you'll want to join the tenants during their tumultuous drinking sessions.
Virtually all the characters here make valuable contributions to the story no matter how short or long they stay — and this applies even to Kyoko's dog Souichirou.
And most importantly, I adore this anime's mature take.
I don't mean that it's too adult, because Ikkoku is far from that.
Rather, the romance, personal struggles, life experiences, and even the daily conversations here are the kind that adults (or at least young adults) can easily relate to – despite the series taking place in an older time period.
Kyouko Otonashi and Yusaku Godai have their own demons to overcome, and 96 episodes don't feel that long when it's utilized to craft a lived-in world filled with people who may as well have existed in real life.
1.

Kaguya-sama: Love is War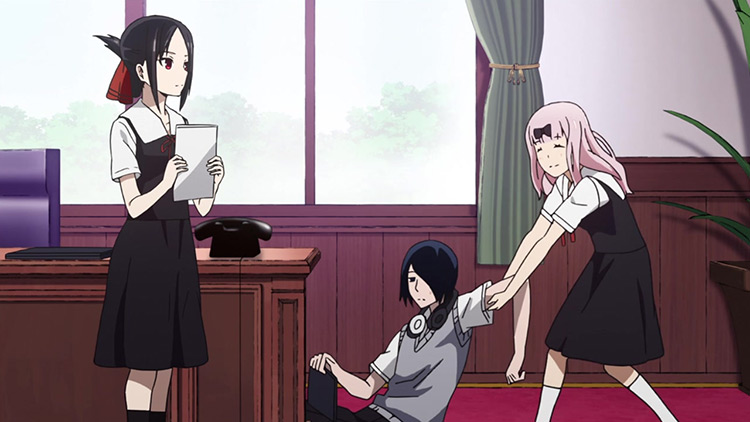 The rumbling you sense from deep within the realm of anime isn't from the final season of Shingeki no Kyojin.
It's from the imminent return of Kaguya-sama: Love is War to seasonal anime with Tensai-tachi no Renai Zunousen.
Just like their two-season adaptation of Saekano, A-1 Pictures knocked it out of the park when they earned the rights to animate the acclaimed and incredibly popular rom-com manga by Aka Akasaka.
Right from the start, Kaguya-sama wa Kokurasetai: Tensai-tachi no Renai Zunousen boasted top-notch character animation, editing, clever dialogue (and internal monologuing), and a dance sequence from Chika Fujiwara that instantly went viral.
Similar to Teasing Master Takagi-san, this anime is about two people intent on outsmarting one another.
Kaguya Shinomiya and Miyuki Shirogane are the best students around.
Not just in their school, but in the country.
Both have romantic feelings for each other — but neither wants to be the first to confess.
Thus there's an ever-present battlefield. An emotionally, socially, and mentally challenging game of love that's cute, whimsical, and outrageous, most often all at the same time.
The series also has the likes of Yui Ishigami, Ai Hayasaka (another best girl contender), and Miko Iino — and Season 3 will inevitably cement Kaguya-sama's place as my favorite rom-com anime of all time.
Browse:
Japanese Culture
Lists
Anime