The 15 Best Shounen Anime Openings Of All Time
This post may contain affiliate links. If you buy something we may get a small commission at no extra cost to you. (Learn more).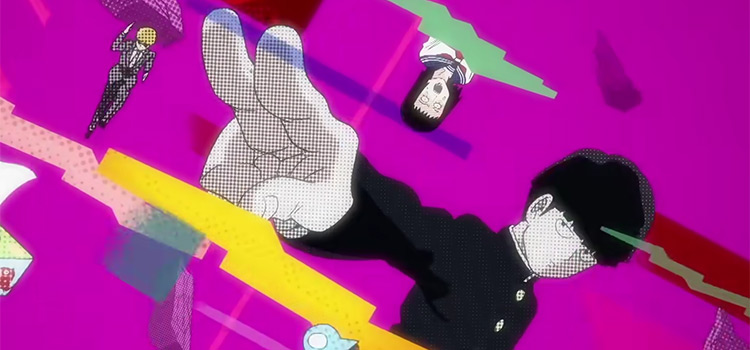 While the shounen genre is well known for its amazing fight scenes and shouting out the names of character's signature moves in the middle of combat, there's another aspect to draw you in.
The opening is an art all in itself.
It's tasked with luring you into the show and making you want to stick around for the rest of the episode.
With that kind of job, every opening has a lot of work to do in a short amount of time – basically just 60-90 seconds.
Some of these songs are absolute bangers that manage to get you hyped up for the action ahead, and some are more somber and leave you more introspective about the characters.
But either way, these are my picks for the best shounen op intros that you should listen to at least once. I'm talking to all of you monsters who just skip the opening as soon as it comes up no matter what.
15.

Hey World
Anime: Is it Wrong to Try to Pick Up Girls in a Dungeon?
There's something so special about this one to me.
Danmachi is, at its core, a very fun loving show.
While it may not be the deepest, it has a lot of heart.
I feel as if the first opening showcases this heart very well, featuring the main cast and showing off their interactions with each other in the show perfectly.
It foreshadows a lot of the major fights throughout the season (much like many others on this list will do), and it's a big draw for me to pick out details and guess what they may mean later on.
And of course, the visuals are very well done. They aren't simply just all clips from the show.
It's definitely worth a watch – at least once for the fun visuals.
14.

The Hero!!
Anime: One Punch Man
It's no secret that One Punch Man is a beautifully animated series with a ton of visual spectacles.
So it's of course no wonder that its opening delivers just what you'd expect.
The Hero goes hard. And I mean as hard as Saitama's signature Serious Punch.
It's mixing heavy metal instrumentals and some lyrics that make my throat hurt just thinking about it.
We get plenty of snippets into the many enemies that Saitama can fight, including the various leveled threats from the heroes association shown off.
This opening is the perfect encapsulation of what you're getting into with OPM. High octane action, beautiful animation, and a bunch of very fun visual gags, like lightning striking Saitama's bald head.
13.

Strike Back
Anime: Fairy Tail
While I think that Fairy Tail definitely fluctuates in quality, I think many people who watch it will agree that one of the consistently best parts has to be the openings.
Strike Back hits the hardest in the collection of an impressive 20+ openings, which means it has a lot of competition to be named the best of its own series.
But with a set of serious visuals to accompany
12.

Gurenge
Anime: Demon Slayer
Starting off with very soft lyrics and then quickly accelerating into the rocking instrumentals is already such a good way to describe Demon Slayer as a series.
The visuals are great, of course, giving Tanjiro and the rest of the cast a great way to show their stuff. And this includes alluding to some very important players that don't show up until later in the show.
It really gets you into a mood to watch some demons being slayed…
Huh, it's almost like that's the intent?
11.

Cruel Angel's Thesis
Anime: Neon Genesis: Evangelion
Now I'll admit: I was initially a bit of a hater of this theme song.
I hadn't watched Neon Genesis in any of its forms until recently.
And it wasn't until I finally understood the context of the show itself that the opening started to make more sense to me. And then the instrumentals just clicked in my brain.
This opening is downright iconic now. Some fans might even consider it the best anime OP of all time.
Or at the very least, there's very few anime fans who haven't heard this one at least once.
Neon Genesis is such an interesting show. And with the final movie getting its English subtitle release, despite my only watching it recently, I can't help but feel a sense of nostalgia about the whole thing.
10.

Odd Future
Anime: My Hero Academia
My Hero, much like Fairy Tail, has a powerhouse set of openings to pick from.
And while it's far less than Fairy Tail (for now), it didn't make it any easier picking my favorite.
Odd Future covers the point in the anime with, what is still to this day, the most hype fight in the show.
It starts off with All Might being handed his powers from his mentor, as he'd later do for Deku.
And from there, things just kick off.
Class 1-A is shown running towards their training camp. A montage is shown of all the big players in the season, both heroes and villains, and then ends with a parallel of Deku's hardest fight yet, as well as All Might's.
9.

V.I.P
Anime: Magi: The Labyrinth of Magic
Magi is such a fun adventure shounen.
And it follows such an enjoyable trio. Every time I'd tune in to watch the next episode, the opening just made me excited to go on an adventure!
I enjoy when openings aren't afraid to show off some of the quirks of the main cast in an opening, instead of just their "cool" moments.
And seeing Aladdin chowing down on a watermelon is so cute.
Honestly, this one is just fun. And it's something I could play on loop and just watch and listen to for hours.
8.

Punky Funky Love
Anime: Kuroko no Basuke
This opening enchants me. All of Kuroko's openings do.
There's just this clear love of pop rock that the show has, and it literally always makes me so excited to see some crazy basketball.
This opening kicks off the final few games in the series in such a strong way.
Seiren v. their very first ever rivals, Kaijō.
It foreshadows the ace of Kaijō's perfected signature move in such a subtle way that you'd never guess it until you see it in action.
There's something so energetic and fun about this opening, and I know some fans must agree.
7.

Bloody Stream and Great Days
Anime: JoJo's Bizarre Adventure
So I'm cheating a little bit here. But part 2 and 4 are my favorite parts so far, so I couldn't help it.
Bloody Stream is such a beautiful song – and my favorite one regarding the song itself.
And it has the emotion in reaction to what's still one of the most impactful anime deaths to me.
Great Days, however, has the best JoJo transformation.
For those unaware about how a lot of JoJo openings work, around the final episode or last couple of them, the opening changes.
Great Days has such a genius way of flipping the entire thing on its head with its reversal of the entire song.
But let's be real here:
You shouldn't skip any Jojo themes.
6.

Guren no Yumiya
Anime: Attack on Titan
What a time it was to be alive back when Attack on Titan season 1 came out.
It was the sensation to rock the world.
No one could stop talking about it, and that included the opening.
This is one of those shounen openings that sticks out as a specific memory: when people were upset when it changed mid-season to something else, just because it was that iconic.
And I'm inclined to agree, as this opening starts and ends with hype all the way through.
It shows the strife of everyone who's lost something to the titans, and paints them as such a terrifying threat.
It's no wonder the show caught on so hard, considering it knew how to hype people up from minute one of each episode.
5.

Let Me Hear
Anime: Parasyte
Parasyte's opening manages to use a synthesized and auto-tuned voice to lead into a metal drop at the beginning of the song, and it just fits.
The auto-tune is used in such a way to make the lyrics sound vaguely alien, and then the metal vocals are used to drive home the intensity of the brutality that this show offers.
And this intro shows off the change of the main character very well, without giving away how exactly he gets to where he is by the end… but showing very clearly that he's changed.
There's something so chilling about this opening that I love. And I think many of its key frames stick with you long after you've seen it, making it feel so effective.
4.

Again
Anime: Fullmetal Alchemist: Brotherhood
The emotional packaging in this one is heavy.
This specific FMA opening doesn't hold back at any point in tugging at your heartstrings. Especially if you've already seen the show and are rewatching it.
The journey of Edward and Alphonse couldn't be summed up in any better way than this theme song.
From foreshadowing deaths that happen far past the opening's lifespan, to introducing us to a majority of the cast from the start, this OP is just the show condensed into one song.
It's hard to dig into this one without spoiling too much of the series…
So I implore you to watch the show, listen to the song, and repeat that process for a few years until you've seen it as much as me.
3.

Tank!
Anime: Cowboy Bebop
While Cowboy Bebop is a bit more of a Seinen, I think it still fits on this list. I'd be doing it such a disservice to not include this jazzy masterpiece.
Like something straight out of a heist movie, Tank! has some beautiful comic-like visuals that are so perfectly animated and fit each of the characters.
With how much of a masterpiece Cowboy Bebop is as a show, though, I'd be surprised if this opening wasn't good.
2.

Fight Together
Anime: One Piece
Fight Together is an emotional rollercoaster, re-capping one of the saddest arcs in the entirety of the show.
It also serves as the final opening before the show leads into its famous timeskip.
Making full use of the emotionally charged moments that the show has just assaulted you with, the lyrics of this song make you feel like someone is patting your shoulder while crying.
It lets you know that you're never alone, and that the friends you've made in your life are going to be at your side whenever you need them most.
There's little more that I can say, other than this opening feels cathartic in such a beautiful way.
1.

99
Anime: Mob Psycho 100
Where do I even start with this one?
Well I guess first off, it's amazing. No skippy under any circumstances. I will find you.
Being made by the same person who made One Punch Man, Mob Psycho also doesn't slack in the theme song department.
Deciding between this and 99.9 was brutal, as they're both amazing.
If I didn't already double up with the JoJo openings earlier, I would've done it here.
Mob Psycho's visuals are extremely fluid, surreal, and hyper to the extreme. The lyrics progressively count up to the titular 100% of the show, when Mob goes off the charts powerful.
There's so much going on during every single frame of the opening, stimulating the senses with all the theory crafting that an analyst could ever ask for.
And on that note, watch Mob Psycho 100!
Browse:
Japanese Culture
Lists
Anime