Top 20 Best Slice of Life Manga: The Ultimate Collection
This post may contain affiliate links. If you buy something we may get a small commission at no extra cost to you. (Learn more).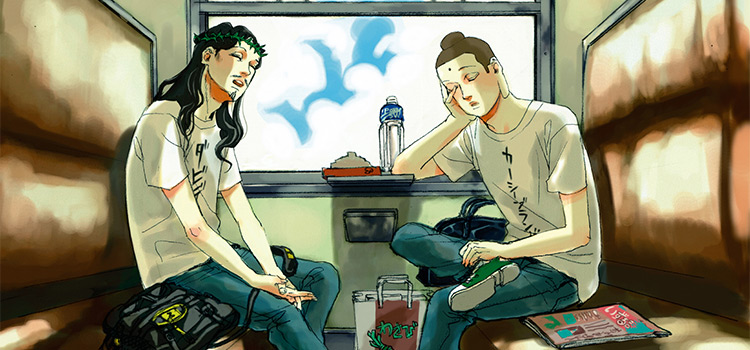 "Slice-of-Life."
What an elegant way of describing a genre so rich and diverse. Seriously, these manga can cover anything.
They'll make you laugh, cry, or leave with a warm & fuzzy feeling…
With all the epic action series flying around, sometimes what we need to see is just characters living their lives.
And you know what? I've got just the suggestions for you.
20.

The Way of the Househusband
Writer & Illustrator: Kousuke Oono
How about a crazy premise to start us off?
The Way of the Househusband is the story of Tatsu, a feared yakuza leader who unexpectedly decides to retire in order to support is working wife.
How, you ask?
I think the title might have given it away.
Be it grocery shopping or cooking breakfast, our MC does everything at 110%.
And it's exactly this strange opposition between mundane activities and a borderline violent determination that makes this slice-of-life so hilarious and endearing.
Don't take this househusband lightly.
He's probably killed for less…
19.

Orange
Writer & Illustrator: Ichigo Takano
Orange revolves around Naho, a compassionate teenager who receives strange letters supposedly sent by herself, 10 years in the future.
While very skeptical, the young girl can't help but worry about their contents, as they relate to a troubled boy who's just entered her life, Kakeru.
Attempting to juggle her relationships and inner dilemmas, Naho will do her best and try to change the group's sad future.
She's not too sure how yet. But with a little faith, she and her friends might just alter time itself.
18.

Wotakoi: Love Is Hard for Otaku
Writer & Illustrator: Fujita
Yes, it really can be hard sometimes!
Wotakoi stars Narumi and Hirotaka, two colleagues and friends who have one big thing in common: they're both huge otakus.
Slightly ashamed by this, Hirotaka has trouble conciliating her hobbies and social life until she has the bright idea to simply date Narumi (who has no shame whatsoever).
I mean, why not? I'm sure there's absolutely nothing that could go wrong…
Or so she thought, as love happens to be much more complex than what she'd bargained for. Behind the light-hearted vibe here is a touching romance full of twists and turns.
17.

Blue Flag
Writer & Illustrator: KAITO
Urgh, I told myself I wouldn't cry today…
KAITO's Blue Flag is about Taichi, a shy boy who's become increasingly unsatisfied with his life after his childhood friendship with Toma faded away.
But there's no time for self-pity, and Taichi meets Futaba, a tiny girl who needs help in growing closer to Toma.
This burdensome endeavour quickly becomes a blessing – as Taichi not only slowly reconnects with his old buddy, but also makes a new amazing friend.
Not everything stays simple, though. Because some unearthed feelings turn out to be much more complex than anyone might've imagined.
If you're looking for a soothing and touching story, Blue Flag's for you.
16.

Laid-Back Camp
Writer & Illustrator: Afro
Here's a cute little series for a cozy manga session.
I mean, it's literally in the title!
Laid-Back Camp stars a group of girls who happen to share a centre of interest: camping!
Traveling from campsite to campsite across Japan, our protagonists are great at taking it easy. And that there is what makes for such a soothing reading experience.
Heck, this manga even belongs to the iyashikei subgenre, a.k.a. slice-of-life that's specifically meant to be calming and healing.
If you're looking to take your mind off things and smile a bit, this peaceful story and its relaxing set pieces might just do the trick.
15.

We Never Learn
Writer & Illustrator: Taishi Tsutsui
While we're on the subject of cute series…
Do not think of We Never Learn as your run-of-the-mill harem manga – because it's much smarter than it appears!
Behind the cutesy presentation hides a terrific and witty slice-of-life that perfectly blends romance and comedy.
With its episodic format, this manga delivers bite-sized chapters you can enjoy on their own.
Its characters, while sometimes a little cliché, are all different. And they have unique motivations that make their shenanigans so much more entertaining.
If there's a series I'd recommend for sitting down and having a laugh, it's this one.
14.

Saint Young Men
Writer & Illustrator: Hikaru Nakamura
Okay hear me out for a second.
Would you believe me if I told you that there's a manga series starring Jesus Christ and Buddha as roommates in the suburbs of Tokyo?
Because wow are you in for a surprise.
Despite its insane premise, Saint Young Men is an unexpectedly down-to-earth story that strives to highlight the contradictory or downright hilarious aspects of religion.
Creator Hikaru Nakamura manages to find a nice blend between social critique and absurd humor, all the while sending nothing but positive messages.
Themes like "love thy neighbor" are perfectly implemented, but they're given an original twist that makes for great slice-of-life content.
13.

Goodnight Punpun
Writer & Illustrator: Inio Asano
Here's one of the more serious entries on this list.
Goodnight Punpun recounts the life of a troubled boy who is drawn in many forms, most notably a bird.
I say "many forms," because those serve as symbols for the protagonist's state of mind throughout every stage of his school journey.
With difficult themes such as grief, mental health, and isolation, this series is one that will shake you to your core. In a good way!
Maybe it's not what you'd wanna read to relax, but relaxing isn't necessarily what slice-of-life is for.
Existence is tough sometimes, but there's always light at the end of the tunnel. That's what this story's about.
12.

Komi Can't Communicate
Writer & Illustrator: Tomohito Oda
Don't let the title worry you too much, Komi does a lot of communicating.
It just takes a little time…
As a staple of the 2010s, this slice-of-life series follows a deeply anxious high schooler who would probably rather jump out the window than do public speaking.
Yeah, it's that bad.
At least until she meets Tadano, a well-meaning classmate whose goal is now to help our MC make a grand total of 100 friends. As you might have guessed already, Komi Can't Communicate is a story of empathy and breaking out of one's shell.
This series proves that the only thing standing between you and the life you want is, well, you.
But that doesn't mean you can't ask for a little assistance.
11.

Blue Period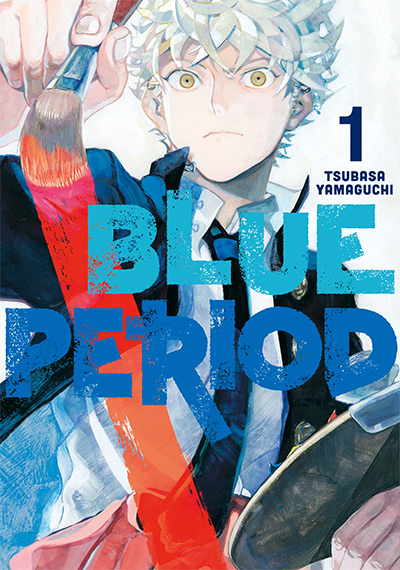 Writer & Illustrator: Yamaguchi Tsubasa
This one is a more recent series that immediately became a crowd favorite.
Currently being one of Kodansha's best sellers, Blue Period stars Yatora, a popular kid with no real aim in life as his high school journey is coming to an end.
That is, before he's introduced to the local art club. Who would've thought?
The passion is instant, leading him to follow his guts and apply for a prestigious college.
Blue Period is a series about the essence of existence: finding one's purpose.
If that doesn't make for a good slice-of-life, I don't know what does…
10.

ReLIFE
Writer & Illustrator: Yayoiso
This one comes with a twist, as its premise is purely based in science fiction.
Arata is a 28-year-old who just quit his job after the death of a colleague, and spends his days shut in at home.
That all changes when he receives a golden paid opportunity in a project called ReLife.
The task?
Ingesting a pill that makes him 10 years younger in order to relive his last year of high school. As weird as it sounds, this psychological experiment might allow Arata to reconnect with himself and try and turn his life around while he still can.
Despite the concept, ReLIFE is a classic slice-of-life at its core, and it tackles touching and relatable conflicts.
9.

Nana
Writer & Illustrator: Ai Yazawa
Here's a genre you definitely don't see often: music.
Because, you know… it's manga.
This shojou tells the story of two young women named, you guessed it, Nana, who are thrown into unfamiliar territory as they move to Tokyo at about the same time.
But after meeting on a train ride, they realize they have even more in common.
What ensues is an enduring friendship based in love and respect, despite their glaring differences when it comes to hopes and ambitions.
As the band Black Stones, the two will experience together the ups and downs of their quest to musical success.
With its intriguing and unorthodox narrative structure and deeply personal themes, Nana is a series that only needs one page to hook its readers.
8.

Cross Game
Writer & Illustrator: Mitsuru Adachi
I know what you're gonna say.
"This one's a sports manga!"
It sure is. But unlike your classic Slam Dunk or Haikyu, competition comes second in Mitsuru Adachi's Cross Game.
The series revolves around Ko, the son of a batting centre owner with one dream: throwing a 100 mph pitch!
Ko is also friends with a family of four girls whose lives become increasingly linked after tragedy strikes.
Through the entirety of Cross Game, we're able to witness the protagonist's emotional growth as he rises in the world of high school baseball.
It's not the funniest or most action-packed sports manga. But it'll definitely tug at your heart strings.
7.

Barakamon
Writer & Illustrator: Satsuki Yoshino
Barakamon follows Seishu, a young professional calligrapher who is sent to live in a rural town after a small incident.
What incident?
He punched a guy who called his work "unoriginal"…
You know, first-world problems.
Jokes aside, Barakamon is a delightful slice-of-life that (like many others) is deeply rooted in the concepts of growth and a quest for identity.
On Goto Island, his new home, the teenager learns to accept his shortcomings – and most importantly, to find his own style and purpose.
And he doesn't have to do it alone!
What we have here is a charming and light-hearted series that'll put a smile on your face.
6.

Beastars
Writer & Illustrator: Paru Itagaki
This one's a little dark for a slice-of-life, but let me explain…
Beneath its feral atmosphere, Beastars is a deeply touching story about youngsters trying to find their place in society.
With notions such as discrimination and forbidden love, this fascinating series is everything you'd want from the genre, and more!
And by more, I mean action, adventure, mystery…
You name it.
Paru Itagaki proves that manga doesn't need to be "realistic" in order to be relatable, or to connect with readers from all walks of life.
Please give it a try. You won't regret it!
5.

Maison Ikkoku
Writer & Illustrator: Rumiko Takahashi
I'm always having trouble not including Rumiko Takahashi in these lists.
Guess she deserves it!
Maison Ikkoku takes place in a boarding home in which lives our protagonist, Godai.
Usually minding his own business, Godai's boring life has a little fun added to it when he meets Kyoko, the beautiful new manager, whom he's set on courting.
However, all the emotional baggage standing in his way isn't gonna make it easy.
Looking cheerful from the outside, this series is actually quite complex and tackles subtle themes that you wouldn't expect from your regular romantic comedy.
It may be older, but it definitely hasn't lost its touch.
4.

Beck
Writer & Illustrator: Harold Sakuishi
Well what do you know, it's music again!
Beck follows the story of Koyuki, a very ordinary and shy teenager who rescues a strange-looking dog, named Beck.
As it turns out, the pet's owner (Ryusuke) is a guitarist for an amateur band.
From that point on, the protagonists become close friends – and together they embark on a musical journey that will last multiple years.
Like any good slice-of-life, Beck is amazing at showcasing the highs and lows of its characters and their relationships.
The road isn't only paved with success. But it's an opportunity for us readers to relate to our young MCs.
3.

March Comes In Like A Lion
Writer & Illustrator: Chica Umino
I'd wager this one's probably new to you.
Chica Umino's March Comes In Like A Lion stars Rei, a 17-year-old professional shogi player.
Having lost his relatives in a car accident, the young boy is shy and distant, even to his foster family. Thankfully there's nowhere to go but up.
As he meets more people, Rei's destructive emotions become something he can deal with.
Nothing is more fascinating (and tear-jerking, generally) than witnessing our protagonist's growth – both as a shogi player and as a human being.
March Comes In Like A Lion is a story of maturity and learning to navigate tough times.
And that, right there, is what slice-of-life is all about.
2.

A Silent Voice
Writer & Illustrator: Yoshitoki Oima
Now you've definitely heard of this one!
A Silent Voice revolves around Shoya, a sixth-grade bully whose life changes when he crosses paths with Shouko, a deaf classmate.
Witnessing abuse from other children, our MC becomes an entirely different person & much more solitary.
But that's all going out the window (again).
Indeed, Shoya embarks on a redemption journey when he sees an older Shouko in high school.
As he befriends his former victim, the teenager learns to embrace what he has and gains feelings he didn't think he deserved.
A Silent Voice is your textbook slice-of-life. Sometimes it's adorable, sometimes it's depressing.
As long as you can appreciate both, you'll be fine.
1.

Bakuman
Writer: Tsugumi Ohba
Illustrator: Takeshi Obata
Ah, the ultimate meta slice-of-life!
From the minds that brought us Death Note, Bakuman is a romanticized retelling of the daily lives of Shonen Jump manga writers and illustrators.
Here, famous creators Tsugumi Ohba and Takeshi Obata are able to give an honest and heartfelt commentary on life as mangaka.
It's funny, it's touching, and it's enthralling.
It's got everything you could possibly want from this kind of series, from romance to drama.
And on top of that, it features amazing fictional manga that are even better than many stories out there today.
Seriously, I'd give it five volumes before it makes your top 10.
Browse:
Japanese Culture
Lists
Manga