The Best South Park Video Games Ever Made (All Ranked)
This post may contain affiliate links. If you buy something we may get a small commission at no extra cost to you. (Learn more).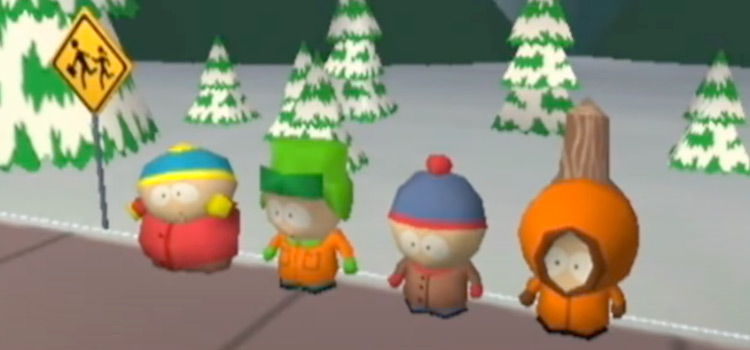 Few TV shows have managed to survive, let alone remain relevant, for as long as Matt Stone and Trey Parker's South Park.
Born from a couple of independent short films with the same brand of profane humor, South Park has developed into a true media giant known by audiences of all ages and backgrounds.
As is the case with most successful franchises, South Park has had a fair amount of videogame adaptations seeking to capitalize on the show's popularity among young audiences (including those that shouldn't have been watching it at all, according to censors).
Admittedly, most of these games have sucked chocolate salty balls.
But a resurgence in recent years may be a sign of a bright future for this bizarre series in gaming.
To reminisce about lesser titles and celebrate the most recent releases, I went ahead and ranked every South Park game ever made.
So come on down to South Park and meet some friends of mine…
10.

Chef's Luv Shack (1999)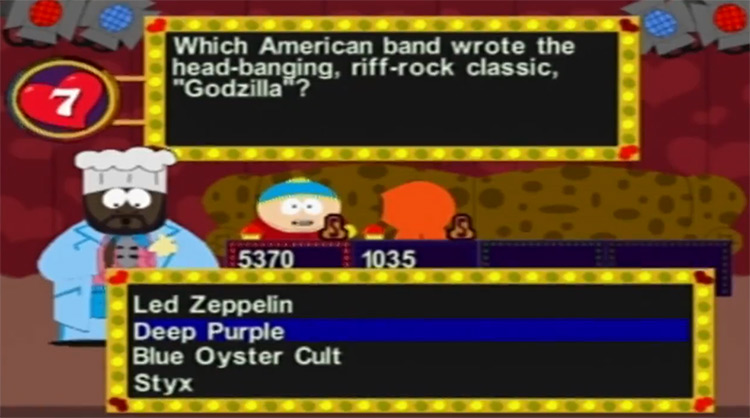 I've come to expect any big franchise from before the 2010s to have at least one terrible, cash-grab game, and South Park is no exception.
Chef's Luv Shack on the N64 and other fifth-generation consoles was developed by Acclaim Studios as a sort of mediocre Mario Party clone with a focus on trivia questions.
A South Park trivia game doesn't sound so bad nowadays, but back then the show was little more than shock value and poop jokes.
Just… no. Unless you specifically love South Park and cheesy branded games, then have at it.
Just don't expect too much.
9.

South Park Mega Millionaire (2009)
While I can't say it has any real value in terms of creativity or innovation, this iOS game developed by Mr. Goodliving was at least more enjoyable than Chef's Luv Shack.
It puts players in control of one of the boys, who now find themselves on a Japanese game show where they must traverse levels in rollerskates while avoiding hazards ranging from fatty foods to old men in bunny costumes.
It's a decent puzzler, although I can't say the phone-tilting controls were too good.
8.

South Park Rally (1999)
This is the '90s, and every big moneymaking franchise like South Park needs a racing game.
I mean, people like Mario Kart right?
What developer Tantalus Interactive seems to have forgotten is that Mario Kart was popular for the quality of the game, the responsive controls, and creative racing tracks – all of which South Park Rally lacks.
That's not to say you can't enjoy a couple of races in this game.
And you may even find the power-ups pretty humorous!
But the whole thing gets old in less than an hour.
7.

South Park: Tenorman's Revenge (2012)
Remember Scott Tenorman? That ginger kid who sold his pubes to Cartman, who in revenge ended up killing his parents and feeding them to Scott as chili?
Well, this is Tenorman's Revenge.
As epic as it may sound, the game is just barely above "meh".
This platformer's best feature has to be that it can be played Co-Op, which at least makes it entertaining-enough to warrant playing it if you somehow get it for free.
6.

South Park Let's Go Tower Defense Play! (2009)
Tenorman's Revenge was especially disappointing because its predecessor on the Xbox Live Arcade (this sucker right here) was actually a very enjoyable title.
Developed by Doublesix, this solid TD offered a great opportunity to catch up with friends over some drinks while fending off hordes of South Park-themed enemies in diverse environments, all referencing different episodes of the show.
This was one of the first games to make use of the IP that really showed consumers how well South Park's rough humor and iconic characters could translate to gaming, despite so many failed attempts in the past.
If you can find a copy definitely give it a try. You'll likely be quite pleasantly surprised.
5.

South Park Pinball (2014)
Developed by Zen Studios for mobile platforms, South Park Pinball offers players the classic appeal of pinball, coupled with the show's crude humor.
And a bazillion references to keep you chuckling away as you bounce those balls around.
What makes this game so addictive is that the boards are chock-full of content.
The level of detail and sheer amount of secrets to uncover will keep you coming back for more, trying to reach new areas of the board or trigger new events.
Oh, and you can play with balls made of poo. Howdy Ho!
4.

South Park (1998)
A lot of people like to take dumps on the N64's South Park shooter.
Ugly polygonal graphics, imbalanced weapons, too much fog…
Everything they said, it's all true.
But it's also true that this game brought a lot of fun to myself and many kids who felt bad-ass for watching South Park & playing this game.
Even though it was censored to hell and back.
Bizarre weapons like the Alien Dancing Gizmo gave this game a unique charm that made it memorable.
It may not be an amazing shooter, but it's decent. And for a true fan that's often enough.
3.

South Park: Phone Destroyer (2017)
I'm not the only one surprised to see how RPGs and turn-based battles became the genre where South Park finds itself the most at home.
It may not be as deep and full of content as the main RPG releases we've seen since 2014.
But Phone Destroyer makes a good case for itself as a competent CCG to bring people who're not so fond of fantasy epics such as Hearthstone or TES: Legends into the genre.
Solid visuals, PvP mayhem, and a truckload of references to the show make this a must-play for any fan of South Park.
2.

South Park: The Stick of Truth (2014)
After so many mediocre attempts at bringing South Park and gaming together, most of us had assumed we'd have to make do with do with generic games like Tower Defense or Pinball.
Then out of nowhere come Obsidian Entertainment and Ubisoft with a fantasy-RPG title the likes nobody had ever seen – starring the well-known boys from South Park, Colorado.
This game doesn't only provide amazing gameplay and considerable depth, but it also shoots joke after joke back to back to keep you laughing out loud every inch of the way.
Sincerely if you haven't ever played Stick of Truth give it a try.
Even if you're not big into South Park, you'll probably love this game.
1.

South Park: The Fractured but Whole (2017)
And while some of us were worried The Stick of Truth was going to be a one-hit-wonder kind of thing, Ubisoft was cooking up a sequel to convince us that the IP was finally in the right hands.
South Park: The Fractured but Whole brings back the same perfect marriage between the show's zany, simple, yet shocking humor with surprisingly deep &engaging gameplay.
Fantasy tropes are replaced by jabs at the MCU and such media, but the core concept remains the same: a damn good South Park RPG.
The game has some pacing issues and the sophisticated battle system may take a bit of getting-used-to for genre amateurs.
But the entertaining story, hilarious humor, and gorgeous graphics make this title a must-play.
And with all these newer games really coming out on top I'd keep an eye out for any new South Park games on the horizon.
Browse:
Lists
South Park
Video Games