20 Best Spider-Man Games Of All Time, Ranked
This post may contain affiliate links. If you buy something we may get a small commission at no extra cost to you. (Learn more).
We all know the gist of it. Young NYC orphan Peter Parker gets bit by a radioactive spider, granting him arachnid powers like super-climbing, super-strength, and his famous Spider-Sense.
It's a story that's been told many different ways and on every medium possible.
This includes video games, where the friendly neighborhood super-hero has enjoyed much more success than the average superhuman.
While many superheroes have so many bad games it's hard to find a good one, Spider-Man has carried so many solid games forward that it can be hard to unearth the best ones from the giant pile of arachnid software.
With great games comes great difficulty ranking them, but someone had to do it.
For those of you wondering which Spider-Man games you should pour your free time into, here are my picks for the absolute best video games starring Spidey.
20.

Spider-Man Unlimited (2014)
Platforms: Android, iOS, Windows Phone
Unsurprisingly for a game with "Unlimited" in its name, this iOS adventure developed by Gameloft is an endless runner like Temple Runner or Jetpack Joyride.
The graphics are smooth, and the game is great fun on the go. Especially during the first few hours.
Regrettably, it doesn't do much to keep itself from becoming repetitive. Which can be understandably complicated when your gameplay relies on running on an endless track.
19.

Spider-Man: Mysterio's Menace (2001)
Platforms: Game Boy Advance
With a more traditional style comes Spider-Man: Mysterio's Menace, developed by Vicarious Visions for Nintendo's Game Boy Advance.
This action-packed 2D beat-em-up follows Spider-Man as he traverses several levels in pursuit of Mysterio, the illusionist villain, who's decided to take over New York and shape it in his twisted image.
Thanks to varied levels and a well-designed learning curve, the game is easily one of the best Spider-Man gaming experiences on a portable console.
Its sound design warrants particular praise, as it makes every single one of Spidey's moves feel unique.
18.

Spider-Man (GBA Version) (2002)
Platforms: GBA
Another excellent option for on-the-fly Spider-Man action that's also on the GBA is this title by Digital Eclipse Software.
It's a companion piece to Tobey Maguire's first film as the friendly neighborhood superhero. And while it didn't achieve the same success as the home console version, it's still a very enjoyable side-scrolling beat-em-up.
The graphics are appealing, the animations are superstar quality, and even the backgrounds are a step-up from Mysterio's Menace.
17.

Ultimate Spider-Man (NDS Version) (2005)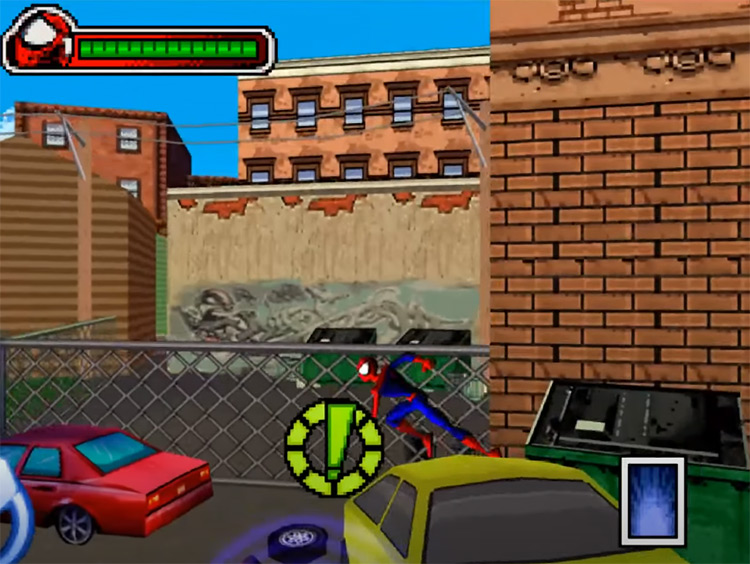 Platforms: Nintendo DS
Ultimate Spider-Man on home consoles was a fantastic game.
But few people have even played the portable masterpiece that is the Nintendo DS version.
Developed by Vicarious Visions, this 2.5D side-scroller beat-em-up is one of the best super-hero games on the NDS.
The comic-like visual style looks great despite the system's limitations, and combat is satisfying and easy to learn.
The story was a bit on the safe side, sure. But the way it's presented through dual-screen comic panels carried by stellar voice acting gives it a lot of charm.
16.

Spider-Man 3 (2007)
Platforms: PC, GBA, Nintendo DS, PS2, PS3, PSP, Wii, Xbox 360
After two frankly amazing games featuring Tobey Maguire's Spidey, the third one failed to live up to the audience's expectations, and it's one of the most hated games in the franchise.
That said, most of this hate stems from the fact that it's tied to such a disappointing movie.
I mean, the game fails to innovate in any respect. And Treyarch was unable to make the game feel next-gen enough to justify the PS3/Xbox 360 release. But there's still plenty of fun to be had… if you can look past its sporadic bugs.
OK, maybe it did earn all of that hate on its own. Still a fun game for hardcore fans though.
15.

Spider-Man 3 (NDS Version) (2007)
Platforms: Nintendo DS
But all wasn't lost for Spider-Man 3, as the Nintendo DS version by Vicarious Visions is easily the spider's best adventure on the system.
That's partly due to the smart and frankly brave use of the stylus to handle all combat, which feels fluid and intuitive against all odds.
Anyone who's played a lot of NDS titles can tell you just how unusual that is.
Hell, even the story is told in a much better fashion on this game than it was on the actual movie – possibly because it leaves out some of the most cringe-worthy scenes.
14.

Spider-Man 2: Enter Electro (2001)
Platforms: PlayStation
As the successor to one of the most amazing and influential games in the early history of 3D super-hero adventures, Spider-Man 2: Enter Electro suffered from harsh comparisons as it didn't innovate quite as much.
That said, it still had the same sense of freedom and mobility that made the original so good.
But with the addition of ground-level missions, whereas its predecessor confined itself to rooftops.
While Electro was the main villain, as you may have gotten from the title, it also includes some of the most obscure and often overlooked enemies of the spider.
Such as the hard-headed mobster Hammerhead. He's a fun one!
13.

Spider-Man: The Movie (2002)
Platforms: PC, GBA, GameCube, PS2, Xbox
Everyone loved Tobey Maguire's first outing as Spider-Man in cinemas worldwide.
It was exciting, colorful, and modern – and the tie-in game by Treyarch followed suit.
It's not an open-world game by any means. But it does feature some massive scenarios that let you swing around New York's skyscrapers freely.
A gigantic step-up from previous releases and an excellent first foray into sixth-gen consoles.
Even Tobey Maguire's terrible voice acting for the game wasn't able to bog it down, and the addition of stealth missions and aerial combat were just mind-blowing at the time.
12.

Ultimate Spider-Man: Total Mayhem (2010)
Platforms: Android, iOS
Despite "mobile gaming" being such a fearsome term to use around big money-making franchises like Spider-Man, the masked arachnid has had a pretty good run on smartphones so far.
Developed and published for iOS and Android by Gameloft, Ultimate Spider-Man: Total Mayhem is a satisfying brawler with a lot of fast-paced action. Not to mention the surprisingly beautiful visuals that make it hard to put down.
At the time, it was one of the best games available on mobile.
The plot, which follows Spider-Man as he hunts down a bunch of baddies escaped from SHIELD's Triskellion, is admittedly pretty basic. But that's fine!
Beating up Electro or the Green Goblin on mobile is plenty fun without a complex narrative.
11.

Lego Marvel Super Heroes (2013)
Platforms: PC, Android, iOS, Nintendo DS/3DS, PS3, PS4, PlayStation Vita, Wii U, Xbox 360, Xbox One
While not strictly a Spider-Man game, Lego Marvel Super Heroes gives our favorite hero a lot of protagonism and lets you swing around New York fluidly just like any self-respecting Spidey game should.
Lego's trademark silly humor goes wonderfully with Spider-man's personality. And I can't help but laugh every time I see the Lego webs he uses to swing himself from building to building.
Everything is better in Lego form.
You may consider this spot as an all-encompassing entry honoring every time Spider-Man has made an appearance alongside other Marvel heroes in excellent games like the Marvel vs. Capcom series.
10.

Spider-Man (2000)
Platforms: PC, PlayStation, Game Boy Color, Nintendo 64, Dreamcast
As the very first Spidey game fully rendered in 3D, Neversoft's classic Spider-Man on the PlayStation is nothing short of a masterpiece.
There's just so much personality and attention to detail in this game.
They could've made a basic 3D brawler and called it a day. But no, they really went all out here. You can walk on ceilings and strategically sneak around webbing baddies from anywhere.
Sure, the dialogues are cheesy at times. As anything made during the late 90s should be.
But battling iconic enemies like The Rhino or taking on Venom to rescue Mary Jane was impressive stuff.
9.

The Amazing Spider-Man (2012)
Platforms: PC, Nintendo DS/3DS, PS3, Wii, Wii U, Xbox 360, PlayStation Vita
Developed by Beenox as a companion game for the movie of the same name, starring Andrew Garfield as the dark and gritty version of Spider-Man, this might be one of the most overlooked Spidey games in recent memory.
The story picks up right after the movie ends. This was a master play on the part of the writers, giving them the freedom to whatever they wanted as long as they didn't stray too far from the original setting.
It doesn't feature such great villains as other entries.
Still, combat was very satisfying and cinematic. As was everything else from swinging around the open world to webbing baddies in the face.
8.

Spider-Man: The Video Game (1991)
Platforms: Sega System 32
Back in the day, side-scrolling beat-em-ups were all the rage in arcades. And every super-hero franchise seemed to have one.
But few were nearly as good and polished as Spider-Man's.
The sprites were detailed, the backgrounds colorful, and it featured one of the most satisfying combat systems seen in games at the time.
The addition of allies like Black Cat and Hawkeye was the icing on the cake.
7.

Spider-Man & Venom: Maximum Carnage (1994)
Platforms: SNES, Sega Genesis
While it can't possibly match the charm of physically going to an arcade, Spider-Man & Venom: Maximum Carnage on the SNES was considerably better as a game.
The Spidey/Venom team-up against Carnage is excellent. But the game also includes myriad superhero cameos that keep things exciting.
Being on a home console also allowed developer Software Creations to give the game more of a story, delivered through panels directly taken from the comic of the same name, re-created in the SNES's pixelated graphics.
6.

Spider-Man: Edge of Time (2011)
Platforms: Nintendo 3DS, Nintendo DS, Wii, PS3, Xbox 360
Another tremendous but criminally overlooked Spidey game is Beenox's Spider-Man: Edge of Time for seventh-gen consoles.
This action-packed adventure follows both regular-old Earth-616 Spidey and the futuristic Spider-Man from the year 2099, who've changed places and must now co-operate to protect the space-time continuum and go back home.
Who doesn't like time travel shenanigans?
The graphics are amazing, both characters feel very different from one another, and the way actions in the past affect the future is very interesting to watch.
The reason it isn't talked about as much is probably that it fails to innovate much compared to its prequel, Shattered Dimensions, which also features double the alternate Spideys. Tough to beat!
5.

Spider-Man 2 (2004)
Platforms: PC/Mac, GBA, GameCube, PS2, Xbox, PSP, N-Gage, Nintendo DS
Just like the movie, Spider-Man 2 managed to surpass its prequel by a lot.
Which is impressive considering just how good the original was.
Also developed by Treyarch, the game shines for its involved physics-based swinging and combat mechanics, which were a bit hard to grasp at first but allowed you to pull some insane stunts once you mastered the system.
Swinging in this game was so good that delivering a pizza or retrieving a child's balloon is as intense as jumping off the highest building in NYC.
OK, maybe jumping off a building is just a little bit more fun.
4.

Ultimate Spider-Man (2005)
Platforms: PC, GBA, GameCube, Nintendo DS, PS2, Xbox
One of Treyarch's best moments while behind the wheel of Spider-Man game development has to be Ultimate Spider-Man for the GameCube, PS2, and classic Xbox.
It's a studio that shines when they're asked to do something out of the ordinary. And this is one of the most unique games starring the spider.
That's in significant part due to its beautiful cel-shaded graphics that mimic the style of classic comics.
Despite breaking with Spider-Man 2's fantastic physics-based swinging and combat, it's replaced by something just as satisfying: switching between Spider-Man and Venom.
The story is also great, and the way it's presented in scenes that look like they're ripped straight out of comic book pages is just perfect.
3.

Spider-Man: Web of Shadows (2008)
Platforms: PC, Nintendo DS, PS2, PS3, PSP, Wii, Xbox 360
Audiences around the world seem to have a thing for ignoring awesome games in Spider-Man's roster, as is the case of Treyarch's Spider-Man: Web of Shadows, which is everything Spider-Man 3 should have been(and much more).
Switching between normal Spidey and the symbiote-infested black suit is always fantastic in any way it's presented.
This game goes a step further, giving the story multiple endings depending on how often you give up to your violent symbiote-driven impulses.
2.

Spider-Man: Shattered Dimensions (2010)
Platforms: Nintendo DS, PS3, Wii, PC, Xbox 360
Spider-Man: Shattered Dimensions is so good, it feels unnatural not to give it the first place.
Can't we just have two #1 Spidey games?
Developed by Beenox, this game goes straight for any Spidey fan's throat by putting you in control of not two, not three, but four different incarnations of the arachnid hero from parallel timelines.
The Amazing Spider-Man, Symbiote Spider-Man, Spider-Man Noir, and 2099 Spider-Man going against Mysterio is an adventure I could keep coming back to ad infinitum.
1.

Marvel's Spider-Man (2018)
Platforms: PS4
No matter how amazing any of the previous entries in Spider-Man's ample roster of games was, there's just no chance against the latest installment and its masterfully-written story.
Developer Insomniac Games used their experience from making Sunset Overdrive to give this game's web-swinging mechanics the same freedom of movement, making traversing the sprawling New York open world a total pleasure.
Aerial combat is also incredible, as is regular-old ground-based brawling, integrating the spider's mobility seamlessly into his fighting style.
Spider-Man has never looked so good.
And the amount of unlockable suits gives you a chance to admire a myriad of different iterations of the friendly neighborhood hero. Fan service at its best!
Browse:
Lists
Marvel
Video Games