The 25 Best SpongeBob Video Games (Ranked)
This post may contain affiliate links. If you buy something we may get a small commission at no extra cost to you. (Learn more).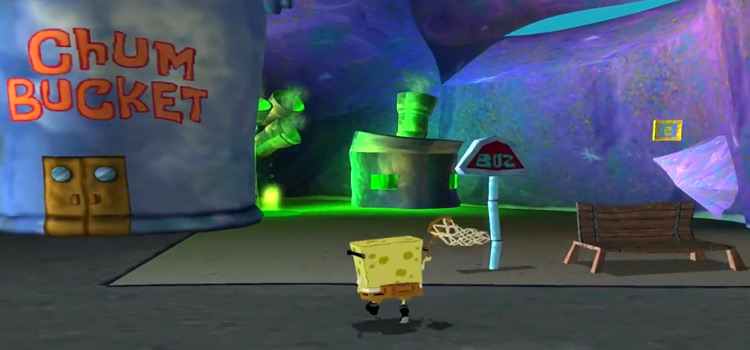 Who's a multi-billion franchise that started on TV? SpongeBob SquarePants!
If you're like me then I hope you read that to the intro tune.
And I can't undersell how popular SpongeBob has become over its twenty-year (and going) run. At this point he's got movies, merchandise, theme parks—and of course, video games!
So unsurprisingly there has been a lot of SpongeBob games, including crossovers with Nickelodeon's other shows.
As can be expected from these television-to-video game adaptations, not all the titles are fantastic…A few, you could probably say, weren't very good at all.
Yet many gems rank among the SpongeBob game titles, so I'm gonna look at the best(and a few of the not-so-best) ones of the bunch.
Are you ready, kids?
25.

Nickelodeon Party Blast
First up we have this 2002 crossover party game has SpongeBob duke it out with other famous Nickelodeon characters.
You get the choice of playing over 20 different modes and stages, ranging from food fights to races and even special boss levels.
While not the most exciting of SpongeBob's video game appearances, Nickelodeon Party Blast lets you see the sponge throw down with his other famous cartoon peers. It's a game for all Nick lovers, really.
24.

Underpants Slam!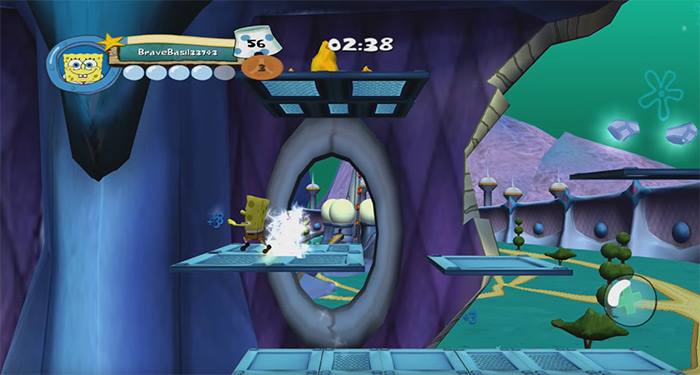 Underpants Slam! is an Xbox 360-exclusive title first released in 2007.
The gameplay crosses light puzzle-solving with platforming as you try to find all the pairs of underwear—yes, you read that correctly—on each level before the timer runs out.
You have a total of 10 levels to play through with the option of playing as different characters from the show.
The gameplay is pretty simplistic overall, but Underpants Slam! may be worth visiting for some dedicated SpongeBob fans.
23.

SpongeBob vs. The Big One: Beach Party Cook-Off
If you've ever played any of the Cooking Mama games, then the gameplay here might already look familiar.
Beach Party Cook-Off is a 2009 Nintendo DS release where you play as the eponymous sponge running the Krusty Krab. How he got into that position I have no clue.
The game includes over 25 cooking mini-games that have you chop, stir, whisk, garnish, and serve your delicious creations.
Other activities deal with managing the Krusty Krab such as acquiring new recipes, changing menu items you serve, and even decorating the restaurant. Basically a pretty cool Sponge + sim game.
Considering SpongeBob's love for his job I'm glad to know they at least gave him a cooking game, and it's cute for what it is.
22.

Legend of the Lost Spatula
Released in 2001 for the Game Boy Color, Legend of the Lost Spatula is the franchise's first video game title to focus on just SpongeBob(meaning no crossovers).
This is truly when the show was in its heyday as the seasons in the early 2000s have left a lasting impression in our culture.
In the game you play as our lovable sponge searching for the golden spatula that will let him become the greatest fry cook in the ocean.
Being one of the older games, Legend of the Lost Spatula is a side-scrolling adventure with colorful functional graphics that aren't too impressive by today's standards. I mean, it's Game Boy you can't ask for too much.
So this title packs a bit of a nostalgia punch despite the simple story, even if the gameplay doesn't do it for you.
21.

Nicktoons: Battle for Volcano Island
Next we have a 2007 crossover title that has SpongeBob, Patrick, and Sandy combine forces with Danny Phantom, Timmy Turner, and Jimmy Neutron(among others).
After being summoned to Volcano Island by crab wizards (yes, you also read that right) our Nicktoon heroes are tasked with defeating Mawgu, the villain trying to corrupt the titular isle.
Together with your cartoon comrades you navigate through platforming levels, defeat enemies, and solve puzzles in this action-packed game.
Battle for Volcano Island also features a 2-player co-op mode on consoles so you can even bring a friend along.
20.

SpongeBob HeroPants
Released in 2015, SpongeBob HeroPants is a newer video game based on the franchise's most recent (at the time) feature film Sponge Out of Water.
You play as SpongeBob and friends who have all been endowed with superhero powers.
With these powers combined, you must save Bikini Bottom from Plankton's evil plans. Which takes you over 15 levels in three different game worlds.
You can upgrade your characters and you collect magic book pages to determine how the game ends. A neat little twist.
Admittedly, this title borrows quite a bit from predecessors in both gameplay and graphics. Though fans may still enjoy how it harkens to the movie.
SpongeBob HeroPants was released on the Nintendo 3DS, PlayStation Vita, and Xbox 360. However it's no longer available on Xbox Live, PlayStation Store, and Nintendo eShop, so finding it may be a little tough outside of physical copies.
19.

Nicktoons: Attack of the Toybots
Ranking just a tad higher we have another crossover game, first released in 2007 for the Game Boy Advance, Nintendo DS, Wii, and PlayStation 2.
SpongeBob again joins forces with Danny Phantom, Jimmy Neutron, Timmy Turner, Tak, and many more characters from beloved Nickelodeon shows.
And what vile foes must they defeat this time?
Themselves . . . Well, sort of.
The titular enemies, the "Toybots," turn out to be evil toys based on the cartoon characters.
Most of the gameplay is action-oriented platforming where you need to smartly maneuver through levels, possibly with some mild puzzle-solving, while defeating enemies in your way. A fun spinoff for Nicktoons lovers.
18.

Plankton's Robotic Revenge
Plankton's Robotic Revenge brings us a 3D shooter under the sea.
After Plankton gets ahold of some batteries, he assaults the Krusty Krab with a robot army (giant mechs included!).
Playing as SpongeBob, Patrick, Sandy, Mr. Krabs, or Squidward, you battle against Plankton and his henchbots.
As you progress you can buy and upgrade weapons to switch out how you beat those mechanized baddies.
The gameplay doesn't retain its freshness after the first few bosses though. And arguably, one of the main draws comes from the show's entire voice cast ensemble working together on a video game.
With a co-op mode of up to four players, Plankton's Robotic Revenge may be best enjoyed with friends rather than by yourself.
This game first came out in October 2013 on multiple systems: PlayStation 3, Wii, Wii U, Nintendo DS, Nintendo 3DS, and Xbox 360.
Yet much like SpongeBob HeroPants, you can't find this game on any of the online downloadable game shops anymore.
17.

Nickelodeon Kart Racers
Mario Kart meets SpongeBob (and co.) with Nickelodeon Kart Racers! Wait I think I saw a romhack like this… ah well.
The latest Nicktoon crossover came with the latest generation of consoles (Nintendo Switch, PlayStation 4, Xbox One).
Race against friends and computerized foes as you play as some of Nickelodeon's most beloved cartoons (like SpongeBob!). Though curiously enough, this title also features the Teenage Mutant Ninja Turtles alongside classic characters. And they look like the older turtles too.
For gameplay, Nickelodeon Kart Racers follows the typical kart racing formula.
You can customize your vehicles and acquire power-ups during races, the latter of which can lead to some hilarious moments for you and your pals. It's a fun party game so if you're a Nickelodeon fan you won't want to miss out!
16.

SpongeBob's Atlantis SquarePantis
Imagine making a video game off a TV special.
Well that's exactly what SpongeBob did here.
Atlantis SquarePantis is a 2007 video game title based on the special of the same name and made available on multiple platforms (Wii, PlayStation 2, Nintendo DS, and Game Boy Advance).
Much like preceding SpongeBob games, this title was a platformer at heart.
Its console versions suffered from being a bit too derivative of other SpongeBob and cartoon-based platformers.
However the handheld versions (particularly the Nintendo DS) provided a much more engaging gaming experience with levels, gameplay mechanics, and aesthetic designs more uniquely suited to the gaming systems.
Overall that balances Atlantis SquarePantis to about an average spot, though definitely worth a play if you happen to have the handheld version.
15.

Globs of Doom
Nickelodeon sure does love its crossovers.
Released in 2008, Globs of Doom pretty much continues Battle for Volcano Island with the return of the villainous Mawgu and most of the Nicktoon cast from that title.
SpongeBob and his Bikini Bottom buddies take up a bit more of the spotlight (if you can't tell from the cover) as most of the story follows the yellow sponge amassing a super crew of other Nickelodeon characters.
Gameplay-wise you run through levels, collect coins, and defeat enemies with gadgets and battle combos.
Unfortunately it doesn't really bring anything new compared to preceding titles, but it feels like a long game.
You can even bring along a friend for some co-op play!
14.

SpongeBob Squigglepants
SpongeBob finally goes Nintendo-exclusive with SpongeBob Squigglepants.
This action game for the Nintendo DS and the Wii (if you had the uDraw GameTablet at least) takes a page from Nintendo's own WarioWare games.
The gameplay consists solely of mini-games called "nanogames" that last no more than 10 seconds a pop. And as the title suggests, it has you use your respective console's tablet or touch screen to play.
Overall it's a cute game whose art style changes depending on the mode you're playing, a feature I really like. And it has enough options to keep you entertained for hours as you aim for those high scores.
13.

SpongeBob's Boating Bash
For our next game SpongeBob takes the wheel in another Nintendo-exclusive title for the DS and Wii.
Spongebob's Boating Bash puts a destructive twist to the racing game genre, which honestly helps it stand out from the likes of Mario Kart and Nickelodeon Kart Racers.
Boating Bash features six different game modes and the ability to customize your kart.
Now, only one of these game mods is your traditional "start to finish" race. The others get you down in the action by smashing into your opponents, doing some specialty tricks, and even a "last kart standing" mode.
I think Boating Bash stays true to the party game spirit with the yellow kitchen sponge. Plus with four-person multiplayer it can lead to an extremely enjoyable experience when you throw down with friends.
The real question is: can SpongeBob actually drive a boat?
12.

Creature from the Krusty Krab
This 2006 title takes us on a trippy trek through the dreams of SpongeBob, Patrick, and Plankton.
You can play this game on the GameCube, Nintendo DS, Game Boy Advance, Wii, and PlayStation 2, so it's got a pretty broad range for console choices.
Fun fact: Creature from the Krusty Krab was a launch title for the Wii and simultaneously the last SpongeBob game for the GameCube!
The handheld versions focus on 2D platforming, while the console versions feature 3D-graphics, platforming, and vehicle sequences with action sprinkled all throughout.
At the time of its release, Creature from the Krusty Krab was a rather impressive entry for the franchise's gaming lineup. And it's a title that continues to invoke some good nostalgic memories for what a good SpongeBob video game should play like.
11.

SpongeBob's Truth or Square
First released in 2009, Truth or Square is another multi-platform release based on one of the show's TV episodes.
The game takes you through a convoluted goose chase to find the supposedly lost Krabby Patty secret formula.
Our favorite sponge misguidedly trusts Plankton to help him in the process, leading to some memory machine shenanigans and signature robotic attacks from our minuscule villain.
Kudos for bringing a whiff of fresh air—err, water?—to the gameplay.
Truth or Square features engaging level design alongside the standard beat-'em-up action typical of these longer SpongeBob games. The dev team also slipped in a healthy dose of unlockables, secrets, and callbacks to the show that should satisfy true fans.
10.

Revenge of the Flying Dutchman
To top off the top 10 is Revenge of the Flying Dutchman.
First released in 2002, this game was the franchise's first foray into the next generation of gaming consoles starting with the GameCube and PlayStation 2 (though it was also available for the Game Boy Advance).
Revenge of the Flying Dutchman implemented the action/platforming style of gameplay that fans would see in many later SpongeBob video game titles.
Plus this also brought along equipment and power-ups to help you progress, among other collectibles.
Overall the game experimented with what it could do visually and mechanically, which led to some chunks of clunky mechanics. Nonetheless this foray ultimately later led to fantastic SpongeBob game releases and it's one reason this title still deserves a high spot in the halls of SpongeBob's video game legacy.
9.

SuperSponge
Throwing back to 2001 we have SuperSponge—one of the franchise's first video game releases.
This 2D side-scrolling platformer has you collect items while exploring each level to completion.
For the time, the graphics were bright and quirky. And the level designs were challenging without being convoluted.
Players had to smartly use the terrain and any equipment they acquired to progress past traps and other obstacles.
In general I'd say SuperSponge gave enough of a challenge as you explored the world of the show to keep you entertained for a while.
For many fans, this title may have been their first foray into the SpongeBob video game lineup and it certainly didn't disappoint back in the day.
8.

Drawn to Life: SpongeBob SquarePants Edition
SpongeBob combines forces with the Drawn to Life series to give us this Nintendo DS-exclusive gem.
The game takes its narrative premise from the "Frankendoodle" episode, but the gameplay stays true to the action-adventure playstyle of Drawn to Life.
Players get to traipse around Bikini Bottom, creating as well as battling different doodle creations.
You can also purchase collectibles and use powerups as you battle your way through levels!
SpongeBob's Drawn to Life really takes advantage of the DS's touch screen and drawing functionality, and we players are fortunate for it.
7.

SpongeBob SquarePants: Employee of the Month
Way back in the annals of 2002 there existed a point and click SpongeBob game for the PC.
Employee of the Month is that game—and it oozes nostalgic charm.
The 3D graphics aren't anything to rave about, even for PCs at the time.
Yet the game faithfully recreated the Bikini Bottom we know and love from the show.
Piloting SpongeBob through a pretty straightforward narrative and, essentially, a parade of interactions with other beloved characters made for a simple but fantastic experience overall.
6.

The Yellow Avenger
Our famous sponge has canonically been a major Mermaid Man fanboy, so this 2005 release for the Nintendo DS and PSP stays true to that fandom.
We get to play SpongeBob as he lives out the superhero dream in The Yellow Avenger (at least before all the other superhero games).
The gameplay combines exploration, platforming, and a lot of interaction with major characters from the show.
Plus you get to defeat a different supervillain baddie in each of the game's Acts.
Since The Yellow Avenger was released on the next generation of handheld consoles, it also had more impressive graphics to boot. This title pretty much took what worked and what was fun about past SpongeBob games and kept that ball rolling.
5.

Operation Krabby Patty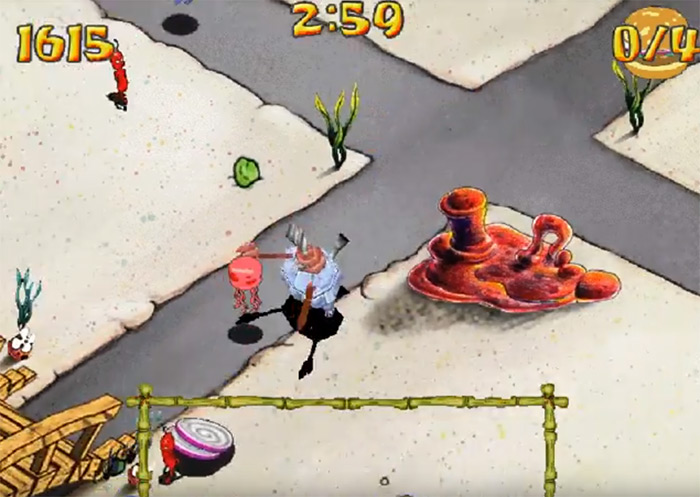 Another oldie but goodie from 2001, the glory years of SpongeBob.
Operation Krabby Patty gives you the option between two slightly divergent storylines which alter how some levels play out.
Most of the game consists of mini-games, usually of you playing as SpongeBob amidst Plankton's scheme to (again) steal the Krabby Patty secret formula.
Fans also get to explore parts of Bikini Bottom and interact with the locals through dialogue and cutscenes.
Overall Operation Krabby Patty is an enjoyable yet short game. You could probably finish both storylines in just a few hours so it is definitely fun while playing but also really fun to complete. A great title that plays well and does not overstay its welcome.
4.

Lights, Camera, Pants
Of the franchise's many party games, Lights, Camera, Pants remains the champion of that genre.
At its release in 2005, this game's console versions could give even Mario Party a run for its money.
With over 30 mini-games (or "auditions" as the game calls them) you're guaranteed hours of entertainment playing as your favorite SpongeBob characters.
The console version's story mode involves the characters auditioning to land a role on a TV show, which pits the player against the AI.
While this is a cute reference to Mermaid Man, most of the fun comes from teaming together with and beating up your friends in the multiplayer mode.
The Game Boy Advance and Windows versions of the game focus more straightforwardly on the show plotline and running through a gauntlet of mini-games.
3.

Nicktoons Unite!
Getting into the top 3 we have the mother of Nicktoons crossover games.
First released in 2005, Nicktoons Unite! came at a time when crossover video games weren't really that common.
SpongeBob served as the game's poster boy (taking up a good chunk of the game cover as a testament) though iconic characters from Danny Phantom, The Fairly Odd Parents, and The Adventures of Jimmy Neutron joined him in the endeavor.
You play as a team of four characters each with their own health, weapons, and special abilities.
On top of defeating enemies, players have to carefully keep all their characters alive in order to progress through the story.
Plus true to the spirit of the crossover, Nicktoons Unite! supports co-op for up to four players on its console versions (Game Cube/PlayStation 2).
The game has you rotating through characters and managing their actions through smartly designed levels, making for an engaging experience that keeps you coming back. It'd be nice if an HD remaster or a sequel came out for modern gen consoles.
2.

The SpongeBob SquarePants Movie (Game)
In 2004 there was a lot of hype (at least among the show's fans) around the first SpongeBob feature film.
So it wasn't surprising that the franchise went as far as to have a tie-in video game release.
Players control SpongeBob and Patrick as they journey to save Mr. Krabs and Bikini Bottom from—yep, you probably guessed right—Plankton.
Fortunately a lot of effort went into making this title and implementing gameplay mechanics that fans liked from previous titles.
Expect to do a lot of platforming, mini-games, driving sequences, and more fun stuff like this.
While the story changes based on the platform version, this title does well to stay true to the fun and energetic vibe fans have come to expect from the yellow dish sponge.
1.

Battle for Bikini Bottom
Battle for Bikini Bottom stands, bar none, as my undisputed pick for the best SpongeBob SquarePants video game.
First released in 2003 for just about every major console, this title set a gold standard for what a SpongeBob game could be.
Players take control of SpongeBob, Patrick, and Sandy to save Bikini Bottom from Plankton's evil robot army.
While the story isn't really anything new, Battle for Bikini Bottom translates the premise into an exciting massive game world.
The levels are well-designed, sometimes feeling like they sprawl endlessly. All while retaining the charm and aesthetic of the show.
Each character also brings different game mechanics to the table so players can get creative in how they approach combat and obstacles.
The variety of enemies also kept the gameplay refreshing. On top of all that goodness, the developers secured an extremely talented voice cast. Basically it's most of the people who voice the same roles on the show, which made the game that much more entertaining and true-to-life.
Now the Game Boy Advance and PC versions had notably different gameplay; the former was a 2D platformer while the later was a point-and-click game, much like Employee of the Month mentioned earlier.
For the console versions though I can confidently say that Battle for Bikini Bottom might be a contender for one of the best 3D platformers of its era (going beyond the franchise).
Plus with a snazzy HD remake I expect the game to only get better with time.
Browse:
Lists
Nickelodeon
SpongeBob
Cartoons
Video Games