20 Best Stranded Deep Mods & Custom Maps (All Free)
This post may contain affiliate links. If you buy something we may get a small commission at no extra cost to you. (Learn more).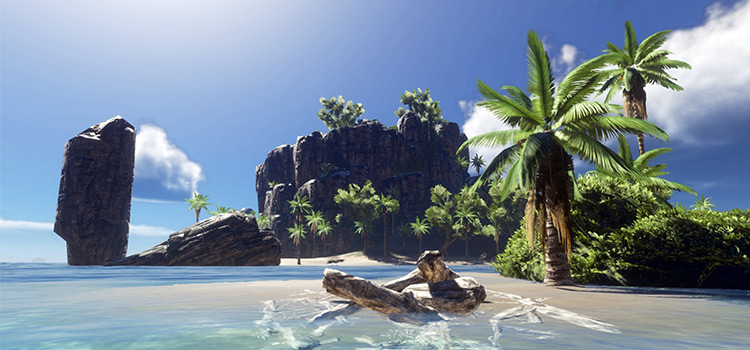 Survival games provide us a way to experience some of the most horrific scenarios… all from the safety of our homes.
One thing that many love is the freedom these games give you. You're able to roam around and do pretty much anything you want. And Stranded Deep is a great example of this type of gameplay.
Mods only add to this freedom, as the community comes up with new ways to make survival more fun & more challenging.
Whether you're looking for an exciting new environment to explore, or some added features for a new-ish experience, the modding community has something for you.
20.

Tora-Tora
Given that in vanilla you're spawned on a tiny island with barely anything on it, creating custom maps is where the modding scene really shines.
With the Cartographer option available in-game, there are tons to choose from. Pretty much anyone can create their own map.
Some have taken it to a whole new level creating beautiful new worlds for us to explore, with others just making meme levels.
Well first on this list is Tora-Tora. This one's a great beginner map as resources aren't difficult to come by.
It's a good way for newer players to get familiar with the game, without having to worry too much about scavenging and exploring.
You'll have a shelter built in no time and learn the ropes fast, so I would recommend getting started here.
19.

Fisherman's Horizon
If you find that you enjoy the peaceful building aspect of the game, Fisherman's Horizon is another great map for those who are looking for a more relaxed experience.
As with Tora-Tora, there's a good amount of resources scattered around the island. Surviving shouldn't be too much of a concern.
Where this map differs is that it offers much more variety in terms of exploration.
There are multiple building spots, fishing camps, and shelters to discover. You can even watch the sunset from one of the radio towers. Neat!
18.

Alinton Islands
When you're ready to branch out a bit more, Alinton Islands may be what you're looking for.
Here you won't be limited to just one island, so you should be ready for some swimming.
Don't worry though, resources are still plentiful here so it's still beginner-friendly.
One cool feature of this map is that it has a cavern that leads to the top of the rock formation, where you'll be able to build a camp.
One of the coolest maps for just checking out different views, and a sleek map to ease you into the exploration aspect of Stranded Deep.
17.

Kawailoa
Now that you've worked on your swimming, let's do a bit of hiking. In-game, of course.
Kawailoa's main feature is the cavern found on the hilltop, which is the ideal place to set up shop.
You're in for a good climb before finding it, though.
Other than the cavern there's also a pocket towards the end of the rock formation, as well as the wreck site, but both locations offer less shelter.
Given the new restrictions, it'll be more challenging to survive here than in the previous maps.
If you're up for pushing your limits a bit, this custom map mod is a good next step.
16.

Crown Mesa
Crown Mesa is an interesting map for sure, as the island is built around the large rock mesa at the center.
There's not much flatland to explore either, since the top of the mesa is the only decent option for settlement.
The map also introduces tons of shipwrecks, with a total of six to explore and gather loot from.
Keep in mind, though, that this also means there will be sharks surrounding them.
On the bright side, you won't have to worry about hostile creatures on land just yet.
Yet…
15.

La Selva (The Jungle)
Once you're ready to combine everything that you've learned (or if you're a more experienced player) then you should definitely try playing La Selva.
La Selva is map creator SKIROW's biggest custom island, and it's sure to give you a unique survival experience.
The map now contains multiple animals including boars, crabs, and snakes – which in itself makes survival a bit more of a challenge.
But that's half the fun, right?
The map features multiple options for settlements including a sprawling jungle, as well as the beach shores.
Probably the coolest feature of the map is the hidden cavern – which, given the size of the map, might not be so easy to find.
It should be worth your while to seek it out, as there is said to be special loot stashed inside. Assuming you can snag it and get off the island.
14.

Starlight
Another map from SKIROW here, but this one isn't just interesting because of the challenging survival gameplay.
It's actually a pretty unique idea on its own.
Instead of being shipwrecked on an isolated island, you've just discovered an abandoned ship in the middle of the ocean.
The ship does contain resources for you to be able to keep yourself alive, but what's really interesting here is the story behind the ship.
You'll find that surviving isn't really your priority in this one.
Instead you'll be reading through journals from the ship's previous crew to unravel what events took place here.
It's almost like a survival/mystery game mod, if Stranded Deep could become such a thing.
13.

Poseidon's Maze
There are tons of maps out there that are just great for exploration.
The amount of effort and detail creators put into making maps feel as realistic as possible is amazing. Sometimes it's just nice to walk around and discover what secrets they've hidden on their islands.
Poseidon's Maze is one of those maps.
From a bird's-eye view, it appears the majority of the map is sprawling with towering rock formations – looking almost like a maze. Yet this is only half the fun.
A beautiful oasis awaits at the center, so it should be a rootin-tootin' good time to explore and make your way through these labyrinthine passageways.
12.

Ancient Legends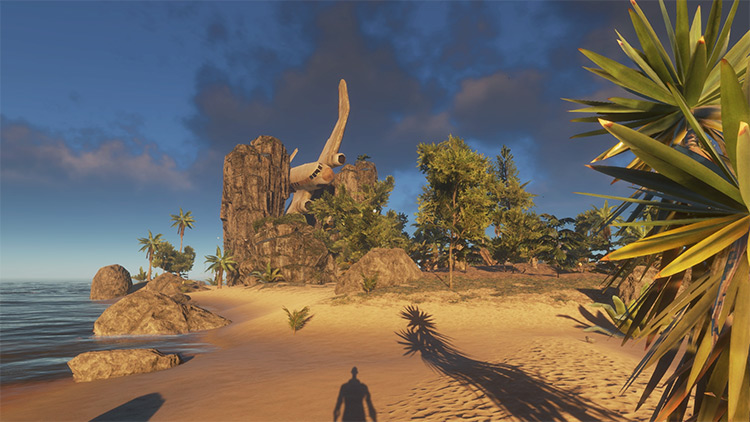 Ancient Legends is a favorite among the Stranded Deep community – and for good reason.
The map is packed with hidden secrets to discover including hidden caves, sinkholes, and loot.
It's possibly one of the best exploration maps ever made. As to this day, most users still haven't discovered all of its secrets. Become a regular Ferdinand Magellan and explore your way to hours of fun.
I also feel this is probably the best map to start with exploration, as there's so much ground to cover. You'll find yourself exploring for days.
Be careful though, because you never know what dangers you'll find waiting past those passageways.
11.

High Tide Fortress
If you're looking for a map with more verticality, High Tide Fortress should do the trick.
You'll find yourself hacking through obstacles as you ascend to the highest peak on the island.
You'll also have to maneuver across hanging bridges, which is all the more thrilling as they look like they could collapse with each step.
Thrilling, scary, petrifying, your choice of adjectives here.
The view from the top will be well worth the journey, though, so get going!
And there's a lot more to discover here, including both underwater and land caves, six fortresses each containing different loot items, and even a treehouse.
10.

Fantasy Island
Fantasy Island is one more huge map that makes for a great home base.
The custom map mod features a dormant volcano as a centerpiece, so you'll be completely safe while enjoying the beautiful view.
Resources are abundant, as the creator's aim was to make an island he would never have to leave.
There's so much land to build on here that the water actually goes straight to the edges of the map. So be mindful of how far you swim from the shore.
There are also a few Easter Eggs to find as well, so you can spend a good amount of time exploring when you're not building. Not likely to get bored, either.
9.

Gigantes
The Gigantes is a sweet map for settling down in, as there's plenty of room to build on.
And as you can tell from the name, Gigantes is a large island. Just a big ol' honker, really.
So there should be enough room to do whatever you please.
The map is pretty much covered with towering rock formations, so you're encouraged to walk around to see more of the island over time.
There are also hidden walkways that'll let you climb some of the rocks. Just be sure to turn your sound up since the map does have snakes.
8.

The Palasaides
Now this is an interesting map, as it's actually divided into multiple sections.
The Palasaides' design makes exploration all the more interesting.
In what appears to be ten separate islands, you'll have to swim across short distances to travel between them.
This in itself should be challenging, as the surrounding waters are home to several species of sharks.
But our friendly modder promises that traversing the islands will be worth your while. He mentions that there are many secrets to discover (naturally) so it's worth the danger.
In his description he also mentioned that you'll be rewarded for whatever effort you put forth, so go get exploring!
7.

Rodriguez-Manuel Island
A popular map made by creator deezbuffalonutz, Rodriguez-Manuel Island is a more vertically-oriented exploration adventure.
There isn't much flatland to build on, but it's definitely possible.
You will have to climb to find suitable land, though.
Modder deez also gives fair warning that you should probably be a good bridge jumper if you want to survive this map.
So, yeah get to practicing.
And like with any of deez maps, animals are also present all over the place. So watch your step!
6.

Hidden Utopia
The first few sentences that introduce this map are already enough to make me want to give it a shot. Quoted:
"Survivors built their own utopia while waiting to be rescued. The only way in is through underwater caves. Can you make it there in one breath?"
And from that alone you can tell that this is going to be an adventure and a half.
There are few building spots and resources are quite scarce, so this isn't a map for beginners.
Be prepared for a hardcore survival experience, and once you've gathered enough resources to stay alive, go ahead and start looking for those juicy secrets left by the island's previous inhabitants.
5.

Harmless Sharks and Snakes
Now for those still satisfied with exploring the maps available in vanilla, let me share a few of the better modding options as well.
I think we all know how wild animals can get pesky in Stranded Deep. Especially if their standing between you and the loot you need, for whatever reason.
Well this mod offers a great way to learn the ropes without having to deal with the bothersome wildlife.
Harmless Sharks and Snakes basically makes it safer to explore any island, as these beasts won't be attacking you anymore.
4.

Jaws Music
Now if you do like sharks in your game, why not make it more fun with this cool little mod?
For many of us, Jaws is one of the first Hollywood scenes that comes to mind.
So why not put the Jaws theme in the game?
Thanks to modder Marcento, we can do exactly that.
This mod replaces all shark music with the iconic score from the film.
For those familiar, that score has become synonymous with shark attacks and is sure to make every encounter all the more chilling.
3.

Non Swimmer
Another cool challenge mod, Non Swimmer basically makes it so that you can't swim.
How would this be good? Someone who doesn't know how to swim, surviving being stranded on a deserted island?
Well that's a question you're going to have to figure out for yourself.
Don't worry though, some water activities are still available. Like shallow water spear fishing, and boating (as long as the boat is above the water line).
You could decide to just get in the water… but be careful here, as you might panic and end up dropping your items.
2.

Double Stack Size and Longer Day-Night Cycle
This mod takes a high spot because it's pretty much an essential add-on for longer playthroughs.
If you're out exploring larger islands and discovering hidden loot to collect, you're going to need a bigger inventory.
Sadly, the game doesn't allow for that.
But this mod can help us out.
The mod doubles stack sizes in your inventory so you'll be able to carry twice as much of any resource you choose.
Included in the package is also a longer day and night cycle, but this can also be installed separately if you don't want it included.
1.

Big Islands Mod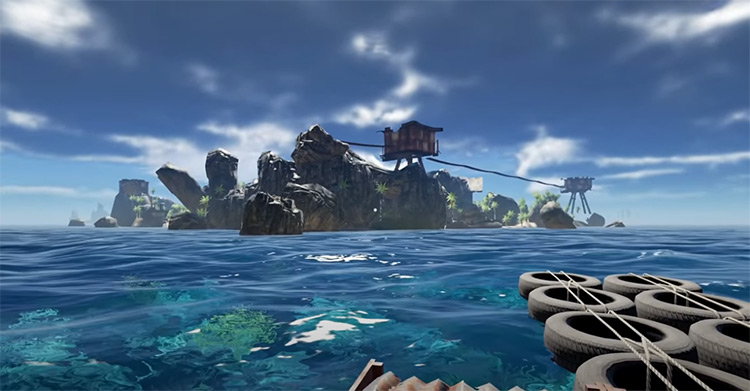 Finally we come to the big kahuna: the Big Islands Mod.
It's one of the most popular mods by far, as it's basically a one-stop shop for those who want more control over how the game plays.
This mod gives you tons of options to customize your game, including island sizes and where they get placed.
You're even in control of which resources are spawned, plus the weather, and you can even a mini map for your HUD.
Big Islands also features a "god mode" where you can basically spawn anything you want.
If you're looking to have some relaxed fun with Stranded Deep, or just really take control over the game, then the Big Islands mod is an easy way to do pretty much anything you want.
Browse:
Lists
Stranded Deep
Video Games