Top 9 Best Tennis Anime Series & Movies (Ranked)
This post may contain affiliate links. If you buy something we may get a small commission at no extra cost to you. (Learn more).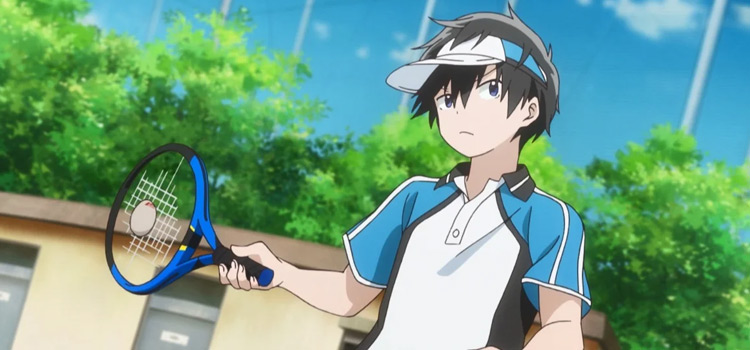 Anime is about everything under the sun.
Whether it's a show on the mundane things in life, or full of a world technology and fantasy, you'll find a show or movie about it.
Tennis fits in there too.
Naturally, sports animes are a bit chunk of the industry. They may not be as popular as slice of life stuff, but they are fun, exciting, and not mention mind-blowing if you're a tennis fanatic.
Over the years there's been a few tennis animes but they're tough to find. In this list I want to rank my favorites and share a little about what makes them so great.
9.

Usakame
Let's start things off with Usakame.
For those who are'nt familiar, Usakame is a spin-off of some other Tennis anime that I'll mention later in the list.
Usakame is about four girls of a high school tennis club who are rivals. There's aactually a lot of characters, so keeping up can be tricky. It is a spinoff, after all!
If you're looking for a quick watch or something to quench your thirst for tennis anime that's light & breezy, then this is worth checking out.
Unfortunately (in my opinion) this series has a weird animation style. In a bad way, I mean.
And the writing is sub-par at points. Jokes are getting thrown left and right without much logic and it has very little character development.
If you can still dig it, or if you love tennis series, you'll still likely enjoy this.
8.

Happy!
Moving on is actually a manga series, but still fantastic.
It's a story about a teenager named Miyuki Umino, a prodigy who embarks on a career as a tennis player to pay an enormous debt.
And get this, the yakuza loan sharks threaten that if she doesn't pay it back, they'll turn her into a prostitute. Yikes alert.
Yes, I know what's on your mind.
What's up with the title if it's got a tragic plot?
Well, that makes the two of us.
Kidding aside, this is a good anime that's got some real drama in it.
It may not be your typical sports anime with all the glamour and overpowered on-court moves, but this one has got depth and a pretty good story.
If that sounds like your kind of thing then go for Happy!
7.

Ultra Maniac
Let's get into the Rom-com magical girl groove with Ultra Maniac.
Don't worry, this one is as expected: a light-hearted story.
It's about Ayu Tateishi, a nonchalant, calm & cool girl who's a member of the local tennis club.
It turns out that all of this is just a façade to impress his crush.
Everything changes when we meet the second protagonist Nina Sakura (keep up with me here) who turns out to be an incompetent witch-in-training.
When she comes into the picture, everything changes. This starts their friendship and their wild journey.
The story is surprisingly good to be honest. The characters are multi-dimensional and fun to root for.
Of course, it possesses the usual magical girl love triangle clichés of this genre. But overall magical girl fans are loving it, and I do too.
6.

Stars Align
Stars Align is about Maki Katsuragi a talented tennis player who may just save a struggling tennis club in his new school that he transferred to.
The captain Toma Shinjo works hard to keep the team together, and gets a little bit of hope when Maki jumps in and performs really well… despite being a total beginner.
Technically this is more of a drama anime than a sports anime. Well, I guess it's kinda both.
A lot of social issues were tackled in this story and I think they portray them well, as the sport supports the plot in the background.
What better metaphor can you use for the hardships in life. Sports, right?
5.

Softenni
Softenni's plot is nothing extraordinary, but still a great series for sure.
It's all about middle schoolers and their struggles as they make their way into the Tennis Nationals.
A great deal of the series is about the ups and downs, twists and turns of the life of young people.
The animation is great. It's fun, comedic, flat out slapstick and super entertaining.
It's cute and popular among its anime fans for sure. And its ecchi elements only make it even wackier.
Take a peek at the pilot and see what you think.
4.

Teekyu
If you've checked out Softenni and you think it was wacky, then get yourself ready as Teekyu is even wackier.
This anime is flat out bonkers. And if you're an anime fan you know I mean that in a good way.
Teekyu is about four girls who are members of the Kamiedo High School's tennis club.
And bear with the story as it gets crazy fast! The eccentric characters and their adventures are the centers of the story. They can go skiing one day and helping an alien the next.
It's one fun anime to watch over and over.
And I promise, the characters are on overdrive all the time. And so are their adventures.
If you're into bonkers animes then this is for you.
3.

Aim for the Ace!
Now we're getting into the big titles.
The top three on this list are not just recognizable in the sports anime fandom, but anime overall.
We start with Aim for the Ace!
Made way back in the 1970s, this manga series was turned into multiple anime shows, film, OVAs, and even a television drama.
It's about Hiromi Oka who's a high school student that wants to be a pro tennis player. Seems simple enough.
The story is riddled with real-life issues for young people so expect lots of drama. That may be its biggest selling point.
But it's one of the best-selling shojo mangas ever, so it's considered a classic and very influential.
2.

Baby Steps
If you ask tennis anime fans which they think should be ranked #1, you'd only probably hear two titles: Prince of Tennis and Baby Steps.
Honestly, this could easily be interchangeable because they're both insanely awesome for different reasons.
But I'm naming Baby Steps as the runner up on this list.
Baby Steps is about Eiichiro Maruo, an honor roll student who one day decides to join a tennis club because he thinks he lacks exercise. Thus starting his journey into the sport.
The manga was awarded the best manga award in the 38th Edition of Kodansha so you know it's got something to love here.
The anime may not go in the direction you'd expect from a standard sports anime. But truly, that's what makes it so good.
The struggles of each character, especially Maruo, is turned into a wonderfully crafted story coupled with a great art style then that feels like the perfect formula of a tennis-themed anime series.
1.

The Prince of Tennis
Prince of Tennis takes the crown. And rightfully so, as it's one of the most adapted and expanded anime on our list.
Spanning over multiple mangas, anime films, TV series, plus a ton of OVAs and even a live-action movie, Prince of Tennis is not only a popular sports anime.
It's a very influential anime for the entire genre.
The story is about Ryoma as he joins Seigaku Junio High en route to his quest to be the best tennis player in the country.
The story of Ryoma is heartwarming enough to get you hooked, as he struggles to get out of his legendary father's shadows.
His team and all the challenges that come their way adds to the excitement.
This series started way back in 1999 so it's one of those first sports anime to have overpowering on-court moves.
For newer fans, think about Kuroko's Basketball. But for tennis.
It's got great animation, fun and exciting matchups, and a long journey that on some level everyone can relate to.
It's one of the coolest sports anime ever, and it's definitely worth it for tennis fans. Enjoy!
Browse:
Japanese Culture
Lists
Anime