Bloodborne: Is A Call Beyond Worth Using?
This post may contain affiliate links. If you buy something we may get a small commission at no extra cost to you. (Learn more).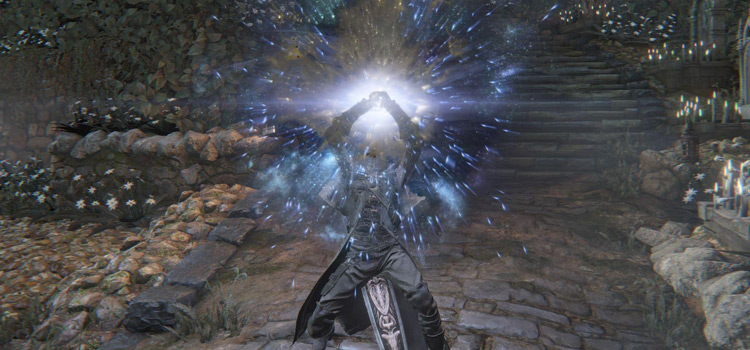 If your build is fully focused on Arcane, A Call Beyond is absolutely worth seeking out. It acts as a great finisher for some of the hardest fights you'll face, and is also a ton of fun to use.
If you aren't already heavily invested in Arcane, avoid A Call Beyond.
Its enormous Arcane requirement of 40 means that you'll be dumping level after level into Arcane just to use it. In this situation you might want to save your levels and put them into stats better suited to your build.
But for something to consider:
Are you willing to put 40 points into Arcane to cast it?
And are you willing to give up a mass amount of Quicksilver Bullets too?
If yes, then you're going to have a lot of fun with A Call Beyond.
What Does A Call Beyond Do?
A Call Beyond is a Hunter Tool, a special item that casts a spell or grants you a special ability.
In A Call Beyond's case, using it summons a small star above your character's head which then explodes, flinging damaging stardust around you.
The stardust springs out in all directions before homing in on the closest target, dealing massive damage to anything it hits.
Unfortunately, A Call Beyond has a long wind-up animation before this explosion happens. So you'll have to be careful not to be interrupted when you're using it.
This means that you're unlikely to be using A Call Beyond for crowd control, and will probably only use it against strong individual enemies.
As well as being somewhat difficult to cast, A Call Beyond has another drawback – its Quicksilver Bullet cost.
Every Hunter Tool costs Quicksilver Bullets to activate, Bullets which you pay from the 20 that you carry with you each time you leave the Hunter's Dream.
A Call Beyond costs 7 Bullets, so you'll only be able to get two uses out of it before you have to restock.
Luckily you can boost this to three uses by picking up one of the Formless Oedon Runes, as these will increase your maximum Bullet capacity.
Although this only adds one extra use, having three cosmic grenades is much better than two, so be sure to seek out the Formless Oedon (4) Rune by the Cathedral Ward Lamp.
How To Get A Call Beyond
You can find A Call Beyond on a corpse in a late-game secret area, the Upper Cathedral Ward.
Accessing this area is a long process, as you'll need to find a secret key to get inside.
Here's a quick rundown on how to unlock the Upper Cathedral Ward and find A Call Beyond:
Unlocking Upper Cathedral Ward
Progress until you reach Yahar'gul, Unseen Village
In Yahar'gul, jump off of a ledge before the staircase with the laser-firing Amygdala
Pick up the Upper Cathedral Ward Key from a corpse in this hidden room
Fast travel to the Cathedral Ward Lamp and turn right into the corridor
Take the elevator, then climb through the Healing Church Workshop
Use the Upper Cathedral Ward Key on the door in the highest room of the Workshop
Follow the path forward until you reach the Upper Cathedral Ward Lamp
Locating the Upper Cathedral Ward Key can be tricky. If you need a more detailed rundown on finding the key and accessing the ward, you can check out this video walkthrough.
Finding A Call Beyond
Bear left from the Upper Cathedral Ward Lamp to find a door that leads inside
Kill the Brainsuckers inside until one drops the Orphanage Key
Use the key on the gate in the main hall, then follow the path until you reach a boss
Defeat the boss here, then smash the window in the boss arena
Walk through the broken window and follow the path to the right to find A Call Beyond
Browse:
Bloodborne
Video Games