How To Farm Fire Blood Gemstones in Bloodborne
This post may contain affiliate links. If you buy something we may get a small commission at no extra cost to you. (Learn more).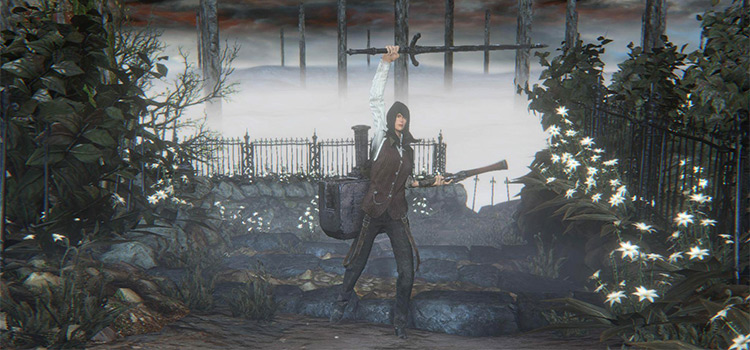 The best way to farm Fire Blood Gemstones in Bloodborne can be found early in a glyph-generated Chalice Dungeon.
This farming method can be carried out by characters of any level, so long as they can meet the requirements to open the Dungeon.
We'll run you through exactly how to carry out this farming method below.
Step 1: L Entering The Chalice Dungeons
The best way to farm for Fire Blood Gemstones is by using a glyph to generate a specific Chalice Dungeon.
Before you can do this you'll have to collect the Pthumeru Root Chalice. Here's how to find it:
Beat the Blood-starved Beast at the bottom of Old Yharnam
Claim the Pthumeru Chalice as a reward and warp back to the Hunter's Dream
Use the Chalice Dungeon headstones to create a Pthumeru Chalice Dungeon
Travel through the first two Layers, and defeat the Layer 2 boss
Claim the Pthumeru Root Chalice as a reward
Once you have the Pthumeru Root Chalice, you can now generate the glyph you'll need to start farming Fire Blood Gemstones.
Warp to the Hunter's Dream, then head over to an unused Chalice Dungeon headstone.
Interact with it, then choose to 'Search by Chalice Glyph'.
In this pop-up menu, enter this code exactly: 3se6ayca
Once you've done this, you can open up the Chalice Dungeon by choosing the 'Pthumerian Labyrinth' option in the next menu.
Farming In The Dungeon
Now that the Dungeon is open, you're free to enter and start farming.
Before you do, though, you may want to equip one or more Eye Caryll Runes. They will boost your Discovery stat, increasing your chances of getting a Gemstone drop.
For a complete rundown of how to find these Runes, check out our guide on finding every Eye Rune in Bloodborne.
Once you're satisfied with your Discovery stat, head into the Chalice Dungeon.
Then inside, walk forward down the corridor and through the door at the other end.
Turn right to find yourself on a small platform overlooking a tunnel populated by enemies. Below you are two enemies with flaming swords – these are the targets of the farm.
These enemies have a lot of health and deal a ton of damage, so you'll have to use a safe strategy to dispatch them.
The easiest way to kill them is to first get their attention by firing a Quicksilver Bullet at them from above.
Once you have their attention, quickly position yourself so you're next to the ladder. As soon as an enemy climbs the ladder, use a charged R2 attack to throw them off the ledge.
Repeat this until both enemies are dead.
Once both are dead, jump down into the tunnel and loot their corpses.
If they don't drop a Fire Blood Gemstone, leave the Chalice Dungeon via the entrance Lamp, then return to try again.
With some perseverance, these enemies will eventually drop Fire and Bolt Blood Gemstones up to Rating tier 16.
Browse:
Bloodborne
Video Games