Bloodborne Starting Weapon Guide: Saw Cleaver, Hunter Axe, or Threaded Cane?
This post may contain affiliate links. If you buy something we may get a small commission at no extra cost to you. (Learn more).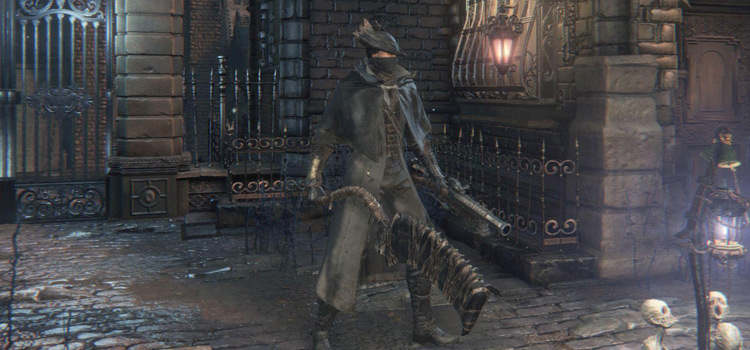 Almost as soon as you start Bloodborne, you'll have to pick your starting weapon.
They're all awesome in their unique way, but which is best for you?
Saw Cleaver – a medium-strength weapon with a specialty for cutting down Beasts.
Hunter Axe – a slow swinging weapon that cuts down hordes of enemies at once.
Threaded Cane – a nimble blade that trades in damage for speed and mobility.
Let's take a deeper look into each weapon to see what they offer & which one would be the best fit for your next playthrough.
Saw Cleaver
This weapon is for you if you want:
A balanced playstyle, with both speed and decent damage
An easy introduction to Soulslike games
A leg-up against the hardest enemies in the early areas of the game
The Saw Cleaver is the most iconic Bloodborne weapon – it's even on the box art.
Its decent damage and fast moveset makes it an ideal weapon for someone who isn't quite sure what they enjoy using in a Souls-like game, and want to pick a weapon that lets you play with an all-rounder playstyle.
The Saw Cleaver is especially good in the early game, as its serrated edge gives it bonus damage against Beast-type enemies, the strongest enemies you'll be facing for the first half of the game.
Each weapon in Bloodborne has two modes that you can switch between at any time by pressing L1.
These two modes control differently, granting the weapon a different feel, range and set of attacks.
The Saw Cleaver's secondary mode doubles its reach, unfolding the blade out from the handle to create an extended cleaver.
The low attack speed of this secondary mode makes it a little bit clunky to use against single foes, but its new-found reach makes it an excellent weapon for dealing with hordes of enemies at once.
The main downside of the Saw Cleaver is that it can be easily replaced by a very similar weapon – the Saw Spear.
You can find the Saw Spear towards the end of the very first area of the game. So if you're the indecisive type, you might want to pick a different starting weapon and pick up the Saw Spear a bit later on to try out both weapons.
Hunter Axe
This weapon is for you if you want:
A high-damage weapon that can stagger enemies
A careful, calculated playstyle that doesn't rely on dodging mastery
An easy way to deal with crowds of enemies
The Hunter Axe is the heaviest starting weapon, trading away agility for the highest damage you can find in the early hours of the game.
While the Hunter Axe hits hard, you'll have to remain cautious to avoid attacking at the wrong time and being hit during the lengthy attack animation.
While you may struggle to balance its long wind-ups at first, the Axe will become better and better as you learn to duck and weave around enemy attacks.
The main draw of the Hunter Axe as an early game weapon is its crowd control abilities – its alternate mode turns it into an enormous greataxe with huge sweeping attacks.
These wide attacks can deal with multiple enemies at once, a great feature to have in the crowded streets of Central Yharnam.
Needless to say, this alternate mode takes an eternity to actually execute an attack, so be sure to never use it against fast single enemies.
Like all starter weapons, there will come a time when you should replace it with something stronger.
For fans of heavy weapons, the Hunter Axe should be replaced by the Kirkhammer, a shortsword that can transform into a colossal hammer.
The Kirkhammer delivers all the power of the Hunter Axe with the agility of the Saw Cleaver, so be sure to pick it up as soon as it becomes available in the Hunter's Dream store.
Threaded Cane
This weapon is for you if you want:
A fast, nimble playstyle that focuses on dodging and avoiding damage
To keep foes at a distance and conserve healing items in the process
To become a master of Soulslike mechanics as fast as possible
The Threaded Cane is by far the fastest weapon in the early hours of the game.
It sacrifices attack power for ultra-fast attacks, allowing you to chip away at enemies while dodging around them.
The Cane's transformed mode turns it into a serrated whip.
While the whip doesn't have much more damage than its cane form, its range is vastly increased.
This makes it ideal for keeping enemies at a distance while you regain your composure after a mistake or heavy blow to your health.
If you're new to Souls games, the Threaded Cane's low damage might give you some trouble at first.
But try to push through it.
Because if you stick with it, you'll find that learning to use the Threaded Cane will lead you to mastering Bloodborne's essential movement mechanics much faster than users of the Cleaver and Axe.
The Threaded Cane's damage drops off quickly once you've finished the first few areas of the game, so if you're looking to upgrade, seek out Ludwig's Holy Blade.
In its shortsword form, the Holy Blade feels a lot like the Threaded Cane, albeit with a lot more damage.
The transformed Greatsword form is great, too, but you'll get a lot less use out of it.
Browse:
Bloodborne
Video Games