Bloodborne Builds: Strength vs. Skill (What's Better?)
This post may contain affiliate links. If you buy something we may get a small commission at no extra cost to you. (Learn more).
Strength and Skill are the two main offensive stats in Bloodborne. Each stat controls a different type of weapon:
Strength boosts the power of large weapons such as hammers and greatswords
Skill boosts the power of faster weapons such as katanas and rapiers
Which one you decide to level depends on how you like to play Bloodborne, and which weapons interest you the most.
We'll give you a full rundown of how both stats shape your build, and the best weapons that they have to offer.
The Strength Stat
Strength is the first of the main offensive stats in Bloodborne.
Leveling it is vital for any player that wants to use the larger, slower weapons that Bloodborne has to offer.
For a weapon to be classed as a Strength weapon, it must require a certain amount of Strength to wield, as well as scale highly with the Strength stat.
One of the main reasons to use Strength weapons is their ability to control crowds with ease.
Thanks to their large size, a single swing from a Strength weapon can hit multiple enemies, sending them backwards and giving you some space.
This can prove vital in some of the toughest sections of the game.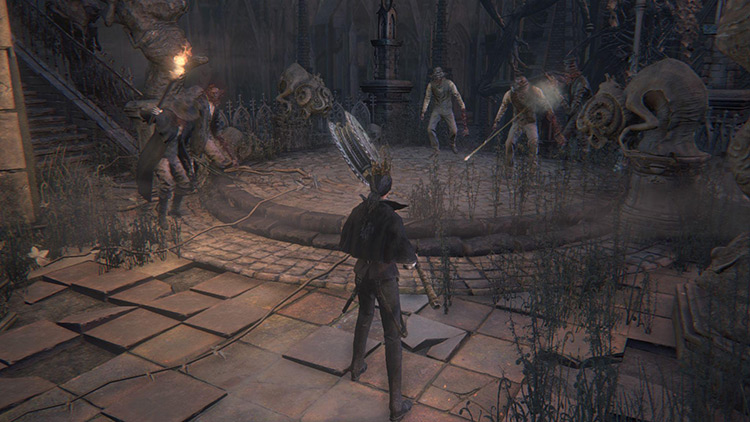 This large size comes with a downside, however, as the slow attack speed that large weapons have can be a disadvantage in boss fights against nimble, humanoid foes.
It's for this reason that the best Strength weapons also have a form that allows them to attack faster than you'd typically expect from a Strength build.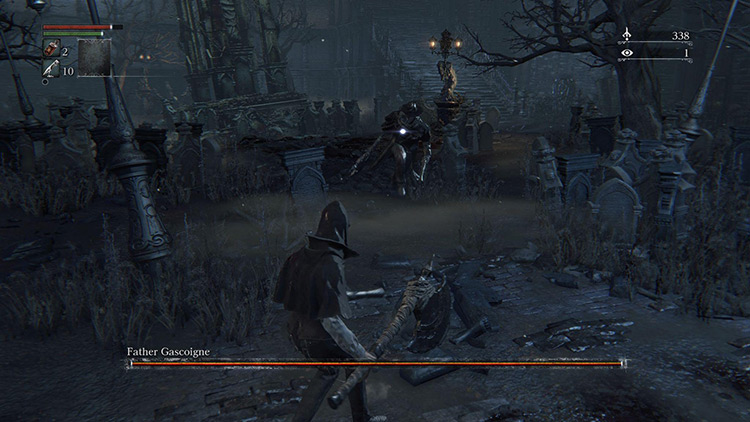 Luckily, the slow speed of Strength weapons is made up for by the large amount of damage they inflict when they hit an enemy.
This increased damage is applied to every attack a Strength weapon does, including the already powerful parry-riposte combo.
The Best Strength Weapons
Most Strength weapons in Bloodborne can find a home in the right build.
Despite that, there are still some that out-perform all others.
For Pure Strength Builds
The best weapon for pure Strength builds is the Kirkhammer, due to its versatility and how easy it is to access.
The Kirkhammer is a medium-sized straight sword in its standard form, and an enormous hammer in its alternate form.
The huge difference in play style between these two forms make the Kirkhammer the perfect choice for both hectic boss encounters and large-scale crowd control battles.
Other great Strength weapons include the Whirligig Saw, Logarius' Wheel and the Hunter Axe.
For Hybrid Strength Builds
If you're using a Strength/Arcane or Strength/Bloodtinge build, you have a slightly more limited pool of weapons to choose from.
The best Strength/Arcane weapon is the Holy Moonlight Sword, a one-handed greatsword that becomes a giant ultra-greatsword when transformed.
The only viable Strength/Bloodtinge weapon is the Bloodletter, a one-handed mace that transforms into an incredibly large morningstar in its alternate form.
The Bloodletter is extremely hard to get, requiring you to reach the final area of the Old Hunters DLC. If you're up to the challenge, though, it's well worth the journey.
The Skill Stat
Skill is the second offensive stat in Bloodborne.
Leveling Skill boosts the power of Bloodborne's fastest weapons.
For a weapon to be considered a Skill weapon, it must require a certain amount of Skill to use, and must scale highly with the Skill stat.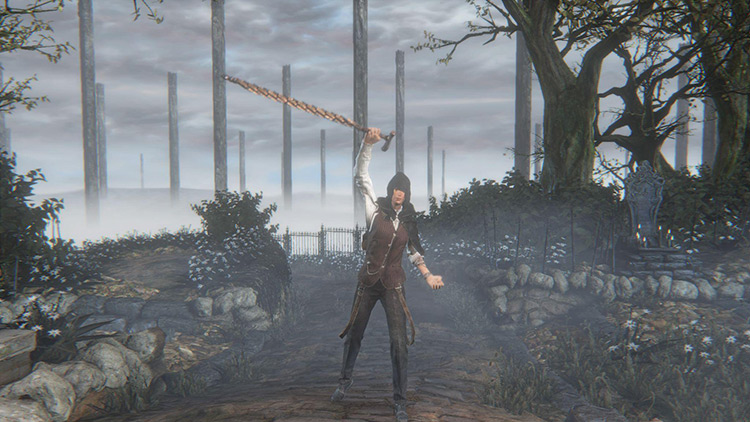 Skill weapons are great for quickly ducking and weaving around your enemies' strikes. Their speed means you can take more opportunities to attack, and hopefully avoid more damage as you do.
This speed makes Skill weapons very easy to use, which makes them the ideal pick for beginners to soulslike games.
The downside to using Skill weapons becomes clear when dealing with multiple enemies at once. The relatively small size of Skill weapons means it's much harder to hit multiple enemies with one swing.
You're also less likely to push enemies backwards with Skill weapons, making fights against crowds feel urgent and claustrophobic.
You'll have to pay close attention when fighting against crowds, and use your increased mobility to split the crowd up so you can take them down one by one.
The other disadvantage to using Skill weapons affects boss fights.
The lower damage output of Skill weapons means boss fights against large foes will often take a long time as you slowly chip away at their health.
This will force you to become an expert at dodging enemy attacks, so that you can stay alive long enough to whittle them down.
The Best Skill Weapons
Skill builds have more options than Strength builds when it comes to weapons.
There are more pure Skill weapons than Pure Strength, and there's more choice for users of Skill/Bloodtinge builds, too.
For Pure Skill Builds
The best weapon for pure Skill builds is the Blade of Mercy, a curved shortsword that becomes two dual wielded daggers when transformed.
The Blade of Mercy is one of the fastest weapons in the game, embodying what makes pure Skill builds so great by letting you dodge and weave around every incoming attack.
Its alternate form is even faster, letting you move and slice at ludicrous speeds.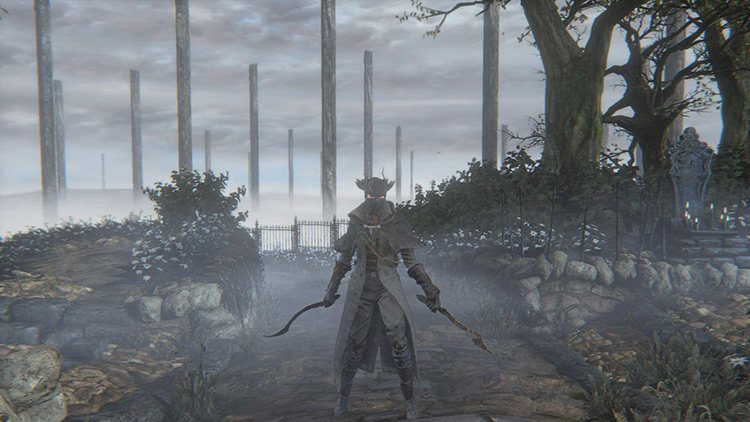 Other great pure Skill weapons include the Burial Blade, the Rakuyo, and the Threaded Cane.
For Hybrid Skill Builds
Skill/Arcane builds have the most limited choice of all Skill builds.
The only excellent Skill/Arcane weapon is Ludwig's Holy Blade, a straight sword that becomes a greatsword when transformed.
Ludwig's Holy Blade is a unique weapon amongst Bloodborne's lineup, as its two forms differ widely, offering a taste of both Skill and Strength weapon gameplay.
While it's somewhat lacking as a typical Skill weapon, it's certainly the best choice for anyone who wants to combine Skill and Arcane.
Skill/Bloodtinge builds have access to one of the strongest weapons in the game, the Chikage.
The Chikage is a purely Skill-scaling katana in its standard form, and becomes a Skill/Bloodtinge tachi when transformed.
While its tachi form is immensely powerful, be sure to take care of your HP while using it – the Chikage will continuously drain your health while in tachi mode.
Strength vs. Skill: What Should You Build?
If you're new to soulslike games or if you simply want the easiest route through Bloodborne, build your character around Skill.
But if you want to deal big damage and take care of groups of enemies with ease, a Strength build may be right for you.
If you plan on using Arcane in your build, Strength is absolutely the way to go, thanks to the iconic Holy Moonlight Sword.
Those interested in incorporating Bloodtinge into their build should invest into Skill, so they can make use of the incredibly powerful Chikage.
Browse:
Bloodborne
Video Games