Top 10 Best Brawlhalla Mods You Have To Try
This post may contain affiliate links. If you buy something we may get a small commission at no extra cost to you. (Learn more).
Brawlhalla has been around for quite some time now.
Developers Blue Mammoth Games were eventually bought out by Ubisoft, making way for some pretty cool crossovers too. Even adding in Rayman as a playable character in the game.
There have been many events since then, including tie-ups with Cartoon Network for Adventure Time, WWE wrestlers, and even The Walking Dead.
But even with all these cool features, there's always more fun to be had with modding. And in case your favorite characters haven't gotten official releases just yet – well you can rest assured there's probably a mod for that.
10.

Bakugo Mod
Here we have one of the most popular skin mods for the game, adding My Hero Academia's Katsuki Bakugo as a playable legend.
Before you get too excited, the mod requires that you already have access to Petra's Lost World Skin, so make sure you already have that before moving forward.
But this mod comes complete with custom sounds, color options, and custom signatures as well.
9.

Light Saber
In case you haven't noticed from my lists yet, I'm pretty much a sucker for anything Star Wars.
When I came across this Light Saber weapon mod, I jumped at the chance to add it in here.
The color swap option even allows you to choose between different saber colors. As if you're using Luke's, Obi Wan's, or even Vader's saber during battle.
Just note that the mod replaces Hattori's Monofilament Blade. So it won't be available for just any legend.
8.

Firewatch Miami Dome
Modding even makes it possible to battle in completely custom maps, and you're not going to want to miss this next one.
This mod replaces the default Miami Dome arena, replacing the background with a gorgeous sunset mountain view from the game Firewatch.
The backdrop might have a very different vibe from what you're used to in Brawlhalla. But the contrast of the cartoon-style legends flying across the map actually works, surprisingly.
7.

Stardew Valley Haven
Stardew Valley is making an appearance in Brawlhalla as well.
This mpa mod doesn't even replace any of the game's default maps, so you'll be getting an additional map on top of everything the base game already has.
What's so special about this next one is that the map even applies the pixel art style of Stardew Valley, making for a completely unique look.
It even comes with custom music for the arena as well.
6.

Fantasy Weapons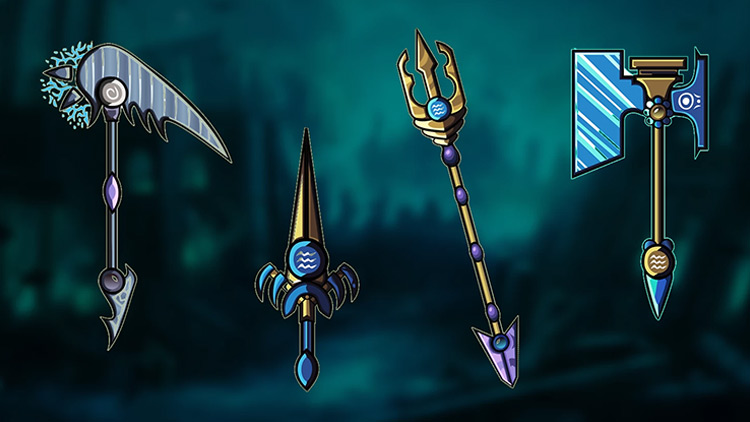 Fighting it out with an assortment of weapons is always fun in any game. But this is especially true in Brawlhalla, as weapons are so easily accessible throughout matches.
While each legend is capable of wielding two different weapons, there aren't that many options included in the game.
This essentially means there are a lot of overlaps when it comes to which legends can use which weapons, which just makes them a bit less special.
Fantasy Weapons aims to fix that, adding in 52 completely new custom weapon skins to the game.
A great way to add variety to what you see between each match.
5.

Luffy Crossover
Now here we have another Petra skin – this time replacing her with another popular anime character.
The mod brings One Piece's beloved Luffy to the Brawlhalla arena, making for another great addition.
Especially for the anime fans out there.
This mod comes complete with color swap options too, making his appearance highly customizable. And there's also custom sound effects and signature moves added here as well.
4.

Demon Slayer Modpack
I know that not everyone is a One Piece fan. Especially those who haven't been into anime for too long.
Well here's one for fans of the more recent Demon Slayer series – giving you access to two new legends.
The Demon Slayer Modpack includes playable Tanjiro and Zenitsu legends, all in just one mod.
And it includes color swapping, custom sounds, and custom signature moves. All the good stuff.
3.

Cloud Strife Enters Valhalla!
FF7 will always have a special place in my heart.
I've always imagined how cool it would be to have Cloud or Sephiroth as playable characters in a fighting game. And while Dissidia Final Fantasy might have filled that fix, I still take every opportunity with mods like this one.
Install this and you can bring Cloud to Brawlhalla, replacing Hanbok Jaeyun.
The mod even comes complete with Cloud's Buster sword, which makes this mod worth trying just for the sword.
2.

Brawlhalla X Hollow Knight Crossover Mod
I've really been into Hollow Knight recently. And I pretty much freaked when I saw this mod.
Hollow Knight has some of the most unique environments I've seen in any game.
Combine those environments with the game's soundtrack and you get an unmistakable atmosphere.
Modder Vanilax929 brings all of that to Brawlhalla with this set of maps based on Hollow Knight, with custom music included with one of them as well.
1.

The Knight Makes His Way Into Battle!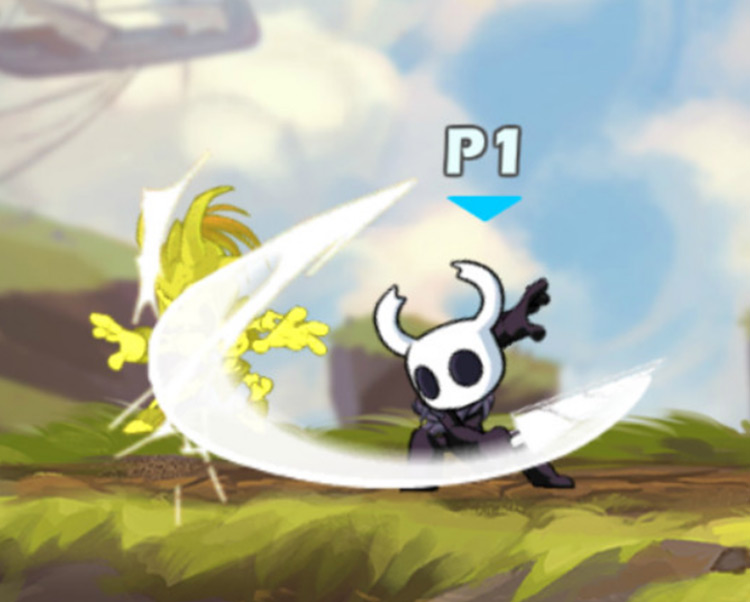 Of course, what better mod to top off the list than the nameless knight himself?
Modder Maashous makes Hollow Knight's main protagonist into a playable Brawlhalla legend with his mod, replacing the default Mythic Hero Val.
This goes perfectly with the Hollow Knight maps from the previous mod, and the knight even wields his trusty nail here. Just as he does in the original game.
Browse:
Brawlhalla
Lists
Video Games