20 Best Must-Have Brick Rigs Mods (All Free)
This post may contain affiliate links. If you buy something we may get a small commission at no extra cost to you. (Learn more).
I remember playing with LEGOs as one of the best ways I'd pass the time as a kid.
I'd spend hours picking pieces from the box my mom forced me to keep them in, just to keep them from getting lost. We're never too old for LEGOs.
Except these days, gaming makes it possible to play virtually.
Brick Rigs provides us a huge selection of LEGO-style bricks to build with, along with an advanced driving physics engine allowing us to bring our creations to life. It's just plain fun.
And with Steam Workshop support, builders can share their creations with others online. There's honestly dozens out there, so where should you even start when it comes to custom mods & custom builds?
Here are some of the best ones I've come across.
20.

1975 GCM G-7 School Bus
To start off, here's one of the simpler mods in the Workshop to give you a taste of what it has to offer.
GC's 1975 GCM G-7 School Bus recreates an old school yellow school bus for you to play around with in Brick Rigs, and crashing this in all sorts of different ways should be just as fun as driving it.
Cleverly enough, GC's description reads "Old school. Literally!"
19.

Lamborghini Veneno
Things are going to escalate pretty quickly from here on out, as this next one takes a huge leap from an ordinary school bus.
Owning a Lamborghini Venono is something many could only dream of, let alone just driving one – or better yet, watching one shatter into thousands of pieces.
You'll be able to do all those things in Brick Rigs thanks to user Goldi_Gold, as he jokingly shares that the $5M vehicle only cost him 8.5 hours of his time.
18.

AMX-10 RC
Taking things up another several notches, you can even have your very own 1970's French tank in Brick Rigs.
What's particularly great about this one is that this is already the 9th update for the mod, as authors UniShall and Litchytsu spent a whole lot of time improving the original design and fixing all the bugs to make sure that everything works.
With that, the tank is 100% functional.
Including the cannon and machine gun – which should make destroying things even more fun.
17.

Nuclear Missile Truck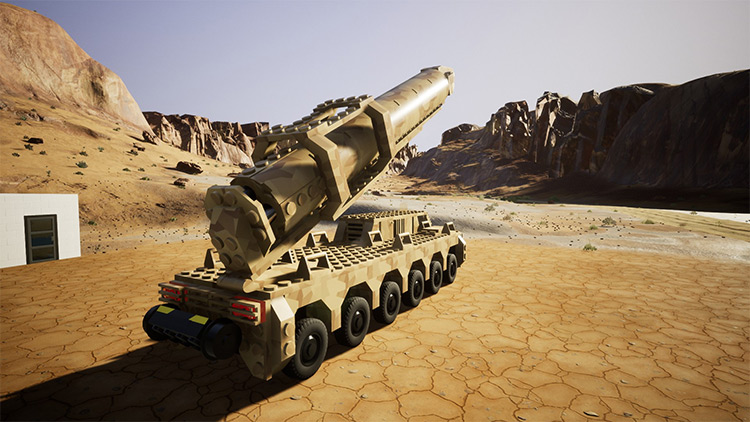 If you've reached the point where the AMX-10 just isn't providing you with enough firepower, this next mod will surely provide you with way more than you need.
Fluppi393 shares his custom Nuclear Missile Truck to satisfy all your destructive needs.
I can personally imagine building entire cities just to level them with a nuke.
Better done in Brick Rigs rather than in real life I suppose.
Everything works as intended as well, as you can raise and lower the launcher and fire the rocket with simple keyboard controls.
16.

Big Modern House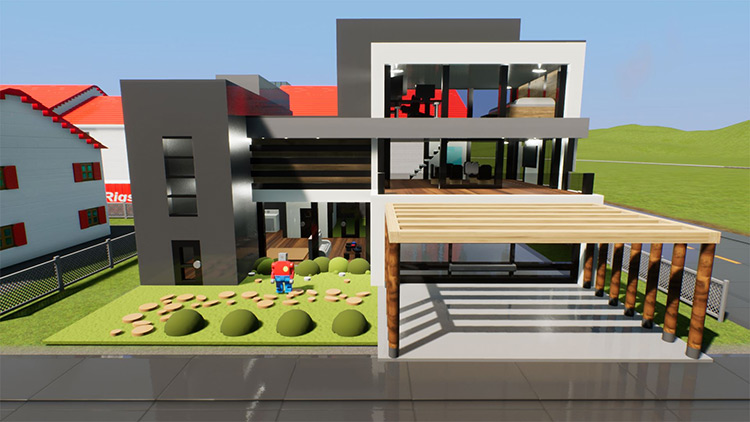 Now for some placeables to put your weapons of mass destruction to good use.
I can't imagine what could be more satisfying to blow up than this giant modern house built by user WILDSHAMAN.
The house is three-stories tall and makes use of a lot of glass – which should make it much more exciting to watch shatter into pieces.
If in case you don't plan on destroying it just yet, the house is functional as well – with easy controls to turn lights on and off as well as to open and close doors.
15.

McDonalds
If you're all about sticking it to the man, what better building to blow up than a McDonalds?
Modders Turtle and M0NEX definitely put the effort in to build this completely modern McDonalds branch from Brick Rigs blocks, ending up with a total of 1861 for the entire thing.
The building even includes multiple parking spots, a drive-thru, tables and seating inside, a detailed kitchen, and 2 toilets towards the back.
14.

The Statue of Boberty
If you're looking for something more significant to destroy – why not an iconic symbol of the city?
Okay fine, CyberTheChef isn't giving you the actual New York City landmark. But what you get is something that can be just as iconic for your own fictional Brick Rigs city.
The Statue of Boberty is after all heavily based on the real thing – and even comes with a large base staircase, plaque, and many doors.
The inside has been left empty however to lower the brick count, which is great for players with lower PC specs.
13.

LZ 129 Hindenburg
Now if you're looking for something a bit more realistic than fictional city landmarks, there are options out there for your quirky tastes.
For this next one, modder MNB369 actually recreated the famous German passenger airship from the 30's.
For those who aren't familiar, the LZ 129 Hindenburg was the subject of the famous Hindenburg disaster where the airship caught fire and exploded in the air during a landing attempt.
It's no surprise then that the mod can be flown but isn't capable of landing.
12.

Chernobyl Nuclear Power Plant
Keeping in line with things that are destined to blow up, modder SweetFox gives us his Brick Rigs recreation of the Chernobyl Nuclear Power Plant in Ukraine.
The location of one of the biggest nuclear disasters back in 1986 and the subject of HBO's recent hit miniseries Chernobyl, one of the reactors power plants exploded causing massive contamination to most areas surrounding the plant.
11.

Meteor 2.0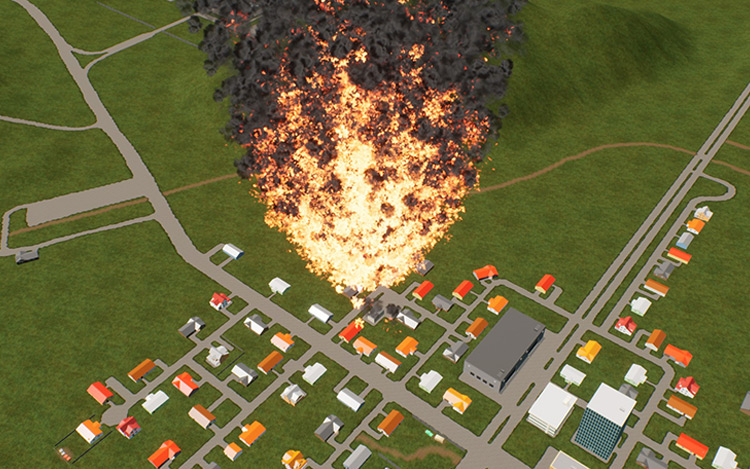 There are more natural ways to cause mass destruction in Brick Rigs as well thanks to modding.
And this is surely one of the best ways to simulate a terrifying natural disaster.
Modder RocketShotgun provides us with our very own giant Meteor that we can send flying towards the Earth set to destroy everything of the world as we know it.
The end of the world can't be more fun than this. All you have to do is place it in the sky, activate the flames and watch it hurl itself towards the ground.
Once that's done, there's nothing left to do but wait for the big boom.
10.

ZigZag Raceway
Of course, there are other ways to have fun in Brick Rigs without destroying everything in sight.
Modder ZigZagger proves that with his ZigZag Raceway mod, allowing you to spawn one of the largest racetracks you can get for Brick Rigs.
The track contains everything you'd want in a go-kart track, including banked turns, tight corners, and long straightaways.
This should make for a pleasant break from all the destruction.
9.

Go-Kart
The ZigZag Raceway wouldn't be complete without some go-karts to drive though.
These go-karts from modder batteries make a perfect match for your new raceway and even come in different colors so each racer can have a unique kart.
While ZigZagger did create his own go-kart mod and batteries' mod was actually created for a different raceway, the two still work well together.
Feel free to check out the other options available though to see which you prefer yourself.
8.

The Mach 6
Maybe you want something a bit more serious to take for a test drive.
Well how about that Lamborghini Veneno you got yourself earlier?
You're going to need something competitive to put it up against though. And this next mod perfectly matches that description.
Modder Gundord brings you a recreation of Speed Racer's Mach 6 from the American film adaptation of the anime series, giving your Lambo a worthy competitor.
7.

The Cyber Snake
Looking through the mods of the Workshop I was able to come across some of the more original user creations, and actually found some interesting ones like MNB369's Cyber Snake.
This one is definitely as original as gets, as the mod gives you access to a futuristic snake-like machine to drive through Brick Rigs with.
The robot snake isn't useless, of course, as it's weaponized with guns and even laser eyes to shoot things with.
This thing is huge too with the head alone being the size of a tree.
MNB369 has other variants of robot snakes as well in case you're looking for alternative options.
I'm not sure why you'd want more than one robotic snake though, but to each his own, I guess.
6.

Tyrannosaurus Rex
If prefer to trade in the futuristic robots to play out some older scenarios, this next mod would be perfect for that.
Kartoffalypse's Tyrannosaurus Rex mod gives you a brick-made dinosaur to let loose and cause mayhem in your Brick Rigs city.
Don't be misled by its cute appearance: this thing is out to wreck everything that gets in its way.
What's even better is that the T-Rex is completely controllable, and can even be commanded to bite with a click of the mouse.
5.

Scrumptious Star Wars AT-AT
Other modders have shared their fun creations based on other movies and video games as well, and these last few entries should make for loads of fun when added to your Brick Rigs arsenal.
Now this here is inspired by the Star Wars franchise, because well…who doesn't love Star Wars?
Modder Scrumptious has become known in the Brick Rigs modding scene for his outstanding builds. And this is among his best work.
The AT-AT is huge but is easy to drive with simple controls.
Get ready to blast things with it as the cannons are 100% functional as well.
4.

TT Star Wars TIE Fighter
Star Wars wouldn't be Star Wars without ships that can fly.
And now that you have the AT-AT for a land vehicle, let's get you something for the air.
This Tie Fighter replica by TT is a great option for an airborne vehicle, and if you'd know this if you're at all familiar with the Star Wars films.
These things are great for fast-paced aerial combat and can maneuver themselves out of some of the toughest situations.
3.

Metal Gear Rex
Metal Gear Solid was another huge part of my childhood. And it seems that the Brick Rig community has love for it as well.
There seems to be a connection between this game and nuclear weapons too, I'm not sure what it is but with that in mind, Metal Gear Rex in Brick Rigs makes total sense.
Verdeth's Metal Gear Rex build has completely functional railgun lights, missile pods, and laser as well.
2.

Horizon Zero Dawn Deathbringer
Metal Gear Solid wasn't the only one to feature some cool mechs of course, as the more recent Horizon Zero Dawn is another game that quickly comes to mind.
The game featured an interesting assortment of mechanical dinosaurs and animals, and the Deathbringers were undoubtedly one of the scarier enemy types you'd have to face throughout the game.
Modder Atlantic brings you your very own Deathbringer for Brick Rigs, with working beacon lights, steering, and guns to complete the package.
1.

Godzilla
This last one takes the top spot on the list simply because it's an undisputed classic – especially when it comes to chaos.
While it might not be the best-looking mod out there, the idea of unleashing Godzilla on a virtual city and watching it wreck its way through everything is just irresistible.
The controls are simple, as the mod includes a "city destroying stomp" control which can be triggered with your left mouse button.
A must-have if you're looking to wreck things. Or maybe if you're just a fan of Godzilla games.
Browse:
Brick Rigs
Lists
Video Games