Top 10 Best Pets in Castle Crashers (Ranked)
This post may contain affiliate links. If you buy something we may get a small commission at no extra cost to you. (Learn more).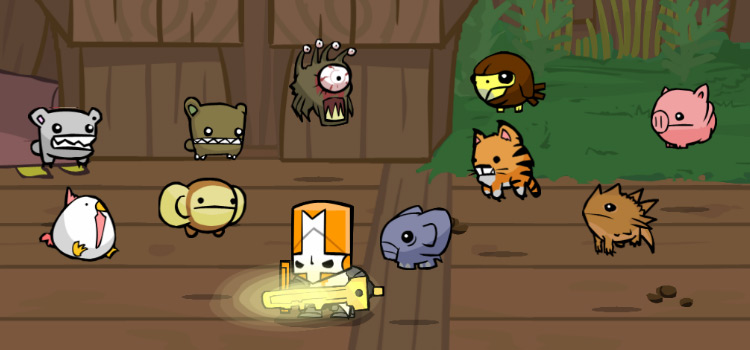 Pets or Animal Orbs are creatures that can be found throughout the world of Castle Crashers. Each of them is gifted with unique abilities.
There's 29 of these Pets waiting for you to take them on your journey.
You can find them by either:
Buying them from shops
Finding them in the wild
Battle enemies and win them over
Since you can only bring 1 Pet with you on your adventures, here's my personal take on who the absolute best pets are that you should look into.
10.

Giraffey
Girrafey is one of the most unique pets you can find in Castle Crashers.
It doesn't have the ability to attack anyone, nor can it give you a stat boost. But it can give you a 10% XP boost.
Although Girrafey can be pretty useful early on in the game, by the time you have maxed out your level you'll no longer need the XP boost – likely prompting you to look for another Pet.
How to get: You can find Girrafey by digging on an "X" in the "Desert" level. You'll have to clear a wave of Royal Guards and Scarabs before you can safely dig him out.
9.

Scratchpaw
Scratchpaw is a tiger that can be found late in the game. It doesn't offer much in terms abilities, but it can you a double stat boost of:
+1 in Strength
+2 in Agility
Scratchpaw is great if you're into running and smacking enemies on the head quicker than everyone else.
But as the game progresses, better choices will be available.
How to get: You can find Scratchpaw in the "Sand Castle Interior" level, just bring along two bombs with you when you look for him.
8.

Chicken
Does Chicken look familiar to you? That's because he was designed to look like the logo of The Behemoth, the developers of Castle Crashers!
The Chicken can help you balance your attributes by boosting the following:
+1 Strength
+1 Defense
+1 Agility
Evenly distributed points among other attributes isn't really recommended, since it's far better to have points on a singular stat to maximize its potential effect, which puts Chicken down here at #8.
How to get: Bring your trusty shovel and start digging on those X's in Medusa's Lair and you'll find Chicken.
7.

Spiny
If you're playing with a few of your friends and they ask you to be the "tanky" one, Spiny the horned lizard can help you do the job – granting the player an immense boost in the form of +4 Defense points.
A knight's ability to be more durable in battle than everyone else is a great quality.
But having no other stat boosts puts Spiny at the bottom half of this list, as there are far better options to choose from in terms of efficacy.
How to get: You can buy Spiney at the Volcano Store as long as you have 300 Gold.
6.

Bi-Polar Bear
Do you want a pet that can help you decimate both your friends and enemies?
Bi-Polar Bear is the pet for you!
This pet can help with a couple things:
Attacking an enemy with 8% HP and an ally player at 11 or less HP
Inflicting damage with an effect based on the player's weapon of choice.
This bear is a low-risk, high-reward type of Pet. He's especially useful against bosses with massive HP.
The chances of a fellow player getting attacked is very rare, as long as you're mindful of your HP bar you will be safe.
How to get: Bi-Polar Bear can be obtained at the end of the "Snow World" level. Just blow your Horn outside the cave and he'll come out.
5.

Piggy
A player low on HP will always be looking for food to regain their health. But with Piggy around, the food you pick up is guaranteed to be multiplied upon consumption, helping you last longer in the battlefield.
Piggy is especially useful when the map you're playing has guaranteed food lying around. Examples of these maps are:
"Wedding Crash"
"Snow Word"
"Lava World"
How to get: You can find this pink orb of pork available for purchase at the Swamp Village Store for 290 gold.
4.

Burly Bear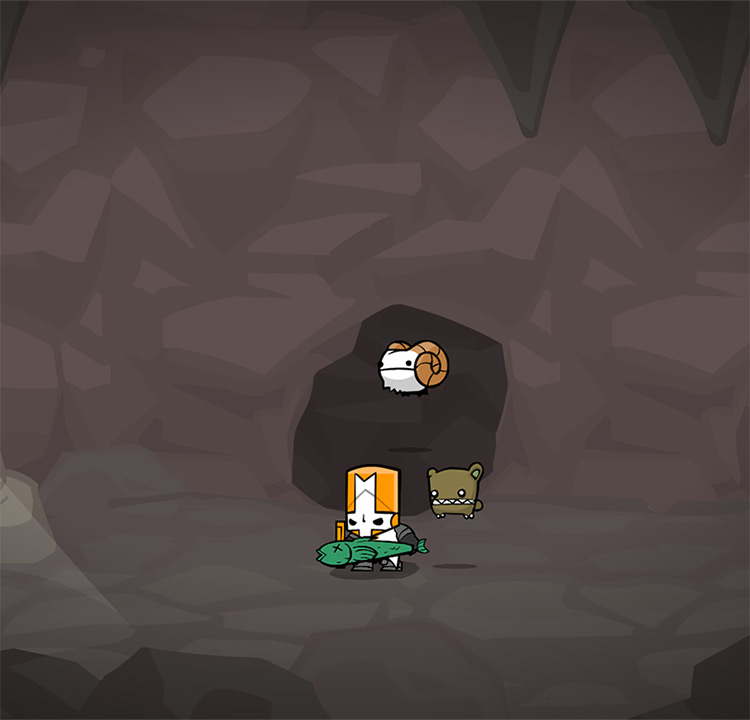 One of the best pets you can get early in the game is Burly Bear, a brown bear that can give the player a couple huge boosts:
If you're only in it for the strength Burly Bear grants you, then there's another pet that can help do a better job.
But if you're looking for a more balanced build with a single point bonus in defense then you better stick with Burly.
How to get: Burly Bear can be found in the "Tall Grass Field" level. All you have to do is just:
Bring a sandwich
Lift the boulder out of the way
Make your way inside
Throw two bombs at the cracks on the wall.
3.

Beholder
As someone who likes to use magic-based attacks, I highly recommended the Beholder.
The bonus +4 Magic skill points yielded allows you to spam your magic attacks at a much more frequent rate, perfect for magic users.
How to get: You can find the Beholder behind a locked door in the Animal Ark. In order to open it you must have:
Cardinal as your Pet
Have him look for the Key Sword at the "Full Moon" Level
Equip the Key Sword
Return to the Animal Ark and hit the door to unlock it
2.

Snoot the Elephant
Having Snoot as your main pet can make your trip to the last boss a cakewalk, since Snoot grants the player +4 in Strength, helping your melee attacks deal tremendous damage to enemies.
Snoot gives you a ton of damage that no other Pet can.
And that's about it.
So because Snoot can't do anything else but give you strength, he falls here at #2.
How to get: Snoot the Elephant can be found at the beginning of the "Cyclops' Fortress" level. Just lob two bombs at the crack on the wall and you'll find inside the hole.
1.

Hawkster
Hawkster is by far the best pet you can have in Castle Crashers, allowing you to last longer in the game by harvesting fruit from dead enemies, thus helping you regain HP.
Inflicting damage while the enemy is down is also part of Hawkster's arsenal.
It's a pet that helps you on offense by dealing damage to enemies, and helps on defense by giving you an item that can restore your HP.
What more could you want?
How to get: You can find Hawkster pretty early on in the game. Just go to the "Tall Grass Field" level and:
Have a Horn in your inventory
Look for a mud hut with a "Horn" sign
Blow your Horn and Hawkster will emerge from the hut
Browse:
Castle Crashers
Lists
Video Games