Civ 6 Best UI & Interface Mods to Try (All Free)
This post may contain affiliate links. If you buy something we may get a small commission at no extra cost to you. (Learn more).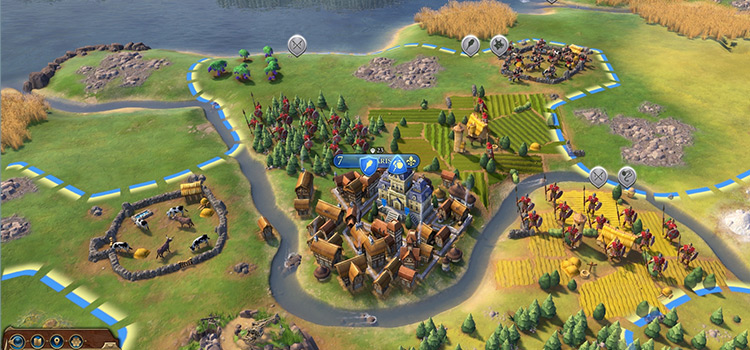 I didn't have too many problems with Civ 6 and its UI. But if there's one thing I've learned in all my years as an avid gamer, it's that the community can often make things much better than what we get in the base game.
In fact, community content is sometimes better than what we get from some DLC packs!
That's why I decided to take a deep dive into the Steam Workshop of Civilization 6 to see what kind of GUI mods are out there. It's safe to say that my digital travels rewarded quite a few gems, which is why I decided to create this list to let you know of my favorite finds.
Let me just point out that most of these mods are overall improvements for the game and QOL changes, so these are nothing radical, but can absolutely make a gameplay difference.
15.

Radial Measuring Tool
This tool might look quite simple at first glance.
But it's extremely useful for players who are as lazy as I am. It allows you to take a better look at the distance between your current city (or a location where you're thinking of building it) and the effects that it will have in comparison to the rest of the tiles on the map, or those adjacent.
It makes for a fantastic add-on if you hate to count the tiles to nearby effects, or where your city will be expanding in the near future.
Plan ahead, plan smart, use mods, fellas.
14.

Extended Diplomacy Ribbon
Diplomacy has always been a pain in the ass when playing Civilization. And it didn't get any better when Civ 6 came around.
In fact, I'd argue that it's worse – there are now far more options to choose from, and the navigation is still as inconvenient as it has always been.
But the Extended Diplomacy Ribbon mod allows you to have a better view of all the important diplomatic features in one place. No need for you to scroll through endless menus to find out whether you'd like to make a peace deal or not!
13.

Cheat Map Editor
Are you looking for a way to edit the map after the game has started, but without having to exit the game?
If so, you're a damn cheater. Don't worry though, I'm not judging you.
All you need to do is download this mod– it will allow you to make any modifications that you need to the game map after the game has started. Easy peasy.
12.

Enhanced Mod Manager
Now this simple mod allows you to see which other mods are active, and which aren't.
It splits the screen into two sides and gives you a much better overview of what's going on with your modding setup. Also much simpler to deal with this UI when you want to turn mods on. Great if you're big into modding Civ 6 (and I know there's a lot of options out there).
Simple UI tweak, yet very effective.
11.

Better UI Report
The Report Screen isn't anything out of this world.
But this mod does make it much better by adding additional statistics and info to help you get a stronger grasp of what's influencing the game.
Again, very simple but really worth the install.
10.

More Lenses
Filters; filters everywhere!
This simple mod allows you to filter out the map much better than the base game.
Hard to see the value without giving it a try, so install this bad boy and see what you think.
9.

Quick Start
Open the game, go to the menu.
No more terms and conditions, logos, loading screens. Cut the crap out and play, man.
That's all I want to do – and this mod allows for that to happen. No fuss, just fun.
8.

Cheat Menu Panel
Ah, so this is my second (and last) mod for cheaters in Civ 6.
It basically allows you to open a menu where all the cheats are. Can't get more on the nose than that.
Select the cheat you want to activate and get down to business with your newly-found unfairness over the computer (or other players in your LAN).
7.

Better Trade Screen
Become a trade master with the Better Trade Screen Mod, which aims to give you full control over trade routes that run through your empire.
It will allow you to take a better look at everything that's happening in your lands, as long as it's related to trading. And you'll be able to micromanage your finances with other empires in a more complete fashion.
I'd say this is as close to a trading overhaul as we're going to get from the modding community.
If you've been struggling with trading in Civ 6, this is the mod to try out. But I mean, even if you haven't had any troubles with trade I'd think you should still give it a go.
6.

Simple UI Adjustments
I'm not going to lie: this is not an overhaul by any means.
However, I do recommend you guys to get it for the sheer fact that it changes those UI issues that we've always complained about, and improves them ever so slightly.
Let's face it: Civ 6 has many UI issues that are not too detrimental, but make gameplay a tad more tedious than it should be.
This mod makes small changes to the UI that you'll instantly notice if you've been playing the game for over a couple of campaigns.
If you've never played it before, it's an ideal mod to install to get yourself acquainted in Civ 6 without some of its main navigational issues. And you'll probably never go back to vanilla, either.
5.

Global Relations Panel
I always hated how being good at diplomacy in Civilization almost required a damn PhD.
Global Relations Panel aims to fix the issues that come with diplomacy in the game. How?
By giving you the option to see what other civilizations are doing and how they're dealing in their own diplomatic environment.
That way you'll be able to make more informed decisions and get a slight edge over your foes. In fact, let's not even call it an edge – the computer already knows what you're doing. This will be placing you on the same page as your foes.
It's only fair.
4.

R.E.D. Modpack
Alright, this might not seem like a change that you would expect someone to make, but it's a game-changer for me. Brilliant, really.
It makes all units in the game have more "soldiers" in their garrisons, which makes for much more epic battles.
Why have one ship raiding your enemy's coastlines when you can have three?
Why look at 5 soldiers in an army when you can have 50?
The mod also adds new formations to the game, so prepare to unleash epic battles in your maps and see how things go for your enemies!
Also, I think your enemies will have more units in their armies… but hey, I sold you on the mod didn't I?
3.

Colorized Historic Moments
Yep, this does exactly what you're thinking. It's extremely basic and I absolutely love it, so I'm giving it a very good spot on my list.
It simply makes all of the historic moments fully colorized.
Just beware: if you're downloading mods that add historic moments, those are not going to have colors.
2.

Real Great People
I have to admit that, when it comes to immersion, this is one of the best mods in the game – even when all it does is add a few additional pictures to the game's AI and menus.
Real Great People adds pictures of every single great person in the game so you can put a face on that generic unit that spawns whenever you recruit a scientist, religious person, or otherwise.
Real Great People has become one of my favorite mods for Civ 6 – even taking into account how simple it is.
Absolutely worth a try if you're persnickety with details.
1.

Unique District Icons
Customization is such an important aspect of the game, yet one that seems to be so gleefully ignored by developers.
In fact, in 4X games I'd say that customization is almost as important as the gameplay itself! Well, at least if you're as much of a fan of storytelling as I am.
In any case, Unique District Icons is one UI mod you'll definitely want to try. It actually makes your districts feel like something else – something meaningful.
They're extremely well-made, too.
You can count on these icons to look as good as the vanilla ones (or even better, in some cases!)
In fact, the reason why I'm putting this mod at the top of my list is purely because of how fantastically well-made it is. This may not be a total gamechanger, but it's something that longtime fans of the series are likely going to appreciate.
Browse:
Civilization VI
Lists
Video Games