CK3: What To Do With More Powerful Vassals Than Council Seats
This post may contain affiliate links. If you buy something we may get a small commission at no extra cost to you. (Learn more).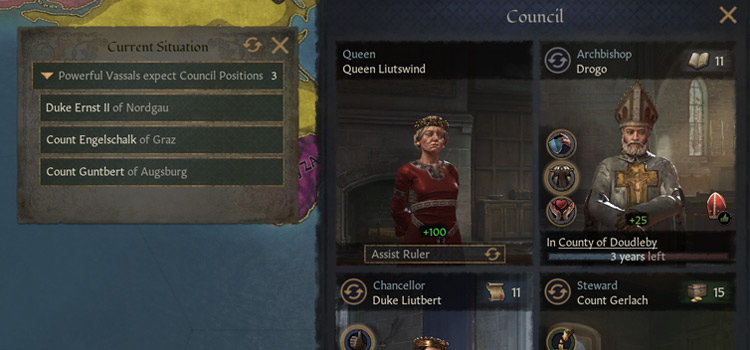 Vassals who are demanding a council seat, but don't have one, can be managed by increasing their opinion through other means or by prioritizing the strongest vassals.
Alternatively, you can murder or imprison difficult vassals. But in general, you should keep vassals weak to make them easier to control.
Method 1: Increase Powerful Vassal Opinion
The Wants Seat on the Council modifier is a -40 opinion modifier that powerful vassals receive when they're not council members.
You can counteract this debuff by swaying vassals, gifting items or gold, or by various other friendly actions.
Befriending vassals is also a great idea since this provides a very large opinion boost.
With the Befriend perk from the Family Hierarch Diplomacy tree, you can start Befriend schemes on other characters.
Method 2: Prioritize The Strongest Vassals
While you may want to give council seats to vassals with the best stats, you might have to prioritize the strongest vassals who dislike you.
Giving council seats to these vassals, even if temporary, can stop them from joining factions.
Extremely powerful vassals can cause factions to activate and allow them to declare war against you.
Tip: choosing a Spymaster who dislikes you is extremely dangerous, as they have a higher chance to kill you in a plot. Pick someone who likes you instead.
Method 3: Kill Or Imprison Vassals
As a last resort, killing or imprisoning troublesome vassals will stop them from acting against you.
Murdering Vassals
To kill a character in CK3 you can begin a Murder Plot in the Intrigue tab. If your character is Intrigue focused this will be much easier to complete.
If you aren't found out, this method has the least consequences.
Your vassal's heir should inherit. The heir might have a higher opinion of you, or even better, they might be a child who can't demand a spot on the council yet.
Imprisoning Vassals
If your powerful vassals are imprisoned, naturally, they won't demand a council position. Imprisoned characters can't join factions.
Arresting vassals may be difficult. If they refuse, they can rebel and attack you along with any other vassals who dislike you.
Using a hook will increase your chances of capturing them without resistance.
Tip: after winning a faction war, your rebelling vassals will be imprisoned. If some of them cause you a lot of trouble feel free to keep them there!
How To Weaken Vassals
If your vassals are just too powerful to control, you should consider weakening them somehow.
You could do this by revoking their titles. This is easier if they're already criminals and can be punished, or if they're imprisoned, where they can't refuse.
To avoid vassals collecting land over several generations, keep the Forced Partition option checked in their Feudal Contract, if you have a Feudal government.
Vassals with many allies could also be murdered.
Or alternatively, an alliance could be broken by killing one of the married characters who formed the alliance.
Browse:
Crusader Kings 3
Paradox Interactive
Video Games