Top 25 Coolest Skins For Minecraft (All Free)
This post may contain affiliate links. If you buy something we may get a small commission at no extra cost to you. (Learn more).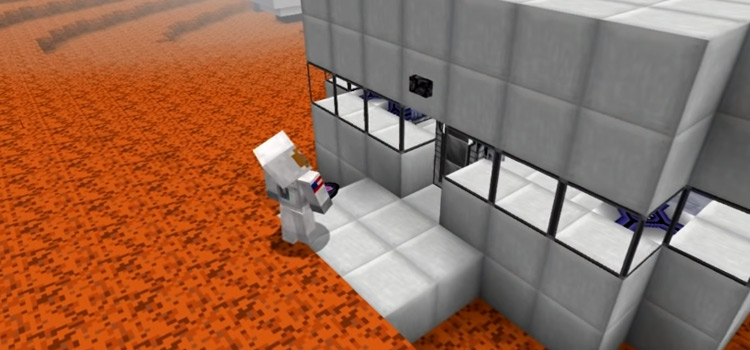 Personalizing your character in video games is nothing new.
But Minecraft offers this feature in a very interesting way. So interesting, in fact, that skin websites and skin creation have become incredibly popular.
Because of this, choosing something that feels unique and personal is very difficult.
So I'm gonna share a bunch of skins for the game that I think would look very cool. And if you find something of your liking, I recommend you download the skin and go to a skin editing website – then you can tweak the skin, either by following my recommendations or just YOLOing it.
Once that's done, you can prepare for at least 1-hour of third-person view gaming. (Am I the only one that does that after choosing a new skin?)
25.

Cute Bear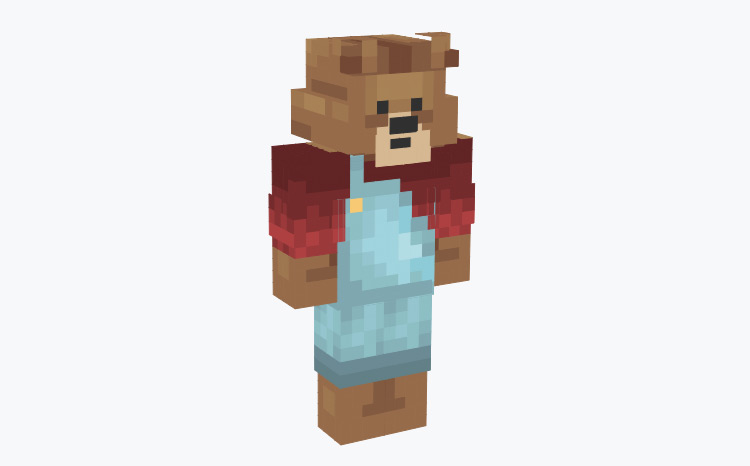 Now, this bear might look friendly and cute, but believe me: they're not.
Unleash your cuteness when playing with some friends, then bring your bear power to the arena if you want to do some PvP.
Well yeah, this bear is mostly just cute.
But most people know they're pretty deadly right? You'll get both effects at the same time.
24.

Cloudy Skin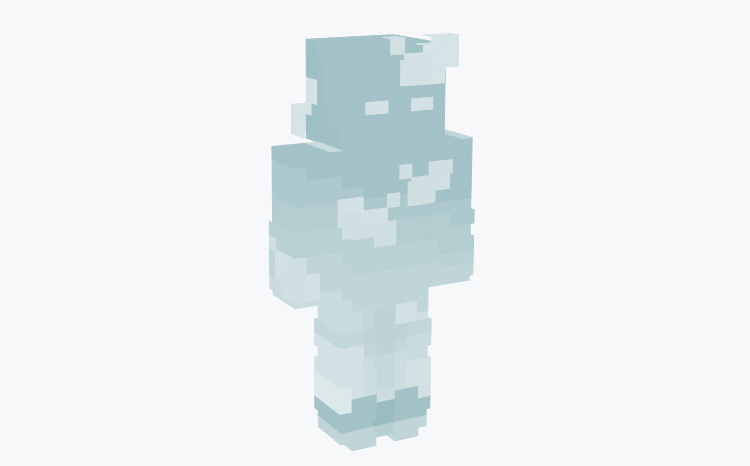 It's raining outside.
You put on some good lo-fi tunes, go into your survival world, and apply this skin… you couldn't be more chill.
I know this is simple. But it's the simplicity that makes it unique.
Very good execution in very little detail.
If you don't like the eyes, you can even change them up with clouds and turn yourself completely into the sky.
23.

Sad Troll Face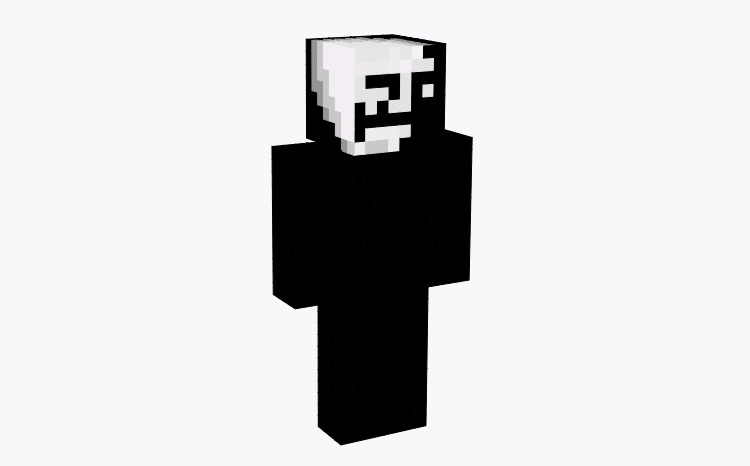 At least one joke skin had to make it in the list, right?
Let's see, what can I say about this skin?
Well for starters, he's pretty sad. I don't know why though, it looks like an existential crisis kind of sad – if you find that relatable why not give the sad troll face a go?
Tell me this wouldn't be a funny reveal to your friends, though. I think no one expects this skin in any situation.
22.

Flying Robot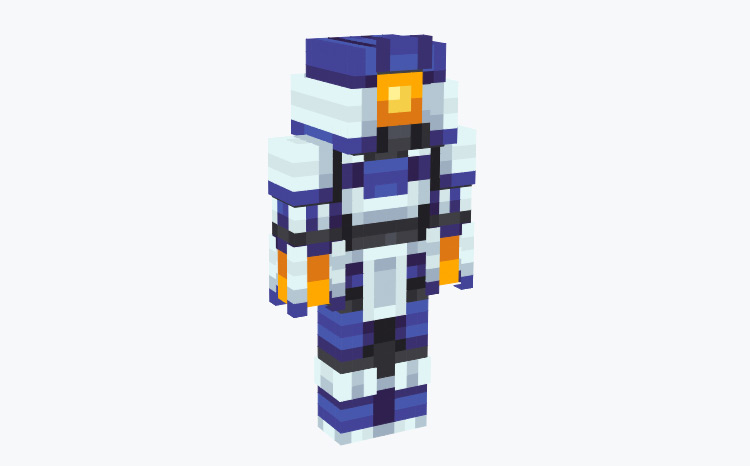 Using the elytra on this bad boy will probably make you feel like ironman.
This badass robot is looking for trouble!
I normally gloss over robot skins, but this one caught my eye and for a good reason:
Just look at it – cool right?
If you want to make the skin even scarier, changing the "eye" on its head to red might do the job too.
Same with the propulsor-like hand for maximum professionalism.
21.

Builder
If building stuff is your jam, representing it in your skin might not be a bad idea.
The strong colors on this one are the main reason I just had to pick it for this list.
They're pretty happy and unique.
And the skin designer did a very good job with shading.
It'll be hard to not take you seriously in this skin while building, so people will know you're the real deal!
20.

Futuristic Knight
I guess we won't have any knights in the future, but who knows what will happen to humanity?
Although if we do, this is how a knight might look!
Knights are common in skins. But this one's color choice made me want to add it to the list.
It's just unique.
And that leads me to another point:
If you like the knight idea, but feel it's overused, work on a new palette you like and paint this skin to your liking.
19.

Robot Skin
I didn't think I'd find another robot skin that would check all my quality requirements, but here it is!
It feels unique, and the color palette is super interesting.
The important part of a robot isn't its engineering, either. It's how cool it looks!
Well, at least in movies and (apparently) in Minecraft.
This deadly machine doesn't need to be on this orange/pink color, because you can change the colors if you want. Maybe add a face onto the screen.
18.

Holiday Steve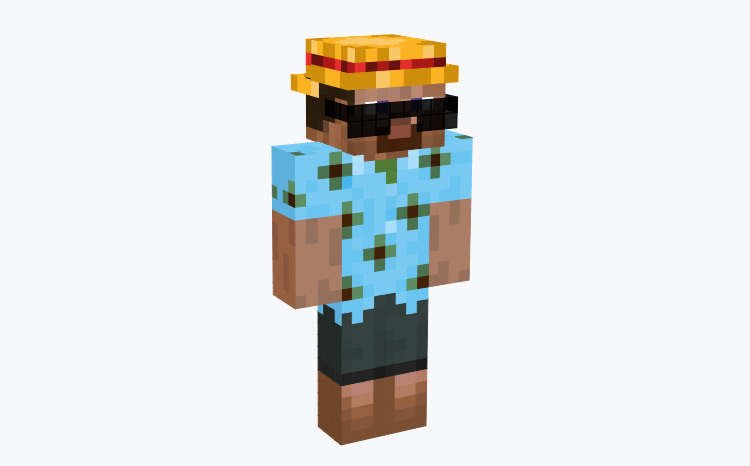 See the world through shades with this skin.
This Steve just doesn't care. His glasses, t-shirt, and vacation style make him too cool to deal with problems.
Plus, he's on vacation. You don't want to ruin his vacation.
There are multiple colors you can change in this skin if you don't like any of them. Or you can also use parts of this skin on another one.
17.

Astronaut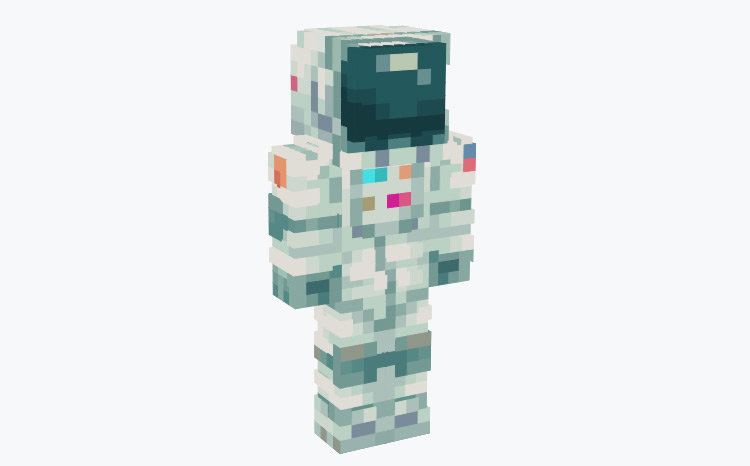 Space is incredible.
And when you're drifting through the void, a spacesuit might be the only thing keeping you safe.
(Let's not get into that situation though, just in case!)
But either way, this guy's safe for sure!
One of the few astronaut skins where the suit feels bulky and heavy.
It also has some colors you can change, as well as the whole blue tone. Maybe change the tone to red if you want him to be on Mars.
16.

Frog Suit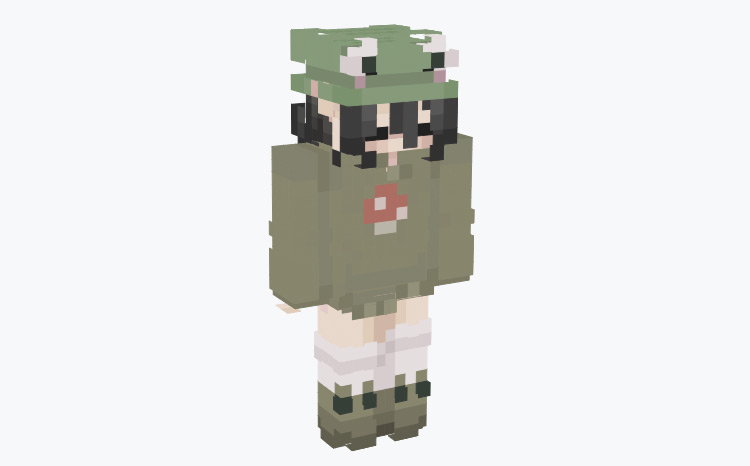 So you like frogs huh?
Hm… let me see what I can get you – how about this hat?
Yeah, forget about the rest of the skin! Just grab the hat, and put it on! OK maybe I went too far… animal accessories on Minecraft skins are so cute.
The mushroom shirt is also super cozy-looking. And it also doesn't necessarily need to be red, change it up if you want.
15.

Military Trooper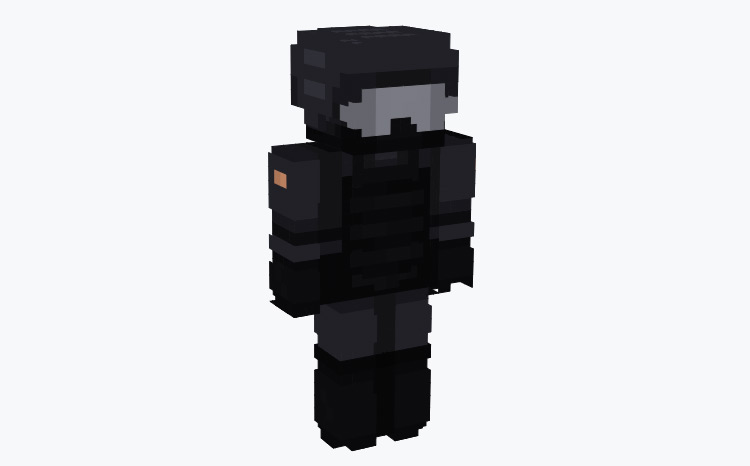 Do you like jumping straight into the action?
This military trooper guy looks like he would too.
This skin is more or less generic, but it's pretty cool and imposing – good if you want to scare your PvP rivals.
But is it still too generic for you?
Let's fix that: just make it less dark with some blue tones, or maybe tweak the orange lines.
14.

Steampunk Creeper
Creepers are not new in the skin business, I know.
But this one's special for a few reasons!
The steampunk style is not common in Minecraft skins, and less so if combined with this flat one you would find in an official Mojang animation.
There's not much to change here, but maybe you could change the creeper's color – or change the mob entirely.
13.

Summer Skin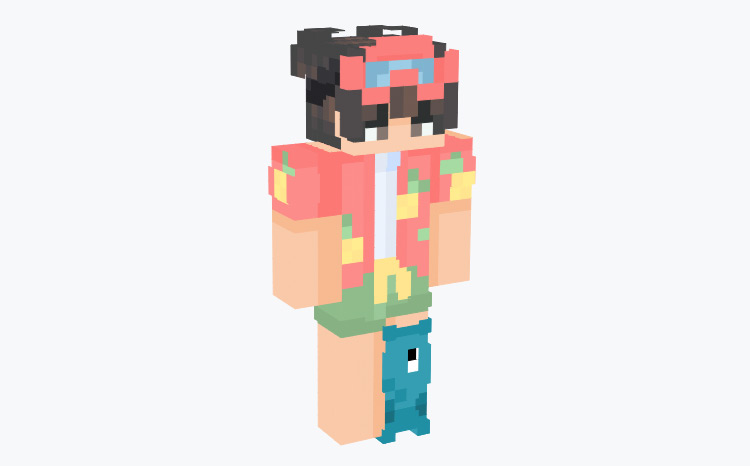 Is it hot wherever you're at?
This skin feels the same way, and the summer vibes on this one are off the charts.
Glasses, a short sleeve t-shirt, and a fish eating his right leg.
And about that fish… you can change the color around on this one! Plus the t-shirt and glasses are also pretty open for customization.
12.

Winter Skin
Not summer right now?
Well, maybe it's winter.
And if you liked the style of the previous summer skin but want to match your climate, this winter skin could be your pick of the day.
The palette is pretty much the same, and the style is very similar.
Plus the color on the jacket should be fairly easy to change if you don't like red.
11.

Axolotl Costume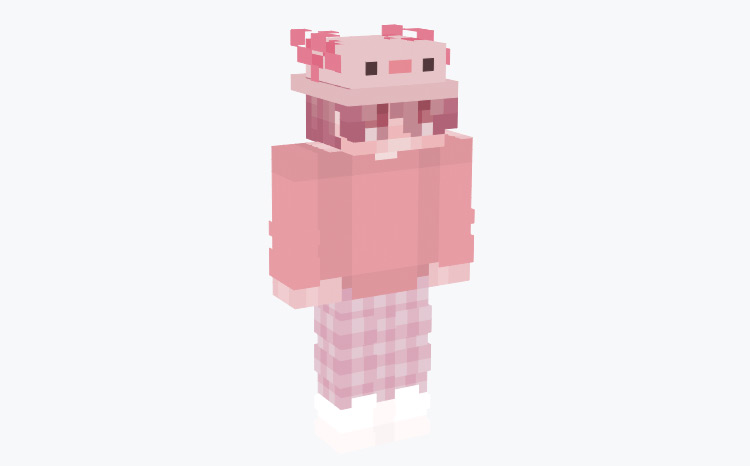 Cover yourself in the best predator of them all:
An axolotl!
If you love this cute new mob, but still want to conserve some humanity, you can try out this axolotl costume for your next skin.
It's pink by default, but if that's not your taste, you can change the hue so it matches your favorite axolotl color.
10.

Television / Terminal Face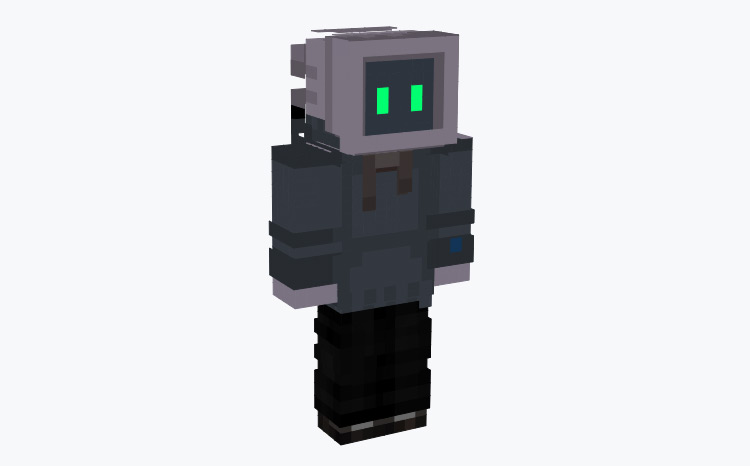 I know this one looks very… boring?
But don't worry, that's the point!
Remember what I said about tweaking the skins you like? This one's just for that.
If you like the TV design, download this skin and make it your own.
My recommendation would be to change the eyes (the color, the expression, or both) and maybe the shirt's color.
You'll see that looking like a TV might bring some interesting bits while playing with friends.
9.

Kermit the Frog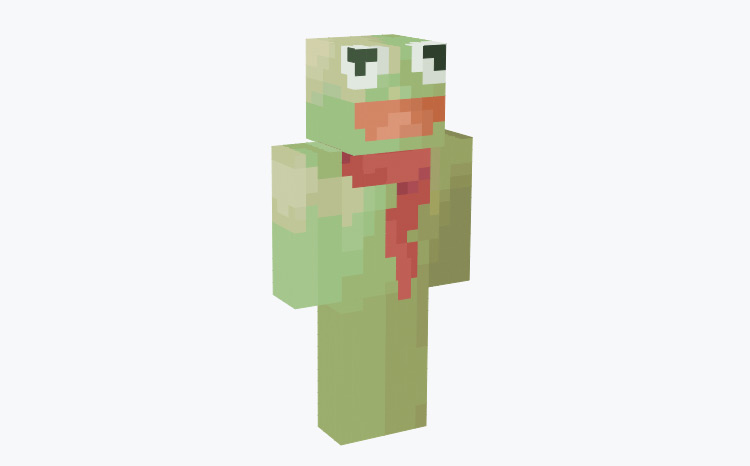 We all love Kermit don't we?
And we also love seeing Kermit taking down 8 players in a row in a "SkyWars" game.
The color palette here (combined with the general vibe of the skin) makes this look super cute, simple, and unique.
It's a perfect fit for playing survival, but it's also amusing to watch if you're planning to PvP!
And if you want to further customize it, you could change the color of the scarf to your favorite color choice.
The skin itself is pretty unique on its own, though, so let's keep Kermit green here.
8.

Axlolotl Design
Maybe you don't want just a costume.
Maybe you want to get straight to the point and be the cutest mob ever added to Minecraft!
And this is the most unique axolotl skin I could find. It looks different from the rest, and it strives for a more realistic feel.
The customization part on this one is as easy as the previous axolotl skin I showcased (granted that one was a costume, but still).
With a bit of time here, you can perfectly tweak the color scheme to match whatever style you want.
7.

Detective
You like playing Murder mystery games?
Well you might start liking them after choosing this skin.
Nothing stands in particular here, but that's how detectives are!
Whether you're catching a murderer or playing standard PvP, this mysterious-looking fella is super cool.
Changing the expression on this skin is also super easy thanks to the simple design on his eyes.
6.

Zombie Miner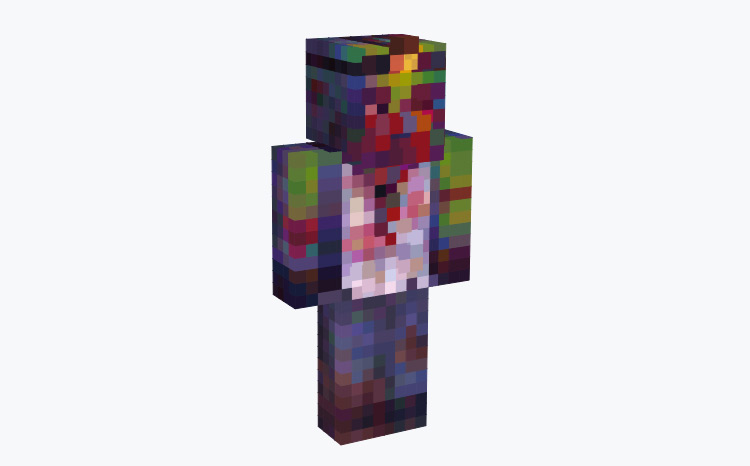 Looks like this dude couldn't come back home safe after his mining session…
This skin is super professional, and you don't need a description when you see it. You know exactly what happened to this poor miner.
But it's so detailed that editing it might mess it up if you don't know what you're doing.
That said, do you really need to edit a skin like this? It's basically good to go.
5.

Demon Ninja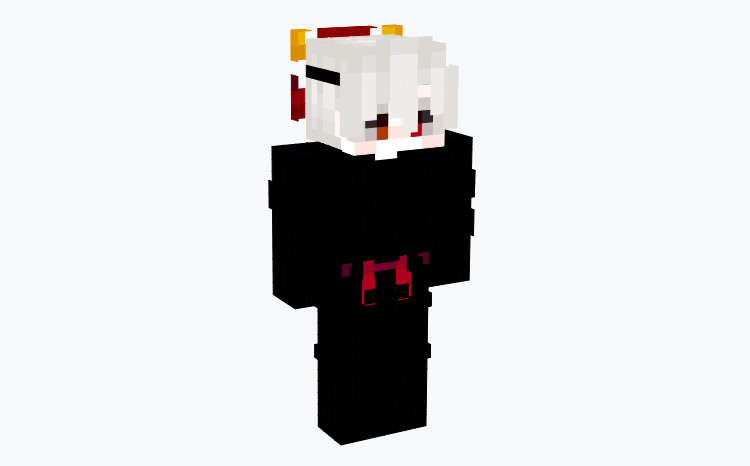 You wanted something cool, right?
Well there's not much cooler than a ninja with a demon-looking mask on.
This is probably more suited to PvP – and players will probably avoid fighting you with this skin.
It's dark, simple, and also threatening. And when you turn your back, players will be greeted with a scary mask.
It's the whole package!
The straightforward colors on the belt and mask also make it pretty easy for you to change this skin into something more personalized.
4.

Animation "Plastic-Looking" Steve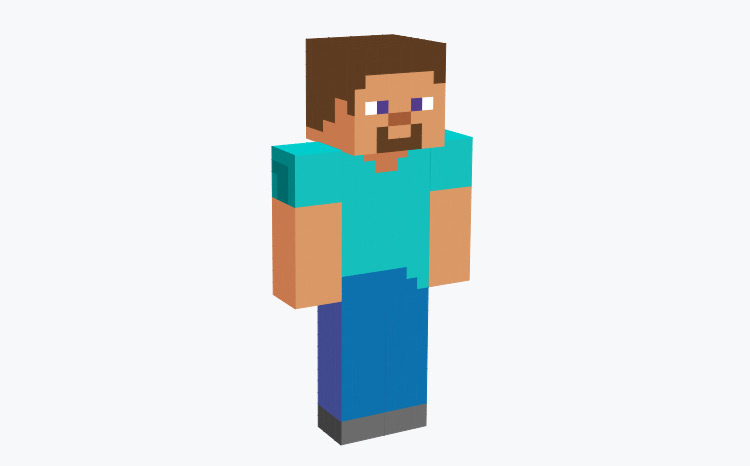 So maybe you don't want anything too crazy for a new skin.
Well this one's just the Steve skin, but modified in a pretty original way.
You know those Minecraft animations made by Mojang? This skin looks a lot like Steve in those animations (and that's the idea here!)
Fewer details, and a lot flatter than the original.
But tweaking this skin may not be the greatest idea, because… well… don't do that to the poor Steve!
Plus this specific skin is not very popular anyways, so not modifying it at all should still look fine.
3.

Mushroom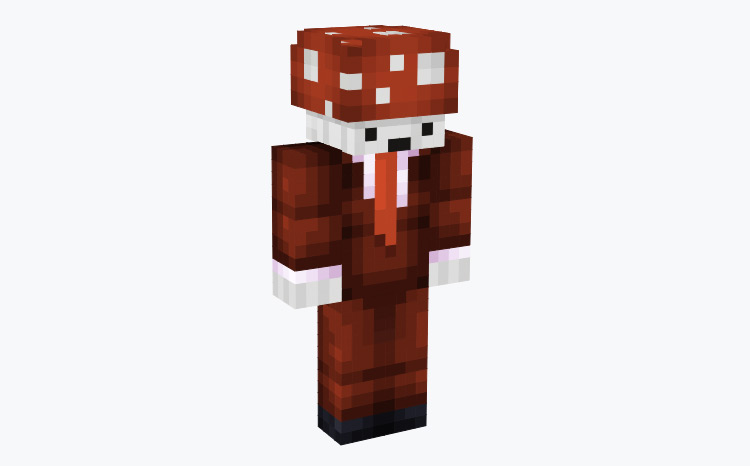 A mushroom in a suit.
Can it get any cooler than that?
I don't know if this skin is cute or cool, but I'll add it to the list anyway just because of the design.
Can you picture this mushroom dude doing business? Well that could be you in your next Minecraft session.
Embrace nature, look badass, and show off a cute design at the same time. What a deal!
2.

Lego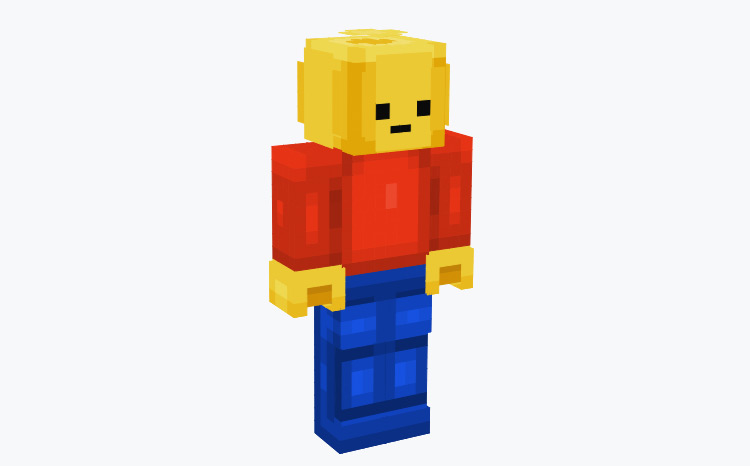 Fair warning to other players: don't step on this one (maybe comedy's not my thing)
We've all had Legos – so no one will mistake what this is.
And at a glance, a standard Lego piece doesn't sound super original for a Minecraft skin.
But when's the last time you've seen this skin while playing Minecraft?
Lego is also the analog predecessor of Minecraft if you think about it. You can also change the facial expression on this one – super easy to do!
1.

Medieval Pumpkin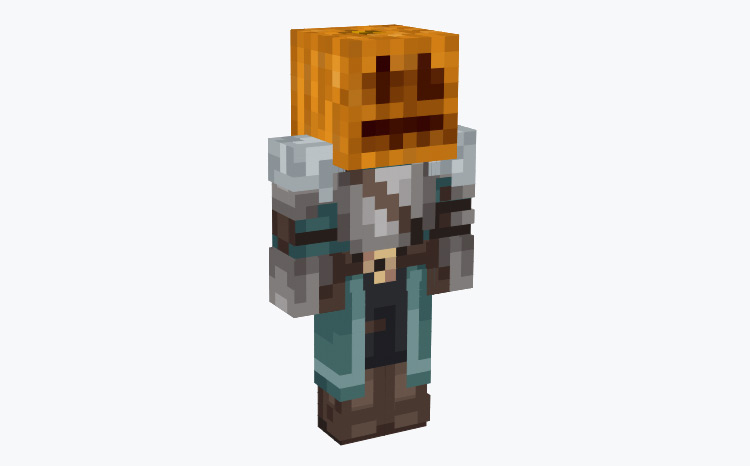 If you're a fan of the medieval style then I got something pretty unique for you!
The suit on this fella makes you look like some sort of knight, but the pumpkin head makes it a lot funnier to look at.
It might remind you of some sort of scarecrow taken straight from a fantasy book.
Or just a weird pumpkin-headed being running around.
Medieval skins are nothing new to Minecraft, but this one gives the theme an interesting twist.
Plus you could get creative here and even change the head to be another block or mob, like a slime!
Browse:
Lists
Minecraft
Minecraft Skins
Video Games