35 Batman Crafts & DIYs To Bring The Dark Knight Home
This post may contain affiliate links. If you buy something we may get a small commission at no extra cost to you. (Learn more).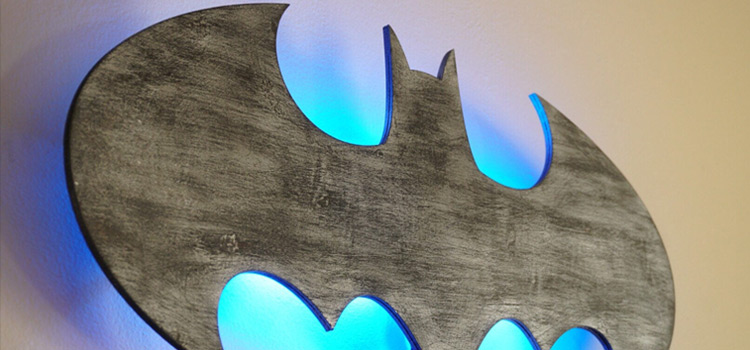 If you've ever found yourself screaming 'I'm Batman' then, well, you're really just human. You're also likely to appreciate these brilliant Batman DIYs that will bring the Dark Knight into your home.
Proving that you can never have enough Batman in your life, definitely give these crafts a go next time you're in the mood for handmade fun. And there's plenty in this list for both kids & adults so you'll never run out of ideas.
1. DIY String Art
First up is a stylish Batman string art project that'll really hit the spot.
A fun investment of time if you're looking for something new to get stuck into and you happen to enjoy the theme of Batman. This string art is sure to impress anyone, really.
Employing the signature emblem of the superhero himself, the pop of yellow on the black background will really make this decoration stand out. Your very own stringy ornate bat signal, if you will.
2. Super Hero Spoon Puppets
It's time for a DC universe inspired puppet show.
One for all the family, this superhero spoon puppet craft will let you put on a great show for the kids, full of their favorite fictional characters like Batman and Superman.
Made simply with wooden spoons, acrylic paints, and all the other usual suspects in the DIY crafting world – like the ever-useful googly eyes – these spoon puppets will bring the superhero universe to your living room.
3. Upcycled Batman Costume
One of the best ways to re-use old trousers, this awesome Batman costume will have your kids running around believing they're a true superhero.
A great costume for any themed party or even for Halloween. Put a big smile on your kid's face by making this Batman costume and maybe they'll let you go along as their Robin.
4. Magnetic Batcave Sign
Every child feels their room is a sacred space and deserves to be treated as such.
So give them what they want by designing this crazy magnetic Batcave sign to hang up on their door. It's a handy sign to warn visitors of the top secret activities going on inside.
Being magnetic, this sign allows for full customization meaning your kid will be able to interact with this craft however they see fit and make their very own batcave.
5. Paper Roll Batman & Robin
Another simple way to create your favorite Batman characters like the spoon puppets, these paper roll figures are easy enough for anyone to make.
As simple as taking some paper towel rolls and acrylic paint, these paper roll superheroes will fend off dark energies and lighten up the place, all while looking really awesome too.
6. Realistic Batman Costume
Make sure that the next time you feel like uttering the infamous two words of the Dark Knight, you look just like him.
This realistic Batman costume will have people thinking they're in a universe where superheroes really do walk the streets and save the world.
Fantastic for photo opportunities where you can pose as Batman in a dark alley or in any other scenario, this costume craft is a must-make project.
7. Cardboard Wrist Cuffs
With cardboard tubes and some construction paper you can make these funky Batman wrist cuffs that'll be the highlight to any kid's day.
Perfect for pretending that they're the Dark Knight, these wrist cuffs are a simple way to keep the kids satisfied without having to make a full-blown costume.
8. Egg Decorating Ideas
Another super simple craft, these Batman eggs are great for the jokers out there who like a funny DIY to kill time.
Taking something that probably everyone has in their fridge and turning it into one of the coolest superheroes out there, this craft has all the makings of a great afternoon of DIY family fun.
9. Paper Plate Craft
Something for the superhero party, or a birthday party, these Batman paper plates are a fun way to call the Dark Knight to the action.
There's nothing better than tucking into some delicious birthday cake from a neatly designed Batman paper plate. So get your superhero on and give this one a go!
10. Batman Wall Art
Batman will always be around lurking in the nighttime shadows with this craft.
This striking yet simple Batman wall art is ideal to jazz up your living room without re-painting it or having to drag heavy furniture around.
Put your childhood drawing skills to use again as you attempt to recreate the infamous Batman logo on a big wooden canvas.
11. Wall Key Holder
As well as being an incredibly innovative way to hold your keys, this Batman inspired wall key holder looks the part too.
To turn your home into an authentic batcave, this key holder has to be an essential in your entryway or living room area.
Using wood and hooks in a simple fashion, you too can have this unique key holder that'll remind you where you put the keys every time. Not to mention it'll help you feel like a true superhero as you leave the house.
12. Batman Bath Bombs
Bath bombs are mesmerizing to watch and a lot of fun to use.
Batman bath bombs are both of those things and more.
A simple twist on the traditional bath bomb that'll mean you get to take a bath with a LEGO superhero, these bath bombs are the bomb of DIY crafts.
13. Batman Snowflake
An approximation of the Batarang, except one that you'll want to hang up and not throw.
This Batman snowflake is a lovely decoration to have hanging around the place and especially during the winter months.
Whether it's dangling from the Christmas tree or hanging from a door knob, you can't go wrong with this dark handmade DIY.
14. Batman Bookmark
Bring Batman along with your next book with this brilliantly simple Batman bookmark DIY project.
A great way to prevent those horrible looking dog ear pages, the Batman bookmark will also make you want to read more(hopefully).
Maybe even an excuse to crack out those DC comics from your attic.
15. Make a Batman Coaster
Coasters provide the perfect opportunity to add some easy personality into your living space.
This Batman coaster design is a great example of that.
Make all of your guests feel welcome in your batcave with these brilliant Batman coasters while they sip on their afternoon beverage, or as they chug their beer and party the night away. That one's up to you.
16. Batman Kite
A giant Batman kite to fly at the beach? Yes, please.
This kite will make you stand out at the beach or at the park, and is sure to draw plenty of looks of admiration.
Like a sky bat mobile, this craft will give you your fix of Batman and something fun to play with as well.
17. Fullsize Batman Sign
Most kids would flip out if they had their very own Batman glow-in-the-dark sign mounted onto their bedroom wall.
That's what makes this craft 100% worth the time investment.
A good way to complete the bedroom batcave look(see number 4 on the list) is with this full-size Batman sign. It'll also make your kids feel like their favorite superhero is watching over them at all times.
18. Mason Jar Bank
Piggy banks are old hat these days.
Especially when crafts like these superhero mason jar banks exist.
Whether Superman or Batman is your kid's superhero of choice, they will love this cool way to store their pockets money. And you can even get creative by redesigning your own superhero into the mix, from Captain America to Aquaman or anyone else you might like.
19. Cake Topper Designs
Fit for any kid's birthday cake, these Gotham city inspired cake toppers will be just a small part of any dream birthday.
Use the iconic yellow and black which we've come to associate with the world of Batman to color these cake topper designs. Although you can pick up handmade copies right from Etsy if you want to save yourself some time and focus more on baking.
Either way these toppers will turn the birthday cake into one fit for a superhero.
20. Painted Area Rug
Batman tends to stick to the shadows and go unnoticed whenever possible, stalking the darkness.
That's why this subtle rug is a sneaky way of incorporating a bit of Batman into your home.
Subtle, yet still striking, this rug is a simple superhero inspired project for even the most inexperienced of DIYers.
21. Batman Record Clock
A special way to use that old record that you no longer need, this Batman clock is one of the coolest ways to tell the time around the house.
Live your life on superhero time with this customized handmade clock that'll provide a fantastic talking point for all of your guests.
22. Life-Sized Batmobile Tumbler
A hugely impressive craft that will blow your friends' minds if you can ever get this done.
This life-sized Batmobile tumbler will make an ordinary car look like the very same iconic car Batman speeds around in.
There's really not much to be said about this craft, as a Batmobile parked out in the front yard speaks for itself.
Make your neighbors think Batman moved into their neck of the woods with this DIY. Just be prepared for the long haul because this likely isn't a one-day project!
23. Goodie Boxes
Every kid needs a bag to carry their party treats home with. So why not make it a Batman themed one?
These Batman goodie boxes will make superheroes out of all the lucky party guests and send them home thinking they were the center of the birthday party.
24. Batman Cork Figure
Most DIY lists will include projects that can be carried out using the simplest of household items that most people have access to.
This craft is definitely one of those as you transform a cork into this brilliant Batman figure.
Perhaps creating a worthy excuse to drink some wine, this craft is too easy not to have a go at it.
25. Custom Batman Mask
Gather the family because this craft is fun for everyone and will give you an opportunity to find out who would make the best Batman among you.
This easy custom Batman mask is ideal for fun family photos or parties, or even on Halloween evening to have some fun around the house.
26. Batman Stocking
Christmas time rolls around and you realize you still have those old tattered stockings from many years ago in the attic.
Now instead of using them for the umpteenth time, why not give these Batman stockings a go? Try something a little different this Christmas with your friend The Dark Knight.
27. Retro Black Knobs
Batman has briefs and socks too, just like everyone.
So maybe beef up your Batcave with these retro black Batman drawer knobs to ensure you start the day like a true superhero.
If that doesn't sound like you then maybe give this one a go for your bathroom cabinets or anywhere else in the house. I'm sure your kids or nieces/nephews would appreciate the Batman theme to their dresser drawers too.
28. Batman Lantern
Pumpkin carving is one of the best opportunities there is during the year to really get creative and hands-on with a project.
This Batman lantern means you can bring that one time of the year to the whole year as you have this incredibly cool lantern to bring light from the darkness whenever needed.
A highly versatile DIY with a focal point on the strongest guy we know, the Dark Knight.
29. Batman Lollipops
Lollipops and Batman: two of any kid's favorite things.
With that in mind, this next craft will be a guaranteed hit at the next birthday party. And they're pretty easy to make given such clear instructions.
30. Custom Fidget Spinner
Literally every kid has had their hands on one of these at one point. Fidget spinners are truly on trend right now.
So if you were to make a Batman inspired fidget spinner you would probably be the best parent ever in their eyes. Or if you want to make one for yourself go for it! I won't judge.
31. Glow-In-The-Dark Bat Logo
If you want to feel like the Dark Knight roaming the streets of Gotham at night then this glow-in-the-dark bat logo will certainly help.
This incredibly illuminating logo looks awesome and while it is a bit tricky to make, it'll leave lasting memories as you find your way around in the dark night goofing around.
32. Batman Wall Lamp
This color-changing batman wall lamp has the power to change the way your home feels at night time.
Like the previous entry in this list, this craft will light up your home in the dark. But the difference is that this one has alternate colors providing an ambient display ideal for movie night.
Naturally this is also trickier to create but well worth the effort if you're a Bat Fan.
33. Handmade Bat Ring
A brilliant Batman accessory to add a bit of a superhero touch to your otherwise ordinary outfit, this handmade Bat ring is sure to make you roam the streets as if you were in Gotham.
A solid silver ring, this one is sturdy too should you find yourself trying to fight crime on the streets. And the design is handmade so this is one of those few accessories you can tell people is truly a hand-crafted artisan piece.
34. Bat Tree Topper
As a genuine bat signal, this tree topper will make Christmas time one to remember.
Add this cool Batman-themed topper onto the top of your tree and watch the kids' faces as they imagine a visit from Batman as well as Santa Claus.
Or you can add this onto your own tree sans-kids and go superhero themed this Christmas. Again, who am I to judge? Rock Batman yo it's Christmas.
35. Batman Cupcake Toppers & Wrappers
Edible crafts are short-lived but definitely worth it.
These Batman cupcake toppers and custom handmade wrappers will make any cupcake look like the real deal. They're so easy to add personality to the next big birthday party, or even just a weekend treat that you want to pass around if friends come over.
Just make sure they're fans of Batman or they might have no clue what the heck these wrappers are!
Browse:
Batman
DC Comics
DIY
Lists
Comics