14 DIY Donkey Kong Crafts To Monkey Around With
This post may contain affiliate links. If you buy something we may get a small commission at no extra cost to you. (Learn more).
When you say Donkey Kong everyone knows who you're talking about. He(and his entire fandom series) is of Nintendo's beloved creatures standing beside the limelight-stealing Mario & Luigi.
Donkey Kong is a stalwart of the gaming platform who went on to star in many other DK games.
From the action-adventure series to music games involving bongos, Donkey Kong has done it all. And if you grew up with DK then he deserves to be recognized for his contribution to our childhoods with these sleek monkey crafts.
1.

DIY DK Barrel
First up we have a simple DK barrel that will bring the memories of playing Donkey Kong with friends flooding back.
Whether you played the original DKC trilogy, the original arcade game, or chose Donkey Kong as your driver in Mario Kart, this hairy guy always seemed to love his DK barrels.
A fun way to commemorate the lovable monkey is with this DIY project. Have a go at this small barrel customized with the instantly recognizable initials 'DK' and stick it up on your shelf for all to see.
Get a yogurt crate, some paper foam, brown and yellow ink, and water and you'll be fully equipped to have a crack at this DK barrel.
2.

DK Cushion Tut
What could make a better snuggle buddy than a hairy-chested yet soft DK cushion?
Well this DK cushion answers that question providing the warmth and comfort you need when you just want to pass out on the sofa and play some old Nintendo games.
A confirmed great snuggle partner, this warm and fuzzy design will feel like being hugged by a lovable friend you've known for years.
To start just get a cushion insert, some fur fabric, and felt.
3.

Kong Shelving
Just like the platforms in Mario games, the platforms in Donkey Kong games are equally as iconic.
Taking inspiration from the classical DK platforming game, this shelf makes for the perfect gaming themed storage solution apt for any room.
Put your woodworking skills to the test and make a home for your new DK barrel craft in the process.
These retro-looking shelves are all you'll need for all of your gaming toys and collector's items that you've been hoarding. It's also great for any kids room or a man cave with lots of gaming stuff.
4.

It's On Like Donkey Kong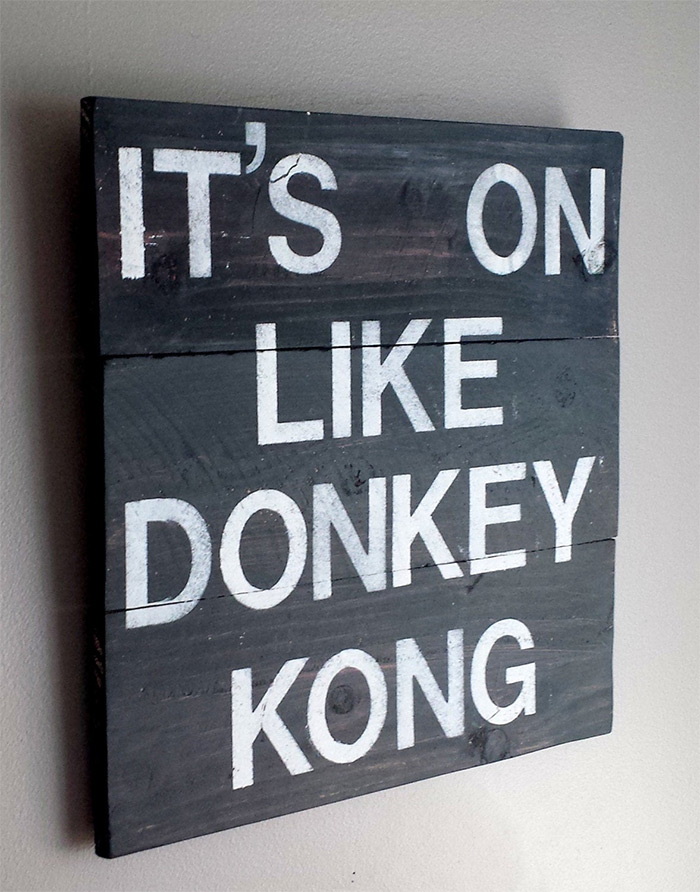 Nothing quite beats displaying one of your favorite gaming-related quotes up on the wall in your bedroom or even in your bathroom.
Granted this never appeared in any of the DK games but it's a quote we all should know.
If you've got some reclaimed wood lying around then give this a try for your very own 'It's On Like Donkey Kong' sign.
Bringing a touch of humor to the house, this hanging wall art would look great on that plain wall that needs an injection of character and personality.
5.

Donkey Kong Head Piece
Do you struggle to find inspiration when looking for a fun gaming-related costume to take to the party?
Then perhaps it's time you looked inwards and try to create your very own costume for that extra sense of satisfaction. Especially when you see the looks of surprise on the faces of the other party goers.
This larger-than-life Donkey Kong head piece will definitely make you stand out among all the amazing costumes in the scene.
Beat on your chest and bring a set of bongos to really bring out your inner DK.
6.

Nintendo Switch Cover
Using a screenshot from the arcade Donkey Kong game, this Nintendo switch cover is the only cover you should ever consider using.
Featuring the main monkey himself, this cover is a real throwback to all the time spent playing this old arcade game. Or just a shoutout to the original years of gaming's early birth.
Just one look at this case and you will think you're being transported back to the 70s and 80s. There really isn't a more nostalgia-inducing DIY for your Nintendo Switch console.
7.

Retro Throw Pillow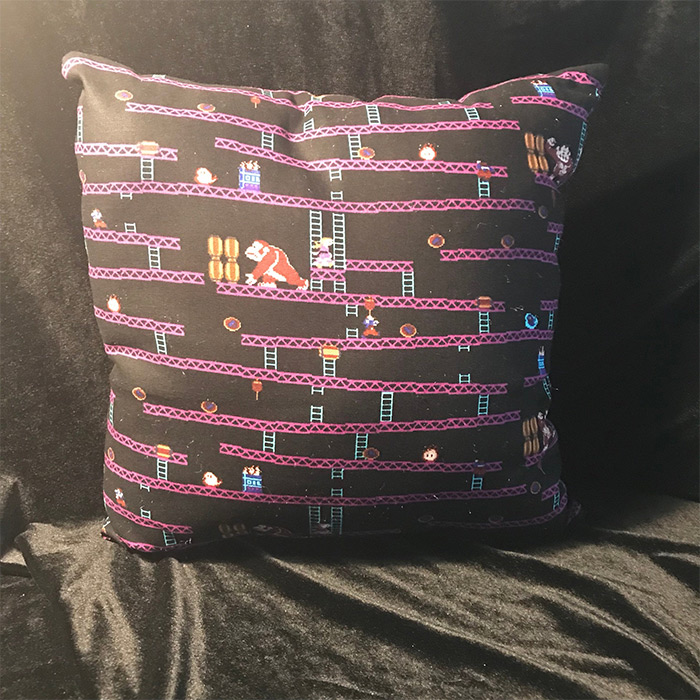 Taking a similar screenshot of the arcade game as the last entry on this list, this retro throw pillow gives you the same neat nostalgia but on a bigger scale. And on a much more comfortable surface!
Give your sofa a breath of fresh air with this wonderfully retro cushion cover that'll make lots of new pleasant memories while it reminds you of so many old ones.
8.

Custom Donkey Kong Arcade
Obviously the best thing about Donkey Kong(other than the fantastically retro aesthetic) is the gameplay.
I would be remiss not to bring up an example of a craft that allows you to play the classic arcade game whenever you want in your own home.
With that said, allow me to introduce this totally custom DIY Donkey Kong arcade machine. Ta-da!
If you ever wondered what it would be like to have an old arcade inside your living room, you can make this arcade DK machine and find out for yourself.
9.

Handmade DK Sculpture
A terrific tribute to the marauding Kong himself, this handmade sculpture looks awesome and should be one of the first things you put up on your new retro DK shelves(number 3).
At 5.5 inches tall this polymer clay DK sculpture captures the spirit of Nintendo perfectly.
If you have the patience to make this then absolutely go to town. But you can also easily pick up a handmade version from Etsy and add this into your gaming room, your bedroom, or anywhere that you keep your collectible gaming stuff.
10.

DK Necktie
Keen to show off your love for Donkey Kong but don't want to go all out with a costume?
Then have a go at this simple DK necktie that'll add a great deal of personality to any outfit.
An easy way to stand out from the rest of the guys at the office and take a suit to the next level, especially on casual Friday. This playful necktie is definitely worth considering.
11.

Banana Hoard Candle
Beautifully capturing the aromatic scent of Diddy and Donkey Kong's giant banana hoard heap, this scented candle will bring out a whiff of your childhood.
A craft that's fitting not just for lovers of Nintendo or Donkey Kong, this banana hoard candle will smell of freshly baked banana bread, walnuts, vanilla, cinnamon and other aromatic ingredients for a mouth-watering smell that'll delight the senses.
Note the full recipe is not as easy to reverse engineer to DIY for yourself, although if you're into candle making I'm sure you could!
Easier option would be to pick up this handmade project straight from Etsy and just enjoy the aromas.
12.

Recycled T-Shirt Journal
A truly genius way to repurpose that old Donkey T-shirt, this recycled DIY shirt journal makes for an amazing gift idea.
Say you know someone who has an old DK T-shirt which no longer fits them. Take it – with their permission of course – and get creative by transforming it into a journal notebook.
You'll not only immortalize the T-shirt design, but you will also create an entirely new DK related item that can be used for actually taking notes.
Protip: if you don't want to wait to find an old t-shirt you can just grab one online that's used or on sale. There are tons of old retro shirts that sell for bargain basement prices.
13.

Marquee Light Box
A bamboo-based craft, this DK themed marquee light box will illuminate your late night gaming sessions in the coolest way imaginable.
Both thematically gorgeous and a really unique way to light up a room, this custom handmade craft is pretty darn impressive and easy to pick up from Etsy. It would make for a great gift for that one friend who can't get enough Nintendo-related crafts and really wants a handmade touch with a Donkey Kong style.
14.

Shelf Action Figures
While the classic platforming stage from the original Donkey Kong is pretty cool, the idea of creating your very own 3D version of the stage is a step above it.
This is seriously a great way to challenge your DIY craft abilities since this stage is perfect to play on with all your favorite Nintendo figures, toys, plushies, whatever you've got.
It's also a nice project to build just for fun if you've got another friend who's into gaming and into the DIY lifestyle.
Browse:
DIY
Donkey Kong
Lists
Nintendo
Video Games