25 DIY Crafts Of Jack Skellington & Nightmare Before Christmas
This post may contain affiliate links. If you buy something we may get a small commission at no extra cost to you. (Learn more).
The pumpkin king of Halloween Town, Jack Skellington, is the main focus of this DIY project list.
But there are lots of fun Nightmare Before Christmas characters & ideas mixed in here too. Really if you love Halloween Town you're gonna find something here to tickle your fancy.
Make your house seem as if you live in Halloween Town with these spooky and creative crafts. Needless to say, these can all provide some brilliantly ghoulish inspiration for your next Halloween party.
1.

Light-Up Zero
The spooky ghost dog of Jack Skellington, Zero, is the inspiration for this first cool craft.
Drawing obvious parallels with a certain Christmas reindeer, Zero has a glowing pumpkin nose to better see on those eerily foggy Halloween nights.
That makes this little guy awesome to have outside your home on Halloween night as it lights up with LEDS.
Using a lot of ordinary household items, this Zero can be made with a cardboard box, a 2L pop bottle, a plastic container, small toy pumpkin for the nose and other general crafting supplies. His name may be zero but the DIY fun is certainly non-zero!
2.

Nightmare Before Christmas Jars
These ornate Nightmare Before Christmas jars – used by Sally in the film – usually contain poison.
But in this case, something more mild might be more appropriate.
Make these awesome jar crafts and fill them with whatever seems most fitting: Halloween candy, candles, green horrible slime… it's up to you.
Making a sufficiently spooky impression on any home, these jars would look great sitting on a countertop at a Halloween party.
3.

DIY Apothecary Bottles
Another take on the "I wonder what horrible stuff is inside of it" container, these DIY apothecary bottles are perfect to decorate a Halloween house.
Dim the lights, invite unsuspecting guests over, and decorate the home with a collection of these DIY bottles for that unsettling ambience we expect from the spooky Halloween period.
Just use modpodge, black paint and a brush, glass bottles or jars(whatever you have leftover) and some special apothecary labels which you can make yourself or grab online as a print out.
4.

Lock, Shock and Barrel Masks
These creepy looking trick or treaters from the Nightmare Before Christmas provide the perfect inspiration for some Halloween masks.
If you'll remember they have some pretty weird-o masks in the film too.
Get creative with your costume this Halloween by taking on the spooky appearance of these iconic characters.
Sure to shock everyone unfortunate enough to lay eyes on you, these Lock, Shock and Barrel mask crafts can be made easily with Plastilina non-drying clay, rigid wrap, and basic oil or acrylic paints.
5.

DIY Naughty & Nice List
For a spooky twist on the Christmas naughty and nice list, have a go at this DIY Jack Skellington themed project.
All that's required is some legible writing and a bit of artistic flair to design these lists in your own unique way.
Using just a paper easel roll, pumpkin stamp, skull stamp, orange and black ink and some scissors, you can create your list and start tracking for the Christmas seasons. A literal nightmare before Christmas.
6.

Nightmare Before Christmas Wreath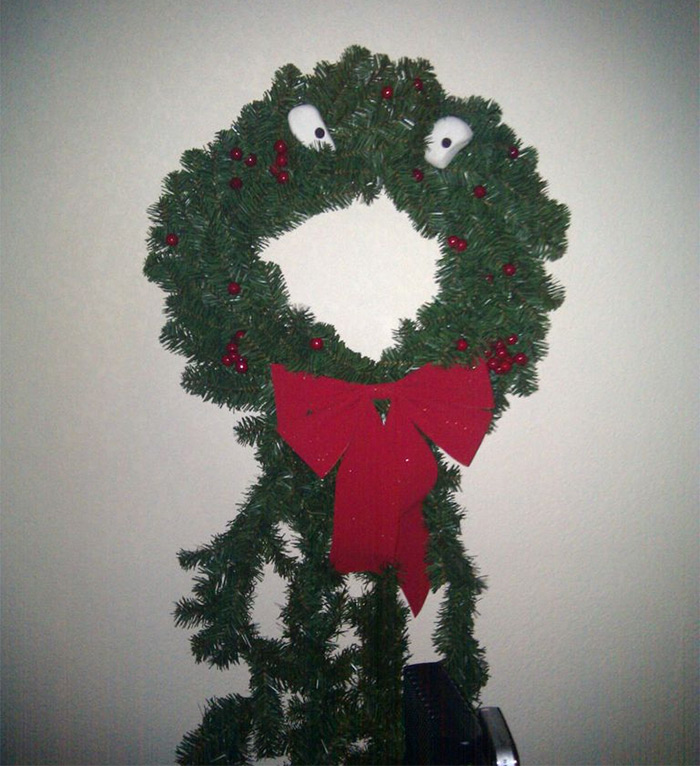 Based on the nightmare-inducing, man-eating Christmas wreath from the movie, this is the only thing you need on your door next Halloween.
The transforming wreath is a notable Christmas 'gift' from the movie so this craft will definitely draw lots of looks from potential trick or treaters. And for sure it'll attract attention from fans of the movie.
Create the sinister looking wreath with a base fake wreath, a garland, modeling clay, fake holly berries and a big red bow.
7.

Zero Pumpkin
The staple of all Halloween decorations: the pumpkin.
It's essential to the holiday but doesn't have to be the same every year.
This year carve your pumpkin with the face of the ghost dog Zero to give passerby's a friendly fright.
Zero wouldn't be the same without his glowing pumpkin nose, so you can pay homage to it with this glowing pumpkin design.
8.

Hair Bow & Bow Tie
It's always fun to accessorize at Halloween and dress up with all sorts frightening things.
Movie themed designs are just that much more fun.
These hair bow & bow tie crafts are inspired by the movie which makes them both more interesting than store-bought accessories, along with adding a personal touch to your Halloween costume.
9.

Pumpkin Decorating
Another creative way to decorate pumpkins comes in the form of these Nightmare Before Christmas designs which are sure to impress.
Line your garden or home walkway with these amazing DIY pumpkins to make your house the envy of the neighborhood this Halloween.
Make sure you rewatch the movie and base your designs on your favorite twisted character.
10.

Oogie Boogie Trick or Treat Bags
Oogie Boogie: the bombastic boogeyman who's full of creepy crawlies and nasty surprises.
A memorable character from the movie, Oogie is the perfect baddie to base a creative Halloween craft on.
Have a go at these fun trick or treat bags to collect candy on the frightful annual candy giveaway known as Halloween.
Using burlap fabric, yarn, and a knitting needle for the bags you can get creative and add whatever you want to personalize these up to your liking.
11.

Jack Skellington Christmas Ornaments
Christmas is a fun and festive time of the year. A perfect opportunity to try your hand at some DIY projects for extra Christmas décor!
Add a unique flavor to your Christmas tree by making these quirky Jack Skellington ornaments.
It couldn't be any simpler to customize your tree with these; just grab a black marker and a white ornament and pull up a drawing of the movie's star character. Very little artistic skill required.
12.

Nightmare Before Christmas Cat House
Don't leave your furry friends out of the DIY fun!
If you love cats and want to give them a real treat this year then try making this awesome Nightmare Before Christmas cat house.
A super easy craft that'll provide your cat with a fun new play home, this is essential for all the pet owners out there.
Incredibly all you need for this one is cardboard boxes, paint, scissors, and a hot glue gun.
13.

Lawn Decorations
So once you've hung up your unsettling wreath on the door(number 6 on this list) why not go all out?
With this project you can make these lawn decorations of all your favorite Nightmare Before Christmas characters.
Vivid representations of the iconic characters from the movie, these large lawn decorations will make your house standout at Halloween and have everyone talking about it.
The closest you'll come to being inside Tim Burton's weird and wonderful universe, your lawn will be the toast of the town come Halloween night.
14.

Marshmallow Pops
These really cute marshmallow pops are the only sweet treat you'll need to make this coming Halloween.
Everybody likes sweets on sticks, so these marshmallow pops are guaranteed to be a hit at your next party. Great for all ages too.
A fun family dessert project for the kitchen, I guarantee you'll want to make a larger batch of these Jack Skellington pops because they'll go quick.
15.

Nightmare Before Christmas Tree
If you don't have the space or desire to have a large tree in the house, or even if you just want an extra one, try this small Nightmare Before Christmas themed tree to decorate the living room.
A perfect way to give your Christmas a slightly more sinister vibe, these tree crafts are fun to decorate with movie themed ornaments like those from number 11 on this list.
But you can always go your own route so try experimenting and see what else you could do with this tree design. Think of this as a base like the original Halloween Town tree in the movie. So much potential, so little time!
16.

Life-Size Jack Skellington
The star of this lovable animated movie, Jack Skellington, is a striking personality and would make a great life-sized cutout to decorate your home. Wouldn't you agree?
Well, maybe not all of you but certainly some! And that's where this next craft comes in.
With his curious yet definitely creepy demeanor and horrifying skeleton face, Jack Skellington can lurk in your living room ready to scare any unsuspecting visitors next Halloween.
Very realistic looking, this DIY is made with wood, floor flanges, screws, styrofoam balls, magic clay, paint and sandpaper – more difficult than other crafts and for sure more time-consuming but 100% worthwhile for the end result.
17.

Nightmare Keyblade
When Disney and Square-Enix merged to create Kingdom Hearts, the last thing on my mind was Nightmare Before Christmas.
Yet it still snuck into the original game and also made an appearance in KH2 alongside its own keyblade in both games.
An awesome prop from the Kingdom Hearts game's interpretation of the Nightmare before Christmas world, this realistic Pumpkinhead keyblade makes an excellent addition to any Halloween costume.
Rather than carrying around a cheap foam sword you bought several years ago for your Halloween outfit, make this nightmare Keyblade instead for an interesting alternative.
18.

DIY Oogie Boogie Dice
Oogie Boogie is a hardened gambler in the movie. Unfortunate for him that he throws a lot of snake eyes and doesn't have the most luck with his dice.
Hopefully you'll get more luck with this project, replicating the big sack-based creature's dice in a fun Halloween DIY experiment.
I think it's high time for a good woodworking challenge to add to the list so here we are. Get started on these incredibly unique dice for your next Halloween themed board game night, or even just as a decoration for your nightstand.
19.

Free Nightmare Before Christmas Printables
An easy way to decorate your home without spending a lot of time working on a project, these Nightmare Before Christmas printables are ideal to spruce up the place at Halloween.
Based on Jack Skellington's catchy song about Christmas town, these printable should be framed in suitably scary frames and hung from the walls for guests to read at your Halloween party and sing to themselves.
20.

Mayor Face Costume
An outstanding idea for next year's Halloween costume, this Mayor from Nightmare Before Christmas handmade costume will be the talk of the town.
Striking and a big change from the traditional Halloween costumes, this Mayor costume is both scary and funny at the same time.
The characteristic pyramid head of the Mayor is made using a large lampshade and the angry face using foam and paint. Basically a classic example of Halloween at its finest.
21.

Halloween Count Down Clock Prop
Ah, the infamous countdown clock from Halloween Town in the movie. What a classic.
Note for this eccentric craft we're borrowing a lot from that countdown clock, but also from Disneyland's Halloween holiday from the months of October-December.
A very creative take on the traditional advent calendar, this countdown clock is a great way to keep the whole family counting down the days to the big day.
To get started you'll need to gather some cardboard, insulation foam, a craft wreath made of twigs, and then fake leaves and berries to decorate the countdown clock fittingly with the Halloween style.
22.

Nightmare Before Christmas Shipping Package
We all give a lot of attention to the presents that we give at Christmas time. But what about the boxes they come in?
Well with this craft you'll be able to make your gift extra thoughtful as it'll stand out under the Christmas tree.
Definitely a DIY to consider if you need to ship a present to that family member or close friend that lives far away, and also happens to love this movie.
By sending over a gift in this homemade Nightmare Before Christmas wrapping you're showing just how much you care with a creative touch, something that goes just a little bit further than we often think about.
23.

DIY Nightmare Before Christmas Planters
Not all of these crafts have to be specific for the holiday periods. Especially with these planter projects which prove just that.
A fun way to store your plants year-round, these colorful Nightmare Before Christmas inspired planters will look great in any room.
Take those old terracotta planters, grab some spray paint and markers, and have away at these planters to create some special plant pots for your backyard or outdoor garden.
24.

Zero Pillow Pal
Even though he might be a ghost dog, Zero is still a dog.
Making him a perfectly cute subject matter for a pillow to spruce up your home or apartment.
Snuggle up to this comfortable pillow pal at Christmas time to keep the festive vibes flowing as you watch the Nightmare Before Christmas for the umpteenth time.
Incredibly soft and cozy, it's worth the time to whip up this little guy to keep you company throughout the festive period.
25.

DIY Handmade Wreath Design
Here's one more take on the Christmas Wreath from the Nightmare Before Christmas(see also number 6).
This Handmade design is another great option to decorate your door around the Halloween period with some flair for the 1993 movie.
Using the typical colors associated with the holiday — orange and black — this wreath is surprisingly spooky and perfect to frighten the neighbors.
Browse:
Disney
DIY
Lists
Nightmare Before Christmas
Cartoons
TV & Movies