20 Tangled & Rapunzel Craft Ideas For DIY Disney Fun
This post may contain affiliate links. If you buy something we may get a small commission at no extra cost to you. (Learn more).
The classic tale of the princess in despair. Tangled tells the story of a princess with incredibly long hair locked up in a tall tower with a rogue prince attempting to escape.
It's Rapunzel with a Disney twist.
And it's now one of Disney's staple franchises, the story of Rapunzel lends itself to some interesting DIY projects that are perfect for kids and even adults. So let's dive into these magical Tangled inspired crafts and get our hands dirty!
1.

Quilling Tangled
Disney movies don't cut corners when it comes to creating enchanting kingdoms, magical towers, and castles to house some of the universe's most memorable characters.
One such magical structure is Rapunzel's tall tower.
Like the iconic Disney castle, the tower from Tangled is a sight to behold and provides the inspiration for this incredible craft that's sure to impress the kids.
2.

Rapunzel Tower Growth Chart
Continuing with the theme of magical towers, this Rapunzel tower growth chart is one of the more interesting designs for measuring your child's height as they grow up.
Instead of the boring old measuring stick, ensure that your kid looks forward to seeing how much they've grown with this Rapunzel tower themed craft – complete with a long lock of blond hair dangling from the top.
3.

Rapunzel Costume
Surely it has crossed every young girl's mind growing up to become a future Disney princess.
Well with this Rapunzel costume craft you can give your kid(or yourself) a taste of what that would be like.
It doesn't get more magical that parading around in a beautiful Disney princess dress so why deny your child that pleasure.
Have a go at this Rapunzel costume and you'll be rewarded when you see the look on your child's face as they get to be the princess of their dreams.
4.

Pascal the Chameleon
Rapunzel's wide-eyed pet in Tangled, Pascal the chameleon, is to this movie what Puss in Boots is to Shrek.
Definitely a safe bet as a gift for a young child or newborn, this Pascal the chameleon craft is everything you could want in a plushy toy.
Cuddly, brightly-colored and charming, Pascal is capable of keeping anyone company.
5.

Tangled Inspired Night Light
A charming Tangled inspired nightlight, this little project will have your kids drifting off to fairytale lands in their dreams with the safety of light at all times.
There's no better way to customize your kid's room than with an awesome Disney-based night light.
This Tangled design will shine bright and illuminate the magical scene from the movie while making sure your kid can get to sleep when the lights go out. And while you can make it yourself, this is so easy to pick up on Etsy as a handmade craft that it'd be crazy not to!
6.

Pascal Moon Pin
Looking like a Tangled version of the Dreamwork's famous logo, this Pascal moon pin shows the lovable chameleon taking a well-deserved nap on the moon.
The best part of this craft is the fact that it's glow-in-the-dark, meaning whoever you give this to will be able to move around with a Disney glow wherever they go.
7.

Tangled-Inspired Lanterns
A super easy DIY project to make, these Tangled-inspired lanterns make for a fun family project.
Get to work on the lanterns during the day and you'll be able to watch them glow brightly at night.
Using just construction paper, toilet paper rolls, and some basic craft materials you can put together these neat lanterns which will brighten up your evening with some Disney style.
8.

Pink Tangled Lantern Craft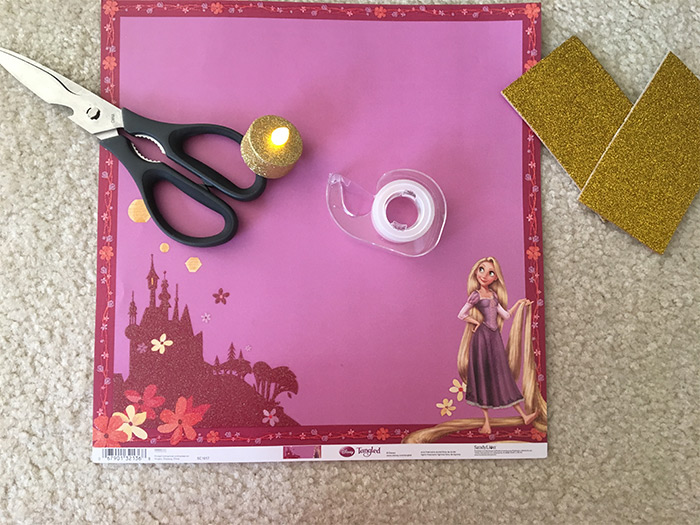 Another Tangled-inspired lantern craft, this one would be great for any party or just as a decoration for your kid's bedroom.
All you need to make this one is a sheet of card stock paper, a tealight battery operated candle and some glitter sticky craft foam. And a healthy dose of DIY know-how.
9.

Party Blowers
This next craft inspired by Pascal the Chameleon would make a solid gift to put inside any party favor.
If you've got a birthday party coming up and you want to put a Disney spin on the proceedings then have a go at this craft and leave a lasting impression on all party guests.
A guaranteed hit with the kids, you can't go wrong with these Pascal-inspired party blowers.
10.

Tangled Birthday Party Crafts
Now if you really are planning a Disney themed birthday party any time soon you're going to need some decorations to complete the look.
These Tangled inspired birthday party crafts could be just what you need to take your party to the next level.
After all, is it really a Disney party if you're not greeted by Rapunzel's hair (in the form of a wreath) at the door?
11.

Sun Flags Garland
Transform your living room into an enchanted castle with these awesome sun flag garland designs.
It's never been more simple to add a touch of Disney magic to your living room, and with these flags you can even pick up the handmade versions on Etsy for super cheap.
A fun family craft to make if you have the time, these Tangled inspired garland designs will bring you closer to the wonderful world of Disney.
12.

Tangled Cake
A potential contender for coolest Disney inspired edible craft, this layered Tangled cake is as much magical as it is delicious.
Just imagine your kid's face when they come downstairs and see this epic Disney inspired cake waiting for them on their special day.
Made primarily with Rice Krispies, marshmallows, and vanilla, this dessert is sure to be a hit.
13.

Mini Mason Jar Lamp
Disney often brings light to our lives with its magical tales and animations. So why not recreate that inspiration physically with these cool mini mason jar lamps?
A physical embodiment of the hope and illumination provided by the movie giants, and it's an easy mason jar craft that really adds some personality to the room.
You'll definitely want one of these in your kid's bedroom to help liven up their amazing fairlytale dreams.
14.

Tangled Baby Banner
This supremely soft felt Tangled inspired baby banner is the only decoration you'll need for your next baby shower.
A great way to introduce a newborn to the world of Disney, this simple Tangled hanging banner features Rapunzel and Pascal and will add some fun and cozy vibes to the baby shower. You can make a similar design yourself with paper but it's also just as easy to pick up these handmade items from Etsy.
15.

Make Rapunzel's Tower From Tangled
Another Rapunzel's tower craft (like number 1 on this list). I mean really, you can never have too many Disney castles around.
Using mainly paper towel rolls, clay, and a round piece of wood, this craft is simple yet eye-catchingly brilliant.
16.

Rapunzel Braid Bookmark
Of course aside from the enchanted tower, the most recognizable thing from the movie is Rapunzel's braid.
Long, blonde, and stronger than most hair. Rapunzel's braid is rather special to say the least.
That's what makes it a fantastic inspiration for this simple bookmark. Just a lock of the Disney Princess' hair is all you'll need to ensure you never lose your page again.
17.

DIY Rapunzel's Magic Brush
Note this is no ordinary hairbrush. This magic brush inspired by Rapunzel and her lively braids makes for the perfect gift for any Disney fan.
It will be worth it just to see the look on your kid's face as they approach the magic brush and are treated to a musical performance and light show.
This one will definitely make anyone believe in the power of magic in the best way.
18.

Festival Braid
Okay let's be honest, what girl hasn't seen Tangled and wondered what it would be like to have her luscious locks?
Well this craft gives you the opportunity to find out for real!
Recreate Rapunzel's long blonde braids with some hair elastics, a hair tie, some flower clips, ribbons and a few other bits. With a few hours of work your little girl(or even you!) can be a Disney princess for the day.
19.

Princess Hooded Towel Set
An ingenious way to make your kid look forward to bath time, this Tangled inspired hooded towel set looks awesome and will give your kids the opportunity to have their very own long, golden locks.
This is all handmade and perfect for someone who wants to pick up some custom DIY work rather than getting something off the shelf at Target.
Soft and embroidered with the face and hair of Rapunzel, I can't think of a better Disney related princess birthday gift.
20.

Tangled Sun Symbol Wall Art
Wake up every day with a beautiful sun shining on your wall with this Tangled sun symbol wall art.
Brighten up any kid's bedroom or add a touch of home décor into your own bedroom. With this sun inspired wall art you can bring a bit of Disney into any room in your house.
This is especially nice if you have trouble getting up in the morning, just to add a bit of cheer to that annoying alarm clock.
Browse:
Disney
DIY
Lists
Tangled
TV & Movies