21 DIY Tetris Crafts & Projects For Retro Gaming Lovers
This post may contain affiliate links. If you buy something we may get a small commission at no extra cost to you. (Learn more).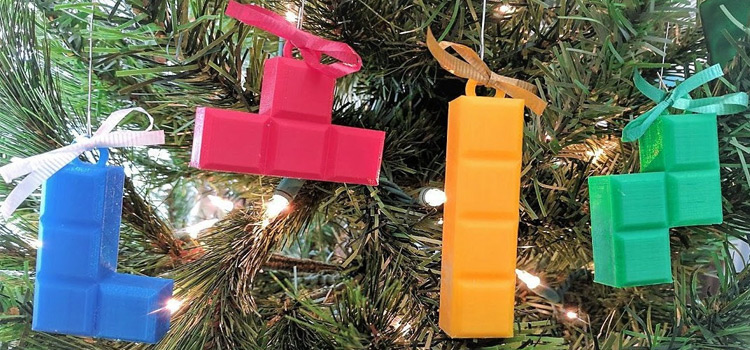 An absolute classic of the gaming world, Tetris is addictive yet very challenging.
Nothing quite beats the feeling of colorful shapes fitting together like a beautiful mosaic; especially when you've spent the last hour getting it wrong.
The iconic, simple shapes from Tetris make the perfect material for DIY projects so this post is guaranteed to be full of fun ideas.
1.

DIY Tetris Cookies
The easiest way to make a craft with the Tetris blocks?
These delicious Tetris cookies.
Great for a gaming themed party, a lazy weekend afternoon, or to alleviate some of the frustration from a tough session of the retro game.
The best part of this craft is definitely taking the fresh batch of colorful blocks and trying to arrange them into the most satisfying of patterns to recreate the feeling of successfully completing a level of the game. I bet it'll be just as hard with cookies.
2.

Tetris Block Shelves
Here's an interesting twist on the boring, standard shelves that you see all the time.
These Tetris block shelves will automatically make everything on them seem much more exciting.
What better way to frame your gaming memorabilia and plush toys than with a shape from one of the most memorable games in history?
Each their own color to imitate the game, this craft involves plywood, a jigsaw, and some inspiration from the game. Make sure you cut out the best shapes!
3.

Custom Soap
Washing your hands is not the most exciting activity in the world. I'm sure you'd agree.
However, washing your hands using a custom Tetris block bar of soap is a whole other thing.
If you live and breathe Tetris – or if you used to back in the day – then your bathroom will look beautiful with some colorful Tetris shapes to clean your hands with.
This can be picked up handmade from Etsy or if you're into soapmaking you can of course DIY this yourself.
All of your guests will be amazed at how you transformed something so ordinary into something so nostalgia-inducing.
4.

DIY Tetris Puzzle Cube
If you love trying to figure out a Rubik's cube or solve a tough level of Tetris, then maybe it would be worth you trying out this Tetris puzzle cube craft which combines the two.
Turning the game from a digital one into one where you can manipulate the blocks with your own hands, this Tetris puzzle cube would make a fantastic gift for any logic-loving puzzle solvers.
It's made with wooden cubes that are dyed for that distinctly Tetris look, and hot glue. Pretty simple so there's no reason not to try this one out.
5.

Tetris Magnet Set
Tired of those travel magnets you have on your fridge that are more trashy than trendy?
Then maybe it's time you ditched them in favor of something a little more creative.
Take this Tetris magnet set as an example; a set of Tetris block magnets which will fit together exquisitely on any fridge and take your kitchen to another level of style and design.
6.

Christmas Tree Ornament Set
Christmas is definitely a fun time of the year to get creative with crafts to decorate the home.
So this next project is guaranteed to keep the festive vibe going, retro style.
A fun gaming spin on traditional decorations, these Christmas tree Tetris ornaments are sure to impress the family and spark plenty of conversations about high scores. You can always make similar designs yourself but these handmade items are easy enough to pick up on Etsy too.
7.

DIY Tetris Game
An interesting idea like number 4 on this list, here we have another craft that takes Tetris and another popular logic puzzle and combines them to great effect.
This time it's the traditional jigsaw puzzle.
Take two of the most enjoyable and satisfying ways to spend an afternoon and put them together. You'll have this wonderful DIY Tetris game.
Definitely a fantastic gift for both kids and adults alike, this wooden Tetris puzzle can provide the enjoyment of the game without the need to stare at a screen all day.
8.

DIY 3D Puzzle
Following suit with the puzzle Tetris fusion, this next craft adds a 3D element into the mix.
As a creative new version of the wooden puzzle, this craft is much more suitable for younger kids who enjoy the challenge of a puzzle but can't yet be trusted with harder pieces.
It's never too early to begin playing Tetris so make sure your kids get a head start and improve their logical problem-solving abilities with this awesome DIY.
9.

Custom Hand Towel
You've already seen the custom Tetris soap bars (number 3) to spruce up your bathroom. So why stop there?
Have a go at this custom Tetris inspired hand towel too so your bathroom can be an extension to your love for the retro game.
Another creative way to spice up an everyday household item, this custom hand towel is definitely worth your time if you've got the gusto to work through it.
10.

Tetris Glass Light Switch Plate
One of the most iconic images of Tetris is seeing the black screen and the colorful shapes seemingly falling from the sky to slot into place at the bottom.
That image deserves to be recreated in physical form for all to see, so that makes this next craft essential.
The Tetris glass light switch plate is an extremely stylish mosaic-like backdrop for your light switch that'll add a special gaming spin to any room.
11.

Origami Tetris Cube
A perfect papercraft to satisfy all those handy DIYers out there, this origami Tetris cube will be a very fun challenge.
Great to test your own papercraft abilities or test those close to you, this craft is an awesome 3D representation of the game we all know and love.
Not only will you have to create all the individual blocks, you'll then have to figure out how to assemble them to create a cube.
12.

3D Printed Tetris Cube
Another Tetris and Rubik's cube combo, this 3D printed cube would certainly make a great decoration for the house.
Paint with enamel paint after printing to give it the characteristic range of colors that you're used to with the retro game.
This one would also make for a fun gift to give to anyone who misses the days of playing Tetris for hours on end.
13.

Custom Tetris Fridge Magnets
The fantastic alternative to the Tetris fridge magnets of number 5 on this list, these wooden block magnets are perfect to customize your kitchen fridge with a different style.
Bring the fun of playing the game into the real world with the magic of DIY. These Tetris magnets are a decoration that can be changed every day to suit your mood and to hold up that ever-so-important grocery list.
14.

Mini Tetris Arcade
If you want a mini portable version of the retro classic, then you'll love this mini Tetris arcade craft.
Using just a small joystick and a button, this Tetris arcade machine is an especially unique way to play your favorite game wherever you are.
Combining the retro experience of an old arcade with the classic game is a surefire way to create a whole bunch of nostalgia.
15.

Retro Bowtie
If your style is classic and retro, or if you're just a big fan of fun accessories, then this Tetris bow tie could be right up your alley.
Using the oh so familiar black background and brightly colored blocks, this bow tie is the perfect accompanying attire to your suit and is a cool way to add character and personality to any outfit.
16.

Tetris Pillows
Possibly the first thing you thought of when you imagined a Tetris-based craft, we have to talk about these Tetris pillows.
Probably one of the best uses of the game as inspiration for a DIY project, these soft and colorful pillows can make any sofa look incredible.
Not only will they add a splash of color to the sofa, these pillows can provide you with hours of fun as you organize them into one big pillow by connecting them in the familiar Tetris fashion.
17.

Paper Tetris
A super easy craft that makes for a fantastically fun family project, this paper Tetris game will keep you entertained all day as you struggle to fit the pieces together in the correct way.
Move aside monopoly, there's a new family game in town that'll prove just as entertaining and frustrating over time. Yet actually building this is incredibly simple to pull off with some colored paper.
18.

Arcade Shadow Box
A crazy cool way to display your favorite game cartridge(Tetris, I'm assuming).
This arcade shadow box can provide a burst of color to any room. A great decoration as well as a functional cartridge holder, you'll want to display the arcade shadow box somewhere guests will see it or up in your private gaming room.
19.

Kids Wall Decals
Even if your kid isn't lucky enough to have experienced the wonderful world of Tetris yet, this wall decal would still prove a great way to decorate their room for gaming fun.
Colorful, noticeable, and very easily personalized to anyone's taste. This wall decal is the best way to decorate that drab wall in your kids' room that really needs something extra.
20.

Tetris Blanket
If you find yourself drifting off to the soothing sight of colorful Tetris blocks falling from the sky as you arrange them into the perfect pattern, then you'll probably want to see a doctor or something.
Or maybe have a go at this Tetris blanket to sleep under as you count colorful blocks into dreamland.
A fun DIY blanket that adds a touch of Tetris and a retro quality to any bedroom, this craft is definitely for those who like the game so much they want to wake up near it every morning.
21.

Tetris Ice Cubes
Finally we have one of the more creative Tetris crafts on this list: Tetris ice cubes.
By making the wooden ice trays and using silicone as the holder, you'll be able to make ice cubes that'll keep you cool all summer with a classic gaming twist.
I actually can't think of something cooler than this.
Browse:
DIY
Lists
Tetris
Video Games