32 DIY Toy Story Crafts, Decorations & Fun Project Ideas
This post may contain affiliate links. If you buy something we may get a small commission at no extra cost to you. (Learn more).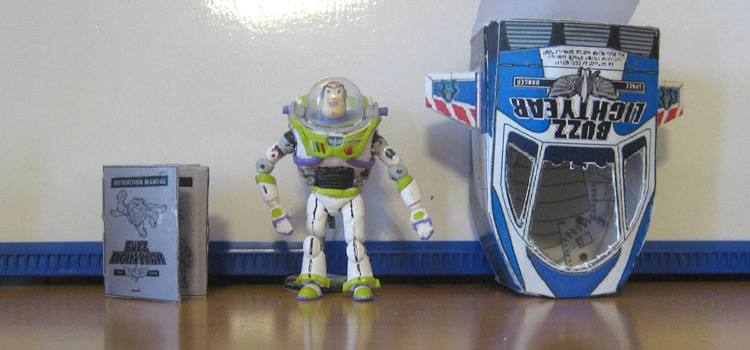 Who would have guessed that a scrappy movie studio from the 90s would make a name for itself with an animated flick about talking toys. Yet here we are decades later still loving everything about Andy's gang.
Fresh off the release of the new Toy Story film, the last in the quadrilogy(for now), this list of Toy Story inspired crafts should be just what you need to keep the spirit of these lovable films going.
There are infinite possibilities when it comes to Toy Story crafts because the world just lends itself to so many fun projects. There are many more even beyond this list, but these 32 hand-picked examples are personal favorites and will have you quoting the movie all day long.
1.

DIY Claw Machine
This DIY claw machine will have you grabbing endlessly at the friendly three-eyed Aliens from the original Toy Story film.
"Ooh" I hear you say, perhaps even "ahhh" too.
This one is sure to make any fan of the movies very happy and will provide plenty of nostalgic fun.
Made with a plant pot, acrylic paint, cardboard and some other crafting essentials, this DIY claw machine can inject personality into any room.
2.

Woody DIY Mason Jar
When you combine the idea of saving money for a trip to Disney with the lovable Woody, you have a winning gift idea for any kid.
This easy-to-transform mason jar craft will have your kid pinching pennies to ensure that trip to Disney becomes a reality. All so they can meet their favorite Toy Story characters in person.
Not to mention this DIY project is surprisingly simple to pull off but will last years as a decoration around the house.
3.

Alien Craft Bags
To have your party guests gasp in astonishment before they even get to the goodies inside, these Alien party favor bags are a surefire hit.
Kids' parties are meant to be fun and a little bit silly.
That's why these party favor bags adopting the form of the goofy aliens from Toy Story will add an extra level of enjoyment to the party.
Plus what better excuse to throw a Toy Story themed party? As if we need an excuse.
4.

Lego Alien
Make this Lego Alien craft and every time you're looking at it you won't be able to resist making the same face and sound as the eccentric extraterrestrials.
Perhaps some of the friendliest looking aliens of any movie franchise, these little green fellas provide great inspiration for an artsy project. Especially working with a toy base like Legos.
5.

KH3 Favorite Deputy Keyblade
Now here's a project inspired by the Kingdom Hearts series which takes many of Disney's most beloved characters and sticks them all together in a handful of worlds.
Toy Story is new to KH3 and is one of the first big Pixar worlds. When you beat the world you get the Favorite Deputy keyblade which just looks like a cactus blade using artifacts from the Toy Story world.
But with these instructions you can make your own keyblade and keep it at home or use it for cosplay. Really whatever you want, it's your keyblade!
6.

Buzz Lightyear Mini Replica
One of the main characters of the franchise Buzz Lightyear is responsible some of the most memorable quotes to come out of the franchise(you know what I'm talking about).
This mini replica is a fun way to pay homage to the tiny hero and give any kid hours of entertainment as they fly him around shouting "to infinity, and beyond!"
7.

Toy Story Party Bags
Another idea for a Toy Story themed party bag, and another reason to throw that Toy Story party you've always wanted.
These bags are easy to make and you should give them a try with friends or family.
All you need are some white paper sacks, pipe cleaners, and other craft supplies that you can easily get your hands on. Just throw these together and the party is under way.
8.

Disney Matching Shirts
Show off your family's love for the Toy Story franchise with these matching Disney shirts.
Have everyone pick their favorite character from the movies then get to work designing the image you'll use.
The best thing about this craft is that you'll be able to see your kid's drawings every time you look in the wardrobe. And you know they'll be proud to have their drawings printed onto shirts.
9.

Toy Story Alien Bows
A simple way to add a hint of Toy Story to your life, these Alien bows based on the movie will have you looking both smart and down-to-Earth at the same time.
Bright enough to make sure you leave the house showing off your true colors, this one is too easy not to try out. Especially if you're someone who really likes bows.
10.

DIY Alien Jello Cups
The Toy Story aliens are getting a lot of love in this list, and for good reason!
They're adorable creatures and are simple to recreate.
Take these Jell-O cups as an example: green jelly with some little candy eyes and a couple of other craft supplies for a brilliant Pixar dessert. Easy even for a newbie in the kitchen to pull off.
11.

Jessie Ears
It's time for a craft based on everyone's favorite cowgirl: Jessie.
Made using just pool noodles, flannel fabric, and a couple of other bits and bobs, these ears are the great exaggeratedly large ears that you need for your next trip to Disney — and Toy Story Land of course!
12.

How To Make Forky
A new character introduced in Toy Story 4, Forky is a calamitous animated spork made by Bonnie.
To see if you can make your very own Forky I think it's fair to assume a spork is required(surprising nobody). You'll also need some googly eyes, pipe cleaners, popsicle sticks, along with a couple of other things that are likely somewhere around your place.
13.

Alien DIY Earrings
Back to the cuddly aliens again, these Toy Story alien earrings are both soft and cute.
Gather some green Pom poms, googly eyes, pipe cleaners, long earring hooks, and black felt to get started on this simple jewelry craft that'll help turn you into the life and envy of any Disney themed party.
14.

Toy Story DIY Centerpieces
Another solid party craft idea, these Toy Story DIY centerpieces are full of character and have the potential to make any party better. You could even keep them around for other festive events if the kids really love them.
Assemble these boxes and decorate them with your kids' favorite Toy Story characters. Then place them all over the house so when guests come over they will think they just walked into a set from the movie.
15.

Wall Art DIY
PEZ dispensers are pretty great; the sweet, tiny pellets taste like pure sugar which is always good right?
But the container that holds them is the best part of the experience.
Next time you find some Toy Story dispensers, or if you go shopping for them, consider sprucing them up a bit to fit in with your home's decor and having them on display where they can be admired by all.
16.

Toy Story Alien Slime
If there's one thing that kids go crazy for other than fidget spinners, it has to be slime.
Not limited to the younger audience though, Instagram is now full of satisfying videos of people playing with slime in weird and wonderful ways.
That's what makes this a fun family project as it's a joy for the kids and maybe even stress-relieving for the non-kids.
This Toy Story alien slime adds an extra thematic element to play time which makes the end result that much more enjoyable.
17.

Reusable Toy Story Snack Boxes
An ingenious way to make the most out of Toy Story 4 licensed fabric, these reusable Toy Story snack boxes will hold all movie night snacks letting you have a Toy Story marathon with all of your favorite treats.
Using vinyl fuse, craft fuse, and a cricut maker with a rotary blade, you can have a crack at these snack boxes at home.
They'll have your kids with their own personalized lunch boxes that are guaranteed to last for a very long time.
18.

Space Alien Piñata
Yet again proving to be the perfect inspiration for a handmade craft, our Alien friends from Toy Story are back; this time in the form of a Piñata.
We all know how fun it is to swing with everything we've got at the hanging candy container. So this space alien version will definitely prove a hit among the party attendees and can inject some Disney into the party.
Advanced tip: if you really wanna get creative try making a Hamm piñata. It'll take some ingenuity but I bet it would be so satisfying to take a whack at that pink little piggy.
19.

Cloud Purse & Earrings
You'll notice this cloud pattern as the wallpaper on Andy's bedroom wall in the original Toy Story movie, and also the last shot in Toy Story 3.
These clouds are a subtle nod to the Pixar/Disney movie franchise which only the most dedicated of fans will pick up on.
Make this cloud purse and even throw in this earring design as well to figure out who the true Toy Story fans are among your fans. It'll definitely put their Disney trivia to the test.
20.

Toy Story Balloon Garland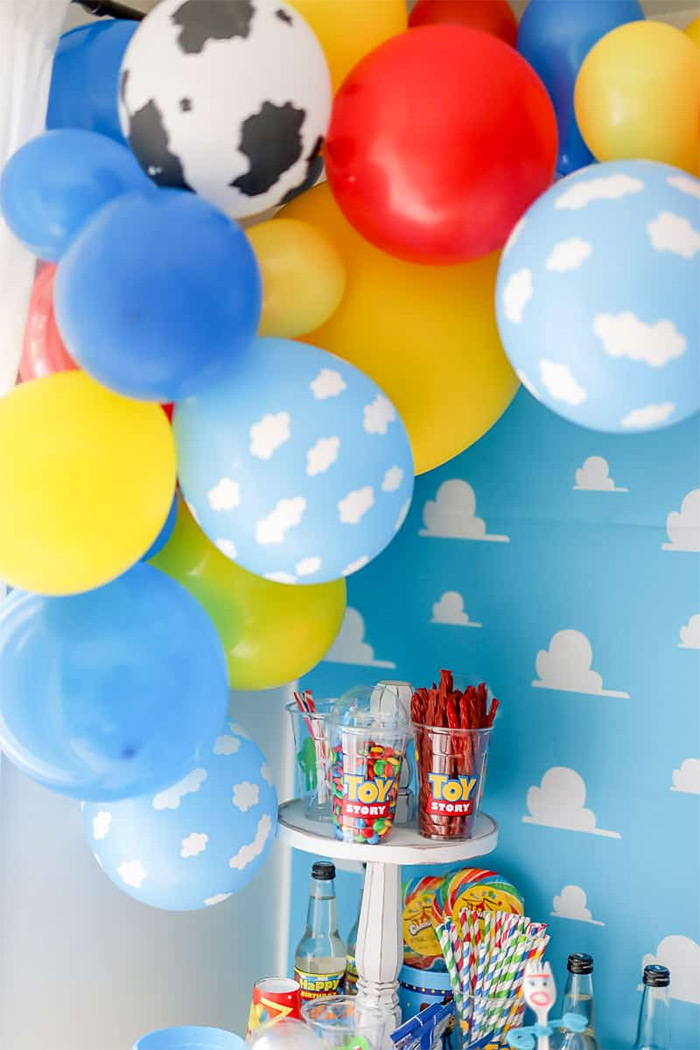 Haven't seen the last film in the franchise yet?
Then maybe you should organize a viewing party with some of your closest friends and make this Toy Story balloon garland to immerse yourself back into the movie universe.
Get your hands on a balloon decorating strip, different colored balloons(including cow spots and clouds if you can) along with some twine and finally wall hooks.
All that's left to do is create a pleasing arc over the TV you'll be watching on and the atmosphere is complete.
21.

DIY Alien Costume
Become one of the biggest stars of the Toy Story world by making these cute DIY alien ears.
Not as big a commitment as making a whole costume, this Toy Story headband will make sure you go to the party (or Disneyland) looking the part.
Made with any base headband, green felt, large googly eyes, pipe cleaners, green fabric and some other crafting supplies, all pretty simple really. This DIY will have all your friends laughing over what a ridiculous goof you look like. But they're laughing with you of course, no worries there.
22.

Toy Story Inspired Bedroom
Have you ever imagined what it would be like to enter Andy's iconic bedroom?
Well you won't have to with this project since you can bring it home to your own house!
Have a go at redecorating a room as if it were a real-life set from the popular movie franchise.
Imagine the delight on your kid's face if you were to go full bedroom makeover on their room and surprise them with a Toy Story inspired room. This thing can be packed full of their favorite characters and toys, maybe even some of the DIYs on this list too.
Come to think of it yeah, you'll definitely want to make some of the other crafts on this list to give it even more of an authentic flavor.
23.

DIY Toy Story Pumpkin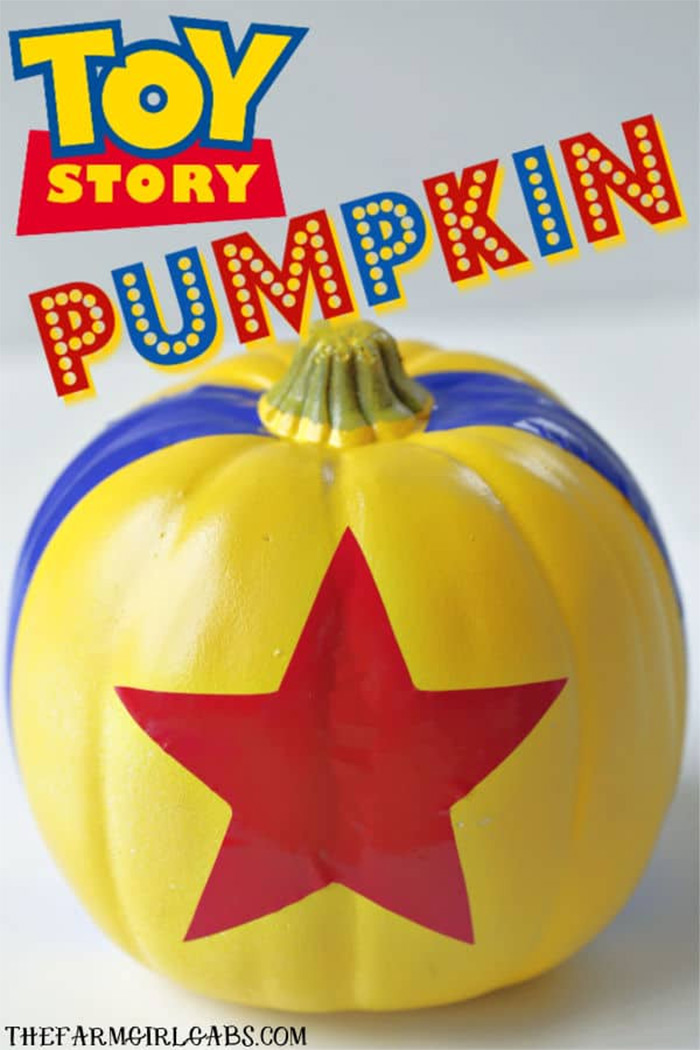 The Pixar ball that has made cameos in many of their films. The Luxo lamp & ball animation is a fantastic inspiration for a pumpkin craft mixed with Toy Story themes that'll be recognizable by almost everyone.
Even if they're not entirely sure why this is familiar, give them a minute. Everyone comes around.
This is a project like the clouds in #19 that'll root out the people who pretend to have watched Toy Story but haven't. This one is for the true fans of the franchise.
Besides being an awesome tip of the hat to Pixar, this craft is also just a really fun splash of color to any room and a unique way to design a pumpkin for sure.
24.

DIY Jessie Hat
Get your cowgirl on with this fun and cute DIY Jessie hat.
If you don't fancy going to the party as one of the green aliens (like number 21) then maybe you'd prefer this Jessie accessory instead.
Another easy to make craft, all you'll need to do is pick up a cheap red cowboy hat, some shoelaces, rope trim and your trusty hot glue gun and you're ready to get started.
25.

Toy Story Alien Cookies
If you made the reusable snack boxes(number 17) and are wondering what delicious sweet treats to put in them, well look no further.
Bake up a fresh batch of these Toy Story alien cookies to really get your Toy Story on.
Using a football shaped cookie cutter for the large alien heads, a small gingerbread one for the body, then all the ingredients of your favorite cookies, these alien cookies will be out of this world.
26.

Andy's Toy Box
If you're looking for a fun woodworking project that revolves around the Toy Story franchise then we've got you covered with this next one.
Something which started it all, Andy's toy box is as special as it is nostalgic for those who remember watching the first Toy Story movie in 1995.
Definitely a blast from the past and a great way to add some retro flair into your kid's room(or even your own!)
This DIY project is hard to resist if you already have a strong background in woodworking.
27.

Toy Story Alien Pumpkin
Halloween rolls around again and you're wondering which spooky face to carve onto your pumpkin this time.
Well why not mix it up a bit instead with this amazingly green Toy Story alien design?
This will look especially great at night time but can be used any time of year, really.
While it may not frighten trick-or-treaters away, this alien pumpkin is sure to draw plenty of attention and for good reason – it will look fantastic!
28.

Forky Cupcakes
These brilliantly colorful Forky cupcakes are the perfect fit for any birthday party or Disney-related occasion(that Toy Story themed party you've always wanted to pull off, for example).
Bursting with color and looking tantalizingly tasty, these themed cupcakes will have all party guests raving about your baking prowess and amazing taste in cupcake design.
29.

Toy Story Welcome Sign
There aren't many things in life that are as warm and welcoming as something from a Disney movie.
So what better way to make guests feel at home than with this Toy Story welcome sign hanging from your front door?
Instantly recognizable as being from the Toy Story franchise, this wreath can be customized to let the whole neighborhood know whose special day it is.
30.

Slinky Dog Paper Chain Garland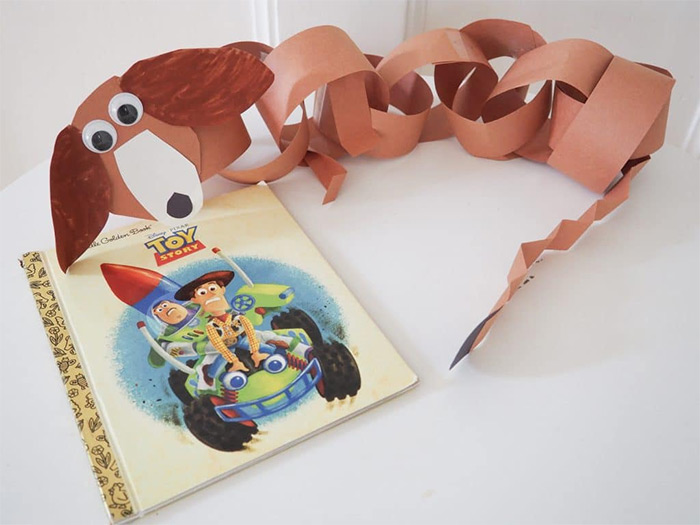 No questions asked, this is a super simple Toy Story project that requires minimal effort and is definitely kid-friendly.
This Slinky dog paper chain garland will look great hanging around any room.
Get some strips of brown construction paper for the body, white and black construction paper for the face and of course some googly eyes to complete the look.
31.

Toy Story Easter Eggs
Easter is one of those times of the year which is very conducive to fun family crafts.
So next Easter when you're all together as a family you should consider decorating a few eggs with your favorite Toy Story characters' thematic colors.
You'll just need some large wooden eggs, acryllic craft paint, and a healthy dose of imagination.
32.

Simple Alien Lollipops
Since they've invaded this list it seems fitting to end with another alien-based craft.
This time we're looking at something edible which is so easy to make there's no excuse not to try it out.
Have a look over this simple alien lollipop and you'll see it really doesn't require much. It's only made with just 5 ingredients(white sugar, water, light corn syrup, green food coloring, candy eyeballs) and is a great party favor for any occasion.
Browse:
DIY
Lists
Pixar
Toy Story
Cartoons
TV & Movies