25 Best Dark Souls 2 Mods Of All Time
This post may contain affiliate links. If you buy something we may get a small commission at no extra cost to you. (Learn more).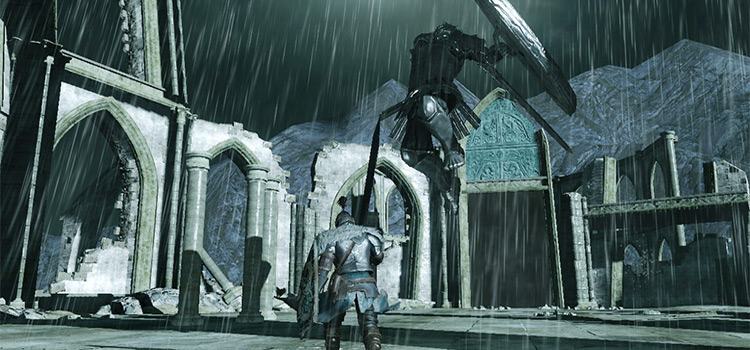 Dark Souls fans are some of the most hardcore gamers out there. It seems like the Souls series is something you'll either love or hate, and those who love it seem to really love it.
With such a strong community behind it, fans are still finding ways to improve on these games.
With Dark Souls 2, however, there are much stricter anti-cheat policies making it difficult for modders to push content for the game.
No need to worry though. I've already gone through what's available and compiled a list of the absolute best mods you should try for this game.
Just keep in mind that modding in this game may get you soft banned, so read up on some guides to do it wisely.
25.

GeDoSaTo
GeDoSaTo is almost always the first things you'll hear when talking about DS2 mods.
Modding was virtually impossible before GeDoSaTo, so it is required to run almost all mods out there.
GeDoSaTo, created by modder Durante, stands for Generic DownSampling Tool.
With DS2's native resolution being 1024×720, Durante wanted to be able to play the game at a higher resolution. GeDoSaTo doesn't only let you do that, but goes much further: allowing for more in-depth texture modding of the game.
Making it possible to modify post-processing effects, textures, ambient occlusion, and more, GeDoSaTo pretty much set the stage for anyone who was interested in making DS2 mods.
24.

KBAM Interface Icons
Starting off with the essentials. What's more important in a game like Dark Souls 2 than playing comfortably?
The last thing you're going to want is to be pressing the attack button when you mean to dodge, or vice versa.
Now we all have preferences in terms of controllers. But with DS2 being a port, it defaults to Xbox controller icons in the game.
This can be confusing for players who aren't used to using Xbox controllers. So modder hollowatcher created a fix.
KBAM Interface Icons simply replaces the default Xbox icons with keyboard and mouse controls.
If you're playing on PC you're going to want this one installed.
23.

PS3 UI Buttons
Now there are some people who prefer the PlayStation controller to Xbox.
Same as the KBAM Interface Icons mod, there's a solution for DualShock users as well.
Obviously, instead of keyboard and mouse controls, you'll now see DualShock icons instead.
Easy fix that should save your life a couple of times.
22.

Clean UI
Not everyone notices tiny details like this, but once you do it can't ever be unseen.
Such is the case for modder KampfKlops. He was annoyed at how the popup notification for invasions would always overlap with the item slot boxes in the HUD.
Lucky for us, not only did he notice it, but he created a mod to solve it as well.
Building on his initial intention of fixing invasion notifications, Clean UI makes changes to pretty much all menu screens in the game.
It removes the leather book appearance of most menus and prompts and replaces it with a clean transparent look instead.
Now menus and notifications are not as intrusive, giving the game an overall cleaner look.
21.

Higher Contrast Bars HUD Mod
Another huge part of surviving in Dark Souls is monitoring health.
Whether it's enemy health or your own health, it's important to know where everyone stands. Each strike could possibly be the difference between life and death… and losing in DS2 is just not fun.
The Higher Contrast Bars HUD Mod solves exactly that. With a simple UI fix, modder Ajkowal makes it much easier to read health bars.
Health and stamina bars are replaced with higher contrast textures so it's easier to tell where you're at with just a quick glance.
20.

Subtle Ring Effects
On the opposite end of the spectrum, some players thought that some textures were too much.
An example would be the ring effect animations, which modder DaringSerenity thought were over the top.
Finding the effects too distracting, he decided to create a simple fix with the Subtle Ring Effects mod.
There is actually already a mod that completely removes ring effects, but obviously this isn't ideal for many players.
As explained by DaringSerenity, this doesn't just stray too far from the intended experience of the game, but it could actually cost your life sometimes!
The result is the Subtle Ring Effects mod which dials down the ring effect animations. It makes them more transparent and less bright – in effect making them less distracting for the player.
19.

Fleshy Hollows
Now the next two mods on the list cover both sides of the spectrum when it comes to Hollowing.
For those who aren't familiar, Hollowing is a mechanic in Dark Souls games where players degenerate upon incurring deaths.
Hollowing has different effects on gameplay, especially in Dark Souls 2. But the Fleshy Hollows mod only aims to address how Hollowing impacts the visual appearance of characters.
If you're looking for more variation, Fleshy Hollows makes the process appear more gradual.
Instead of going straight from human to hollowed, there are now three stages. As you incur deaths, your character's skin slowly loses color and looks more withered.
18.

Always Human Never Hollow
On the other hand, some people don't want their characters to wither.
Regardless of how many times they die, they don't want Hollowing to alter their appearance.
This is possible as well with the Always Human Never Hollow mod by DevelopmenthGB.
There are some limitations, however, as you still lose hair and your eyes still turn white once you're completely hollowed.
Though that may still make for an interesting look.
17.

Dark Souls 2 Boss Music Replacement Dark-metal-Music
Soundtracks have always played a large role in Dark Souls games.
Dark Souls 2 is no different, continuing on with the epic orchestral and choral pieces that make each boss battle all the more memorable.
Modder Alazgor decided to take a different approach with this one. He created this mod to replace all boss music with heavier metal versions of the soundtrack.
Don't worry though, he didn't just place random metal songs in boss battles.
He actually compiled metal versions of the actual in-game soundtrack. Sick!
This way the music isn't really different, it's just in a different style. If guitar-driven heavy metal is your taste then you should check this out for sure.
16.

Dragon Slayer Ornstein and Executioner Smough Loading Icon
We all know how the difficulty factor of Souls games can become quite frustrating. We've heard stories of controllers being thrown and destroyed, there are even rage compilations on YouTube of streamers losing it.
These next few entries may give you the much-needed break from the seriousness of the game, maybe even make you forget that you've been stuck on the same boss for days now. At the very least they'll give you a good laugh, which is enough to relieve some stress after playing through this game.
The first fun little mod is the Dragon Slayer and Ornstein loading icon.
The Dragon Slayer and Ornstein fight is known as one of (if not the) toughest boss battle in all of the Souls series.
So why not take every chance you can to poke a little fun at our most hated bosses?
All this does is adds an animation of Dragon Slayer and Ornstein breakdancing during loading screens.
Now who wouldn't want that?
15.

This Game Is Bullsh*t Death Message
As Dark Souls players know, rage episodes are just part of the experience.
This next mod is really just a way to show this rage while playing.
Just another fun mod that make dying a little less taxing. All it does is change the "YOU DIED" death text to read "This Game Is Bullsh*t!"
Fair warning here, though this personally gives me a good laugh (mostly directed at myself for being this angry about a video game), this may add fuel to the fire depending on how you take it.
But if you're looking to make things a bit more comical this may do the trick.
14.

Lenigrast is Not Green
Ever wonder why Blacksmith Lenigrast is green?
Well modder funexplosions did, even mentioning that he looked like Shrek.
I mean we get that he's cursed…but still, why does he look like an ogre?
Well if you're nearly as bothered as funexplosions was then you're in luck! With this mod, well…Lenigrast is not green.
13.

Tabby Shalquoir HD
Sweet Shalquoir is another NPC found in Majula.
Described as a "sentient feline creature," to many she is basically a cat.
Her appearance in the game doesn't do much for her either. She basically does look like a house cat.
Now if the idea of a house cat for an NPC is a Souls game isn't silly enough, modder ToadR improved on the texture even further.
The original low-resolution textures have been replaced with a cuter white chested tabby cat. As if Sweet Shalquoir wasn't cute enough already.
12.

The Witcher – Triss Merigold Armor
In the next few entries, many modders have found fun and creative ways of maximizing GeDoSaTo.
There are a lot of mods that reference popular games and films, but these in my opinion are the best ones.
Starting off we have one for the fans of the Witcher series.
Now you can play DS2 as Triss Merigold in dressed in her iconic armor set.
The Triss Merigold Armor mod replaces the textures for the Fume Sorcerer Robe, Gloves, and Black Leather Boots, so you'll be needing those items in the game for this to work.
11.

Mad Predators Mask (Mad Warrior)
The deadlocks have undoubtedly become an iconic part of the Predator look.
Well, now the technologically advanced alien species from the film series can now be found in Dark Souls 2 as well!
User vj88 found that the Mad Warrior's hair already looked like the dreadlocks from the famous Predator. So he created a custom texture to match the mask as well.
The Mad Warrior is one of the rarer NPC spawns in the game, so you'll have to find him to get the mask.
10.

Darth Maul in Dark Souls 2
How about one for the Star Wars fans?
That's right, there's even a mod that lets you play as Darth Maul!
Who wouldn't want to wield that signature red double-bladed lightsaber?
All you need are the Dark Mask, Twin Blade, and the Leydia White Robe and you're good to go.
9.

Buster Sword
One of the most iconic video game weapons to this day. Who would forget Cloud's giant bust sword in Final Fantasy VII?
I'm sure most gaming fans would think it a cool idea to snag the Buster Sword as a usable weapon in Dark Souls 2.
Lucky for us modder Shametal made it possible.
A reskin of the Old Knight Ultra Greatsword, you'll now be able to bust up some hollows as Cloud would in the PlayStation classic.
8.

Zelda Textures
Now we have one for the Nintendo fans as well.
One of the bigger texture mods, the Zelda Textures includes multiple clothing, shield, and weapon textures based from the world of Hyrule.
You'll be able to access the iconic green tunic worn by Link, along with other Zelda items like the Majora's Mask Shield, Kokiri Shield, and even multiple versions of the Master Sword. Fun stuff!
Now it doesn't change the appearance that much. But the combination definitely makes for a convincing Link cosplay.
7.

Dragonslayer and Refinished Greatswords
EvilDeadAsh34 is one of the most active texture creators for DS2.
He has created multiple retextures of weapons, masks, armor sets, and even skyboxes for the game.
His creativity and imagination compliment the game so well that his retextures make the game much more vibrant, basically better than vanilla!
The next few items are some of his best work, starting here with the Dragonslayer and Refinished Greatswords.
This mod changes the appearance of the greatsword by giving you three new styles – shiny steel, gold, and dragonslayer.
You can see for yourself how much more detailed and realistic the greatsword looks once this mod is applied.
6.

Heide's Tower of Flame Skybox Remix
A great example of his skybox mods is the Heide's Tower of Flame mod.
A seemingly small visual upgrade, but making changes to the backdrop of areas actually has a huge impact on the overall look of the game.
In this example, the ordinary afternoon sky is replaced with a much more vibrant dusk setting.
The stars and clouds compliment each other well, adding to the majestic feel of the area.
He has tons of other mods which I'm sure you're going to want to check out, so get started with this one.
5.

AMS001- Black Dragon Armor I
Another active texture creator is darkravensilversmith. Focusing more on weapons, armor, and shields, he's created a whole lot of great-looking textures for DS2.
With item builds being such a huge part of the Souls series, we can't deny that sometimes appearance actually makes a difference in choosing what to equip.
Some people just don't want a strong item that doesn't look nearly as cool as the other weaker weapons.
Thanks to darkravensilversmith, the graphics of your favorite weapons and armor are just so much nicer
Starting off with the Black Dragon Armor I mod. Now the Black Dragon Armor no longer has that washed out/almost rusted look to it.
Once you've completed the armor set, you'll have multiple styles to choose from. These include Charcoal Black, Blizzard, and Moonlight to name a few.
It's completely up to you to decide which one looks best.
4.

WEP006- Blaze Smelter Sword
Aside from armor retextures, darkravensilversmith also has tons of weapon skins to explore.
This one specifically changes the appearance of the Smelter Sword.
For an ultra greatsword that was forged from the soul of a demon, some might say that the original looks of the weapon are quite underwhelming.
Renaming the weapon to the Blaze Smelter Sword, it has received some significant visual upgrades.
The sword's glow is now much brighter making it appear more powerful than the vanilla version.
There are even six different color options to choose from, along with alternative flame effects to match. Talk about customization.
3.

WEP005- Prominence Chaos Blade
Another cool retexture from darkravensilversmith is the Prominence Chaos Blade.
The Chaos Blade is a powerful katana in DS2 with dual wielding capability. It doesn't look too powerful though, as the original texture just looks like any other basic katana.
With the Prominence Chaos Blade mod you'll be looking much more intimidating. Especially when dual wielding Chaos Blades.
They are given a bright glow, either in black, red, or blue depending on your color preference.
2.

A Perfect Storm
Epic boss battles are also a huge part of the Souls series.
Fans of the game know that the sense of fulfilment from defeating each boss. It's incomparable to any other game.
The Looking Glass Knight battle is one of the more epic ones, fighting the battle in a rainy Drangleic Castle.
This mod enhances that experience by turning the rain into a full-on storm.
Not only does it enhance the rainfall, but the splatter off the ground and characters were improved on as well.
Take that boss fight to the next level with a dramatic rain-soaked battle this time around.
1.

Augur of Darkness
Probably the most expansive mod for Dark Souls 2, modder Vempire gives us a unique experience with Augur of Darkness.
Touching on mostly everything in the game, from adding/changing enemies, bonfire and item locations, and level shortcuts, he created this mod with the aim of improving the overall flow of the game.
There are even loads of new areas to explore, making for a completely fresh experience of Dark Souls 2.
If you've completed multiple playthroughs of the game, this is a great way to re-discover DS2 as you'll find yourself being surprised many times over. Just like you were the first time you played the game.
Browse:
Dark Souls 2
Lists
Video Games