Dark Souls 3: Best Dex Armor For Your Build
This post may contain affiliate links. If you buy something we may get a small commission at no extra cost to you. (Learn more).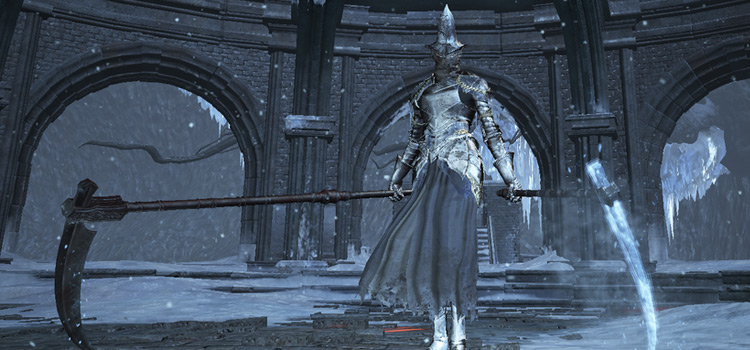 'Fashion Souls' is not a joke, and is in fact the true end-game of any Souls installment!
Because why be a master of this hardcore game if you don't look damn good while you do it?
For dex builds, agility is the natural fit – aesthetically favoring dark, mysterious cloths to stay hidden whilst remaining quick on their feet, yet still having some armor to stay combat-ready.
Whether you're looking for a full set to rock or want some awesome pieces to mix-and-match to create your own look, we're going to share some of the best amours for all you dex builders out there!
Black Leather Set
First is the DS1 classic, the black leather set.
This set is the essence of gambit dex builds – with tons of pockets and pouches to hide throwing knives, kukri's, firebombs and more!
This set will be a perfect fit if you find yourself using a mix of weapon and consumable! You've got to store all those tools somewhere, right?
How to get: Sold by Patches after forgiving him for locking you in the tower at Firelink. Helmet is sold by Greirat.
Assassin Set/Black Hand Set
Next up is the assassin set – a suitably shrouded garb that looks lightweight yet still has armored points protecting critical areas.
This is perfect for builds that favor a more heads-on approach!
If your character is proficient in close-quarters combat, expertly dodging whilst still taking the occasional trade to finish their foes, this armor will be a great fit.
Similarly, the black hand set is actually the same armor, just with more cloth and padding- which would better fit similar playstyles that rock bulkier weapons!
How to get (Assassin set): Starting gear for the assassin, or sold by Greirat after he's gone to the undead settlement.
How to get (Black hand set): Sold by the shrine handmaid after killing black hand Kamui in the grand archives.
Dancer Set
A bit of a different one here – the dancer set is my absolute favorite for dex/intelligence hybrids!
Its fully armor-clad appearance still portrays agility thanks to the slim fit of the pieces, and the helmets ethereal shawl is suitably roguish, but with a magical spin.
Stats-wise, it's got some of the highest poise-to-weight ratio, which is perfect for enabling the battlemage playstyle!
How to get: Sold by the shrine handmaid after defeating the dancer.
Deserter Set
The deserter set is a great 'all-purpose' armor that's fit for both stealth and fighting!
It's very lightly armored and looks pretty worn – which could either suggest the overuse of a well-seasoned combatant or the rags of an amateur fighter, which is great for some character building.
This one will nicely fit a one-handed weapon and a parrying shield, to keep appearances lightweight yet combat-ready.
How to get: Chest and legs are starting gear for thief. All pieces are dropped by hollow soldiers on the high wall.
Shadow Set
Another returning DS1 armor, the shadow set is perfect for all you katana-using ninjas out there.
I mean, it's literally a ninja costume, mask and everything.
It might not feel the same as it did back in the day without the dark wood grain ring for your backflips, but when paired with the Carthus milkring and the obscuring ring, you can really get a badass hidden assassin feel!
How to get: Found among the rotten slugs in the poisonous lakes of the consumed kings garden.
Undead Legion Set
If you've played any online, you've seen this armor.
Likely one of the most popular sets in the whole game, the legion set is an absolutely fantastic dex armor that perfectly captures the essence of a nimble, close-range fighter.
With its mix of cloth, leather, and metal paired with that huge worn blood-red cape, this set favors brutal, dodge-heavy playstyles that counter with devastating combos with heavier weapons like greatswords!
Shame about the helmet though. The conehead does let the side down.
How to get: Sold by the shrine handmaid in Firelink after beating the abyss watchers.
Leonhard's Set
Leonhard's set has to be the most Bloodborne-y armor in the whole game- and if you've played it, you'll know why that fits dex builds so well.
Not only does this subtly ornate black garb look incredible, it also has some nice lore tied to it, telling Leonhard's story!
It's a great fit for assassins while still heaving the bulk suitable for duels and close-range swordplay. The woven intricacies in the fabric also makes it suitable for spellcasting dex hybrids!
For me though, it's all about that mask. Replace the conehead of the legion set with it and you've got my go-to for dex builds.
How to get: Bought from the shrine handmaid after killing Leonhard.
Vilhelm's Set
For the more armor-loving dex users, there's Vilhelm's.
Similar to the dancer set, this black armor is a slim fit, which favors agility yet still has a more defensive appearance.
This set is perfect for dex-focused physical builds, or even dark magic hybrids – it naturally looks fantastic with Vilhelm's choice weapon, the onyx blade.
All the pieces are awesome, but the 'shawl' of the chest piece looks a bit too much like a poncho for my liking.
It's even got a golden bowtie emblazoned on it. I just can't take it seriously.
How to get: Dropped by Vilhelm in the painted world.
Sellsword Set
The sellsword set is a match made in heaven for sword-slinging quality builds.
Its heavily clothed appearance feels just lightweight enough to stay quick, yet still formidable and ready for exchanges.
It even has a cape, which is always plus points!
Its appearance favors a sword-and-board playstyle, or the use of a dual-wield weapon.
Pair it with the sellsword twinblades (the best PvE weapon in the game), and you have a truly brutal, nimble fighter- ready for combat!
How to get: Starting gear for the mercenary, or found in the road of sacrifices- near the black knight and Farron coal.
Browse:
Dark Souls 3
Lists
Video Games