How To Get Fire Gems in DS3 (Farming Guide)
This post may contain affiliate links. If you buy something we may get a small commission at no extra cost to you. (Learn more).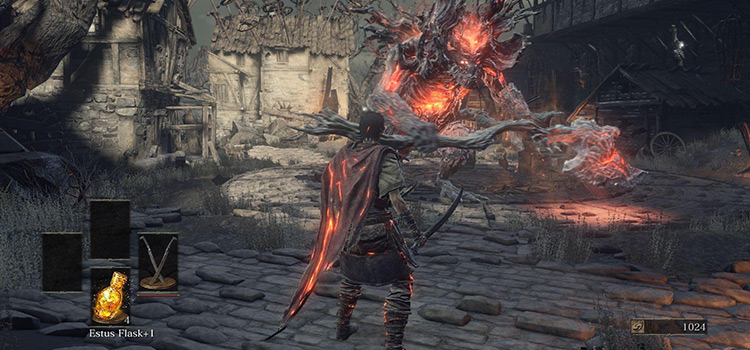 Finding Fire Gems in Dark Souls 3 can be a complicated process. The best methods are as follows:
Choosing a Fire Gem as a Burial Gift (1 Gem)
Killing the Fire Demon in the Undead Settlement (1 Gem)
Farming Worker Hollows in the Undead Settlement (infinite Gems)
We'll outline exactly how to carry out each of these methods below, as well as how to use your Fire Gems once you've gotten them.
Choosing a Fire Gem as a Burial Gift
The quickest and most simple way to get a Fire Gem is by choosing it as your Burial Gift when you start a new character.
This will give you a free Fire Gem when your character spawns into the Cemetery of Ash for the first time.
Of course, this only works if you're creating a fresh character. It also takes up your Burial Gift slot, which could be used for much better gifts, such as a Life Ring.
If you're setting up a new character anyway and you want to deal some Fire damage straight away, then choose the Fire Gem as your Burial Gift.
If you're not, I'd recommend giving this Gem a miss – there's another easy way to pick up a Fire Gem.
Killing The Fire Demon in The Undead Settlement
At the very end of the Undead Settlement, you'll approach a stone cathedral guarded by pot-wielding enemies.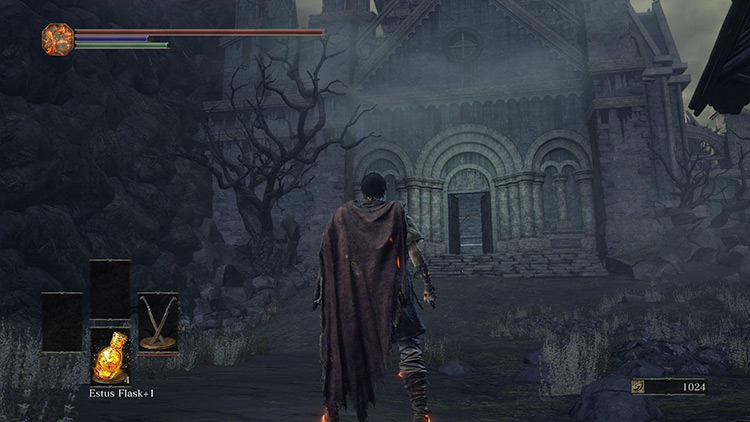 Make sure to take them out before entering the cathedral, as there's a few steps you need to complete in there, and you can't do them while running for your life.
Head inside and press the button on the elevator in front of you, then roll off quickly before it descends.
Wait a moment, and a hidden elevator will descend into the hole from above, bringing Siegward of Catarina with it.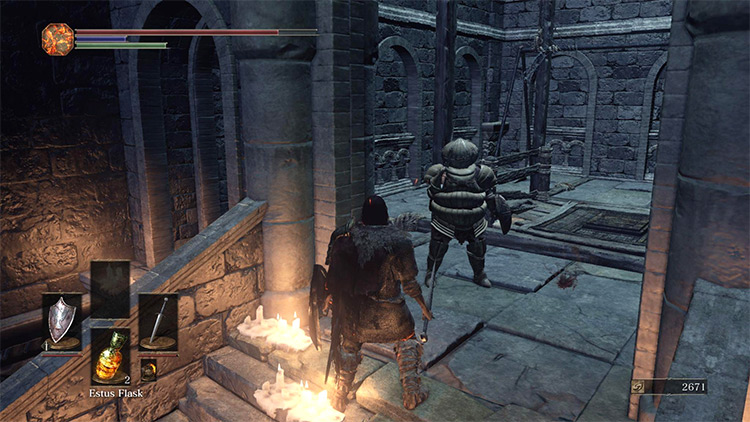 Speak to him until he starts repeating himself, then stand on the elevator that he came down on.
Turn around to face Siegward, and look for a small wooden walkway in the shaft. Once you've spotted it, take the elevator again, and carefully roll onto the walkway mid-ride.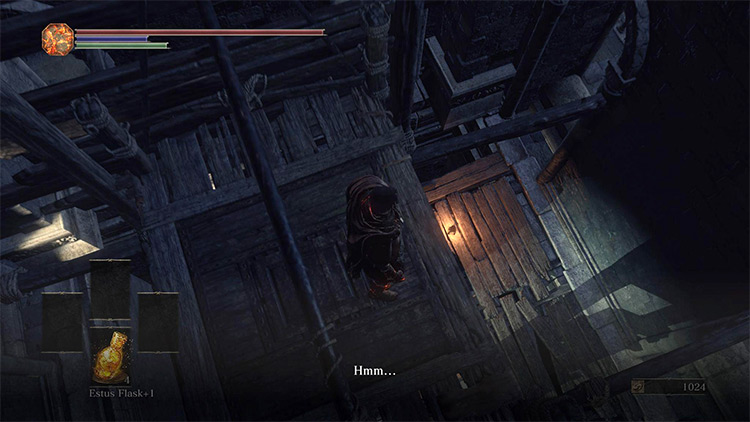 Once you're safely on the walkway, turn and leave the building through the window, then talk to Siegward again in his new spot.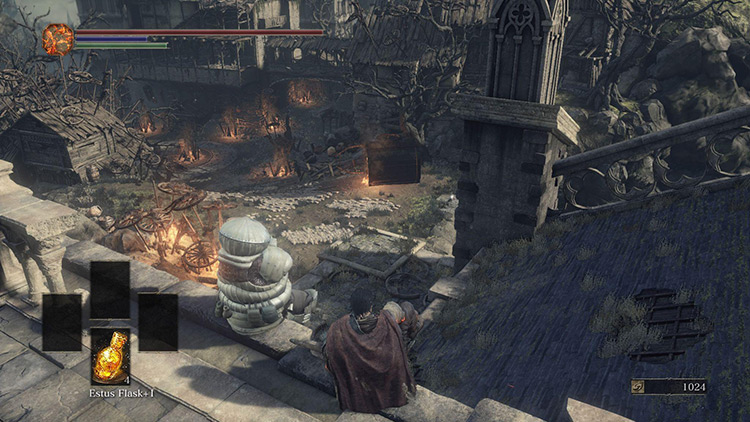 He'll tell you about a Demon down the hill that he wants to slay. Head down there and start to fight it, and Siegward will come to your aid.
Kill the Fire Demon and it'll drop a Fire Gem as a reward.
Farming Fire Gems (Worker Hollows in The Undead Settlement)
By far the quickest way to farm Fire Gems is by taking out the large congregation of Worker Hollows at the top of the Undead Settlement.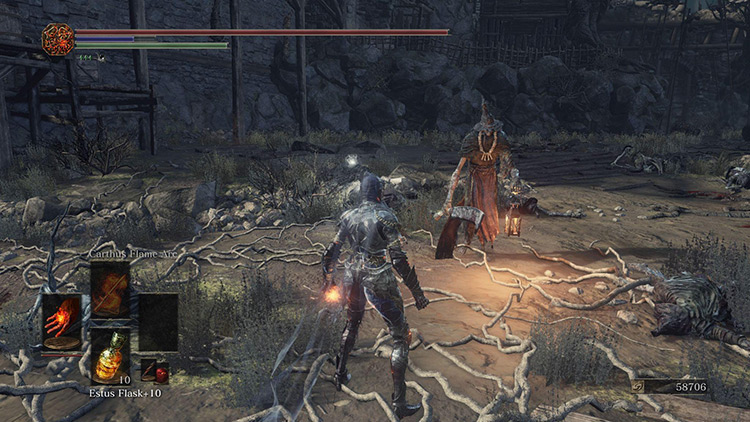 Before you start farming, however, you'll need to boost your item discovery stat.
Item discovery determines how lucky you are when it comes to items dropping from enemies.
If you don't want to spend all day farming, it's best to pick up some item discovery-boosting items, such as the Crystal Sage's Rapier and the Symbol of Avarice.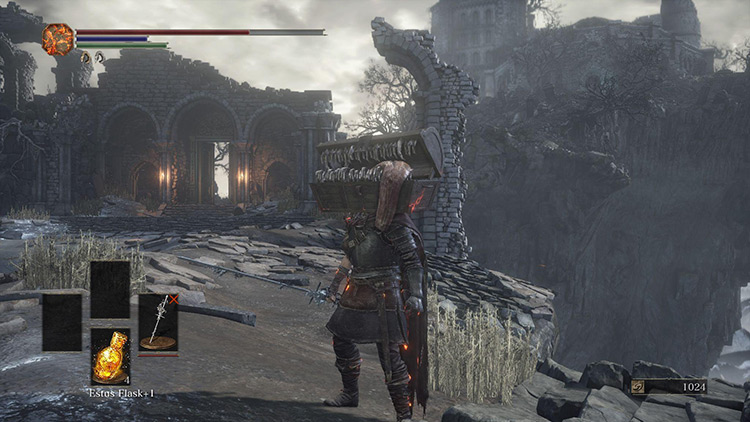 For a full guide to maximizing your item discovery, check out our farming build guide.
Once you've raised your item discovery to a decent level, warp to the Undead Settlement Bonfire to start the farm.
From the Bonfire, head forward towards the dark house, and take out both of the Worker Hollows in your way.
Although they aren't part of the main group, every Worker Hollow has a chance to drop a Fire Gem, so it's important to take them out.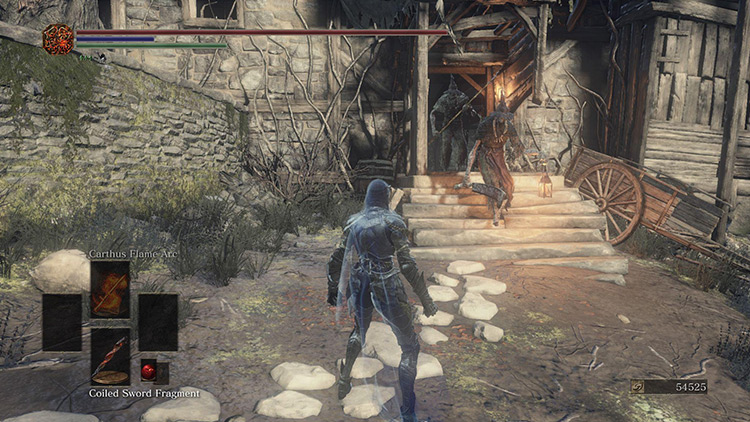 Once in the house, run forward until you drop down to a lower floor, then turn right to find the exit.
Don't worry about taking out the enemies in here – they won't follow you outside if you move fast enough.
Once you're outside, walk down the path until you see a huge group of Worker Hollows surrounding a tree.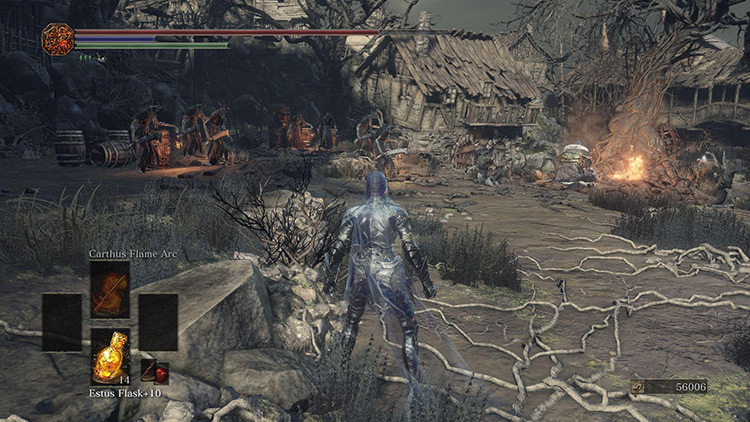 The group won't be hostile towards you at first, so take the opportunity to quickly take out as many as possible before the rest catch on to what's happening.
Alongside the Hollows is an Evangelist, the large enemies that throw Hexes. The Evangelist here doesn't drop Fire Gems, but you may want to take it out anyway for safety.
Once every Worker Hollow in this area is dead, the farming route is complete, so warp back to the Undead Settlement Bonfire to respawn the enemies and start the farm once again.
How To Use Fire Gems
Unlike most other infusion materials, you don't need any extra items to be able to use Fire Gems.
Simply warp to Firelink Shrine and head over to Andre.
Talk to him and choose 'Infuse Weapon', then select a Fire infusion.
Each Fire infusion costs 1 Fire Gem, and will lower the infused weapon's physical damage in exchange for added Fire damage.
Browse:
Dark Souls 3
Video Games