How To Get The Carrot Key in Earthbound
This post may contain affiliate links. If you buy something we may get a small commission at no extra cost to you. (Learn more).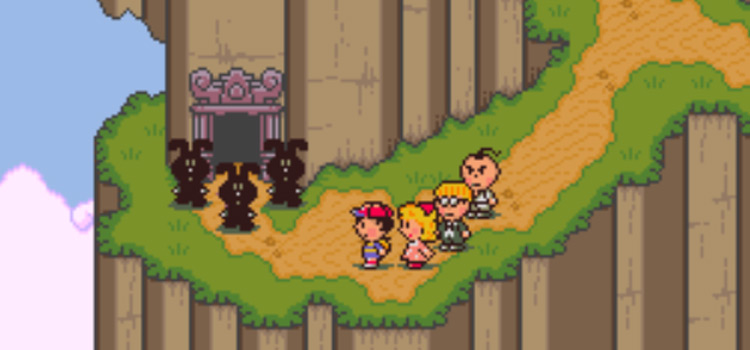 The Carrot Key is a key item, found in a treasure chest in Magnet Hill. This key is required to gain entry to Earthbound's sixth Sanctuary – The Pink Cloud.
The Pink Cloud is located inside the Cave of the Pink Cloud, which can be found in Dalaam.
And the Carrot Key itself is used to remove the Rabbit statues blocking the entrance.
Detailed Walkthrough
Before you can gain access to Magnet Hill, you'll need to find your way through the Fourside Sewers.
To enter the sewers, you'll need the Signed Banana key item.
Once you're inside the Sewers and after you've defeated the Plague Rat of Doom, the ladder to Magnet Hill will be behind where the rat was.
Open the treasure chest you can see out in the open – and you will obtain the Carrot Key!
What Does the Carrot Key Do?
Once you've picked up the Carrot Key, you should go all the way back through the Sewers and go back to Fourside.
Use PSI Teleport with either Ness or Poo, and make your way to Dalaam.
Go south and you'll eventually find a mysterious doorway guarded by three Rabbit statues.
Whip out your newly acquired Carrot Key, and the statues will vanish. You now have access to the Caves of the Pink Cloud.
The theme of this cave is electricity. On top of that, some of the enemies inside also have attacks that inflict poison.
There are some incredibly good items to find in the caves.
If you spend some time exploring, you can score a Rock Candy and the Bracer of Kings for Poo.
Finally, you'll come face to face with the Sanctuary's guardian – Thunder and Storm.
These guys are tough if you're unprepared.
If you're carrying the Franklin Badge, then you can offset their dangerous thunder elemental attacks.
Unleash PSI Freeze attacks as well as your Bottle Rockets, but don't forget to periodically heal.
Keep at it and you'll soon be victorious.
After you're successful, enter the cave behind where the guardian was. This is the entrance to Sanctuary number six – Pink Cloud!
Browse:
Earthbound
Video Games