Where To Farm Horns of Desire in Epic Seven
This post may contain affiliate links. If you buy something we may get a small commission at no extra cost to you. (Learn more).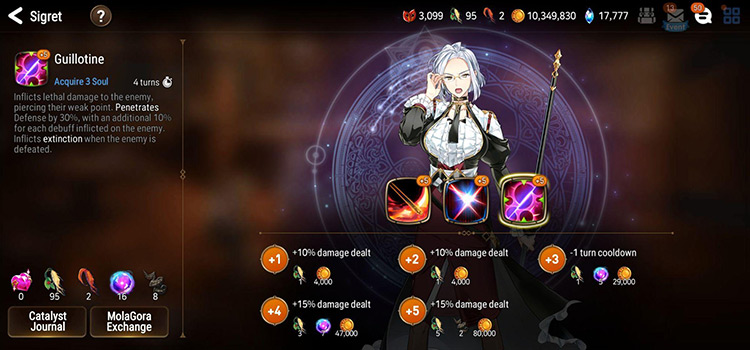 Note: After the January 2023 patch, the best place to farm Horns of Desire is in Unrecorded History Stage 25. Prison of Mirrors. There you can get it as a drop and grind the AP you need to buy them from the Side Story AP Exchange Shop.
Or previously, you could farm Horns of Desirs in the Unrecorded History stage 8-5 "Frozen Flame Road." Horns of Desire will randomly drop from the boss of this stage. Additionally, the accumulated AP from repeat runs will allow you to purchase the epic catalyst from the AP exchange shop for 400 AP 5 times a week.
It is recommended to bring a pet with S Rank skills that increase your Catalyst drop rate.
While it is possible to farm other stages in Adventure to acquire Horns of Desire, you can complete earlier stages much quicker, thanks to the weak enemies.
Additionally, there is added incentive to farm these easier stages as it allows for fodder farming with only one dog walker.
Other Ways To Get Horns of Desire
There are several alternative ways to acquire Horns of Desire in Epic Seven.
Method 1. Crafting
In the Sanctuary, more specifically the Alchemist's Steeple, it is possible to craft each Epic Catalyst once a week.
Depending on the number of base materials used, you can receive up to three Epic Catalysts using this method.
It takes 4 Epic Catalysts or 14 Rare Catalysts to reach Epic Quality Grade. Once crafted, you will receive 3 of your chosen Epic Catalysts in return.
Note: These ratios are only accurate at max rank. Blessings of Orbis are required to upgrade the three sections of the Alchemist's Steeple.
Tip: If low on resources, check out these tips:
You can combine a mix of Epic Catalysts and Rare Catalysts to reach Epic Quality Grade.
You can craft at Normal and Good Quality, but the return investment will be significantly less.
It is also possible to "Request Aid" from Guild members but only for Rare Catalysts.
Method 2. Purchase Catalyst Booster Packs
While not readily available in the shop, occasionally, Catalyst packs will appear for a limited time.
These are usually triggered after using Catalysts to skill up heroes or after crafting Catalysts in the Alchemist's Steeple.
Here is a list of the contents of these packs.
Catalyst Booster Pack (3/3)
12 Rare Catalysts (Choose 1 Type)
7 Epic Catalysts (Choose 1 Type)
450 Skystone
Catalyst Pack (3/3)
12 Rare Catalyst Selection Chests
5 Epic Catalyst Selection Chests
450 Skystone
500,000 Gold
Note: "Choose 1 Type" means you will receive 12 or 7 of the same Catalyst in bulk. Only Selection Chests allow you to pick and choose one at a time.
Method 3. Lobby Pet
This is less a farming method and more of a bonus Catalyst acquisition method. Periodically, if you have a pet placed in the lobby, they will generate rewards including gold, Transmit Stones, and sometimes Rare or Epic Catalysts.
Note: A small chest icon will appear above the lobby pet's head when an item is available. Just tap the pet to claim your reward.
Method 4. Farming Other Stages
If for some reason, you enjoy masochistically grinding through the increasingly difficult new adventure content, here is a list of all the stages where you can acquire Horns of Desire.
| Region | Stage |
| --- | --- |
| Unrecorded History | 8-5 |
| Unrecorded History | 8-7 |
| Eureka | 9 – AP Exchange Shop |
| Natalon | 2 – AP Exchange Shop |
Method 5. Guild Member Shop
Finally, the last way to obtain Horns of Desire is to purchase Rare and Epic Catalyst Chests from the Guild Member Shop.
These are available 5 times a week for 30 and 150 Commander's Armbands, respectively.
Unlike Selection Chests, the Catalysts obtained from these are random.
Note: It is also possible to purchase Regular Catalyst Chests 3 times a week for 180 Brave Crests each. These have a small chance of containing Epic Catalysts.
How To Use Horns of Desire
Like other Catalysts in Epic Seven, Epic Catalysts are used to skill up or awaken your Heroes. Horns of Desire, specifically, are used alongside Molagora and Gold to level the skills of Taurus heroes.
Depending on several factors, a different number of Horns of Desire is required. These factors include:
The rarity of the hero.
The type of skills the hero has.
For example, Assassin Coli (a 4* Taurus Thief) requires 6 Horns of Desire to max her three skills. However, Great Chief Khawana (a 4* Taurus Warrior) requires only 4 Horns of Desire to max her first and second skill (the third is upgraded using Rare Catalysts only).
Notable Heroes That Require Horns of Desire
Here is a list of several notable heroes that are either widely used in PVP or PVE and require Horns of Desire to level their skills.
| Hero | Rarity | Horns of Desire | Mainly Used in |
| --- | --- | --- | --- |
| Sigret | 5* Warrior (Ice) | 6 (2 / 2 / 2) | PVE (Wyvern) |
| Assassin Coli | 4* Thief (Dark) | 6 (2 / 2 / 2) | PVP |
| Sage Baal and Sezan | 5* Mage (Light) | 6 (2 / 2 / 2) | PVP |
| Great Chief Khawana | 4* Warrior (Dark) | 4 (2 / 2 / 0) | PVE (Caides) |
| Dizzy | 5* Mage (Ice) | 6 (2 / 2 / 2) | PVE (Abyss) |
| Solitaria of the Snow | 5* Mage (Light) | 6 (2 / 2 / 2) | PVP |
| Sinful Angelica | 4* Soul Weaver (Dark) | 4 (2 / 2 / 0) | PVE (Wyvern) |
| Fairytale Tenebria | 5* Mage (Ice) | 6 (2 / 2 / 2) | PVP |
| Crescent Moon Rin | 4* Thief (Dark) | 6 (2 / 2 / 2) | PVP |
| Senya | 5* Knight (Earth) | 6 (2 / 2 / 2) | PVP |
Browse:
Epic Seven
Video Games