100+ Best Espeon Nickname Ideas: The Ultimate List
This post may contain affiliate links. If you buy something we may get a small commission at no extra cost to you. (Learn more).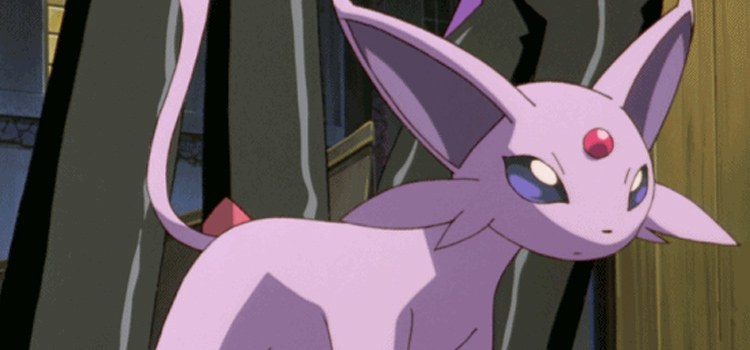 So you've caught an Espeon and need some cool names. But doggonit, where do you even get started?
Your basic psychic Pokémon nicknames are OK, but we want something that really says "Espeon". Something that tells everyone you own a crazy psychic-powered dog/fox thing.
Well we've put some pen to paper and come up with a whole bunch of incredible nicknames for your new purple feline friend.
Have a looksie below and see if any names catch your eye.
Sakura
Velvet
Espeonage
Dawn
Sunshine
Strawberry
Bubblegum
Aurora
Whimsy
Wawa
Galaxy
Ray
Jade
Jamie
Garnet
Perry
Palatia
Ethan
Ethos
Kiki
Priya
Psycat
Ovie
Espit
Hikari
Hotaru
Kawaii
Venus
Venetia
Enigma
Paradox
Riddler
Imperia
King
Regal
Casie
Artemis
Anastasia
ESPN
Espeoff
Zen
Smokeshow
Tails
Lilac
Ciana
Destiny
Apollo
PinkCat
Lighteon
Wavie
Gemma
Napster
Mystique
Santa
Rudolph
Lulla
Bougie
Jaylo
Hipster
Narco
Smiles
Piggy
Swiney
Xenon
Dreamyst
LightShine
Solastra
Sully
Sailor Moon
Freya
Jello
Candy
Lola
Melena
Rick
Reverb
Halo
Norda
Clover
Tinkerbell
Eve
Gyra
Kura
Kandice
Lolcat
Unidye
Dice
Sparkles
Glam
Pixie
Ripper
Amiga
Summer
Notia
Caprese
Whiskers
Sultra
Amy
Curly
Vera
Gaga
Zelda
Browse:
Lists
Pokémon
Video Games