20 Best Quest Mods For Fallout 3 (All Free To Download)
This post may contain affiliate links. If you buy something we may get a small commission at no extra cost to you. (Learn more).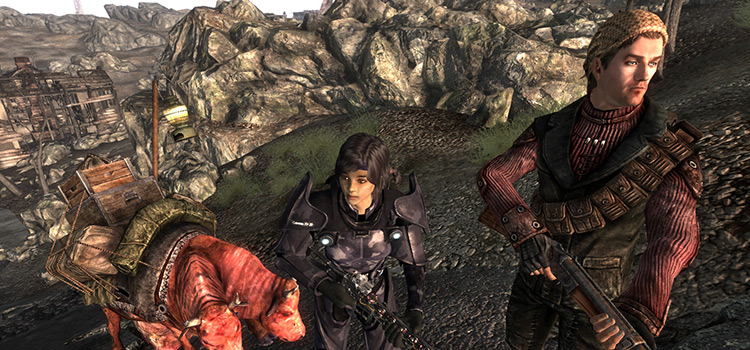 I've never been one to complain about quest variety in any Fallout game.
There always seems to be something for everyone. However, I'm also not one to complain about adding mods to my games either.
So I've managed to compile a massive list of really fun quest mods to spice things up in the Fallout 3 world.
Whether you're stuck at home biding time, or whether you're re-experiencing Fallout 3, there's plenty here to do and no time to waste!
20.

A Little Mutant Problem
I'm starting my list with a very light-hearted mod, which adds 7 new quests to the game that start as soon as you check your mailbox in Megaton.
The quests are super fun and don't take too much effort.
The main goal of this quest mod is to entertain and offer a few laughs to help you enjoy the Wasteland a bit more. Nothing too hard, but definitely a few gut busters in here.
Leave your post-apocalyptic problems behind and enjoy this quest before fiction meets reality and we get stuck in a truly post-apocalyptic world.
19.

Nightmare Realm
Now this mod was originally released as a Halloween mod in 2010, but it still stands as one of the best quest mods created for Fallout 3.
Even so many years after its original release.
The mod has multiple quests and new features that you can try out, and your actions will determine the extent of your rewards for each quest.
It's a surprisingly well-made add-on. Especially one created by a fan and not by the developers.
And Nightmare Realm is one that I rend to recommend to all of my friends who still play the game.
Don't expect it to be as light-hearted as the last one though!
18.

More 2 Megaton
Don't you ever get the feeling that Megaton just doesn't have enough things to do?
I know that I do. So I was super pleased to find this mod when I first came across it in 2019.
It adds a bunch of new lines of dialogue to many new characters in the game, as well as new quests, new houses, new locations, and much more.
This mod truly does Megaton a ton of justice.
And with this you'll be able to enjoy this town like never before.
Who knows, with some luck you might even become assistant to the sheriff as well as a hero for the locals.
17.

We Want More – WWM
We Want More is a fantastic mod that changes the game for the better.
It adds hundreds of new things to the game, 40 of which are small quests scattered all across the game map.
It also adds 10 new companions that you can find as well as new enemy camps.
A truly fantastic mod that has been around for a little over half a decade, but it still remains as one of my favorite quest mods for FO3.
16.

Project Genesis
If you're into engaging stories then give Project Genesis a try.
This adds a new storyline to the game, comprised of 4 large quests.
You'll have to play around 5 hours in order to complete them all, depending on how much time it takes you to jump through all the hoops.
Yet the story is really worth your time, and it feels like it fits perfectly to the game. Which is why I'm adding it to my list.
Discover the mystery of Dr. Bishop with this fun addition.
15.

A Devil's Wish
New bosses, puzzles, caves, and a fully-voiced storyline await those who install this fantastic mod.
It's a very complex and large quest set that offers dozens of hours of gameplay, which is filled to the brim with immersion thanks to the detail put in by the creators.
Be warned – this mod also gives you access to psychic powers too.
If that's your thing, download it.
If it's a turn-off then I really recommend you don't bother with this one. It is fun, but maybe not canon.
14.

The Crimson Caravan
The Crimson Caravan is actually a sequel of another quest mod.
But given that this one is rated much higher than its predecessor, it's taking its spot on my list.
Help the caravan dwellers that just moved to Arefu and embark on a fantastic adventure that'll keep you hooked for hours!
13.

Bobblehead Quest
Are you struggling to find the Bobbleheads in the game?
Say no more – this mod is going to be your lord and savior.
It basically adds a couple of quests to the game that point you towards all of the bobbleheads in Fallout 3, so you won't be wandering around the wastelands trying to find people aimlessly.
12.

MERC 2
This amazing mod adds a new quest to the game which will have you prevent the Enclave from obtaining a superweapon (that it's still balanced and fits the core of the game).
I absolutely love the suits of your enemies here, and I think it took me around 6 hours to complete it.
Enjoyed every minute of it.
You'll love the design of the weapons as well as the dialogue and story that this amazing mod brings to the table.
11.

The Mantis Imperative
Explore the halls of a once-powerful corporation that was ruined after the Great War.
You will have to complete a massive exploration mission that will end up with you fighting something that I would rather not spoil for you. But it's fun.
Check this one out and be sure to keep an eye out for dangers as you explore.
10.

In the Shadow of the Swamp
Well, this one creeped me the hell out.
It takes you on an adventure to a weird room in a hotel located in Point Lookout, where some weird doctor used to live.
You have to uncover his secrets and see why he decided to move to the creepy place.
Go on an all-out adventure and be prepared to get scared by the creatures of the Wastes.
Draw your weapon when necessary, and shoot everything that dares to stand in your way if you wish to stay alive throughout the entire journey.
9.

To Sleep – Perchance to Dream
Oh, look! A flyer!
Wait, what?
Is there really an open-air lecture somewhere in the Wasteland?
It's time for you to go and find out.
This mod will have you embark on an adventure towards a very odd world where you'll spend your time uncovering crazy secrets that require you to solve many puzzles and riddles.
A very fun, albeit challenging mod that might take you a few hours to complete if you're as crap with puzzles as I am.
8.

An Evening with Mister Manchester
I would suggest you go and install A Note Easily Missed before playing this mod, as this is basically a continuation.
It's a great mod that takes everyone's favorite adventure to the next level and expands upon the events that happened there.
I don't want to go into details because I could spoil you a thing or two, and you'll want to discover most secrets for yourself.
7.

The Regulators
Have you ever wanted to be a renegade bounty hunter in the world of Fallout?
Well with this mod, you'll be able to do it while also getting handsomely rewarded for your services.
It comes with a staggering 47 new quests that will take you on missions across the Wasteland, killing a whole lot of foes along the way and murdering some of the most wanted criminals on the land.
It's time to take justice into your own hands and get paid for it, dweller.
6.

The Librarian – Orions Gate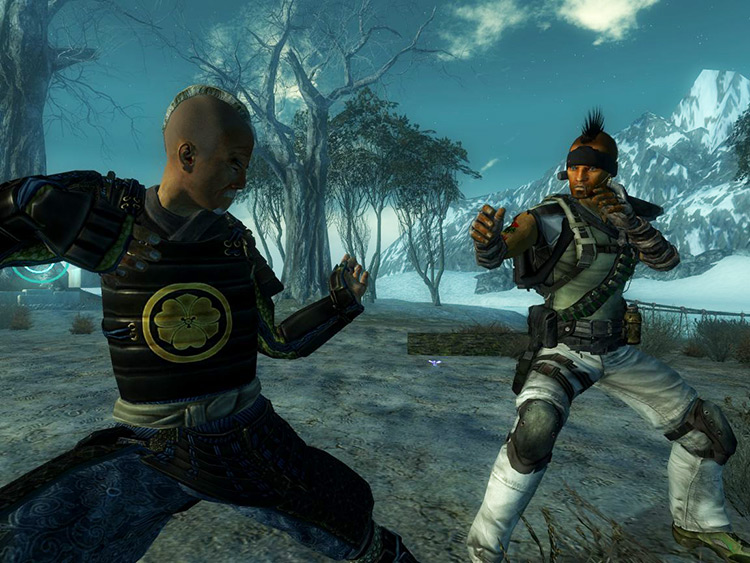 Orions Gate is a mod that will take you on a crazy adventure throughout various worlds.
The mod comes with a couple of companions as well as a fantastic set of rewards that include new weapons and armor, as well as fully-voiced quests that can set you on your way to becoming a legend.
Be warned: this is a very difficult one to play through. Even if you set your difficulty to the easiest mode.
Be prepared to die multiple times whilst fighting some of the toughest foes you could imagine. No ragequitting.
5.

Quo Vagis
I was sure I wouldn't have to add any NSFW mods to my list, and I was close to completing it when I stumbled upon this fantastic mod.
It gives you a few quests that need to be completed in order to restore an old Saloon/Brother to its former glory.
That's not all, though. It also needs more than a few quests to get on my list, right?
Well this freebie sets you on a mission to uncover the dark secrets that lay in the depths of these halls. Will you be able to do it? I'd say give it a go and find out for yourself what mysteries this holds.
4.

A Note Easily Missed
Hey, what's that sitting beside your foot? Is that a note?
Why don't you pick it up and see what adventure lays ahead?
A Note Easily Missed makes you encounter a small note that, upon reading it, will set you on your way to live the adventure of a lifetime.
You can never say no to adventure, right?
If so, download this mod and see what the future holds.
It's one of those queststhat you're better off knowing less about it before you begin. Easily one of the most fun additions to FO3 though.
3.

The Institute
The Institute takes on quite the wild ride, I must say.
What I truly love about this mod is that there are various endings, and it really depends on how you play the game to determine which outcome you'll end up having.
The overall quest is also changing at all times, depending on the skills of your character and the choices you make along the way. Kind of a weird RPG-ish element added into FO with this one.
You can replay The Institute with all of your characters and see how things go; there's really a lot of replay value on this mod, and I'm sure you'll be able to uncover some fantastic endings over time.
2.

Cube Experiment
Apparently there's a way for you to go to Washington D.C. in Fallout 3.
I wasn't aware, but it was made possible by this sweet mod.
Discover a hidden entrance in the Wastes that will take you straight to a facility in Washington, were a weird experiment with a Cube seemed to have been going on long before the start of the war.
Yeah this definitely goes off the rails. Very fun though!
It's up to you to uncover the secrets that lay hidden in this facility by installing this amazing mod that comes packed with new dialogue, new missions, and a set of fantastic rewards.
1.

Vault 101 Revisited
Picture this: Trouble on the Homefront goes OK and Vault 101 does what it was meant to do at first: go into contact with the outside world.
Now everything is nice and shiny, and people from all over the Wastes are allowed to visit the Vault.
This mod reimagines the entire Vault 101 to make it an entirely different version of what it is in the main game.
You will have to take matters into your own hands, though, and you'll do it by completing a series of quests that take up a couple of hours of playtime in total.
They're not too difficult and the outcome is really good, actually game-changing. So get to work and see what all the fuss is about here.
Browse:
Fallout
Fallout 3
Lists
Video Games