Bone Farming Guide for Fallout 4 (Best Methods)
This post may contain affiliate links. If you buy something we may get a small commission at no extra cost to you. (Learn more).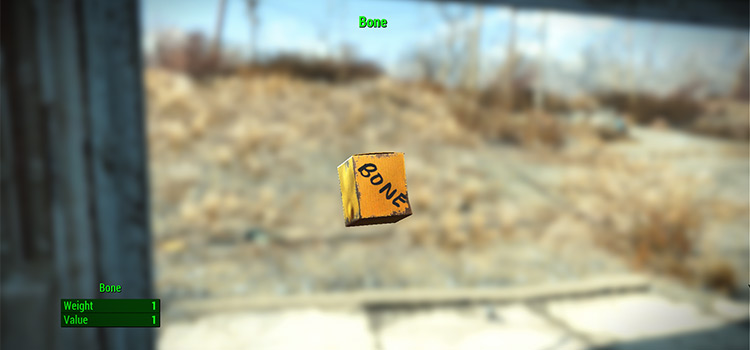 The best way to find a lot of bones in Fallout 4 is to raid Wildwood Cemetery, where you will find over 65 bones from human corpses in open coffins.
Or taking all the junk from super mutant sites and looting their corpses is another consistent way to collect big amounts of bone.
Alternatively, mole rat caves are a great source of Mole Rat Teeth, worth 1 bone each.
Here's a list of all items in the game that can be scrapped into bone:
| Item | Yield |
| --- | --- |
| Brahmin skull | 5 |
| Rib cage | 5 |
| Spine | 5 |
| Jawless brahmin skull | 4 |
| Left arm bones | 3 |
| Pelvis bones | 3 |
| Rib cage and pelvis | 3 |
| Right leg bones | 3 |
| Skull | 3 |
| Deathclaw hand | 2 |
| Femur | 2 |
| Human jaw | 2 |
| Left foot bones | 2 |
| Left hand bones | 2 |
| Right hand bones | 2 |
| Skull eye socket | 2 |
| Tibia | 2 |
| Mole rat teeth | 1 |
| Upper skull | 1 |
Tip: After around 7 days of game time, most items in Fallout 4 respawn. Cycle between spots to farm more efficiently.
Method 1: Wildwood Cemetery
To find the bones in Wildwood Cemetery:
Stand under the biggest tree in the middle of the cemetery.
Head south and collect the bones inside the first building you find.
Once again, go back under the tree.
This time, head east and you will find a small building with the rest of the bones.
Method 2: Dunwich Borers
Another location with a nice amount of bones is Dunwich Borers.
Head to the center of the bottom of the pit and you will find a firepit with bones around it.
Method 3: Mole Rats for Bones
These are the best locations of mole rat hotspots throughout the Commonwealth:
Mole rats drop mole rat teeth which can be scrapped into 1 bone. You will also find some human bones inside their nests.
They tend to spawn in many different places, but these 2 spots are great for farming mole rat teeth:
Mole Rat Den
Rotten Landfill
1. Mole Rat Den
This location is not on the map, but it's fairly easy to find.
From Red Rocket Truck Stop head south and look for the cave in the picture above.
2. Rotten Landfill
It is much easier to get to Rotten Landfill, but don't forget to enter the cave where most mole rats hide.
They are not the toughest creatures to kill, but they will spawn in large numbers inside the cave.
Method 4: Super Mutants for Bones
Some of the best spots to find super mutants are:
Fallon's Department Store
Fort Strong
Trinity Tower
Medford Memorial Hospital
This is their location on the map:
You can find all sorts of bone items in super mutant sites. Most items will be inside meat bags, or as loot from dead super mutants.
Be ready for a challenging battle in each of these locations. You will encounter Super Mutant Suiciders, which will run at you with a mini nuke and try to detonate it.
To survive their attacks, you must shoot at the enemy's right arm, or directly at the nuke while in V.A.T.S.
Method 5: Turning Junk Items Into Bones
Find a chemistry station
Transfer the items you've picked up to the chemistry station
Once you start crafting, the items will be converted into bone and used for your recipes
Tip: Be careful when you use the "Store All Junk" option from the crafting station. You might not want to convert some of your items into bone. For example, you might want to save a deathclaw hand to craft a deathclaw gauntlet.
Browse:
Fallout
Fallout 4
Video Games