How To Farm Concrete in Fallout 4 (Best Methods)
This post may contain affiliate links. If you buy something we may get a small commission at no extra cost to you. (Learn more).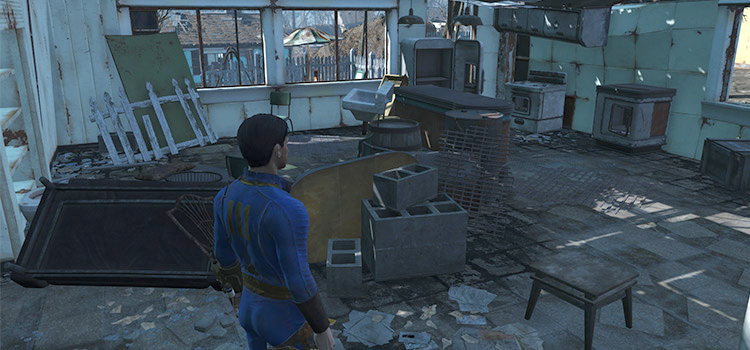 Scrapping objects from settlements, such as cinderblocks and ruined houses, is the best way to farm concrete in Fallout 4.
Alternatively, you can look for bags of cement (which contain five concrete each) from a few places in the Commonwealth.
Or if you have enough bottle caps then you can also buy Shipments of Concrete from NPCs. This is the fastest & most efficient method, but you'll be paying for it. And FO4 players who have the Wasteland Workshop add-on will have many more buying options.
Scavenging Concrete From The Wasteland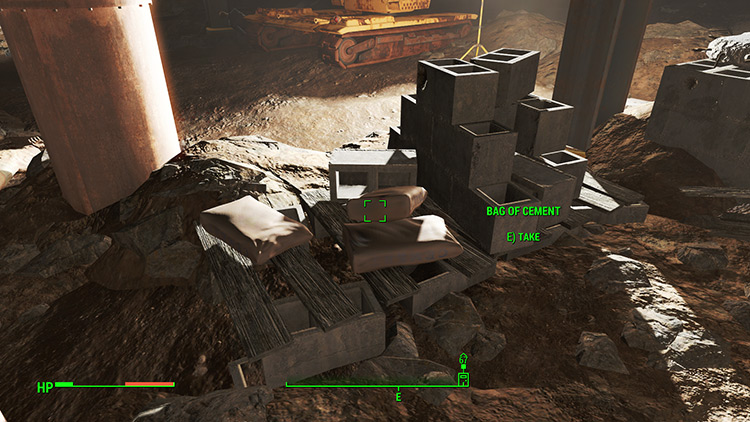 It's easy to collect a lot of concrete in a short amount of time by getting it from the Wasteland.
The only items you need to find are bags of cement, containing 5 pieces of concrete each.
These are the top 3 locations to farm cement from:
| Location | Where to look | Number of bags of cement |
| --- | --- | --- |
| Irish Pride Shipyard | Shelves, inside/on boxes | 16 |
| Vault 114 | In the area right before the vault's door | 14 |
| The Castle | Armory | 20 |
If you loot these 3 locations, and manage to find all the bags of cement, you will get around 250 pieces of concrete.
Tip: When farming from junk items, keep in mind that most items in Fallout 4 take around 7 days to respawn. You can cycle between junk items and settlement objects to farm more efficiently.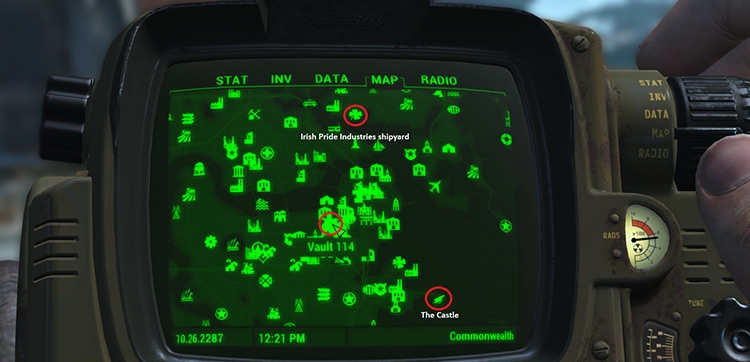 Once you've found the junk items you were looking for, here's how to scrap them:
Grab a bag of cement
Head to one of your workshops and press the transfer button
Store it inside your workshop
When you build a structure that needs concrete, your bag of cement will be used and converted into concrete
Note: Be careful when using the "STORE ALL JUNK" option, you might not want to get rid of some valuable items that belong to the "MY JUNK" class in your inventory.
Scrapping Concrete From Settlements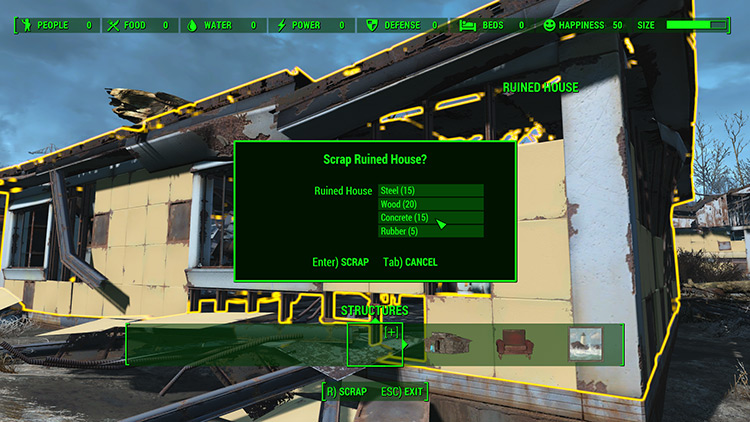 Here's the step-by-step process:
Head to one of your settlements and select the crafting option from your workshop
Once in crafting mode, you will notice a yellow highlight around some objects
If you press the scrap button while the objects are highlighted, you will get rid of them and store their resources
Scrapping stuff from settlements is easy and fast. But unlike junk items, objects in settlements don't respawn.
You'll want to be on the lookout for cinderblocks, ruined houses, and looking around campfires in your settlements.
I recommend searching in these settlements for great results:
Sanctuary
Red Rocket Truck Stop
Home Plate
The Castle
Tenpines Bluff
Graygarden
And here's all of their locations on the map: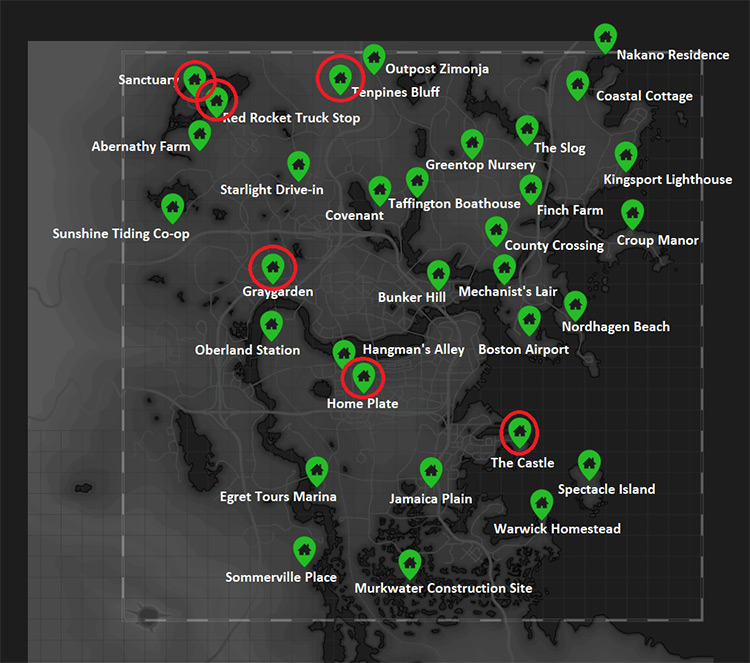 Concrete can be used to craft house foundations, water pumps, and other structures in FO4.
And if you have too much concrete in one settlement but need it in another, you can create a supply line between them and share resources.
Buying Concrete From NPCs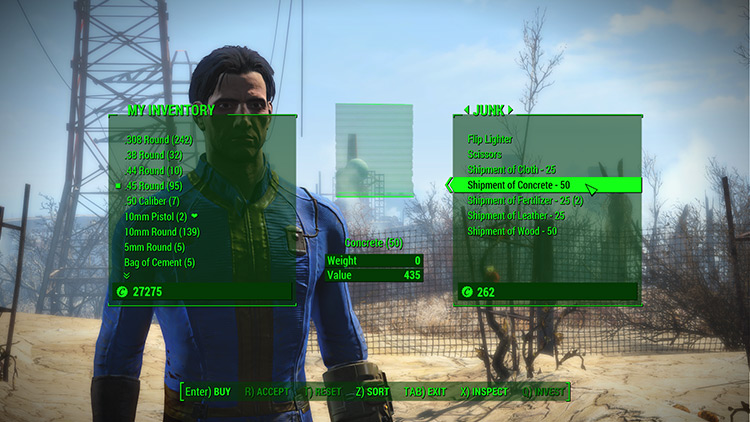 If you have the money, buying Shipments of Concrete from NPCs is the easiest method to go with.
This way you can carry a lot of concrete without becoming over encumbered, because you are buying it as a Shipment of Concrete. But to use this item you'll need to head to a crafting station, such as a workshop or a weapons workbench, and start crafting.
And just like other junk items, after using the shipment, it will be converted into individual pieces of cement.
Note: All NPCs that sell Shipments of over 50 concrete are only available if you have the Wasteland Workshop add-on.
These are all NPCs that sell Shipments of Concrete in the Commonwealth:
| NPC | Location | Shipment's Size |
| --- | --- | --- |
| Connie Abernathy | Abernathy Farm | 50 |
| Supervisor Greene | Graygarden | 50 |
| Daniel Finch | Finch Farm | 50 |
| Trudy | Drumlin Diner | 100 and 200 |
| Trashcan Carla | Sanctuary Hills to Drumlin Diner | 100 and 200 |
| Daisy | Goodneighbor | 100 and 200 |
| Rufus Rubins | Goodneighbor | 100 and 200 |
| Deb | Bunker Hill | 100 and 200 |
| Opal | West of Custom House Tower | 100 and 200 |
| Brother Ogden | Crater of Atom | 100 and 200 |
| Myrna/Percy | Diamond City Market | 100 and 200 |
| Mr Handy | Science Center Gift Shop | 100 and 200 |
| Alexis Combes | Vault 81 | 100 and 200 |
And here's their locations on the map: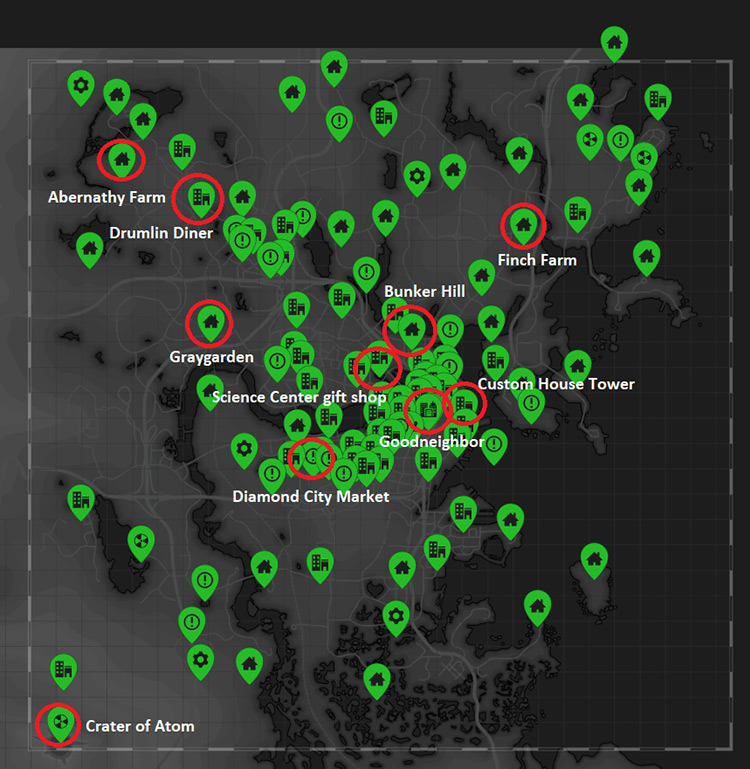 Browse:
Fallout
Fallout 4
Video Games