How To Farm Gold in Fallout 4 (Best Methods)
This post may contain affiliate links. If you buy something we may get a small commission at no extra cost to you. (Learn more).
The best way to farm gold is to collect the x4 golden bars and x1 gold watch from Bridgeway Trust, an unmarked bank near Back Street Apparel. There's also a hidden root cellar in Sanctuary with 3 golden bars inside it. You should be able to farm these locations repeatedly.
Note: Most items in Fallout 4 take around 7 days to respawn, gold bars included.
Alternatively, you can buy gold from NPCs, or get it from enemy loot, such as gold plated flip lighters and gold watches. Here's a list of all the items that can be scrapped for gold:
| Item | Yield |
| --- | --- |
| Gold Bar | 10 |
| Gilded Grasshopper | 5 |
| Gold Watch | 2 |
| Gold Platted Flip Lighter | 1 |
Method #1: Bridgeway Trust
How To Find Bridgeway Trust:
Step 1: Head to Back Street Apparel, shown below: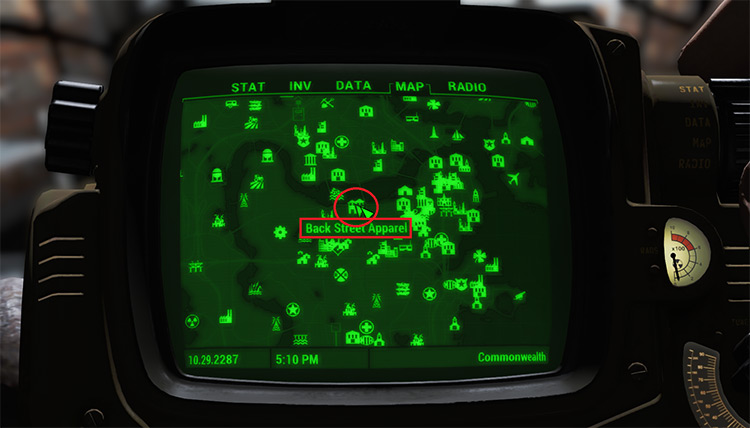 Step 2: Find a truck with big pipes on it.
Step 3: Jump the wall near the back of the truck.
Step 4: Follow the street with a blue trailer at the end of it.
Step 5: When you reach the blue trailer, turn left.
Once inside the bank, head to the first desk to your right, and you will find the golden watch next to a corpse behind the desk.
The gold bars are inside the main safe behind the bank's counter.
To open the safe you will need to unlock a Master Terminal. To unlock Master Terminals you need to upgrade the Hacker perk to level 3.
Inside the safe, you will also find many other smaller safes that could contain gold plated flip lighters. Some of these safes require level 3 of the Locksmith perk.
Method #2: Sanctuary Hills' Hidden Root Cellar
Behind a blue house before the biggest tree in the neighborhood, the hidden root cellar is easy to find, and contains 3 gold bars.
Method #3: Buying Gold From an NPC
While you're waiting for gold bars to respawn, you can purchase gold from an NPC, but they are expensive.
The only NPC that sells shipments of gold is Deb in Bunker Hill.
Browse:
Fallout 4
Video Games